Dernière mise à jour le 22 avril 2023 par DMEditor
If you run a business online, you need a payment processor that suits your requirements – our WePay vs Rayures comparison may be able to help narrow down your search.
WePay and Rayures allow you to take secure payments, and they're both very customizable with plenty of support and documentation for developers to create the platform you want. The question is, which one is better?
La ligne de fond en avant : Nous pensons que Rayures has the edge. WePay works well for larger platforms, but Rayures has the potential to suit almost any size or scale of business – plus, Rayures has the advantage of great customer support, which WePay lacks.
Want to find out more? Let's start by looking at how they differ from each other.
Main Differences Between WePay vs Stripe
The main differences between WePay vs Stripe are:
WePay is suited for larger businesses wanting to offer services for merchants, whereas Stripe works with all types of businesses, including small businesses
WePay doesn't allow for PayPal payments, whereas Stripe does
WePay doesn't have its own analytics services, whereas Stripe does.
WePay works well for crowdfunding platforms, whereas Stripe is more suited for eCommerce
WePay allows for negotiation when it comes to rates, whereas Stripe only offers set fees
WePay customer's support is a bit hit and miss, whereas Stripe has excellent support.
If you want to create your own platform with merchants able to offer goods and services, WePay can work well. Their white label services are great, and if you have developers on your team, you can create a customizable platform with WePay taking care of payment logistics in a safe, secure way.
However, Stripe's services are much broader. Stripe can work for all types of businesses, including smaller businesses. Stripe has some other advantages too, including their in-depth analytics. They accept PayPal payments too, which is a big plus.
Les similitudes
There are some similarities too:
Their basic pricing structure is roughly the same
They both offer a lot of tools and support for developers
They both offer excellent security for you and your customers/clients
Let's take a look at each of them in more detail.
What is WePay?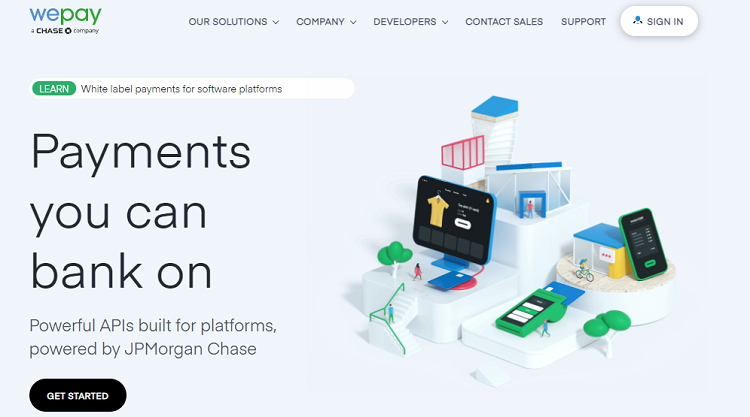 WePay was launched in 2008, as a competitor to PayPal. It supports payments using various methods including digital wallets, credit cards, debit cards, and checks.
It works well for crowdfunding, thanks to the API and services it provides. It offers advanced tools for developers to create a customized platform that works really well for certain types of businesses.
WePay was bought by JP Morgan Chase in 2017.
Qu'est-ce que Stripe ?
Rayures enables businesses to offer multiple payment methods for their customers, including credit and debit cards, digital wallets like Apple Pay and Google Pay, bank transfers, and 'buy now pay later' options, like Klarna.
Launched in 2010, it's a popular and secure payment processor used by many types of businesses worldwide.
WePay – the Main Features
WePay operates slightly differently than some other payment processors. It defines itself as a payment processor and 'platform partner' for other platforms (like GoFundMe).
For example, event management, accounting, eCommerce, and fundraising businesses can use WePay to deal with accounting and invoicing as well as taking credit card payments. Essentially, if you are a merchant and you want to build a payment-processing platform, WePay is a good choice.
This means you can't sign up for WePay as a small business owner in the same way that you can sign up for Stripe or PayPal. Small business owners are more likely to come across WePay using one of their partnered platforms (like Ecwid).
Directly comparing WePay to Stripe is a bit of a challenge, as they're so different from each other, but we'll give you an overview of how it works so you can see if it suits your type of business.
Traitement des paiements
WePay supports US-based merchants and some Canadian and UK-based merchants. WePay can accept payments using:
Carte de crédit/débit
Digital wallets (like Apple Pay and Google Pay)
Check
The downside of WePay is that they do not support PayPal – this could be a big disadvantage as PayPal is used by so many potential customers.
Your merchants can offer weekly, daily, or monthly payments. You can also take advantage of their solution to automatically update expired cards, which could be very useful for merchants that offer subscription-based services.
WePay enables you to use mobile POS, and they even provide customizable card readers. This means your merchants can take payments in person as well as online.
White Label Payments
'White label' usually refers to a product or service that is made by one company but sold by another. In this case, you will get a payment solution with your branding, with WePay essentially taking care of the 'behind the scenes' payment processing for you. You may see this setup referred to as 'co-branded'.
You can integrate payments into your application or service, controlling what users will see and interact with. Meanwhile, WePay takes care of compliance and payouts for you.
WePay will negotiate with you when you sign up to determine how much they will charge you per transaction. At this stage, you can add your transaction fees that your merchants will be required to pay.
They also take care of onboarding – it's simple to sign up for new merchants, and you can integrate onboarding requirements into your existing sign-up process. This means your merchants won't have to deal with extra steps even if you decide to switch over to WePay.
Merchants with a Chase bank account can receive same-day deposits, too.
One case study gives a bit more detail on how WePay can work well for different types of businesses. Webconnex is a platform that manages fundraising and event management, and they used WePay to handle payments and improve onboarding for new users.
API/Developer Documents
WePay has a lot of information for developers. It offers a lot of flexibility to build the platform you need, and it offers a lot of support for developers along the way. You can build your platform from scratch, with WePay offering support to help you make the most of their services.
Sécurité
WePay provides complete coverage for payment-related risks. This includes fraud losses and chargebacks. They securely store customer information, keeping you compliant with PCI, KYC, and OFAC. All WePay employees undergo security training, and your money is held in a secure bank account (so your funds are never at risk).
Analytique
Using WePay's API, you can connect your platform to Google Analytics. They don't have their own dedicated analytics service.
Stripe - les principales caractéristiques
Let's take a look at the main features of Stripe.
Facilité d'utilisation / tableau de bord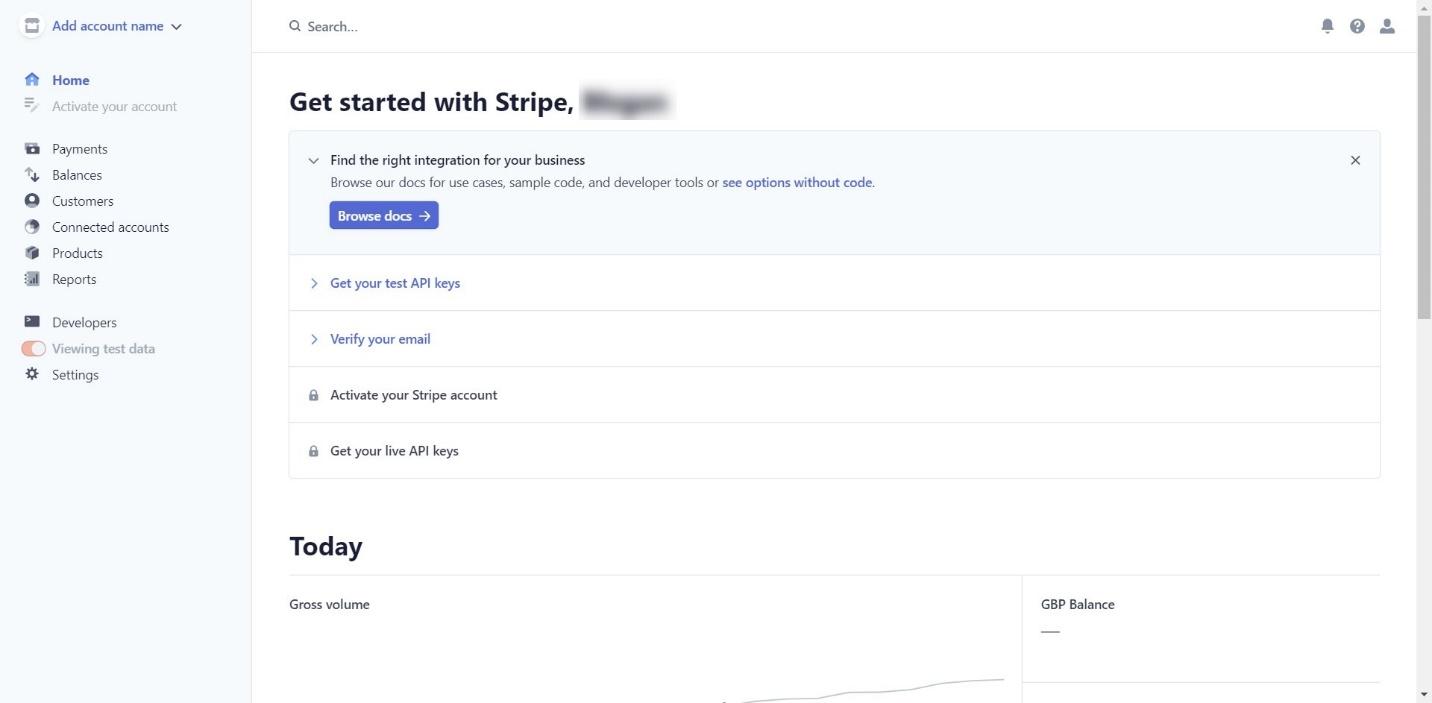 It's quick and easy to sign up for an account with Stripe. You don't have to input any payment details, like your credit card information – just your name, your email address, and some basic information about your company.
The platform itself is simple to use, with everything laid out clearly. There's a 'getting started' guide which will take you through all the tasks you need to complete to get going.
Processeur de paiement
Stripe is a powerful and safe payment processor. It offers a great variety of payment methods for your customers, including:
Carte de crédit/débit
Alipay
Apple Pay
Google Pay
Microsoft Pay
WeChat Pay
Cliquez pour payer
Débits et transferts bancaires
Redirections bancaires
Klarna
OXXO
If you want to sell your services or products worldwide, Stripe is a good choice. You can accept payments from over 135 countries, although separate charges may occur depending on where the sales take place.
Stripe has a few tools for situations like cards expiring. For example, if you offer a subscription plan and a customer's card expires, it can automatically update that card. It also makes the process much quicker if your customer has to retry failed payments.
You can offer in-store payments using Stripe's Terminal app, which is ideal for those who have an eCommerce business and a physical store, as it allows everything to run from the same platform. You can also use Stripe's hardware for physical sales too, which allows you to offer chip cards and contactless payments.
Plus, you can provide payouts using Stripe. You can split payments, send money, and transfer funds. If you hire contractors or freelancers, this is a useful tool.
Facturation et comptabilité
You can offer flexible billing with multiple payment options. For example, Stripe can handle subscription plans with different types of payments.
You can create personalized email receipts, which is great for smaller companies wanting to add a personal touch. You can also create branded landing pages and invoices, which is great for consistency.
Gestion des abonnements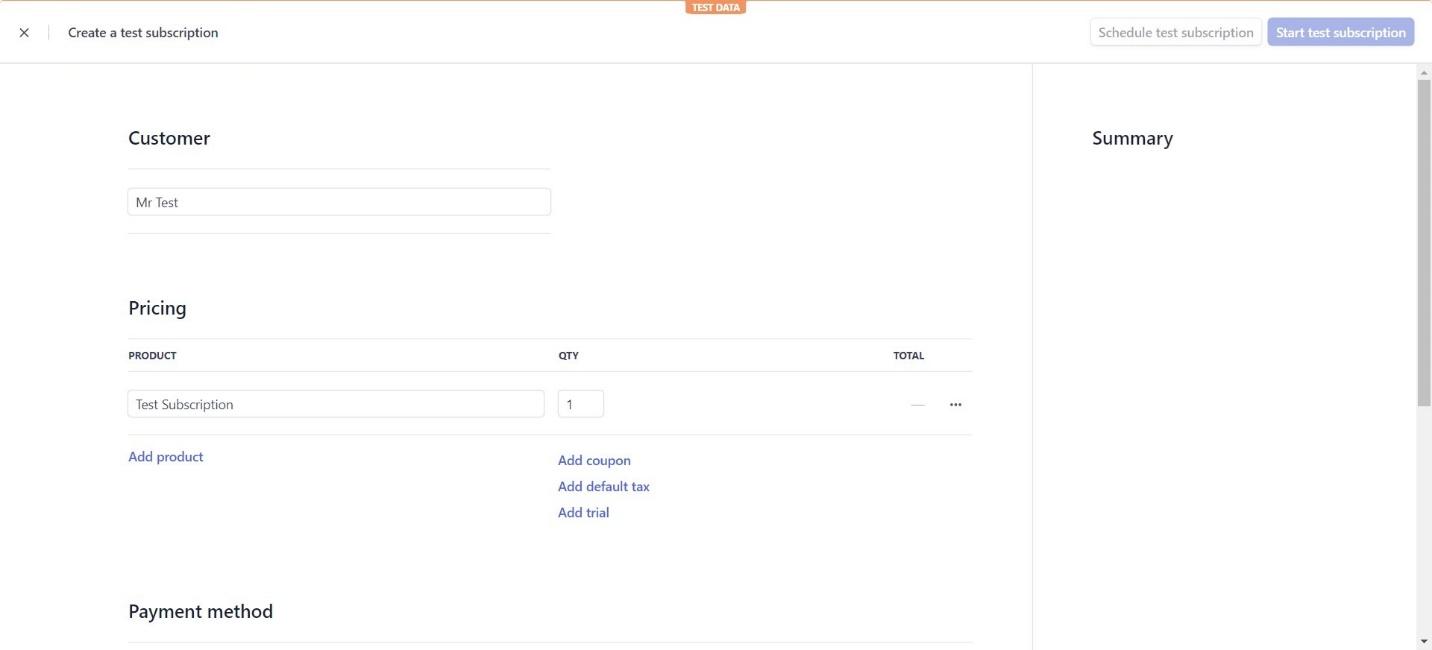 You can offer subscriptions with Stripe. If you sell monthly subscription boxes, for example, you can set this up fairly easily. You can offer some good incentives to encourage new customers, including free trials, discounts, and coupons.
You can also create products, which can be linked to your subscription plans.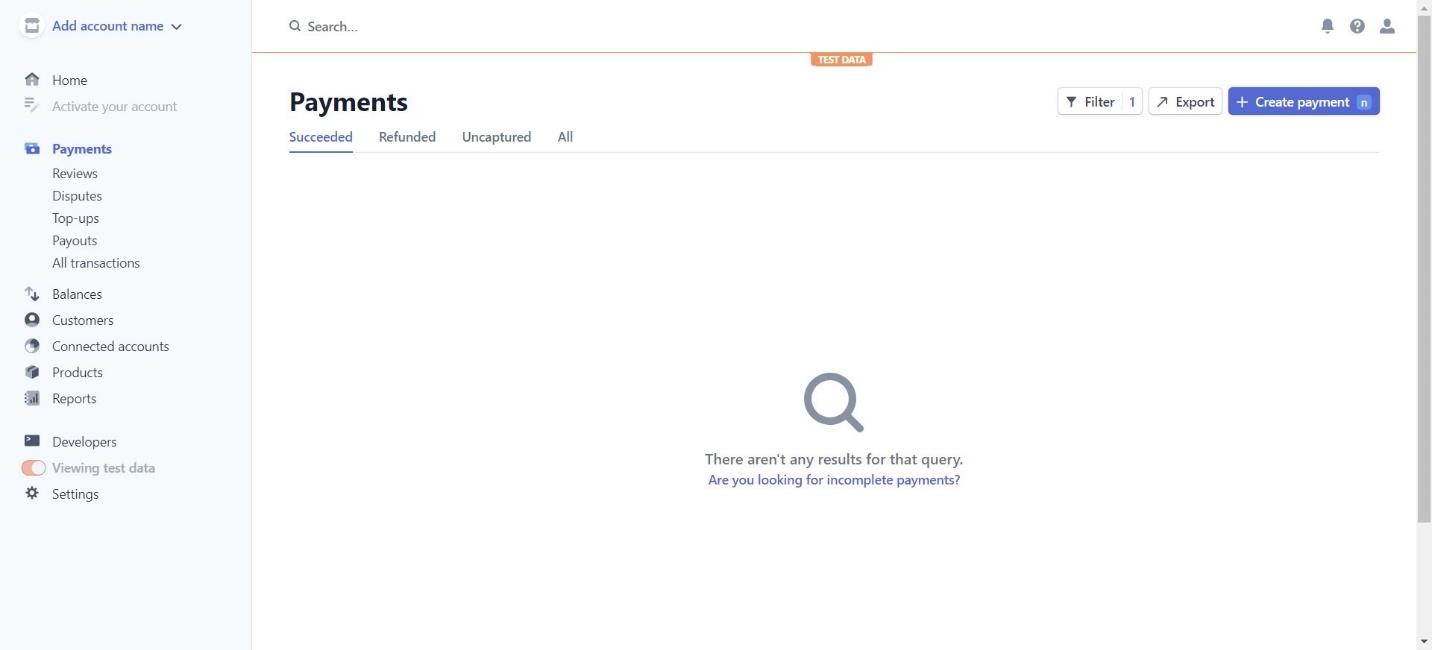 Outils de marketing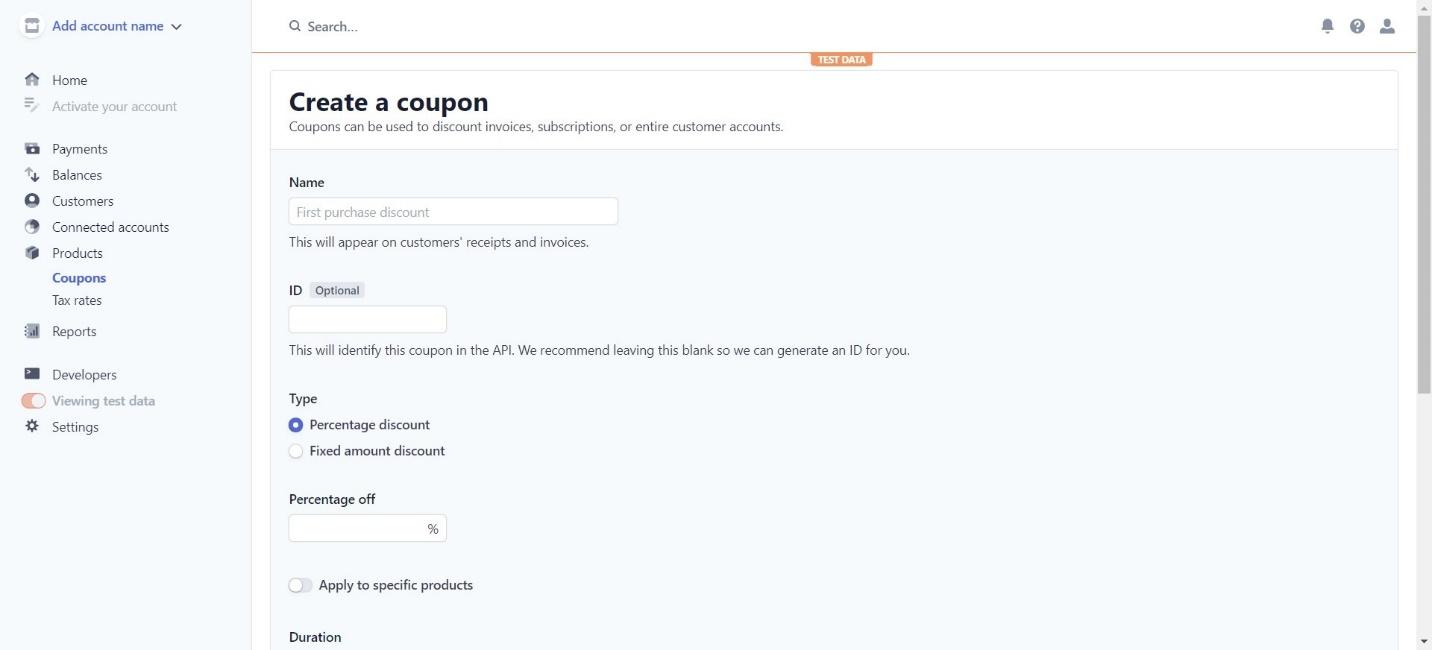 There are a few marketing tools available with Stripe, including coupons and discounts, and even physical cards for your customers. These come at an extra cost, but it could be a neat solution for some types of businesses.
Stripe works well if you have tech support on your team. Developers will appreciate the flexibility that Stripe offers, which some other platforms lack. The programmable APIs and tools are useful and will allow you to create a bespoke solution that works for your business.
Sécurité
Security is hugely important, and there are some great tools in place with Stripe. There's a separate fraud prevention service (called Radar), which offers more tools.
It can detect (and block) fraud, using an algorithm that can adapt to new fraud patterns over time. The algorithm can tell the difference between fraud and genuine payment attempts, which will help your business to run smoothly while protecting you and your customers.
Analytique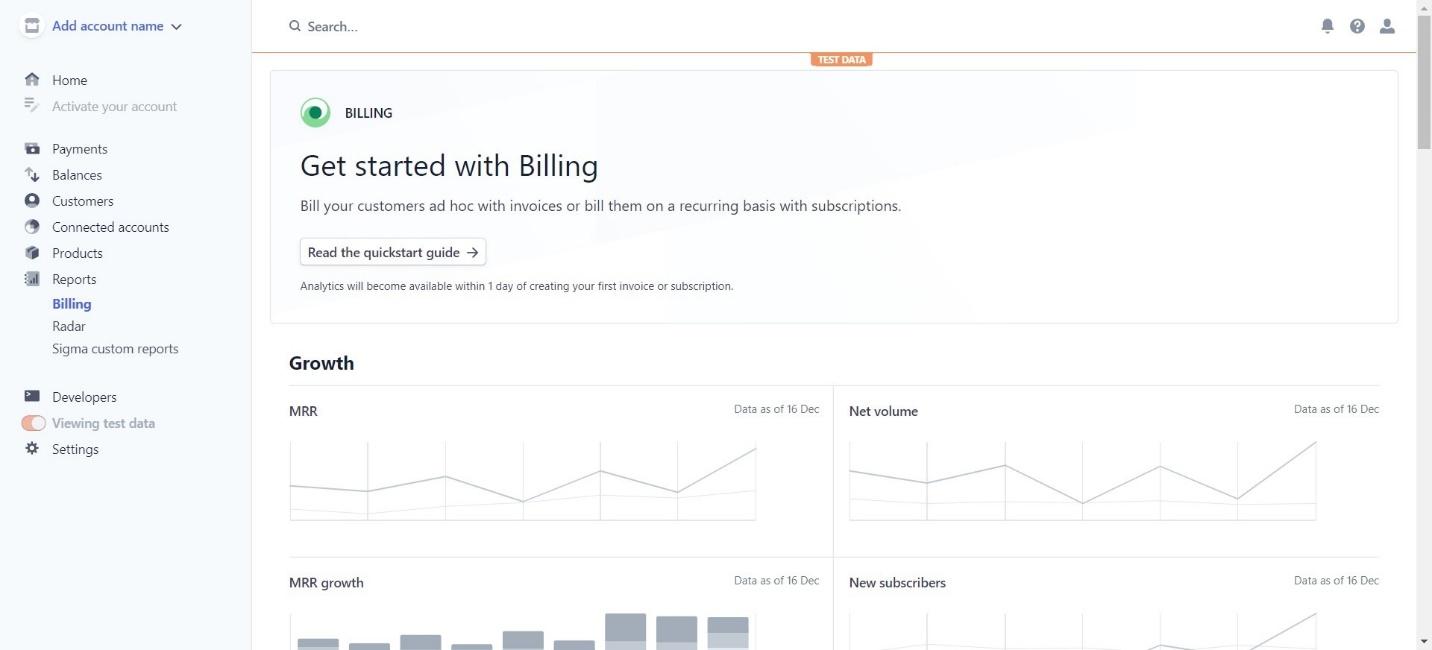 You can access some reporting on the basic Stripe plan. The reporting dashboard will give you an overview of your invoices, new subscribers, net volume, and growth. They have a quick start guide to help you get to grips with their reporting.
You can also sign up for Stripe Sigma. This is very customizable and will give you a lot of detail about every aspect of your business.
You can spot patterns in churn, identify regions that offer the most revenue, and analyze your most popular subscription plans and products. These in-depth reports can be shared with other team members. It may take a bit longer to learn how to use it to your advantage.
Application mobile
Stripe has a mobile app, which offers basic features – it will show you your dashboard, payouts, and payments. You can download the app for iOS and Android for free.
Intégrations
Stripe has integrations with some popular platforms, including:
WePay vs Stripe – Support
Let's take a look at how they compare in terms of support.
WePay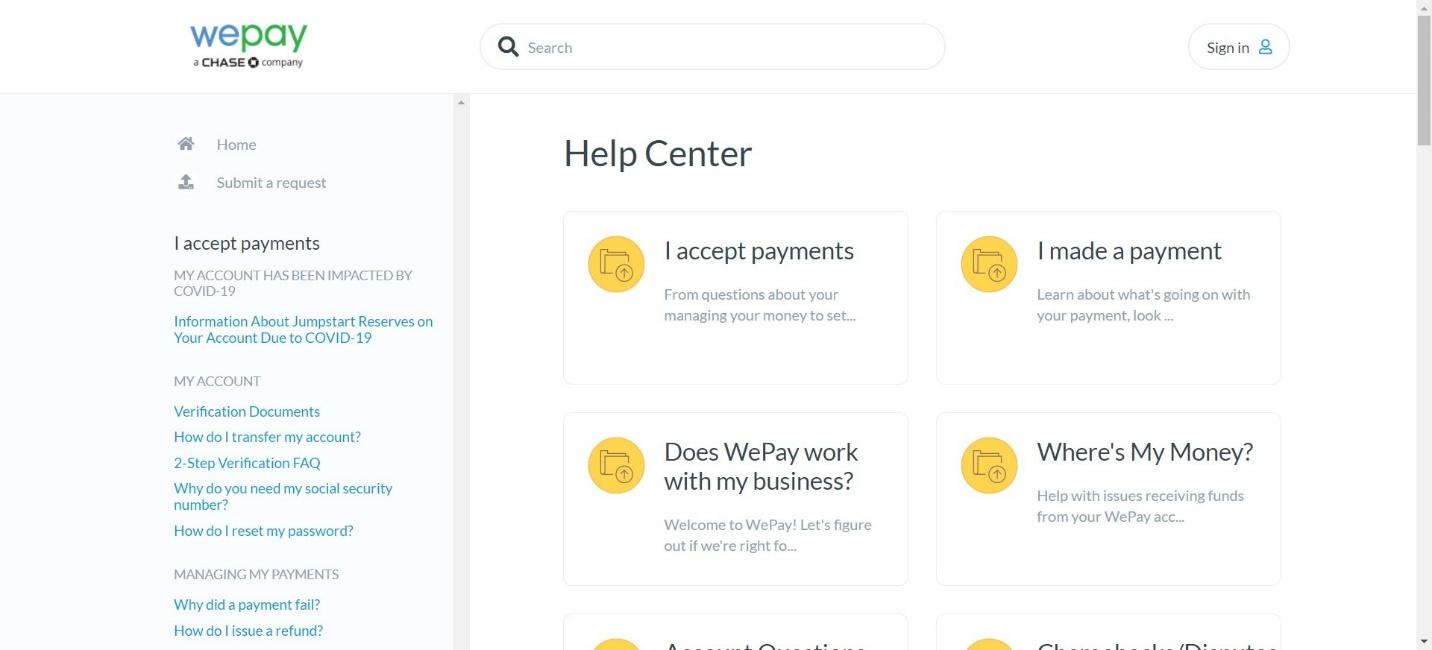 This is where WePay falls short slightly. It doesn't have the best reputation in terms of customer support. There is an email ticketing system, so you can submit your request for support and wait for a response.
However, some users have had to wait a while for any kind of response. Their Knowledge Base is good, which is a plus.
Rayures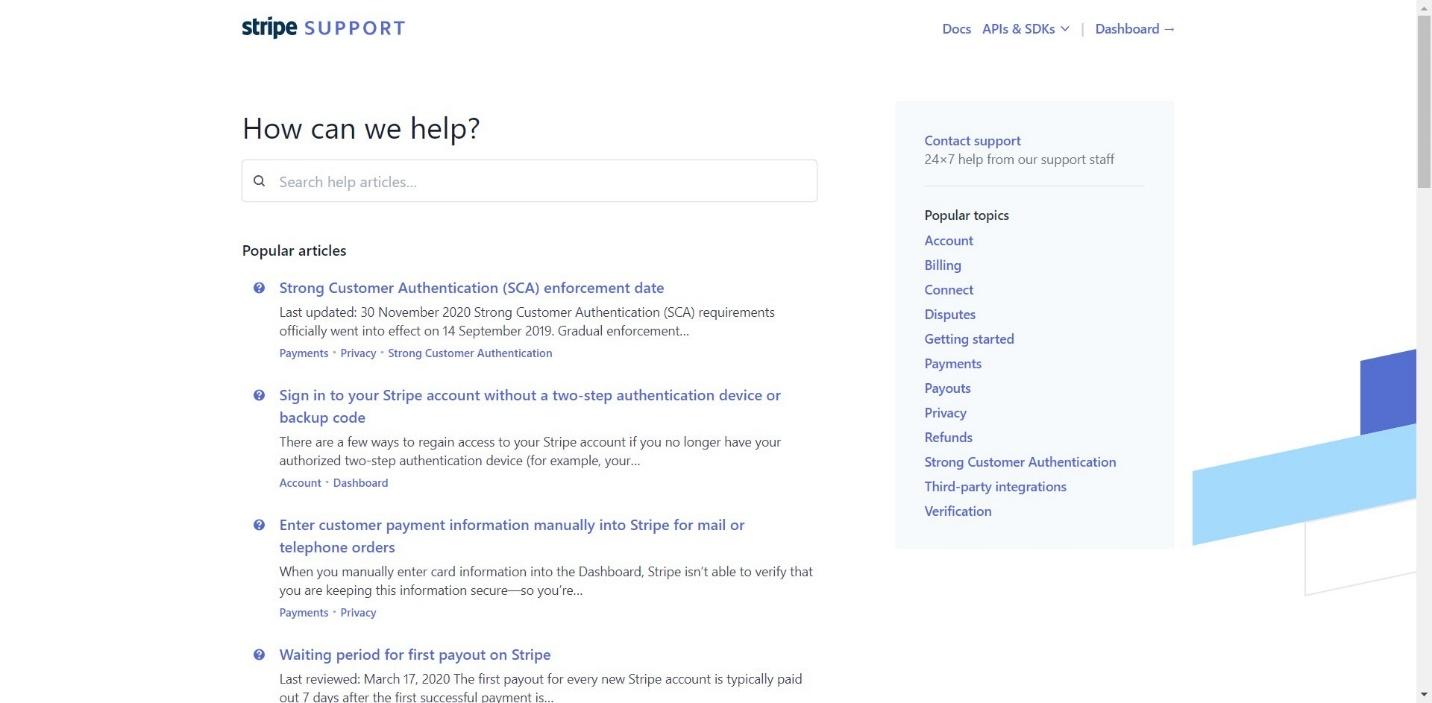 Stripe has a knowledge base, which has tutorials, guides, and articles on different aspects of the platform. If you require support, you can contact them using their live chat, email, or phone. The customer service team is friendly and quick to respond.
WePay vs Stripe – Pricing
Comment se comparent-ils en termes de prix ?
WePay
WePay negotiates their fees depending on the type and scale of your business. This means that it's difficult to compare to Stripe in terms of pricing. However, they do have a basic set of rates if you don't negotiate a specific rate with them, which are as follows:
Per Transaction: 2.9% + $0.30
Chargeback Fees: $15
ACH Return Fees: $15
Research Fee: $25
You may be able to negotiate lower rates than this – you can find out more by contacting their sales team.
Rayures
Stripe charges 2.9% + $0.30 per transaction. The basic plan gives you:
Sécurité et conformité
Paiements mondiaux
Des caisses optimisées
Rapports en temps réel
Paiements rapides
Assistance 24/7
There are some extra charges with Stripe. Local charges may apply for different countries, and in-person payments require a separate charge.
It can be difficult to understand how much Stripe will cost you before you start making sales, especially if your business is complex or offers multiple goods and services. You can find out more about it on their page des prix.
WePay vs Stripe – Pros and Cons
Let's take a look at the pros and cons of both.
WePay
Pour
Extremely customizable
Ideal for larger platforms wanting to build their own services for merchants
Works well for crowdfunding platforms
Offers secure payments and subscriptions
Rates can be negotiated
Cons
Doesn't work for small businesses
Doesn't work with PayPal
Customer services could be improved
Rayures
Pour
Very customizable and flexible
Lots of options for payments
Facile à démarrer
Can offer subscriptions, coupons, and discounts
Sigma reporting is in-depth
Cons
Charges are not always clear right away
Bigger learning curve than some other platforms
Alternatives à essayer
If you want to keep looking, you could try one of the following:
Braintree is owned by PayPal, supporting 130 currencies and offering multiple payment types for customers. If you want a customizable platform, this could work well for you. You can read about it in our Braintree vs PayPal comparaison.
Authorize.net offers excellent fraud prevention tools and multiple payment options for your customers. You can read more about it in our Stripe vs Authorize.net comparaison.
Carré can handle complex businesses, and it works well for multi-channel sellers. You can find out more in our Stripe vs Square comparaison.
FAQs
Question: Is there a WePay mobile app?
Réponse : Pas à l'heure où nous écrivons ces lignes, non.
Question: Is it easy to cancel WePay or Stripe?
Answer: Yes! Both platforms make it very easy to stop working with them — you can cancel by accessing your account information.
Question: Are there any well-known businesses using WePay and Stripe?
Answer: WePay has some well-known clients, including:
– Ecwid
– Constant Contact
– EventZilla
– InfusionSoft
– Classy
– YouCaring
Whereas Stripe is used by:
– Lyft
-Asos Marketplace
– Made
– SongKick
– Squarespace
– Wix
– Slack
– Zoom
– Salesforce
– Unicef
Question: How long does it take for merchants to get payments from WePay?
Answer: It takes 1-3 business days, depending on the bank they use (for example, Wells Fargo takes 1 business day to process payments).
To Sum Up … Which is Best?
We think that Stripe is our top choice today.
Rayures is just more accessible, both for users (it's super easy to sign up, and it works for smaller businesses as well as big companies) and for customers (being able to pay with PayPal is a great advantage).
It has better customer service too, which is another big bonus point. Stripe offers tools and documentation for developers just as WePay does, which means you can create a customizable experience that suits you and your customers.
Où WePay works well, however, is for certain types of businesses, like crowdfunding businesses. If you want to offer a platform that allows individual merchants to sell their own products, it also works well. It takes care of payments whilst fitting in around the kind of platform you want to create. You can also negotiate fees with WePay, which Stripe doesn't offer.
On the whole, we'd recommend Stripe – but it's worth checking out WePay if you think it will suit the kind of platform you want to build.
Plus d'informations :