Dernière mise à jour le 21 février 2023 par DMEditor
When I first started publishing articles, I learned that networking will matter to my career. I did all the important networking steps, such as making a LinkedIn, but I also knew the value of face-to-face connections.
Therefore, I made business cards. I've updated my business cards numerous times and used different companies every time. The two that stood out to me most were Moo and Vistaprint.
Moo and Vistaprint have their pros and cons, so I want to compare these companies and recommend the one that I think works best for businesses and other professionals. Read my Moo vs Vistaprint compared guide for more.
La ligne de fond au départ
Vistaprint is the brand that I recommend to all professionals, and they will always be my go-to for all of my printing and promotional needs. They offer a massive catalog of print and promotional products, and they offer customizations for every item. Plus, Vistaprint is more affordable than Moo.
Main Differences Between Moo vs Vistaprint
The main differences between Moo vs Vistaprint are:
Moo has more design options, whereas Vistaprint is a better DIY option
Vistaprint is more affordable, whereas Moo has more high-priced customization options
Vistaprint is easier to use for beginners, whereas Moo is better for experienced users
Vistaprint focuses on more batch printing, whereas Moo prints in smaller quantities
Vistaprint offers more branded product options, whereas Moo focuses on paper products
Moo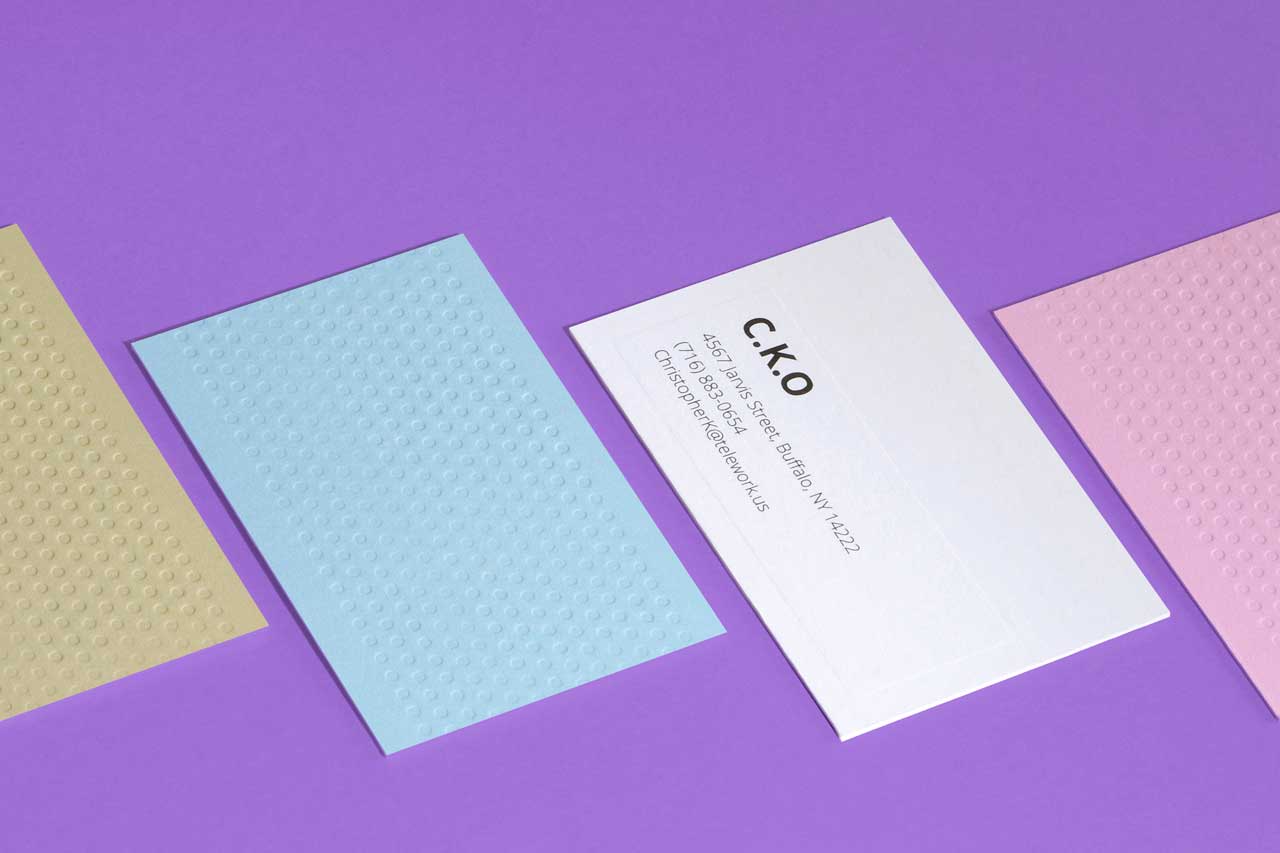 Moo is a British company that offers high-quality business print and promotional products. Formed in 2006, Moo is now a global business known for its premium business items.
They offer several high-end customization options, such as business cards made of cotton instead of paper. These advanced customization options helped them disrupt the business print industry.
While their products are pricey, they're affordable for even the smallest business or solopreneur just starting. In addition to selling classic items such as business cards, Moo also sells branded products such as water bottles and notebooks.
Pour
Various customization options
Many design capabilities
Easy-to-use design tool
Pre-made templates
Ability to upload your own design
Free samples and printed proofs
Cons
Small catalog
Not consistent
Caractéristiques
Because Moo is more customizable, they have more creative options compared to Vistaprint. First, you have many options to create supreme print products. You can choose your print materials, accents, glosses, and etched designs.
You can customize your items to your liking using their convenient editor. The editor is easy and intuitive enough to use, even for DIYers. If you don't know your desired design, Moo offers various customizable templates. Or, you can upload your own design. You can use this editor for all your products, no matter what you're ordering.
I have a problem with some of their items, such as their water bottles, where you don't have as many customization options. You can't even brand your own envelopes. This is a major flaw with Moo.
Ligne de fond: Moo has an easy-to-use and intuitive editor. You can either use Moo's pre-made templates or upload your own design. They offer more high-end customizations for your items, such as unique materials and etched designs. However, they have limited customization options for certain items.
Fixation des prix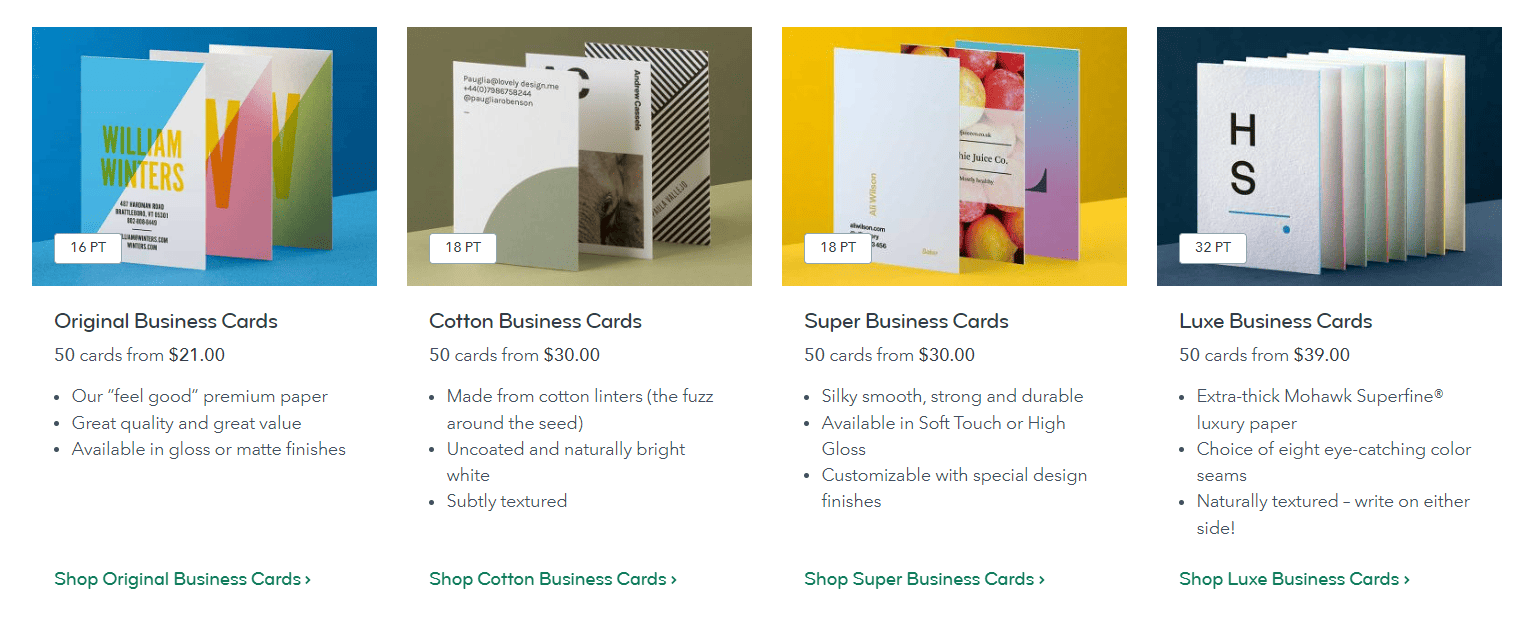 Moo is more expensive than most competitors, including Vistaprint. One pack of 100 business cards from Moo costs $42. The exact quantity and similar quality cost $18 on Vistaprint. If you want to print more products, you'll pay an even higher price. Plus, you also have to pay for shipping.
En résumé : Moo is pricier than the competition. I wouldn't recommend Moo unless you're looking for any of their specialty design options.
Facilité d'utilisation
Moo's website is easy to navigate; they have a dedicated menu section for their best-selling items, such as business cards, postcards, and stationery. You can find items such as flyers and brochures in the "marketing materials" section, merchandise such as water bottles in the "branded products" section, and miscellaneous items such as business card holders and even boxes in the "accessories" section.
Moo is easy to use, especially if you're not a designer. For example, when designing your business cards, select the option you want and other customizations, such as size. Then, you can choose to upload your design or make your own card.
If you make your own card, Moo will allow you to build a card from scratch or use a pre-made template. You can customize the front and back of your card, changing the font, color, and layout. This helpful design tool is easy and intuitive enough for everyone, even if you don't have the best design skills. I played with this tool for various products, including various business card types.
When you choose merchandise, such as water bottles and notebooks, they only allow you to upload a design.
En résumé : Moo's website is user-friendly, and you can easily find your desired products. Their built-in design tool is simple enough for anyone to use. However, some of their promotional items don't offer as much customization, so you'll need to upload a design.
Soutien
Moo offers customer support by phone, live chat, and email. They also offer a knowledge base filled with helpful tutorials and product insights. I haven't needed to use Moo's customer support, but I read articles in their knowledge base. This content was really helpful and helped me understand Moo as a business better and some of its policies.
En résumé : I didn't need to contact support, but Moo offers several contact options. You can also read articles on their knowledge base for quick answers.
Lire la suite : Meilleures alternatives à Moo : Devriez-vous acheter vos produits commerciaux ailleurs ?
Vistaprint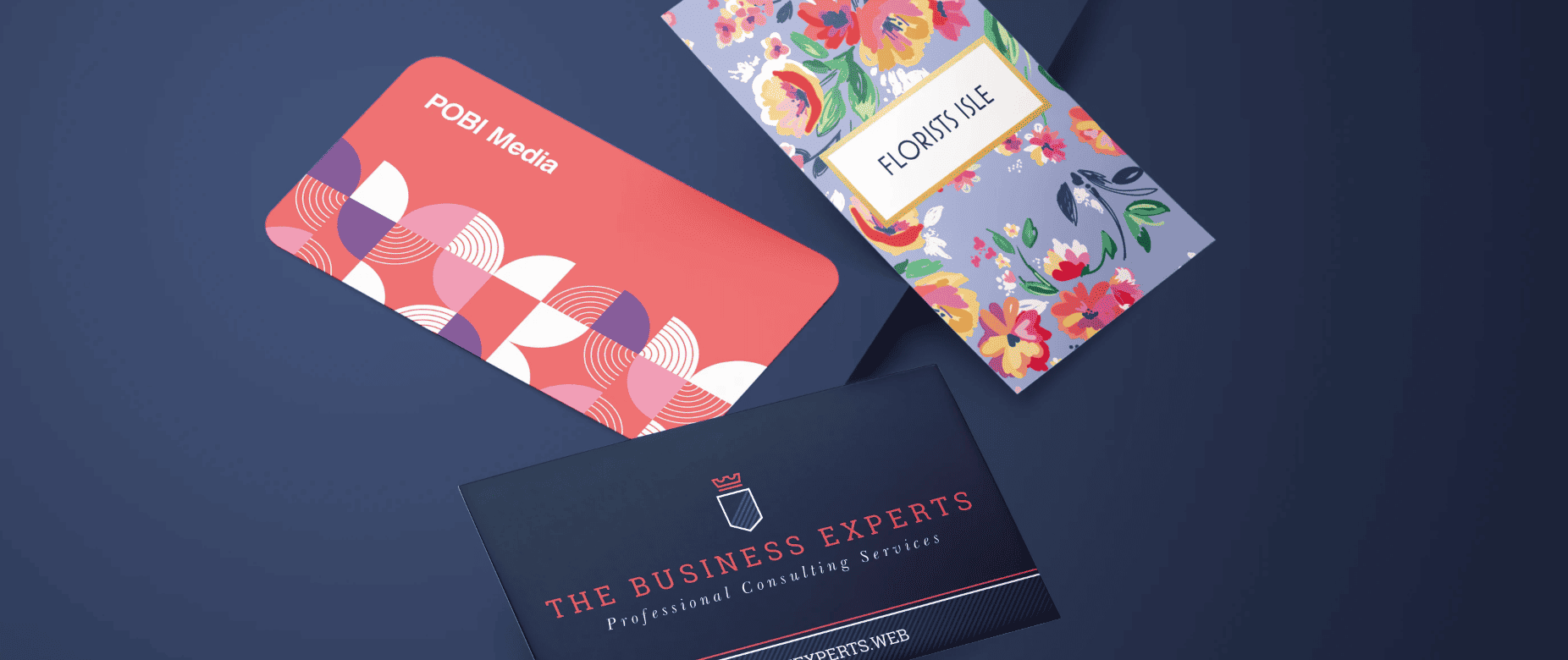 When I printed my first business cards, I used Vistaprint because they're affordable and an industry standard. Since then, I've ordered more products from this company, and I still trust Vistaprint for all of my marketing and promotion needs.
Vistaprint was formed in 1995 and was the first company to take advantage of e-commerce business print and promotion products.
This is why they offer a vast assortment of products–from business cards to pens. Every product is customizable and offers different branding options. They have a built-in editor that's simple to use, even if you have no design experience. If you're struggling to design any of your items, you can always ask their design team for assistance.
Vistaprint prints on a bulk basis, which is why their products are so affordable. You're also not sacrificing quality or cohesiveness. I've printed various items with Vistaprint and rarely ran into any issues. Their shipping is also really quick and affordable.
Pour
Solution tout-en-un
Offers a massive product catalog
Abordable
Easy-to-use design tool
Livraison rapide
Cons
Not as many design features as Moo
Caractéristiques
Vistaprint offers an easy-to-use builder for all items. You can choose one of their templates, or you can upload a design.
This goes for all items, including promotional products such as t-shirts and water bottles. If the DIY editor isn't working for you, they also offer web design services, simply called Vista. Vistaprint also has other subsidiaries for different needs. This includes VistaCreate for social media and Vista x Wix for web design.
Ligne de fond: Vistaprint offers a powerful DIY editor that's flexible, no matter what you're ordering. They also have different subsidiaries to expand their capabilities.
Fixation des prix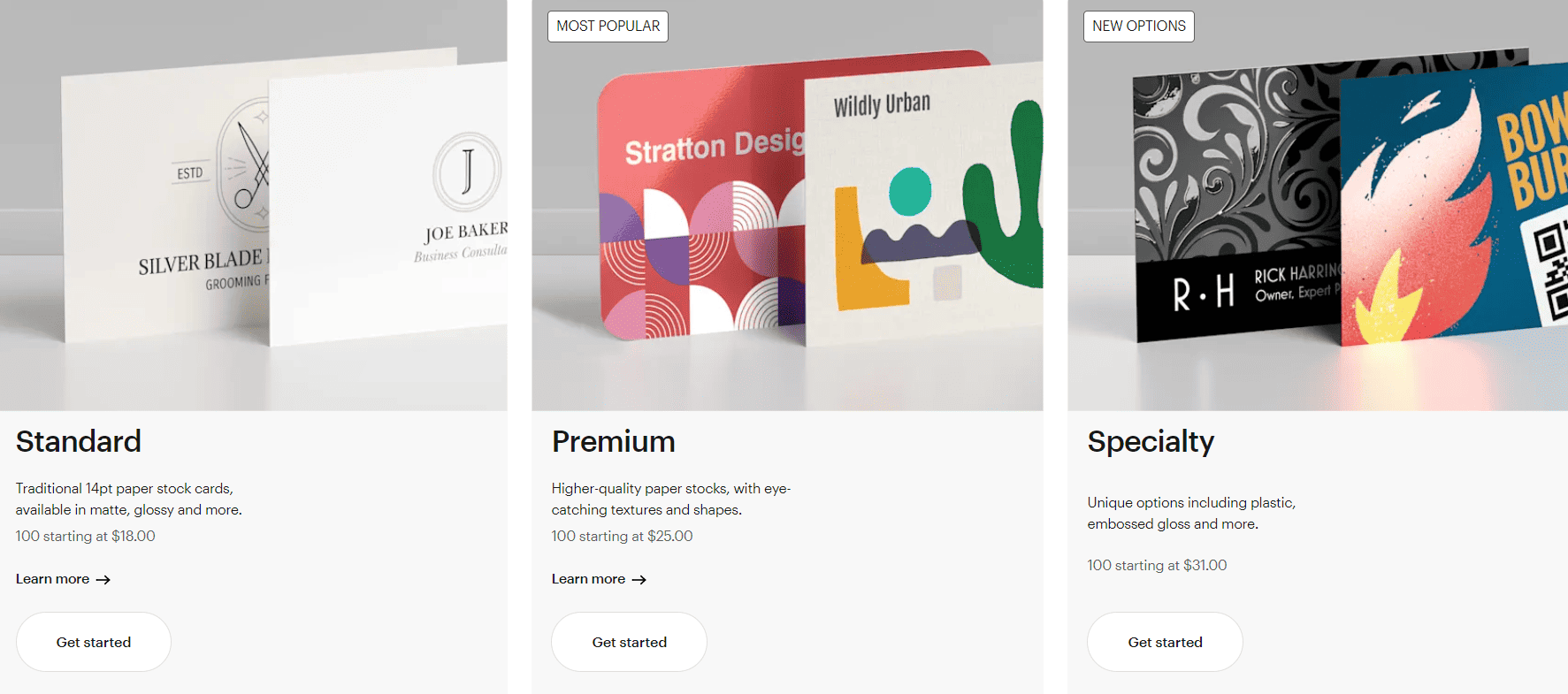 Vistaprint was my top pick as a fresh 20-year-old writer because their prices were low enough for my non-existent budget. As I said before, 100 standard business cards cost $18. This is an affordable price, perfect for small businesses. The reason why they're so affordable is they print in bulk, keeping prices low without sacrificing quality.
Ligne de fond: Vistaprint is one of the most affordable options since they print in bulk.
Facilité d'utilisation
Another reason why Vistaprint attracted me all those years ago was how easy it was to use. The website is super navigational, and I was able to find the products that I needed. Their product builder was also simple and intuitive enough for 20-year-old me.
You start by selecting your products, choosing the quantity, and you can either upload a design or create your own. When you choose "Browse Designs," you immediately go to a page of stylish templates. You can customize the cards by choosing different colors, shapes, and various finishes.
I've also created other print products with Vistaprint, and every item follows the same setup. I was able to design all of my products quickly, even though I have terrible design skills.
En résumé : Vistaprint's user-friendliness is one of its main selling points. The website is simple to navigate, and its design tool is intuitive. You have various customization options for all products, and you can choose to upload your own design or create your own.
Soutien
Even after all these years, I never needed to contact Vistaprint's support. If you need assistance, Vistaprint offers support via live chat, phone, and email. They also have a knowledge base that explains the basics of their system, placing an order, shipping, and other helpful topics.
En résumé : Vistaprint offers live chat, phone, and email support. You can also use their knowledge and help center to find a quick answer.
Alternatives
Did you read this guide and realize that neither Moo nor Vistaprint is what you need? Fortunately, other competitors out there specialize in different business needs. Here are the best Moo vs Vistaprint alternatives.

GotPrint combines the best of Vistaprint and Moo. They offer various paper options, and there are limitless ways to express your creativity. I especially love all the different card shapes they offer; you can get oval-shaped to half-circle business cards.
However, GotPrint is even more affordable than Vistaprint–100 standard business cards only cost around $10. I don't think their design tool is as user-friendly as Vistaprint's and Moo's, but you can always hire design services via GotPrint.
GotPrint is also an excellent solution for personal and recreational use, not just commercial. You can design fun items such as puzzles and order pre-made t-shirts.
There are some downsides to GotPrint. I don't think they're as modern as Vistaprint and Moo. Their templates are pretty basic. GotPrint also only accepts credit card payments, with no PayPal options.
Even though they're affordable, you get what you pay for. The paper quality isn't as good as Vistaprint's or Moo's, so GotPrint is the better option for those ordering business cards for the first time and those on a serious budget.
I love how GotPrint offers cool business card shapes and other creative options, but they don't offer basic customizations, such as various font options.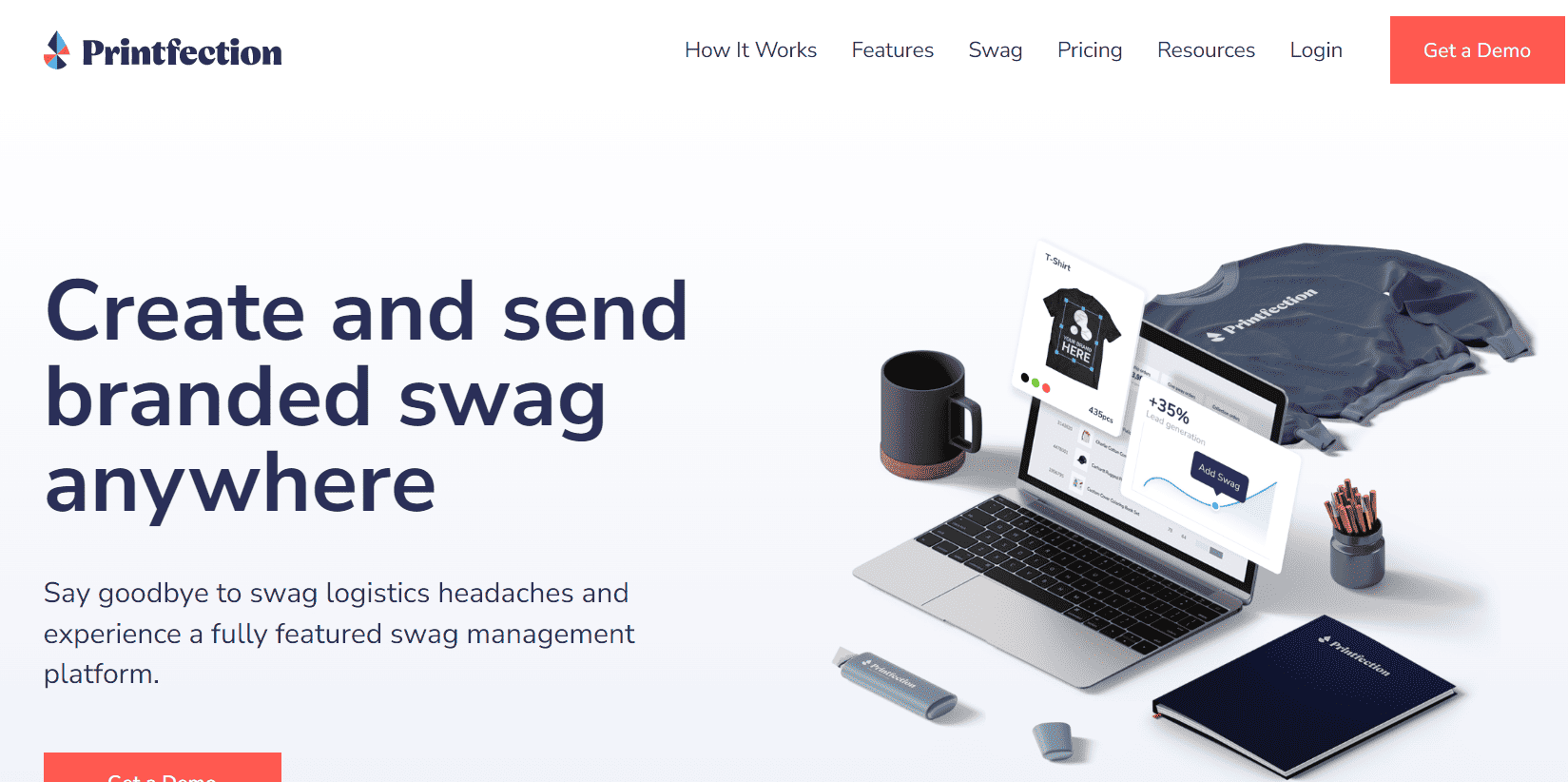 Printfection is a better alternative for businesses that pass out swag. Customers love this service because they operate on a dropship platform. Printfection handles the entire swag lifecycle; you can order swag, or someone else can purchase your merchandise, Printfection handles all payments, and they print and ship the swag to your customers.
Even if you're not selling your swag, this is a convenient platform and can aid your marketing and promotion campaign.
You have so many swag merch items to choose from. Printfection's design tools and website backend are very user-friendly. Their backend is also very intuitive, making navigation simpler. If you run into any issues, their support team is high-quality, and they want you to improve.
There are some downsides to Printfection. This is a better option if you regularly host giveaways or hand out swag. I considered using swag for my book merch, but I only offer giveaways on occasion, so I would be spending more money than what it's worth.
Their reporting function needs to improve, especially since it isn't customizable. Printfection supports integrations, but this function can be hard to navigate.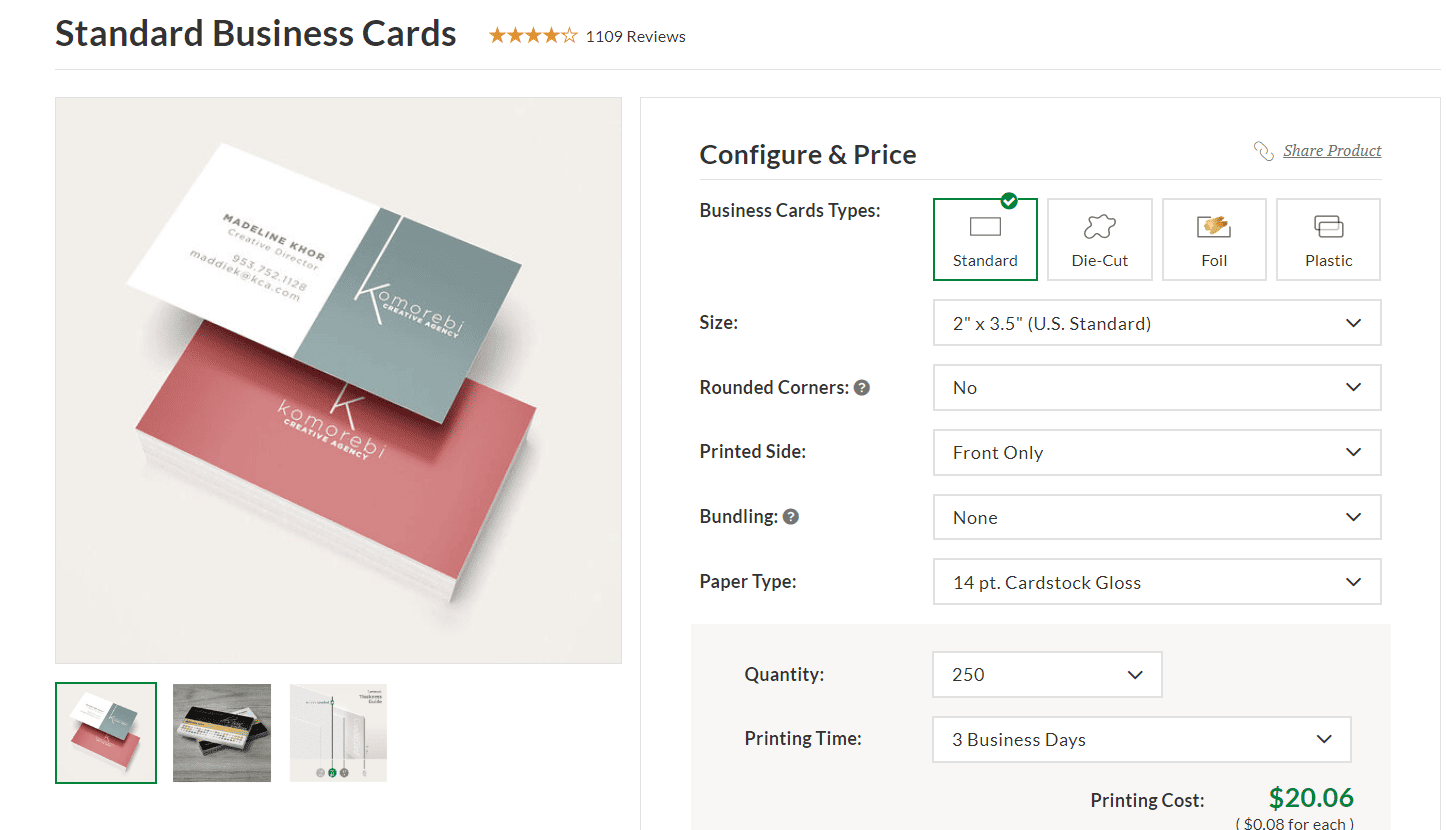 Uprinting is a company I previously reviewed. They're a good Vistaprint alternative, but they have pros and cons. First, they're an affordable option.
One hundred standard business cards cost $17, one dollar cheaper than Vistaprint. They also have options for niche businesses. For example, if you own a restaurant, Uprinting offers menu design services. Their shipping is expensive, but your items do arrive quickly.
There are some limitations with Uprinting. For example, your functionality is limited without signing up for an account. This isn't a huge deal, but I prefer guest checkout options. Their design tool is also clunky and outdated.
FAQs
Question : Where do Moo vs Vistaprint Make their Products?
Réponse :: Moo prints its products in the UK (Dagenham) and at a facility in the USA (Lincoln, RI). Vistaprint operates in a few places; they print from Venlo, Netherlands in Europe, and have two offices in North America: one in Windsor, Ontario, Canada, and another in Dallas, Texas, USA.
Question: Do These Companies use Good-quality Paper?
Réponse :: I think so. My Vistaprint and Moo business cards have lasted years–I still have some of the first Vistaprint business cards I printed ten years ago. Both businesses not only use excellent paper, but their design tools let you customize your items to your liking. While I haven't ordered Moo's promotional products, Vistaprint has beautiful posters. While Vistaprint has lower prices, both companies are affordable for the quality you're receiving.
Question: Who Owns Moo vs Vistaprint?
Réponse :: Richard Moross is the current owner of Moo. Robert Keane is the founder of Vistaprint, but the company is now owned by publicly traded company Cimpress plc.
Moo vs Vistaprint: Bottom Line
Vistaprint is my go-to company for all printing needs and the one I recommend to other professionals. You have various print and promotional products, and you can customize these items. Vistaprint's products are high-quality and affordable for the price you pay.
Vistaprint includes a user-friendly design tool that anyone can use, even without design experience. Their website navigation is simple, and the checkout process is smooth. If you ever encounter issues, Vistaprint offers high-quality support and a knowledge base.
Moo has good-quality products, but their customization options are restrictive. Plus, Moo has a smaller catalog than Vistaprint. Vistaprint offers everything you need to create the print and promo products that you need, all at an affordable price.
Lire la suite : Comparaison entre 4imprint et Vistaprint : Quelle est la meilleure entreprise pour les produits promotionnels ?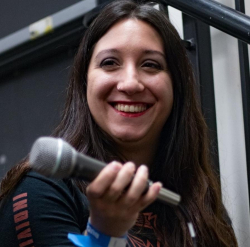 Les derniers articles par Stephanie Jensen
(tout voir)