Last Updated on mai 2, 2023 by DMEditor


Sniply is a marketing tool that can help you drive conversions with every link you share. Using Sniply, your customized message appears on any piece of content, whether it's your latest blog post or an article you liked from the New York Times. With each "snip" you can create a call-to-action moment on any piece of published content you share online.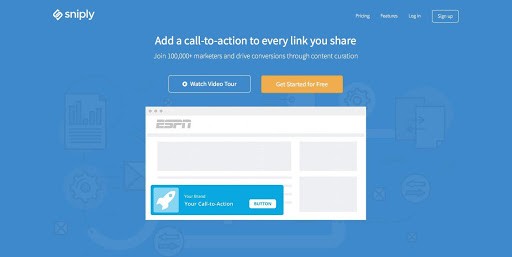 It seems too good to be true, right? Let's find out together. Today I'll be reviewing Sniply to find out if it's a new business owner's dream or another marketing tool you can live without.
I'll base this review on my research as a new business owner, and that of my online experts I affectionately call my "Tech Troop" that help me navigate the seemingly never-ending marketing resources that are available for new start-ups online.
C'est parti !
Sniply generates unique links for you to share. Instead of copying and pasting a URL on social media with no accompanying text to market your brand, Sniply allows you to customize the link to create a call-to-action moment.
Ça ressemble à ça :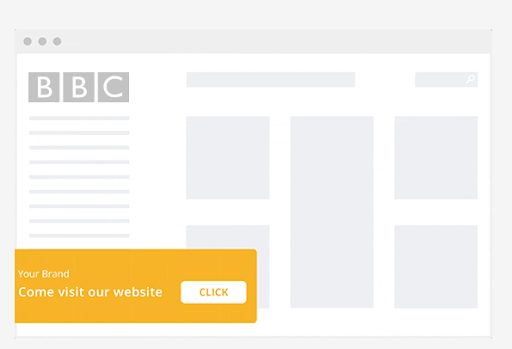 In this example taken off snip.ly, the user shared an article from BBC using Sniply instead of pasting a URL.
If this were your business, your brand name would replace "Your Brand," and you would create a message and a button to prompt your audience to do something.
As marketers, that's what we want. We want our customers to engage with our brand online and ultimately convert that interest into sales. By getting them to click this link, we are increasing the odds of that happening, and we gain greater insight into what interests them as potential customers.
We'll get into that later when we look at the analytical perks of using Sniply but first, let's find out how it works.
What Does This Process Look Like?
It's time to take Sniply for a test drive! My content writing business will be your guinea pig.
As a writer and owner of KSW Content, I specialize in creating marketing content for businesses. I'm excited to try out this service since I share social media posts the good-old-fashioned way of copying and pasting links. According to my Tech Troop, if I know how to copy and paste, then I'll have no problem using Sniply. We'll see about that.
1. Sign up for Sniply
First, I head over to snip.ly and am greeted by what every low-tech/no-tech person appreciates—a video tutorial! It looks like this (the image is linked if you want to check it out for yourself).
I highly recommend watching the video. It's short, only 1:26, and will quickly explain how Sniply works.
After clicking the "Get Started for Free" button, I'm greeted with this screen: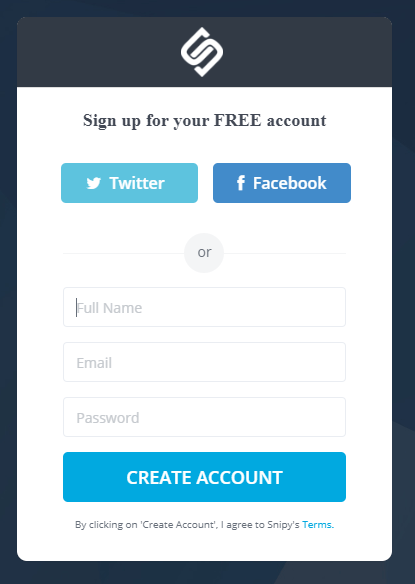 I'm going to create an account instead of linking up my social media profiles for this service. For the sake of this review, I want to see how someone entirely new to social media marketing experiences Sniply.
2. Time to Get Snip-ing
Why do they call it Sniply anyway?
Well, it's a tool that lets you take a small portion, or snippet, of a longer URL when you want to share a link online. By definition, the word "snippet" means "a small piece or brief extract" so it makes sense, right?
So, now it's time to create my first "snip." Here's what it looks like: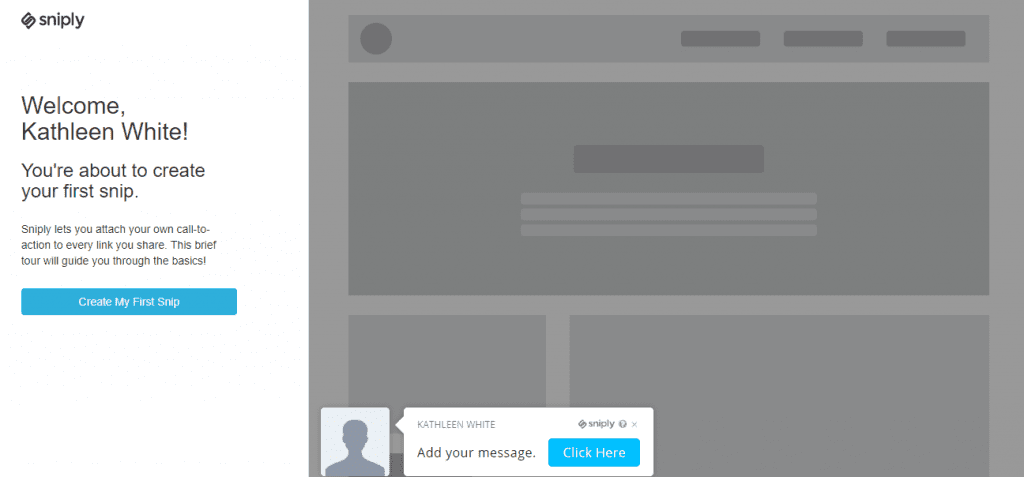 It asks me to set up my brand by choosing a photo and how I want my name to appear. Here are a couple of thoughts on that:
Decide how you want your business to appear online—is your brand speaking from your perspective as the owner, or is it more a corporate image you wish to personify? For my brand, I want to attract business owners in need of content, so I'm using the name of my business, KSW Content.
Do you have a professional portrait, or should you use an official logo for your picture? Remember, this picture will represent your livelihood online, so it must appear polished to your audience (i.e., no selfies or casual photos—it's time to bring your A-game).
If you have a logo for your business, will it fit well in the space provided? I have a horizontal logo, so I'm trying to fit a rectangle in a circle making it difficult for my logo to appear to my liking. I'm contacting my graphic designer to get a better fit, but for now, it will work.
In choosing your name remember how it will appear to your audience. Are you going to ask them to "Click here to attend one of my seminars"? If so, you want the question to come from you, not the name of your business, so the picture should be your face with your name next to it.
Here's what I decided: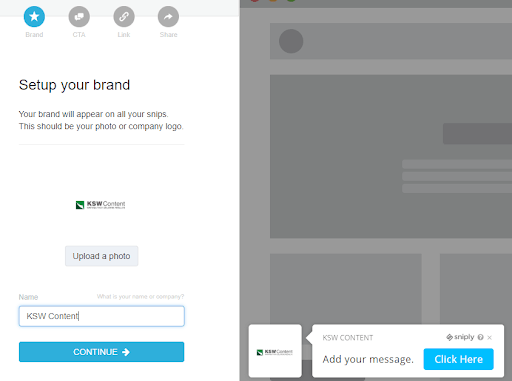 Now I'm ready to create my first snip, but first I need to set up my CTA.
The call-to-action, or CTA, is what you want your audience to do when they see the link, or snip.
I'm going to test this out with a new article on content marketing I want to share with my audience entitled "7 Questions to Troubleshoot Your Content Marketing" by Steve Goldhaber that was featured on Content Marketing Institute's website.
Here are a few examples of what I could say to my audience that would go in my "message" field:
Do you need marketing content?
Content questions?
Got content?
Now, here's where it can get tricky from a marketing perspective. You must choose enough words to get your message across and capture the interest of your audience while being mindful of space and presentation.
Always keep in mind the audience that is reading this CTA. For example, the "Got content?" message, a nod to the "Got milk?" ad campaign decades ago, might not resonate with the younger generation, so it's probably not a good CTA for a snip.
Also, consider the length of the CTA so visually it doesn't dominate the screen, but it still gets the message across.
Par exemple :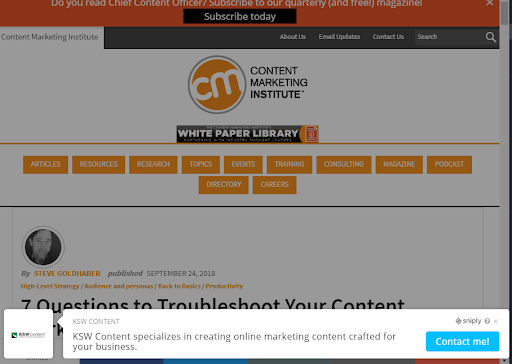 See how it takes up too much space and appears awkward on two lines? While it clearly explains what I do, it's too much for a CTA.
Instead, I choose to use this: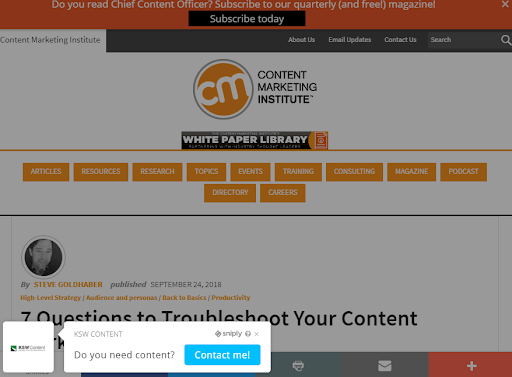 This looks much better. It's clear, to the point, and doesn't dominate the screen with words but still gets my message across.
Now that my snip is ready to go, it's time to send it out into cyberspace, i.e. post it online. Before I snip, it looks like this: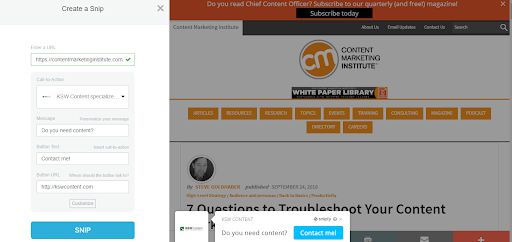 I click on the blue SNIP button and this screen appears: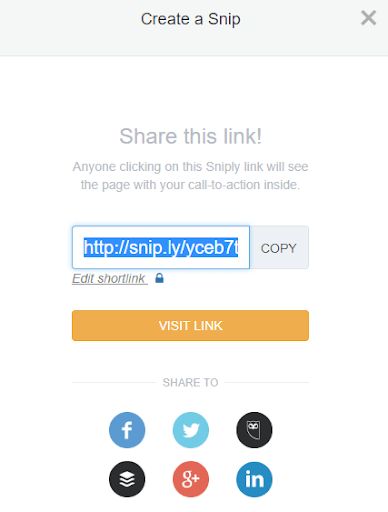 It really couldn't be easier! I can either visit the link to see how it appears, or I can share it on my social media profile pages. I shared it on my business' Facebook page, and it looked just like the preview above.
Sniply Analytics
So, is that it? You create a link and hope it works?
But wait, there's more!
Sniply Analytics keeps track of all your clicks and conversions generated from that link, so you can see which links created interest in your brand and visits to your site, and which snips didn't, by visiting your dashboard on snip.ly.
For people new to social media marketing, this dashboard is super helpful; you can measure the effectiveness of your posting and adjust your marketing plan accordingly. The dashboard looks like this: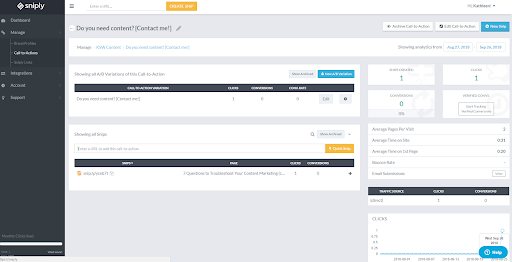 As you can see I've only created one snip so far but soon this dashboard will be filled with dozens of clicks and conversions (I hope), so I can track how this snip created interest in my brand.
Additional Sniply Features and Benefits
For techies and non-techies alike, here is a brief overview of the features and benefits of Sniply. For more information about each category, I highly suggest checking out the "Caractéristiques" page on Sniply.com.
Each category has a corresponding landing page to walk you through how to use the feature, (which is fantastic), so anyone can learn how to use Sniply to its fullest potential. I'll outline each category and let you know what my Tech Troop thinks about it.
Sniply Types
Sniply offers a variety of types of snips:
Button Snip: create a customized button that invites visitors to check out your page.
Form Snip: ask visitors to sign up for your mailing list using a form snip to collect emails.
Text Snip: attach a hyperlinked text that visitors can click to view your page.
Hidden Snip: take advantage of Sniply's powerful analytics and functionality without a snip.
Image Snip: create and attach a custom banner image that redirects customers to your website.
Tech Troop Says: The form snip is perfect for those that need to gather email addresses for marketing purposes, while the Hidden Snip may appeal to others that need more help gathering data. All business owners could use a button snip at some point, and the text and image snip are easy-to-use and useful options as well.
Sniply Customizations
Are you ready to "up" your marketing game? Check out how you can customize snips to make your brand appear effortlessly integrated and perfected in front of your audience.
Tech Troop Says: The Sniply customization options allow small businesses to compete online with their larger counterparts through smart marketing strategies. These options are easy to use and help elevate your brand to another level.
Sniply Data Gathering
Analytique: track and analyze all your snips to evaluate your social media marketing
Tests A/B: increase your conversion rates by experimenting with multiple variations
Conversion Pixel: plant a conversion pixel to track specific actions taken on your site.
Tech Troop Says: This feature might not be for everyone but for those that want to really dig into what is working and why, it's excellent. For smaller businesses that are new to social media marketing, this data may be more depressing than helpful since low-traffic sites wouldn't benefit from the data.
Sniply Connect Apps
Intégrations: connect with Hootsuite, Buffer, Sendible, Mailchimp, Zapier, and more.
API: customize your workflow using Sniply's comprehensive API
Extensions: install Sniply on your Chrome, Firefox, Safari, and Explorer browser.
Tech Troop Says: Connecting apps make it easier to use Sniply and track outcomes.
Sniply Custom Code
Retargeting Pixel: attach retargeting pixels to your snips to reach specific audiences.
Custom CSS: write your own CSS to fully customize the look and feel of your snips.
Custom tracking: integrate with custom analytics software like KISSmetrics and Google Analytics.
Custom Scripts: attach code snippets and scripts to your snips.
Tech Troop Says: Users liked the ability to customize their snips ad the data perks of integrating KISSmetrics and Google Analytics.
Sniply Customer Support
Email Support: 24/7 email support from the Sniply team.
Setup Assistance: full setup assistance including custom option and integrations.
Phone Support: unlimited personal phone support.
Invoicing: custom invoicing based on the needs of your business.
Tech Troop Says: Mostly positive reviews for Sniply Customer Support with many commenting on how easy it is to manage several brands using one service.
Should You Upgrade?
Using the free version, the only thing I didn't love about using Sniply was this: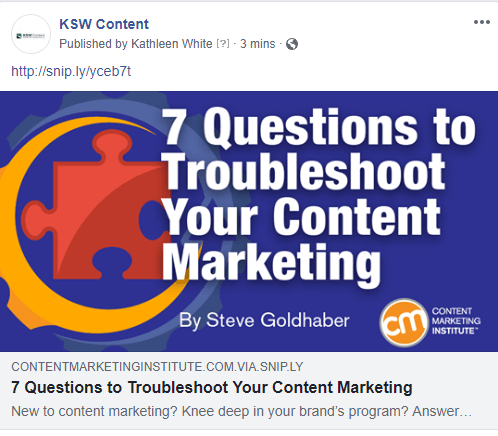 Notice the snip link? I would rather customize that link so it's not a URL but something that sells—I'm a marketer after all. So, I decided to click on the "Edit shortlink" option: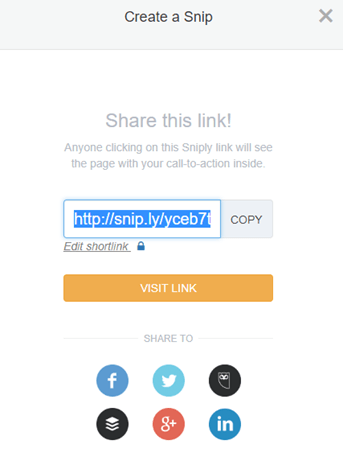 Guess what? I'll have to upgrade. I know, I wasn't surprised either.
Which brings us to our next discussion:
Sniply Price Options
When I click the "Edit shortlink" option, this is the screen that appears: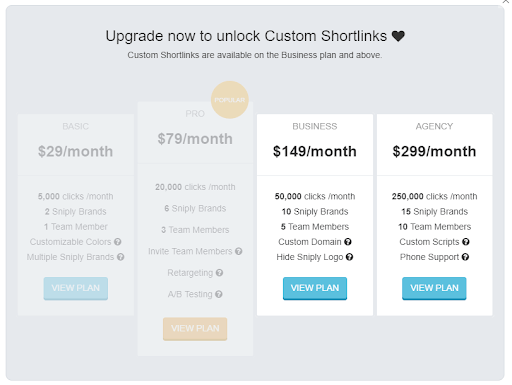 For my small business, this monthly cost might be too high to avoid URLs.
Here are the pricing plans for Sniply: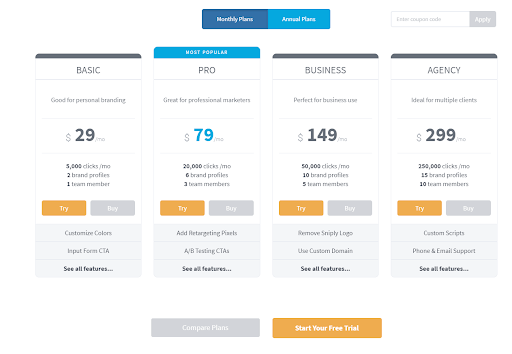 You have the option of trying any of these plans for free for 14 days to see if it works for your business before you buy. There is also a free trial anyone can access for up to 1,000 clicks. After your dashboard registers that your snips generated that magical number, you must pay to play.
To Snip or Not to Snip?
The most basic plan will cost almost $400 annually. Will you recoup that cost using Sniply? It's easy to enter a credit card number and own it, but will Sniply produce a return for your business?
Before you take out your credit card, ask yourself these questions:
1. Am I committed to using this service on a regular basis?
This marketing tool will only work if you use it. Do you have a plan for implementing this service into your existing marketing strategy?
2. Who will manage Sniply?
No, it can't be Kyle the Intern who "knows stuff" about computers and can log in every morning to make a quick snip.
Purchasing Sniply is an investment in your business, and you will need an employee who understands both how to use the service, and more importantly how to interpret the data provided by Sniply analytics. Before buying, have this person take a "test drive" of the service and hear how they think it will help your business.
You also want to "snip strategically" so, these links of published content from others that you want to snip must be relevant to your brand, interesting to your audience, and supportive of your mission as a business.
So, no, Kyle the Intern shouldn't be picking the links that represent your business. It should be someone that understands the significance of each snip.
3. Why am I buying Sniply?
You don't necessarily need a tool like Sniply to be a pro at social media marketing. You can copy and paste links the old-fashioned way and use other tools to gauge effectiveness.
However, if you want to appear more professional online, build your audience by sharing articles from other publishers, and blast your call-to-action out to the masses this is a great option.
Personally, I'm sold, and I can't wait to start snipping.
Are you ready to start snipping or do you need more convincing? Check out the "Welcome" video on Sniply's homepage to see it in action.