Last Updated on mayo 2, 2023 by DMEditor
Any negocio en línea owner worth their salt knows understands that a professional, functional, and efficient sitio web isn't an option – it's a necessity.
As such, you're probably looking for ways to maximize sales and improve your website's user experience.
¿Cómo?
In short, your site needs to be user-friendly and stand out from the crowd (amongst other things); however, if you have limited tech know-how or you're unsure where to start, this can be difficult. That's why so many entrepreneurs look towards web hosting providers to help them publish higher-quality websites.
En WordPress is the most popular website building platform on the market, we're exploring two providers offering WordPress-specific hosting: Kinsta y Servebolt. Here we're investigating their pros, cons, main features, and the pricing plans of each to help you choose the right provider for your business.
Let's dive straight in!
Main Differences Between Kinsta vs Servebolt
The main differences between Kinsta vs Servebolt are:
With Servebolt, you'll need to contact customer support if you want to restore your site to an earlier version of your website or 'back-up,' whereas, with Kinsta, you can do this yourself directly from their platform.
All sites hosted on Kinsta are protected by their built-in firewall, whereas Servebolt doesn't offer this, so you'll need to install third-party security software. However, this provides more freedom of choice, so you can pick the right security provider for you – so there are pros and cons to this difference.
Servebolt offers a free tool to check your website's uptime whenever you like, whereas Kinsta doesn't offer this. Instead, they perform regular and automated uptime checks.
With Servebolt, website backups are stored for 14 days, whereas with Kinsta, they're held for 30.

Kinsta's infrastructure is powered by the Google Cloud Platform, whereas Servbolts isn't – instead, Servebolt has its own hardware and benefits from Linux, Nginx, HTTP/2, and its own versions of PHP and MariaDB.
Kinsta and Servebolt's Core Similarities:
They both support WordPress's multisite function, meaning you can add multiple sites to your WordPress installation.

Both offer free site migrations, meaning experts will move your website over from your previous host to Kinsta or Servebolt free of charge.

Both providers offer a vast range of SSL certificates, so you'll never struggle to find the one you need.

Both providers have the infrastructure to manage high volumes of traffic, so if your needs change or you go viral, you'll never have to worry about slow loading times.

Their customer support teams consist of developers, performance experts, operations pros, and more, so you're guaranteed the highest-quality customer care and expertise.
What Are Web Hosting Providers?
If you're new to the world of online marketing, you might be unsure what web hosting providers actually do.
In essence, they're responsible for maintaining and running web servers so that your website stays live and ensures your site's excellent performance. So when you purchase web hosting, you're essentially asking the provider to give you space on their server so that you can store all the files that make up your websites, like HTML files, images, and other scripting files.
Without a hosting provider, you'll have to set up your own server, which is an advanced task (and often an expensive one, too). In addition, you'll have to choose the proper hardware, operating systems, and more. Whereas when you opt to work with a web hosting provider, you don't have to worry about any of this.
A first-rate hosting provider will also provide additional goodies like security tools, email accountsy website building tools to help you get things off the ground.
Now that we've covered the basics, let's turn our attention to Kinsta and Servebolt:
What's Kinsta?
Launched in 2013, Kinsta has established itself as one of the fastest-growing WordPress hosts in America and Europe.
Kinsta boasts a range of features, including:
High speeds

High security

Next-gen infrastructure

Free site migrations

Access to the Google Cloud platform

Excelente atención al cliente
...y mucho más.
They also offer optional add-ons for each pricing plan, including extra disc space, reverse proxies, and more.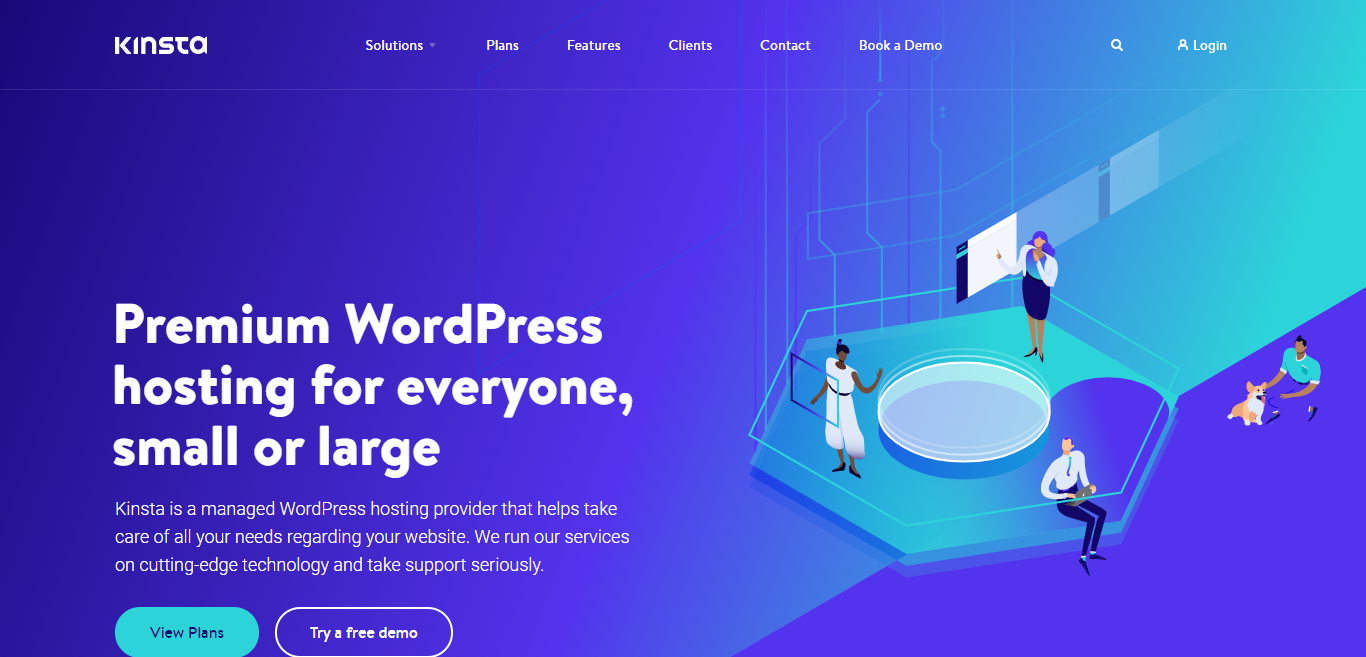 What's Servebolt?
Servebolt (previously named 'Raske Sider') was founded in 2014. Since then, the company has gone global and now has offices worldwide.
Servebolt provides a range of features, most notably:
Fast front and back-end, which saves you and your developers time optimizing your website for speed. For those unfamiliar with these terms, 'front end' refers to the end-user interface, and 'back end' refers to the server – and Servebolt guarantees quick loading speeds for both!

High security

It's built for scalability

Powerful caching

Free website migrations
...y mucho más.
They also make a bold promise: To be faster than any VPS, shared hosting, or cloud-based hosting platform.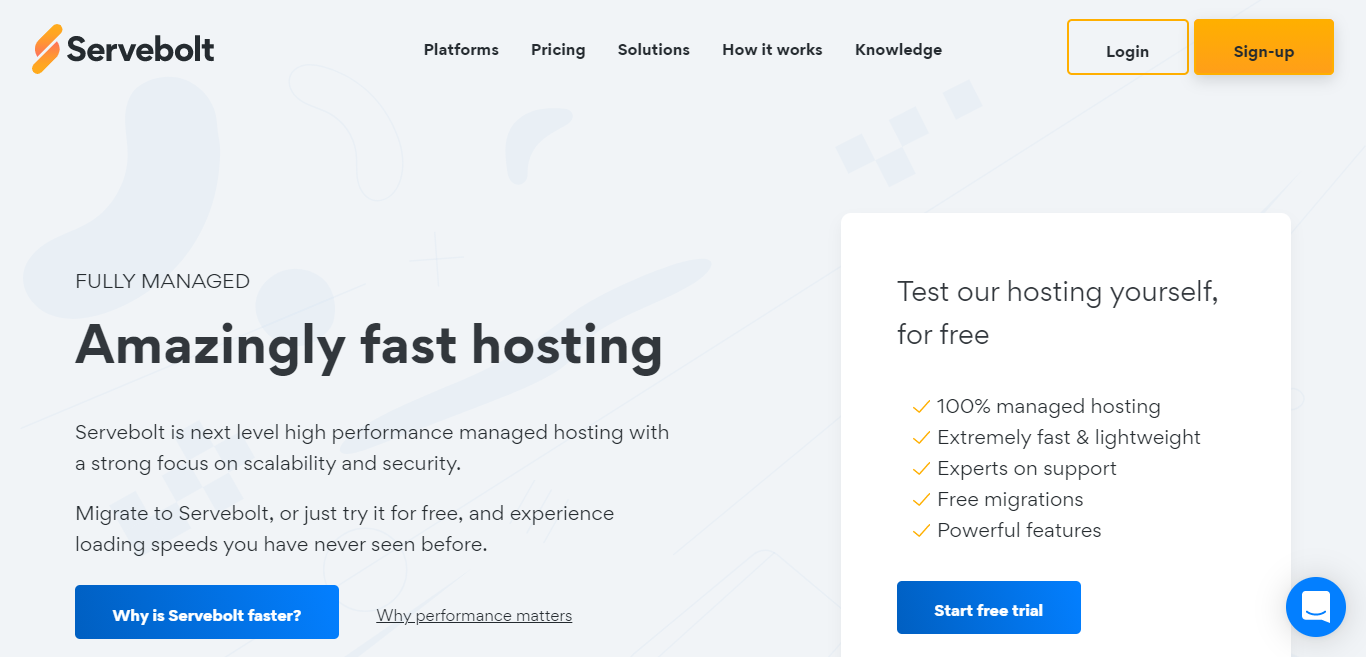 Kinsta's Main Features
Next, let's look at the main features Kinsta has to offer:
Regular Uptime Checks
Kinsta works hard to ensure the impressive 99% uptime promised in their service level. They check the status of all their websites every two minutes – which equates to around 720 daily checks on your site! Best of all, if Kinsta fails to correct their error response codes within 30 minutes, you'll get your money back.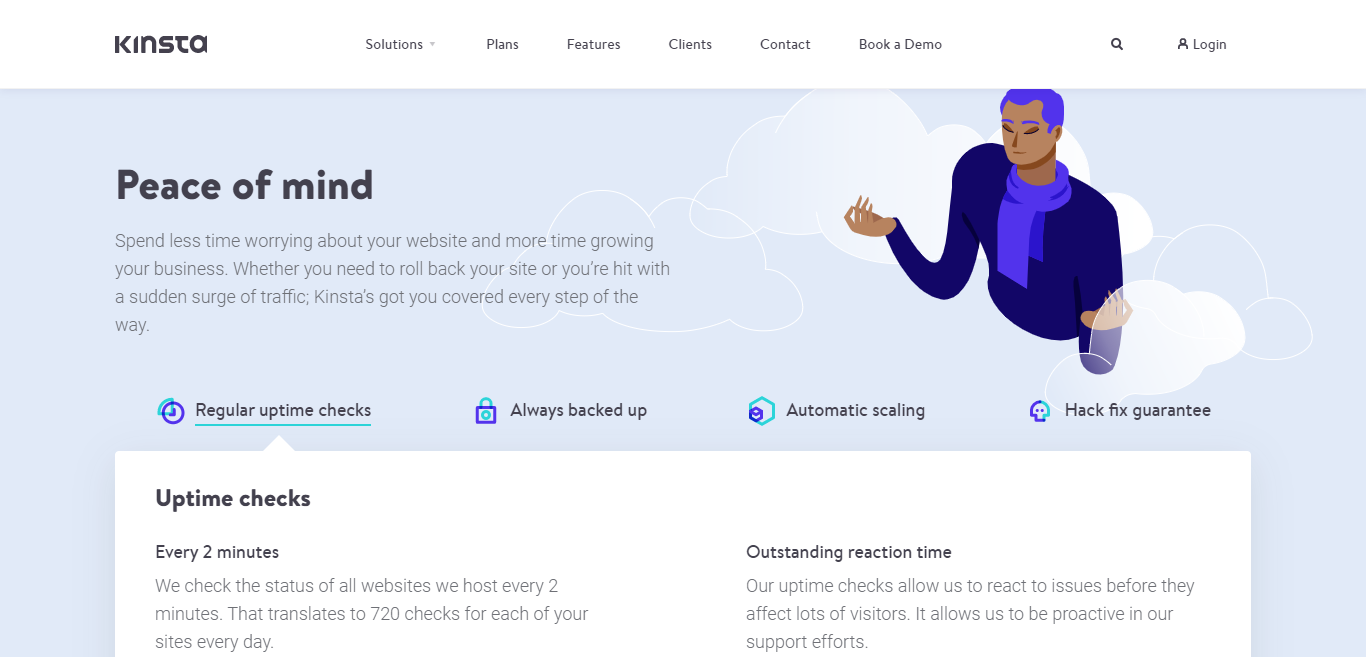 Plataforma Google Cloud
In 2016, Kinsta moved its entire infrastructure to the Google Cloud Platform. For users, this means your sites run on the same infrastructure as Google, which goes a long way to boosting the user experience. In addition, Kinsta uses Google Compute Engine to scale their website's capacity up or down at speed, depending on traffic flow. This ensures your site runs smoothly, even when faced with unexpected traffic spikes.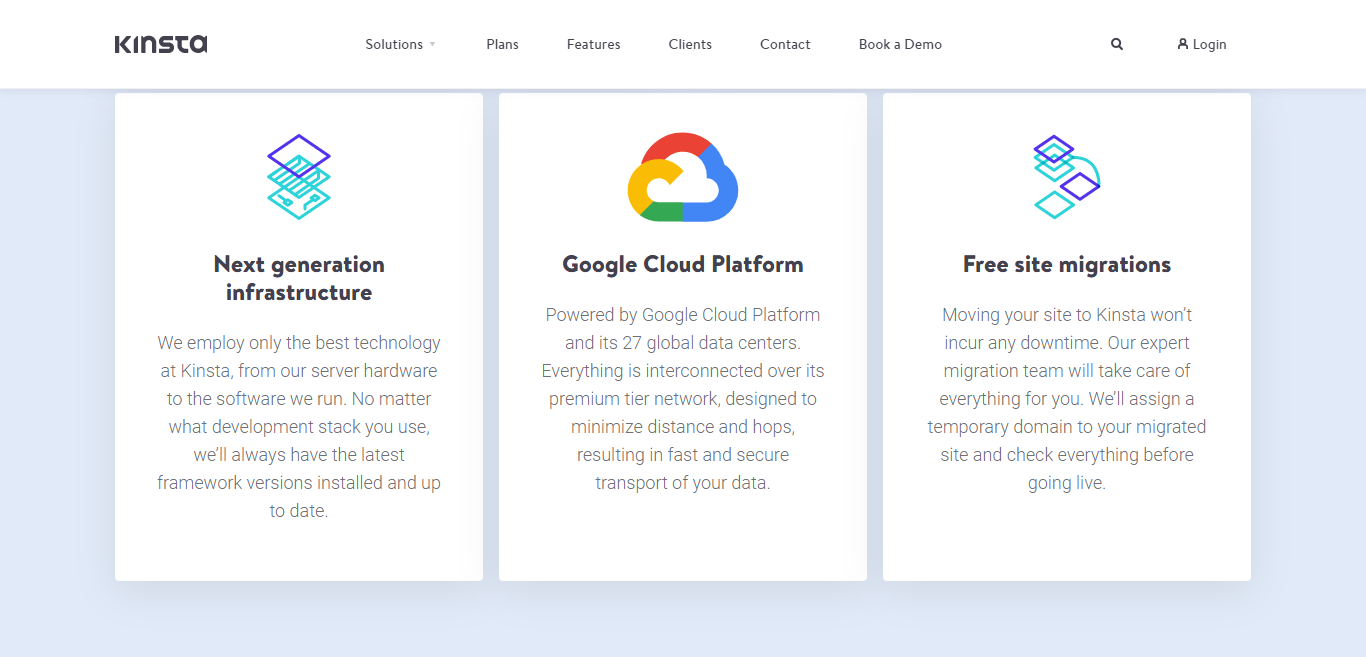 Free Site Migration
If you already have a website and wish to migrate to Kinsta, you won't have to worry about downtime. Kinsta's expert migration team takes care of the process for you. They'll assign a temporary domain to your site and check everything before it goes live to ensure the smoothest possible transfer.
A Detailed Dashboard
From Kinsta's dashboard, you'll see an abundance of website info, including:
Number of visits

Analytics like bandwidth, cache, CDN usage, site response times

Your billing information

The status of your migrations

Filter stats by site and time-frame (for example, you can view analytics for one website over 24 hours)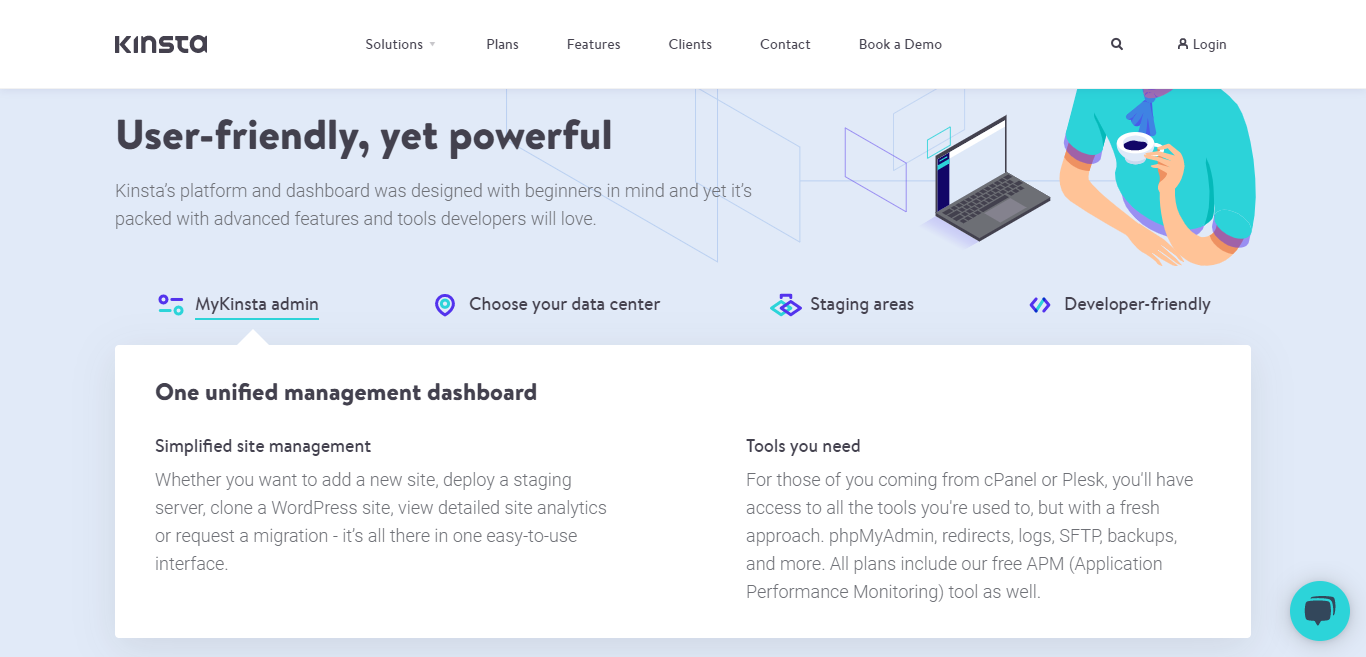 Daily Back-Ups
Kinsta backs up your site at least once a day – if anything goes wrong, Kinsta always has access to a recent copy of your site that can be reinstated with just a click.
Lightning Speeds
You won't have to worry about poor loading speeds. With Kinsta, you benefit from state-of-the-art tech, including Nginx, PHP 8.0, and more, which works to ensure your website loads lightning quick.
The Google Cloud Platform also comes in handy here; users can benefit from Google's private fiber network, reaching speeds as high as 10,000TB in some regions.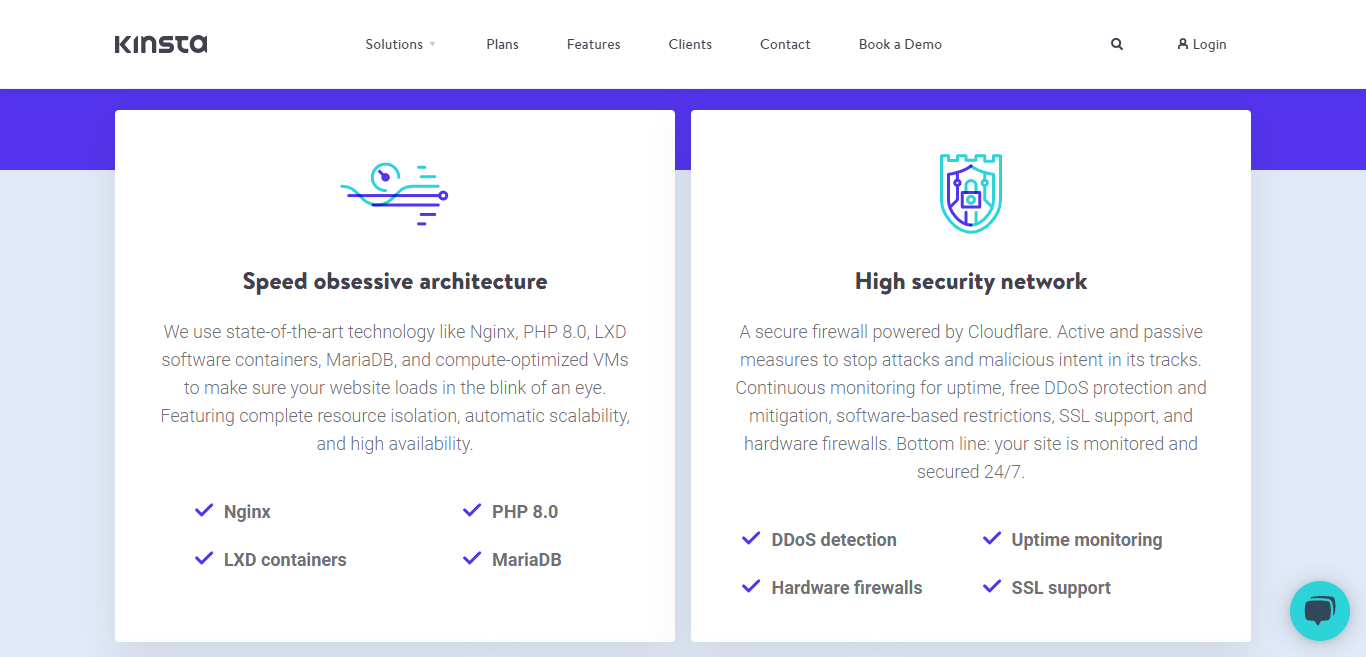 Servebolt's Main Features
Now, let's turn our attention to Servebolt – how do their features compare?
Super Quick Speeds
You might remember Servebolt's claim to offer faster speeds than any other VPS, shared hosting, or cloud-based hosting platform. They're able to do this by providing a sophisticated system that focuses on several hosting environment optimizations:
Faster PHP Processing:

PHP is a widely used, open-source scripting language embedded into a URL. Servebolt's hosting processes PHP at the fastest speeds available. This helps reduce your site's 'time to first byte' (TTFB), a measurement used to indicate the responsiveness of a web server (or another network resource). This guarantees faster loading times, which goes a long way to improving conversation rates, SEO performance, and more.

Faster databases than other competitors:

According to Servebolt

, databases perform 40% faster when you migrate to the Servebolt cloud. This is thanks to their custom version of MariaDB, a popular database management system.

Lightweight hosting infrastructure:

This means your site requires less code to run quickly. Dense and extensive code can slow site response times. Instead, Servebolt only requires minimal coding to ensure quick loading times.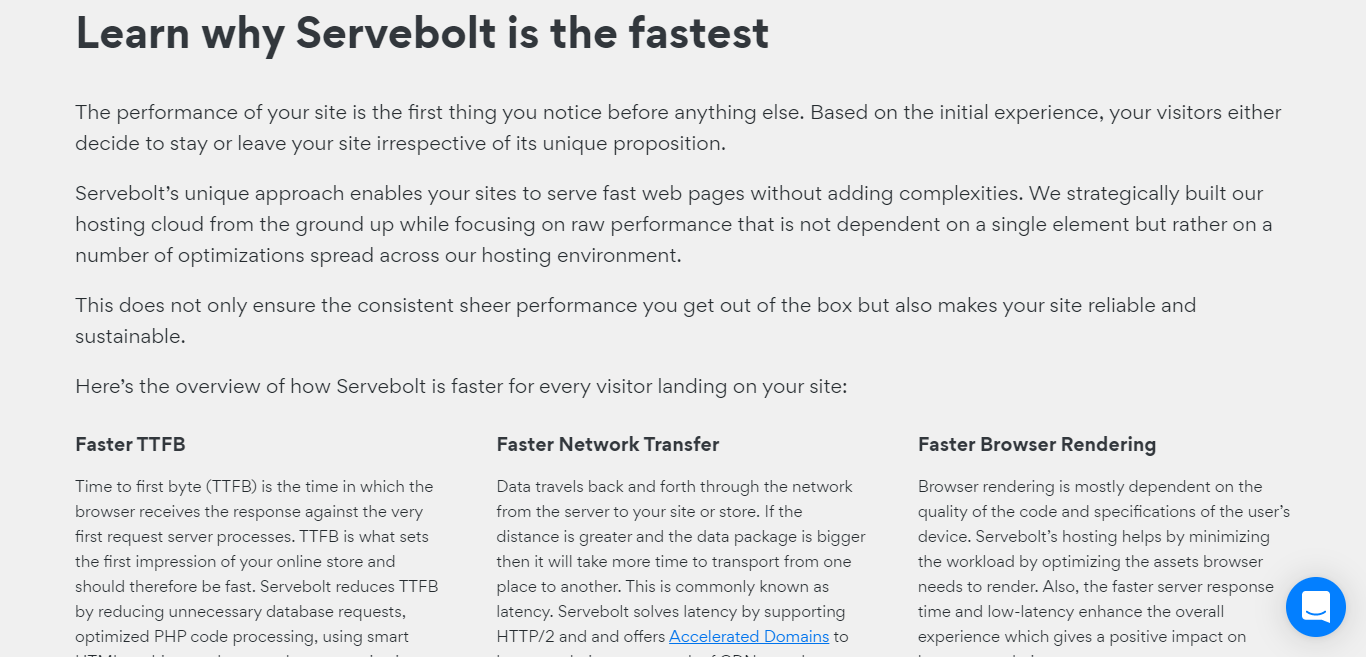 Enhanced Core Web Vitals Score
When you move to Servebolts WordPress hosting, you'll improve your website's core web vitals. For the uninitiated, these are made up of three components: loading, interactivity, and visual stability. All of which play a part in determining how well your website works.
Servebolt improves your core web vitals score to ensure a functional and efficient website for end-users. This is done through their 'Accelerated Domains' service, which offers a range of features to automatically improve your website's performance, like smart-caching to deliver images faster.
High Security
Servebolt users benefit from a range of security measures. For instance, they run frequent software patches to update, fix or improve their features, and they monitor for threats like DDoS to neutralize them early on.
Other measures are also embedded into Servebolt Linux. This is a fork of Linux maintained by Servebolt, which is used to power the Servebolt cloud. Features in Servebolt Linux include thousands of optimizations for hardware and software components that guarantee enhanced security and hardware features, networking, disc access, and more.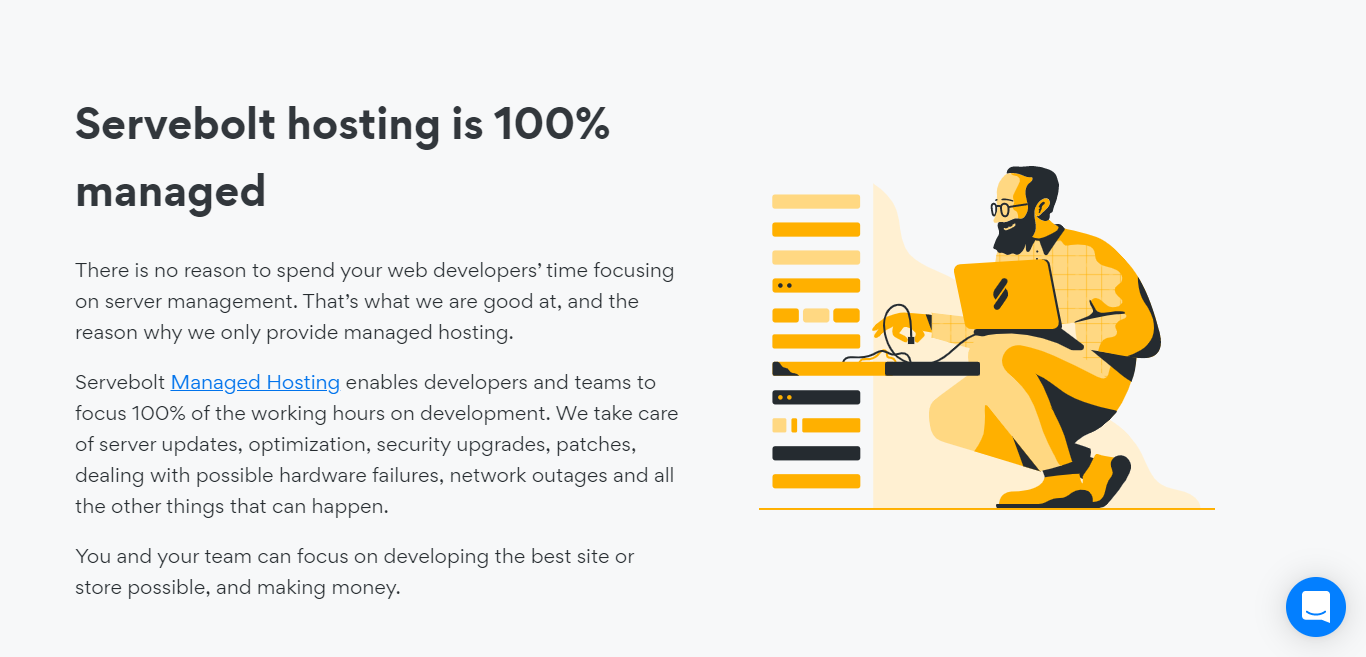 Frequent Back-Ups
Servebolt conducts daily, automated website back-ups. So you'll always have access to a copy of your site if you need it. Each backup is stored for 14 days.
No Disruption to Performance, Regardless of Traffic
Servebolt offers:
Ancho de banda ilimitado

Unlimited PHP workers

High availability hardware

An optimized database
All the above ensures your site copes with large spikes of unexpected traffic without experiencing slow loading speeds. In addition, Servebolt claims to support thousands of concurrent users. So, if your content goes viral, you won't have to sacrifice engagement rates and conversions. This is done with the help of the Servebolt cloud – it benefits from unlimited bandwidth and the ability to scale and deliver fast performance despite traffic peaks.
Powerful WordPress Caching
In short, a cache is a hardware or software component that stores data to make future data requests faster. Servebolt offers a free cache plugin for WordPress. Instead of caching in PHP, the plugin generates caching headers that allow the webserver to cache HTML.
Several cache types in WordPress and Servebolt offer server-based caching solutions to enable your WordPress website to process user requests faster.
For example, Servebolt offers three main cache settings:
Caching Off:

When caching is turned off, Nginx directs all requests back to the back-end web server. This delivers the request filed directly from the file system, which results in web pages loading much slower. As such, this option should only be used during website development.
Cache Static Files (Default Setting):

With this setting, elements like images and Javascript files are cached according to the headers provided by your web application for fasting loading speeds. The time a web component is cached can vary between one to 30 minutes.

Cache Static Files + Full-Page Cache:

This setting also allows caching for HTML and PHP output.
Kinsta Pricing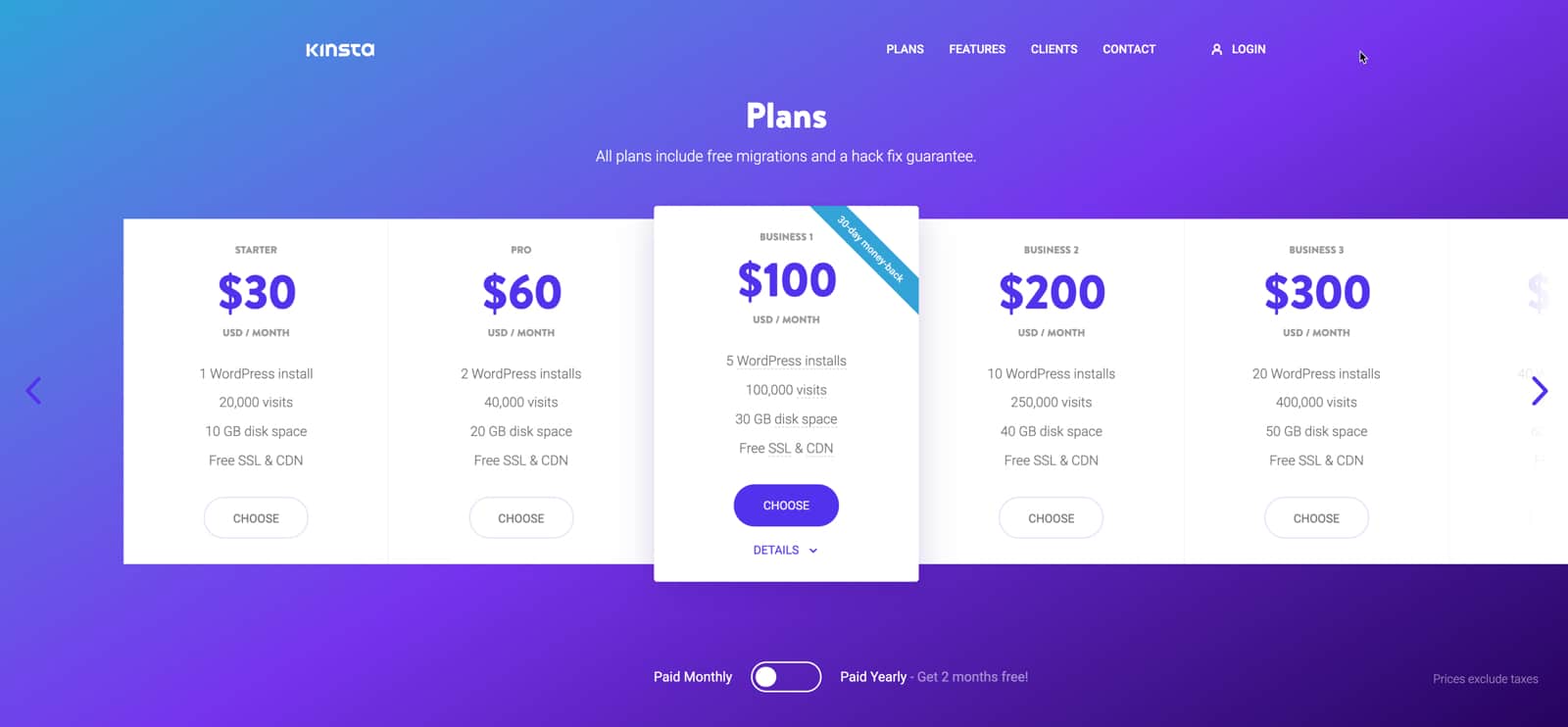 Kinsta offers a wide range of payment plans, all of which come with free website migration and a hack-fix guarantee. The latter is an additional security feature that ensures if your site's hacked while hosted with Kinsta, they'll work with you to undo the damage. This goes a long way to ensuring your site gets back up and running as quickly as possible.
Each package also comes with a:
30-day money-back guarantees

A free SSL

A free CDN
That said, let's take a look at Kinsta's payment plans below (based on monthly billing):
A Quick Note on Kinsta's Pricing
According to Kinsta, a 'WordPress' install or 'site' consists of two environments – live and staging – which both support a single installation of WordPress's core software. Therefore, the only way to create an additional database on Kinsta is to add a new site or WordPress Install. To find out more, click aquí.
Kinsta's payment plan is based on the total number of monthly visits your site attracts. The number of visits is calculated based on the sum of unique IP addresses seen within 24 hours recorded in Kinsta's Nginx log. If you go over this number, you may be subject to overage fees. Again, consult Kinsta's knowledge base for more information.
With all that in mind, Kinsta's pricing packages are as follow:
Inicio
This will set you back $30 per month, for which you'll get:
One WordPress install

25,000 website visits

10GB worth of disk space
Pro
Here, the price jumps up to $60 a month and entitles you to:
Two WordPress installs

50,000 website visits

20GB worth of disk space
Business 1
For $100 a month, you'll get:
Five WordPress installs

100,000 websites visits

30GB worth of disk space
Business 2
At $200 a month, you'll enjoy:
Ten WordPress installs

250,000 website visits

40GB worth of disk space
Business 3
For $300 per month, you get the following:
20 instalaciones de WordPress

400,000 website visits

50GB worth of disk space
Business 4
For $400 a month, you increase limitations to:
40 instalaciones de WordPress

600,000 website visits

60GB worth of disk space
Enterprise 1
For $600 per month, you're granted:
60 instalaciones de WordPress

1,000,000 website visits

100GB worth of disk space
Enterprise 2
At $900 per month, you can handle:
80 instalaciones de WordPress

1,500,000 website visits

150GB worth of disk space
Enterprise 3
For $1,200 per month, you'll benefit from:
120 instalaciones de WordPress

2,000,000 website visits

200GB worth of disk space
Enterprise 4
Finally, Kinsta's most expensive plan at $1,500 per month:
150 instalaciones de WordPress

3,000,000 website visits

250GB worth of disk space
Servebolt Pricing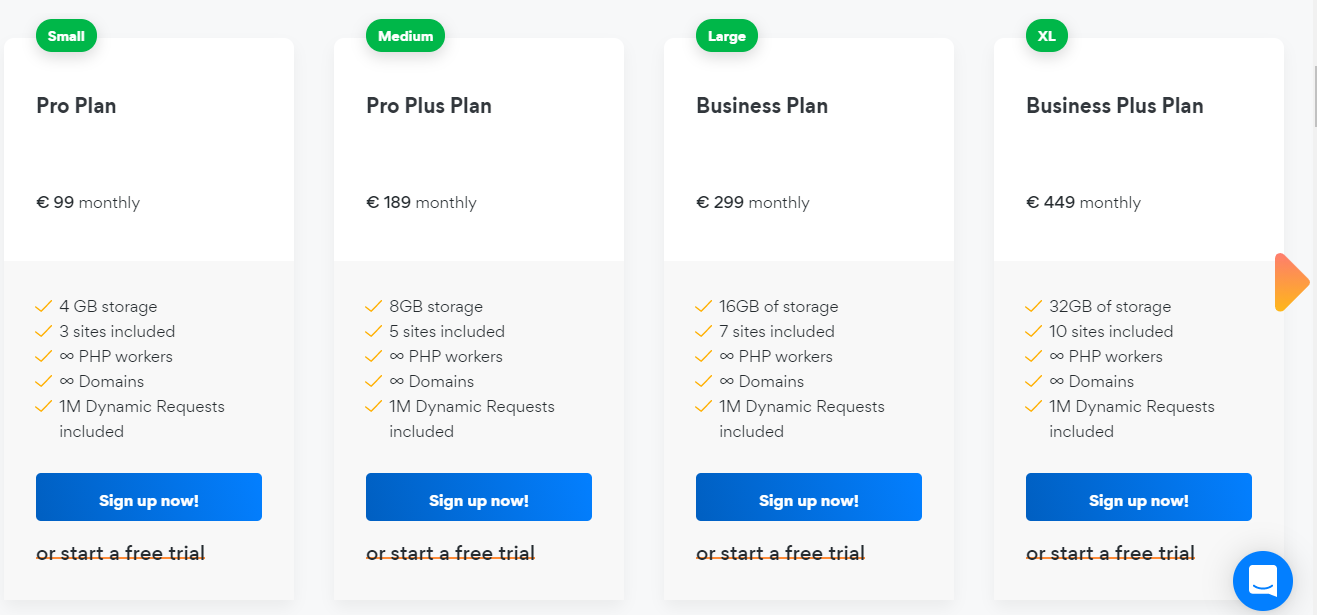 Servebolt doesn't offer as many payment plans as Kinsta. However, the features provided in each plan are just as dynamic and scale to meet the needs of most businesses. You also opt into a free trial for each package to try before you buy – except the enterprise plan. Plus, you can test run your site on a 'bolt' by signing up for a free test and free test migration. Each plan also comes with unlimited PHP workers and domains.
Plan Pro
For €99 per month, you get:
Four GB worth of storage

Three sites included

1M dynamic requests included
Pro Plus Plan
For €189 a month, you'll enjoy:
Eight GB worth of storage

Five sites included

1M dynamic requests included
Plan de empresa
At €299 a month, you benefit from:
Six GB worth of storage

Seven sites included

1M dynamic requests included
Business Plus Plan
For €449 a month, you increase restrictions to:
32GB worth of storage

Ten sites included

1M dynamic requests included
Business Extra Plan
For €649 per month, you'll unlock:
64GB worth of storage

15 sites included

2M dynamic requests included
Business Pro Plan
For €999 per month, you'll get:
128GB worth of storage

20 sites included

2M dynamic requests included
Enterprise Starter
For €649 per month, you're entitled to:
High performance

32GB worth of storage

Cloudflare Business included

5M dynamic requests included
Small Enterprise
With Servebolt's most expensive plan at €1250 per month, you'll get everything in the Enterprise Starter package, plus:
128 GB worth of storage

Asistencia prioritaria

10M+ dynamic requests included
Empresa
If this is of interest to you, you'll need to contact Servebolt directly for a custom quote:
Tailored distribution

Custom security

A dedicated customer success manager

Cloudflare Business or Enterprise

Custom Dynamic Requests
*According to Servebolt, a Dynamic Request refers to a request not served by any cache. It, therefore, reaches the origin server (Apache). To find out more, click aquí.
* 'Cloudflare Business' is a set of features for websites that want enhanced security and performance. To find out more about what this entails, click aquí.
Kinsta's Pros and Cons
We've been over the key features offered by these hosting providers, so now let's explore the pros and cons of each to help you make a decision, starting with Kinsta:
Pros:
Peace of mind:

With access to daily back-ups and the option of creating manual backups and event backups triggered by specific actions (like switching from staging to production) – you'll always have access to a recent version of your site.

Kinsta copes well with unexpected surges in traffic:

Thanks to its cloud-based format, Kinsta is excellent at dealing with traffic spikes. Its integration with Google's Compute Engine also enables websites to scale to as many CPUs as needed, which again helps your website handle traffic spikes.

Easy to set up and migrate:

Creating an account with Kinsta is hassle-free. In fact, you could be staring at your site's dashboard within a matter of minutes. Plus, you'll have access to Kinsta's online help center and customer support to keep you on track. With one free site migration offered with each plan, you can leave the task of website migration to Kinsta's talented team and save yourself the headache of migrating yourself.

Site management features:

Kinsta also comes with a range of website management features, including one-click staging (to test different WordPress versions and plugins quickly), speed tuning (includes performance reviews and caching), and managed updates (performed by the Kinsta team).
Contras:
Premium price tags:

Kinsta's plans aren't cheap. However, if you purchase Kinsta on a yearly plan (rather than monthly), you'll get two months free per year.

Multi-site:

Kinsta doesn't offer multi-site support on their cheapest plan.

No phone support:

Although Kinsta offers 24/7 live chat support, they currently don't offer phone support.

No email hosting:

Kinsta doesn't offer email hosting, which means you'll have to look elsewhere if you want this service.
Servebolt's Pros and Cons
Now, let's take a look at Servebolt's pros and cons:
Pros:
Migration is completely free (even for trial accounts)
A 99% uptime guarantee:

You'll be hard-pressed to find this kind of commitment from other web hosting providers.

You get more control:

When choosing your hosting plan, you can select a cloud region to ensure the quickest possible speeds. In addition, each cloud location is strategically placed to ensure the lowest possible latency.

Reliable security:

Servebolt monitors for security issues 24/7, and they use AppArmor to secure every server; you'll also benefit from Servebolt Linux.
Contras:
Steep pricing:

Like Kinsta, Servebolt's pricing plans are expensive, even for smaller websites using the cheapest plan.

There isn't a money-back guarantee:

Unlike Kinsta, Servebolt doesn't offer its customers a money-back guarantee.

Poor domain name registrar:

Según

saashub.com

, the Servebolts domain name registrar has poor reviews and customer feedback.
Kinsta vs Servebolt: FAQs
Last but not least, let's wrap up this review by answering some of the most frequently asked questions we hear about Kinsta and Servebolt:
Question: How quickly can Kinsta and Servebolt perform site migration?
Answer: With Kinsta, once you've signed up, you can request migration immediately, and you can do so directly from the platform. Kinsta claims to complete migrations as quickly as possible, usually within 24 hours.
With Servebolt, you'll have to fill out a 'secure migration form' (found on their website) to begin migration.
Unfortunately, they don't specify precisely how long this process takes. However, they're renowned for their speed, so we doubt it will be a lengthy process. Contact Servebolt directly for more information.
Question: Can I perform my own load tests with Kinsta and Servebolt?
Answer: You can perform load tests, but not with automated tools. With Servebolt, you'll need to fill out a load testing form on their website, and with Kinsta, you need to contact customer support directly to make the request.
Question: Can I add other PHP scripts with Servebolt and Kinsta?
Answer: According to Kinsta's website, you can "set up a simple, non-WordPress PHP script alongside your WordPress site." However, they don't provide support for "non-WordPress scripts and applications." Servebolt says you can upgrade the PHP version of your site, but it's not clear if you can add other PHP scripts. Contact Servebolt directly to find out more.
Question: Do my sites get dedicated IPs with these providers?
Answer: No, neither provider offers dedicated IPs for your site.
Kinsta vs Servebolt: Our Final Verdict
Both Kinsta and Servebolt offer a decent range of features. But, most importantly, the most sought-after web hosting features (like speed and security) are met by either provider.
Whether you choose between Kinsta or Servebolt may depend on your technological capabilities and budget. Kinsta has a fantastic range of features suitable for users who want to focus more on growing their website than maintaining it. For example, uptime testing, bandwidth management, and monitoring are performed on-demand, allowing users to enjoy more of a 'hands off' approach.
On the other hand, Servebolt may complement users who don't mind taking on more maintenance tasks but still want to benefit from a more affordable price plan and more technical support. Servebolt is slightly more 'independent' – users still benefit from excellent customer support and a well-managed platform.
However, some features require you to contact customer support directly or take a more independent approach. For instance, take load speed requests and choosing a 'cloud region' as a few examples. This isn't done automatically for you, so you'll need to consider which region will deliver the fastest speeds to your users and manually select this. Some may consider the extra control a pro, but others, who may not have the time or necessarily the know-how may find this a burden. As such, you'll have to figure out what your needs are and go from there.
So, there you have it: our Kinsta and Servebolt review – which, if either, of these platforms do you think you'll opt for? Whatever your opinion, tell us all about it in the comments box below. Speak soon!