Última actualización en abril 22, 2023 por DMEditor
Are you creating your first website? If so, you should research the best hosting companies. Choosing a hosting company offers many benefits and more website owners are utilizing hosting providers. In fact, the web hosting industry market is expected to be worth $171.4 billion.
If you already started researching web hosting providers, you likely stumbled on Cloudways y Kinsta. Both platforms offer managed web hosting, where the hosting company handles a lot of the hardware needed to run your website. These are popular and affordable options, but both hosting providers offer different benefits for their customers.
So, which one should you choose?
The Main Differences Between Cloudways and Kinsta
Kinsta offers a free demo while Cloudways hosts a three-day free trial
You can get a 30-day money-back guarantee with Kinsta but not with Cloudways.
You can host multiple domains with Cloudways but not with Kinsta's Starter Plan
Cloudways is a cloud hosting provider while Kinsta is a fully managed WordPress hosting service
Dedicated hosting is available with Kinsta but not with Cloudways
Aspectos a tener en cuenta
Neither platform offers unlimited data storage or emails
Since Cloudways is a cloud hosting provider, they don't offer other hosting products
Kinsta also only offers WordPress hosting and dedicated hosting on their higher-tiered plans
Cloudways doesn't offer a cPanel
Both platforms are optimized by WordPress
Both platforms include a free SSL certificate
Rendimiento
Website performance is now more integral than ever. A well-performing website reflects well on your brand. If your website constantly suffers downtime and other issues, you could face lost sales and even reduced SEO results.
Which hosting provider offers the best performance? Fortunately, you can't go wrong with both platforms.
Kinsta offers an SLA-backed 99.9% uptime guarantee. That's because they have a container-based infrastructure; in other words, the database runs within the container to prevent running multiple loading balances.
Not only that, but Kinsta checks the status of all of their websites every two minutes. If there is a problem, they will fix the issue before it can cause damage. However, Kinsta doesn't offer 100% uptime (though 99.9% is pretty close).
Cloudways also has a healthy platform. Since it runs on the cloud, it can use cluster nodes powered by Google. If there's an issue with your website, a node cluster will be turned up to avoid damage. This is why more website owners experience little downtime with Cloudways.
This round is a close tie. Technically, Cloudways can offer more as far as performance goes. But for those who aren't interested in cloud hosting, Kinsta offers excellent performance and constant monitoring.
Speed
Speed and website performance go hand-in-hand. So, which platform offers the fastest speed?
One of the many reasons why Kinsta stands out is because of its fast loading speeds. Their website architecture includes many speed-friendly caches, fast-loading website features, different plugin integrations, and partner with KeyCDN so your content loads quickly.
Cloudways offers many of the same benefits, such as advanced caches, SSD drives, HTTP/2, PHP 7, pre-configured PHP-FPM, and different speed plugins for WordPress.
Both platforms offer incredible technology and advanced features to keep your website running swiftly. Therefore, both win this round.
Content Delivery Network (CDN)
Many WordPress websites are powered by CDN. This network reduces the latency time of content delivery. Both hosting providers allow users to integrate their CDN to their website. But which one works better?
Kinsta partners with CDN giant KeyCDN. All you have to do is download the Kinsta MU Plugin. Each plan includes the CDN plugin but up to a certain amount is free. On the starter plan, you receive 50 GB of bandwidth (you're charged 10 cents for every extra GB you use).
Cloudways also has its own CDN that you can integrate. However, CloudwaysCDN isn't free. For $1 you receive 25 GB, which isn't terribly expensive.
Free is always better. This is why Kinsta's free and powerful CDN beats Cloudway's CDN, even if it is affordable.
WordPress Features
As stated previously, both hosting platforms offer WordPress CMS. WordPress is the biggest CMS on the market, allowing an easy platform for anyone to publish content.
But every hosting platform offers different WordPress features. How do Kinsta and Cloudways compare?
Kinsta has high-end servers that work seamlessly with WordPress. With Kinsta you receive 720 daily uptime checks on your WP website, server-level caching, backups, WordPress-specific security, and high flexibility.
Cloudways makes it easy to set up your WordPress website. However, its WordPress hosting options are more complex than Kinsta. This may be beneficial if you own a website such as an e-commerce site that requires different functions but may not be ideal for someone who's only blogging.
You'll still receive a ton of features when Cloudways powers your WordPress website. You receive cache plugin Breeze for free, unique optimization technology Thunderstack, the latest web servers and databases, and the smart bot CloudwaysBot.
Kinsta has an easy-to-use WordPress hosting solution packed with features. This is why they win this round.
Precios
While it's important to get into the technical stuff, we all know what you care about: the price. So, which hosting platform is better for your buck?

Just a heads up, Kinsta is slightly more expensive than Cloudways. Their starter plan is $30/month compared to Cloudways' $10/month. If you want more than one website, you'll have to upgrade to an advanced plan.
However, the starter plan is still powerful. You receive free backups and even a free SSL certificate. Kinsta also hosts different deals, such as two months free when paying for an annual plan.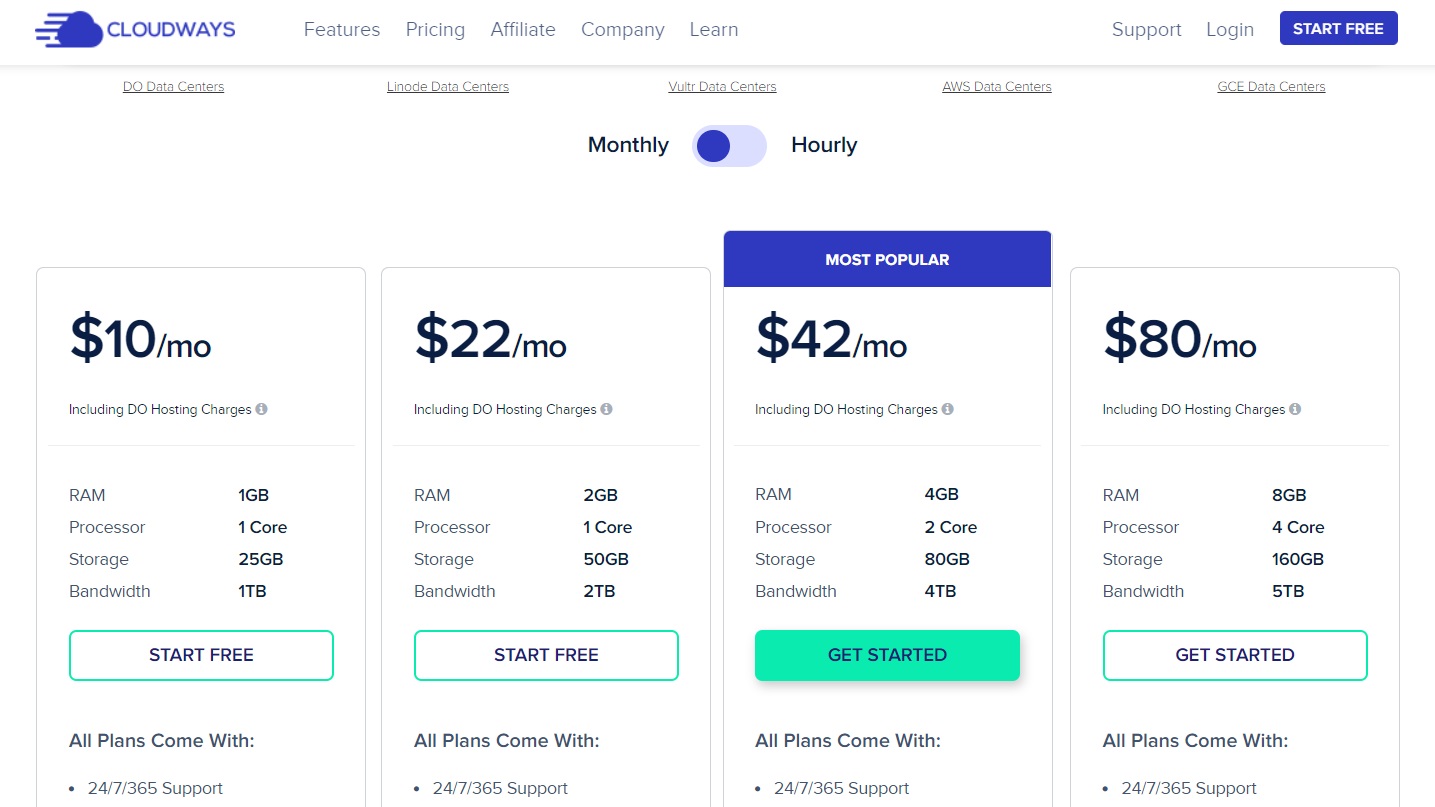 Cloudways is not only cheaper but more flexible. They offer four hosting plans while Kinsta only offers three. There is also no lock-in charge, so you can pay for what you need.
Cloudways is not only cheaper but offers more flexibility than Kinsta. Therefore, Cloudways wins this round.
Atención al cliente
Both hosting platforms work diligently to ensure your website doesn't suffer downtime. But just in case something happens, you'll want a powerful support team by your side. So, which hosting company offers more support?
Kinsta offers these support options:
Kinsta's support is more ideal if you have technical glitches. You can easily chat with a representative or submit a ticket. Even on chat, they respond quickly and offer detailed answers.
Cloudways has more flexibility as far as customer support is concerned. They offer these support options:
Their customer support is also available 24/7, so you can get in touch with someone immediately. Cloudways customer support is especially helpful with bug fixes, migrating your website, updates, and backups.
Cloudways offers more support options and they can help with many issues. Therefore, they win this round.
Facilidad de uso
I'll be honest, after using Cloudways, I'm not satisfied with the lack of user-friendliness. It was difficult to figure out the backend and I had no luck creating a website.

After you sign up for the free trial, you'll have to add your server (which they don't really provide any insight). I chose New York and the default server size because I wasn't really sure what I was doing. From here, you go to the dashboard where you have these options:
Servers
Applications
Equipo
Proyectos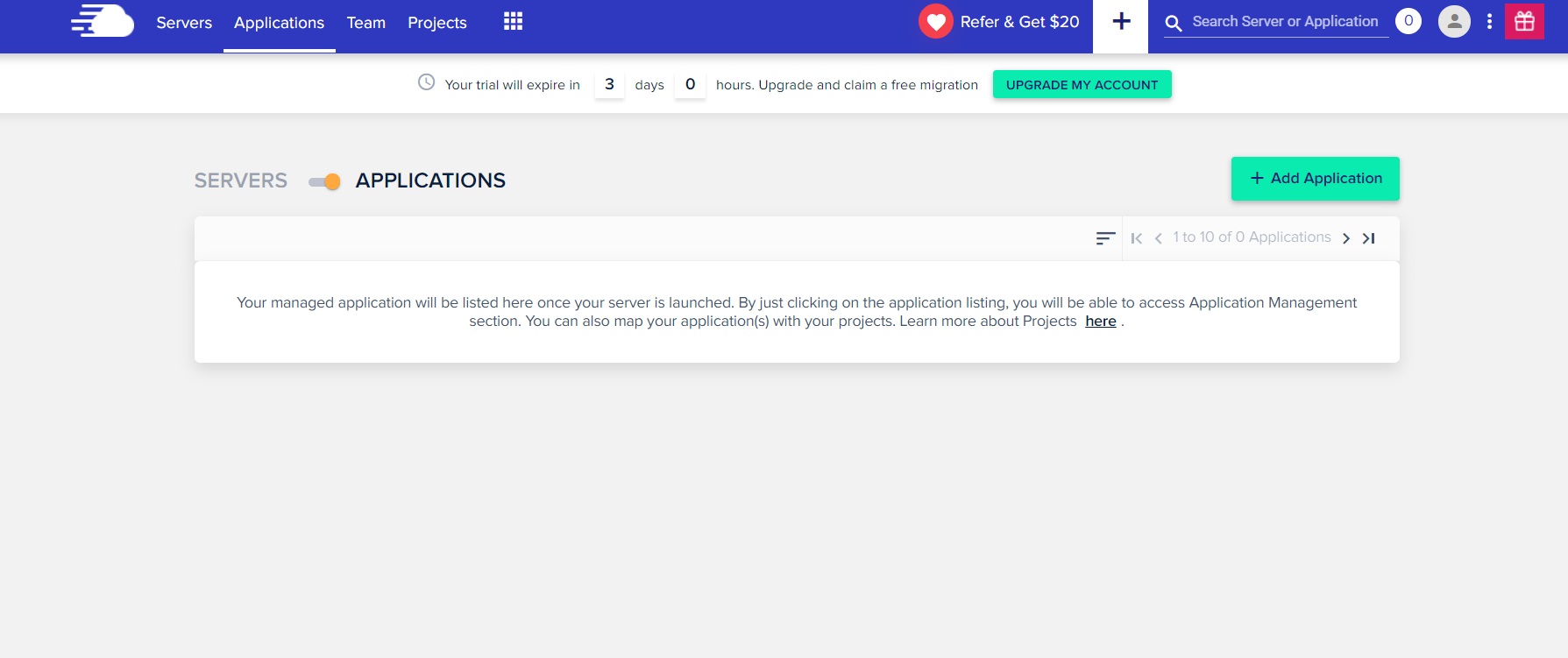 I tried to create an application and project. It pretty much does nothing.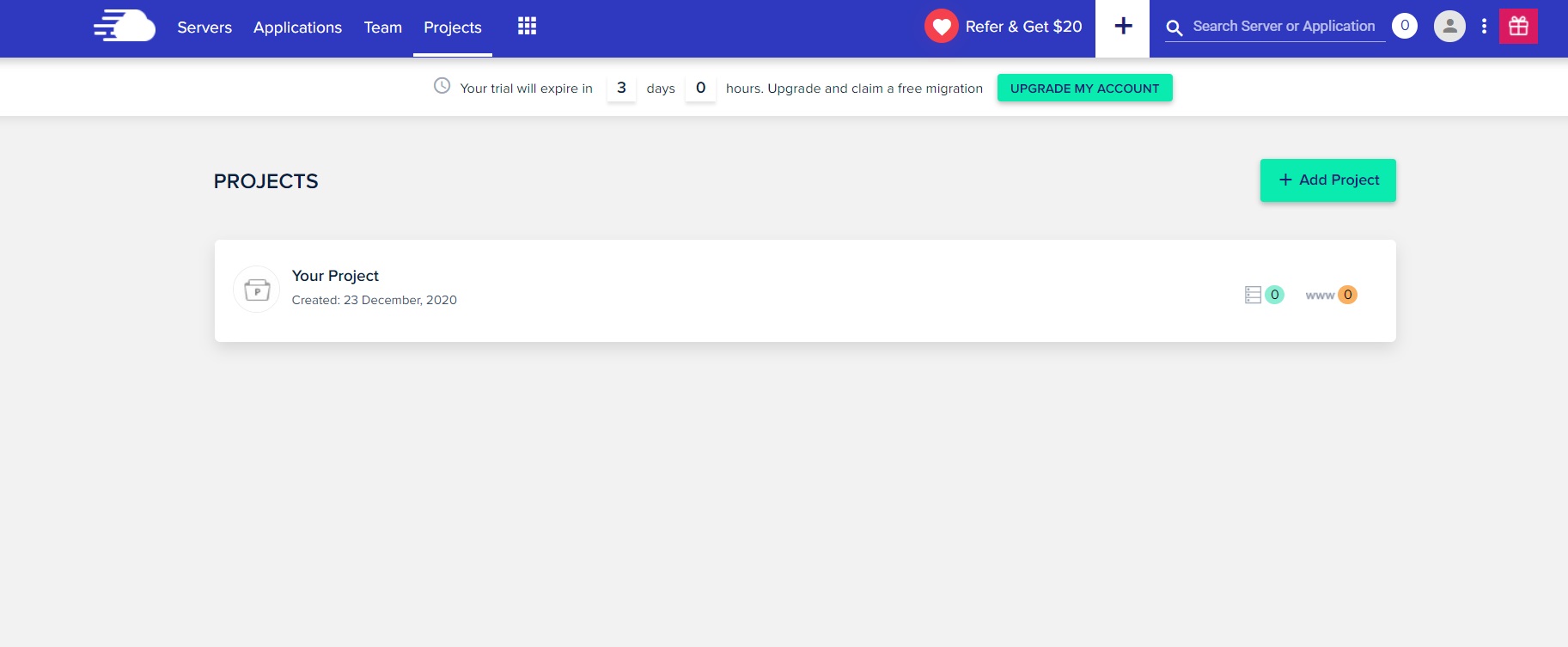 The only option you have is to migrate your existing WordPress website to Cloudways. I honestly thought I could create a new WordPress website through their platform, but I can't find this option. If migration is what you desire, then Cloudways will likely be right for you.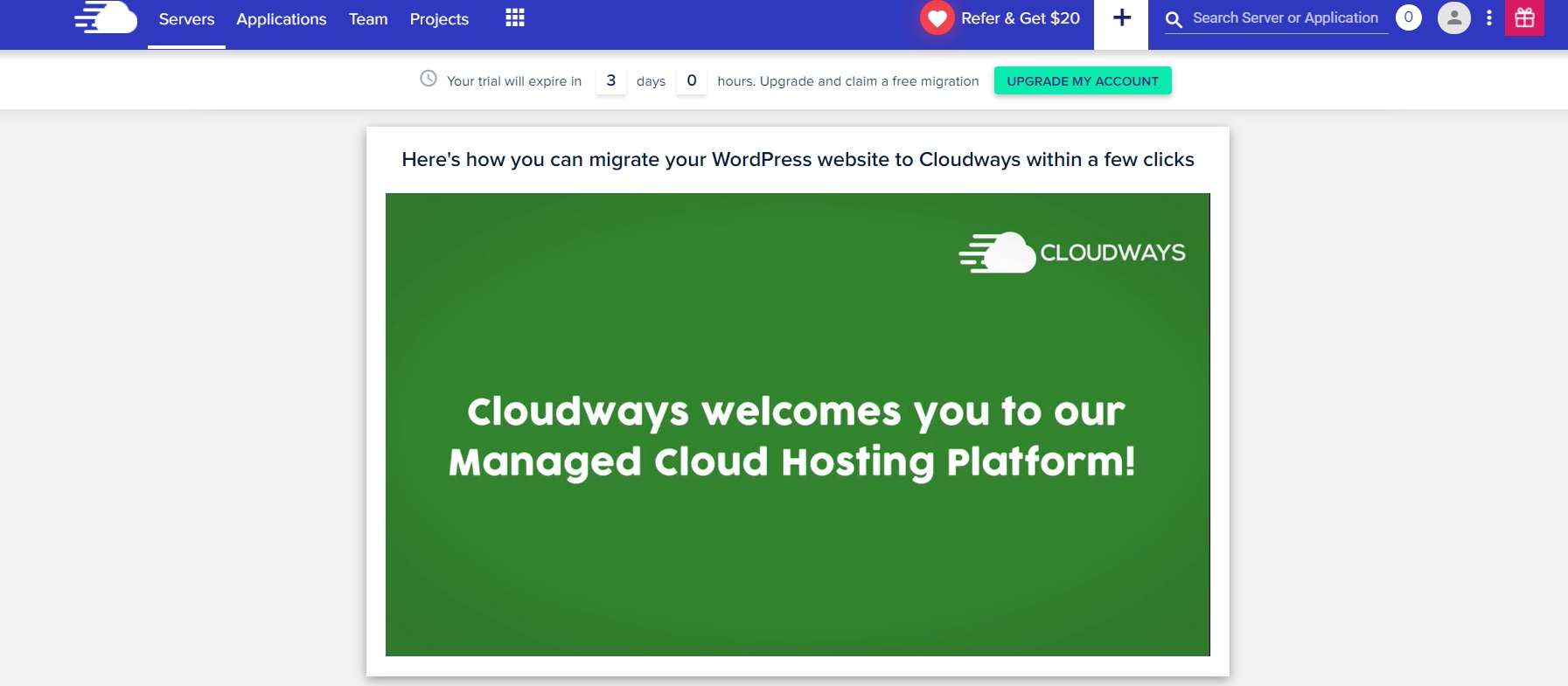 Cloudways does offer a helpful video tutorial on how to migrate your WordPress website. You'll be able to watch this video during the free trial.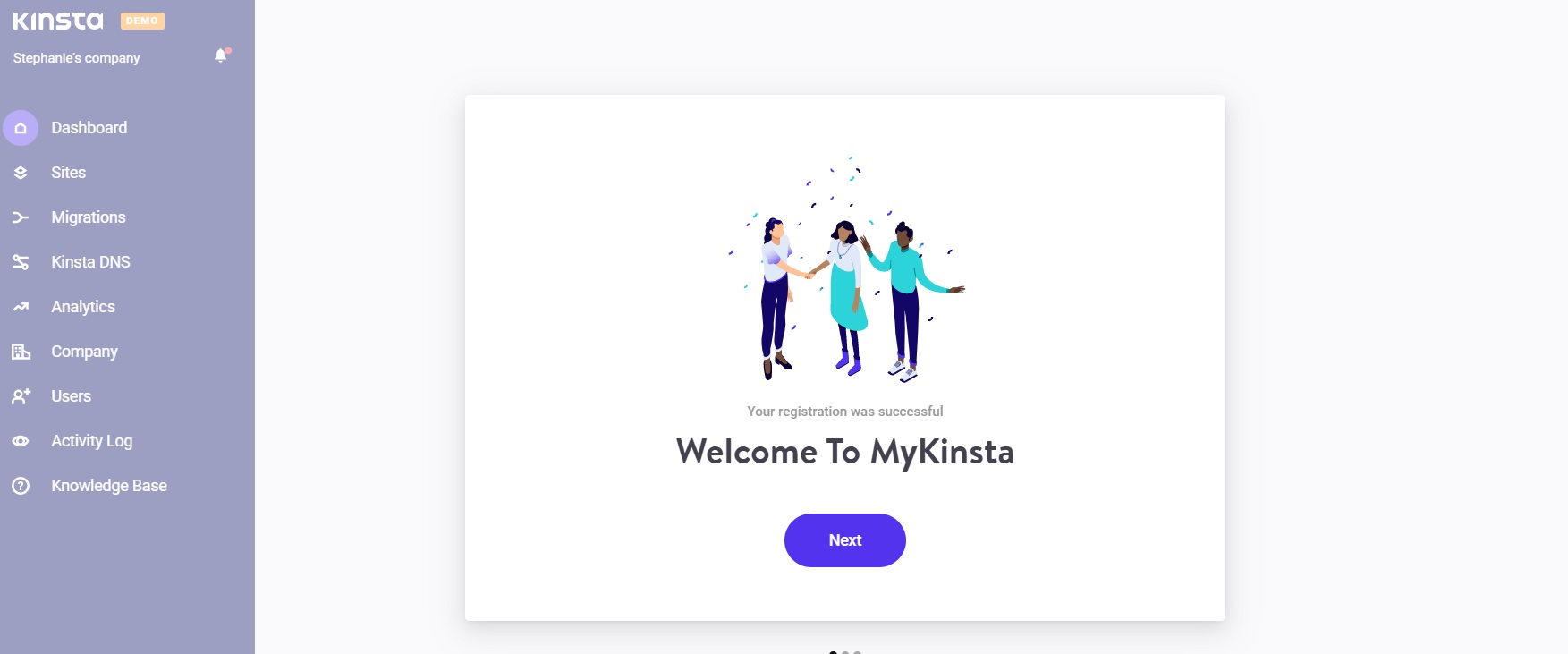 However, Kinsta is completely user-friendly. The minute you sign up for their free demo, you're invited to create your website. Here, you can choose your website name and other core information.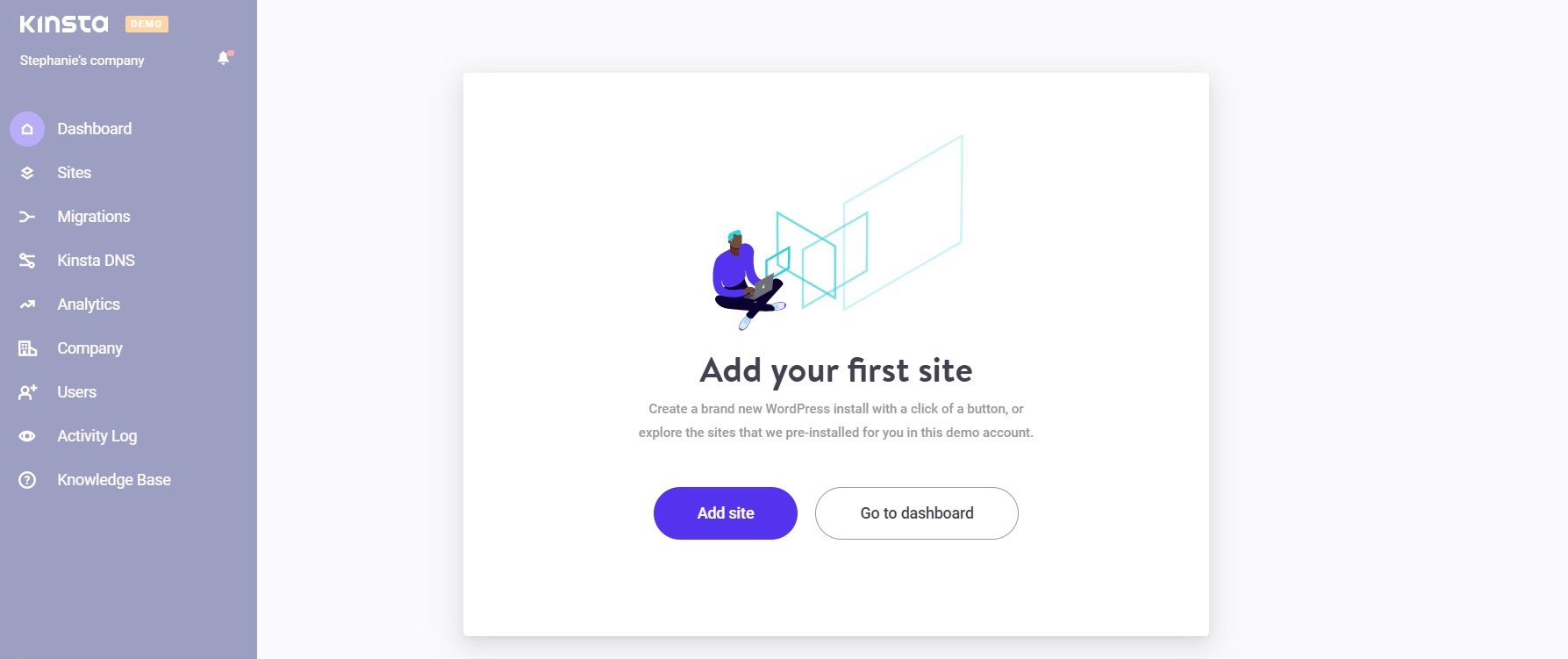 This is also where you can create a WordPress website or migrate your existing website. I just chose a blank website.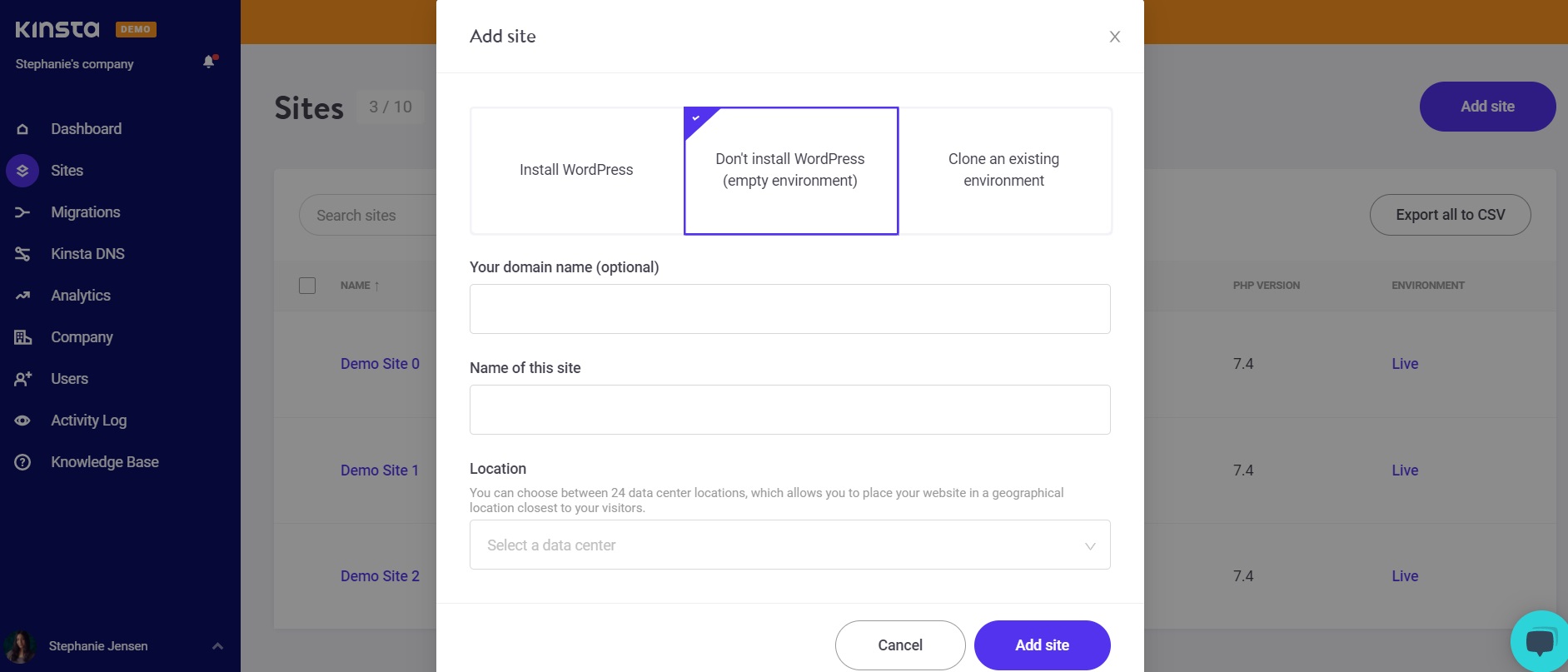 They also offer server information. I was stuck on this with Cloudways, but Kinsta provides a clear explanation about creating your server and choosing a location.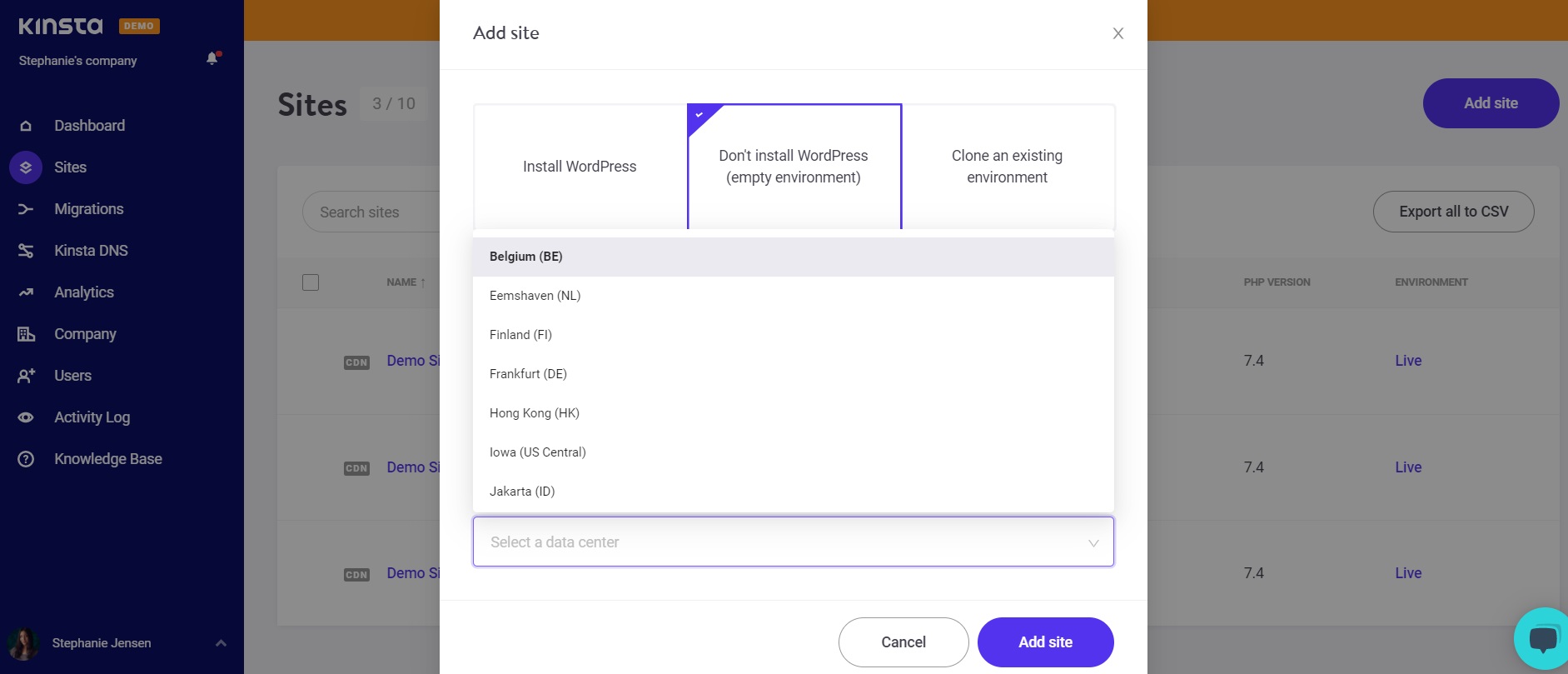 I chose South Carolina. All you have to do next is click "Add Site."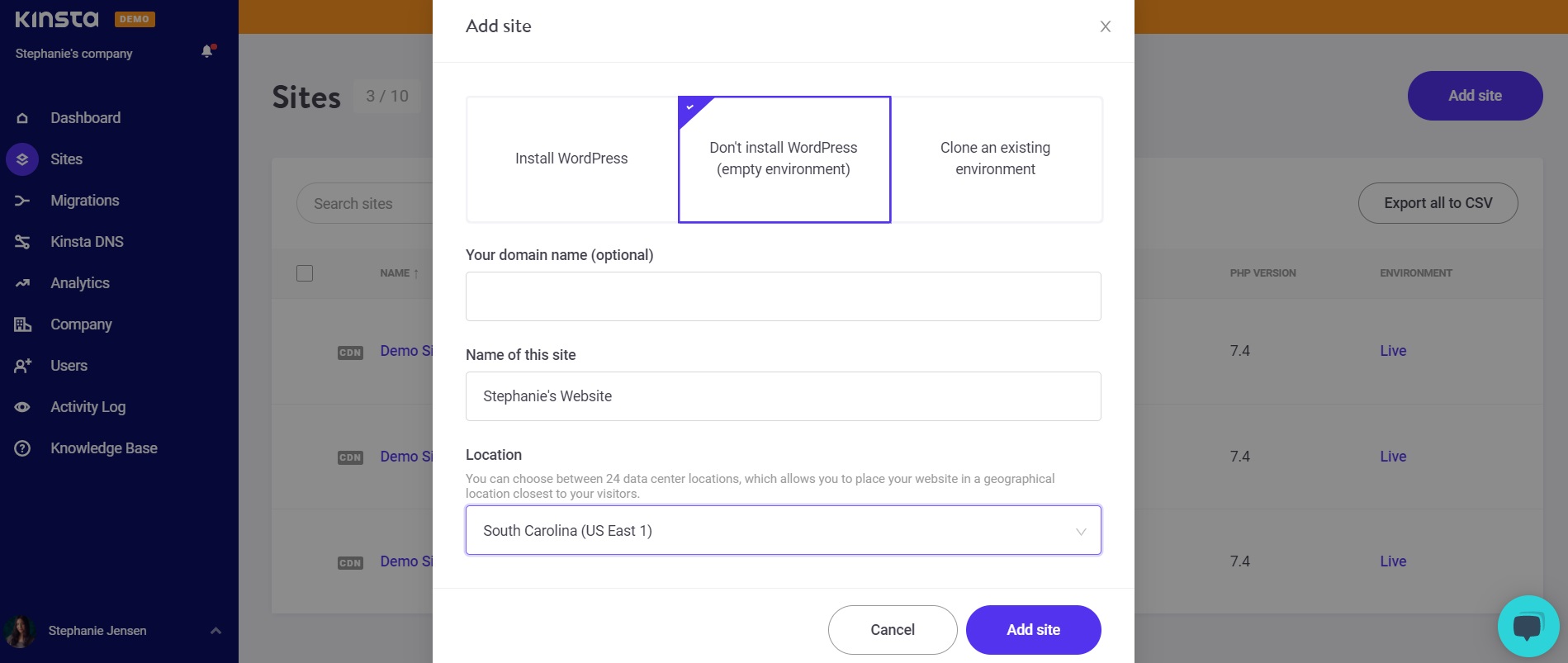 From here, you made your website and can access your website under the "Sites" tab in the left-hand menu. Click on your website and access different functions via another left-hand menu bar.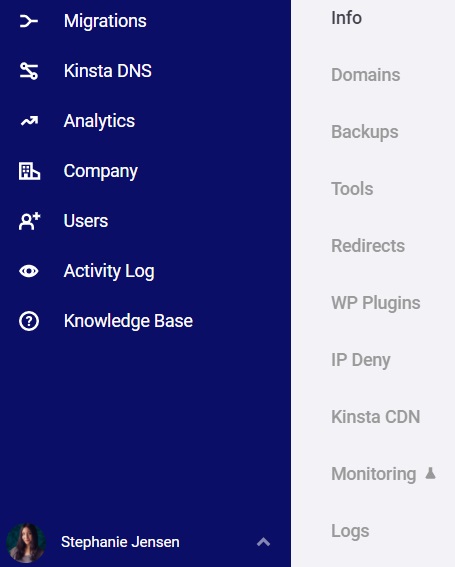 Kinsta provides a more user-friendly experience for creating and/or migrating your website. They win this round.
Preguntas frecuentes
Do you still have any questions? Before choosing a hosting company, read through these common questions that others are asking.
Question: Are These Hosting Companies Worth It?
Answer: Both Kinsta and Cloudways offer many benefits for their customers. They're especially beneficial for those who want to use WordPress. However, Kinsta and Cloudways offer specific hosting platforms.
Many hosting providers also offer WordPress hostings, such as WP Engine and Bluehost. It's recommended you conduct your own research before choosing a provider.
Question: Do You Need a Hosting Provider?
Answer: Technically, no. There are many options for users to build their own website, whether or not you seek help from professionals. WordPress is also a convenient CMS and offers many capabilities to build and design your website.
However, hosting providers offer many benefits. Kinsta and Cloudways offer resources for customers to get their website off of the ground quickly, such as a domain name and SSL certificate for security. Whether or not you choose a hosting provider is up to you, your needs, and your preferences.
Question: Are Both Platforms Quick to Implement?
Answer: As a new website owner, you'll want to get your website up and running as quickly as you can. If this is the case, the main feature you should look for is user-friendliness.
Kinsta offers many easy-to-use systems, even for those who aren't tech-savvy. Anyone can easily navigate their platform. In case you want more advanced features, Kinsta is scalable and supports expert tools.
While Cloudways offers a powerful features, it wasn't user-friendly at all. However, migrating your website is as simple as downloading a plugin.
In addition, WordPress is also a convenient CMS platform. It offers an easy-to-use backend where users can conveniently publish content and install beautiful website themes. In case you require additional functions, WordPress supports a myriad of plugins for all types of websites.
Cloudways vs. Kinsta: The Final Verdict
Both hosting platforms offer different benefits but come together for powerful functionality, speed, performance, and security. However, Kinsta is our choice. Kinsta is user-friendly, offer more features for WordPress users, and a free CDN. Even though Kinsta is more expensive and doesn't offer some features that Cloudways provides, Kinsta is still the better option.
If you're still confused about which one to choose, pay attention to the differences. For example, if you only need WordPress hosting, you may prefer Kinsta over the cloud hosting platform Cloudways. We also recommend you research similar competitors to make the best decisions.
Are you still unsure of how to find the best hosting? Read the advice we offer!
Más información: