Última actualización en abril 22, 2023 por DMEditor
It is not easy to start and run a business. Any ordinary entrepreneur will tell you that their biggest challenge is getting clients and generating enough money to sustain the company, but they do not stop there. Businesses in the United States are required to comply with various federal and state license requirements. This is an extensive niche, and unless you are an expert here, it is easy to get it wrong and find yourself on the wrong side of the law.
Unless you are ready to go through the hassle and agony of setting up your company and keeping tabs on all the license requirements, you are better off finding a reliable service to take care of this. There is a lot of legalese on hand here, and you will need to spend a lot doing tasks that you are not good at.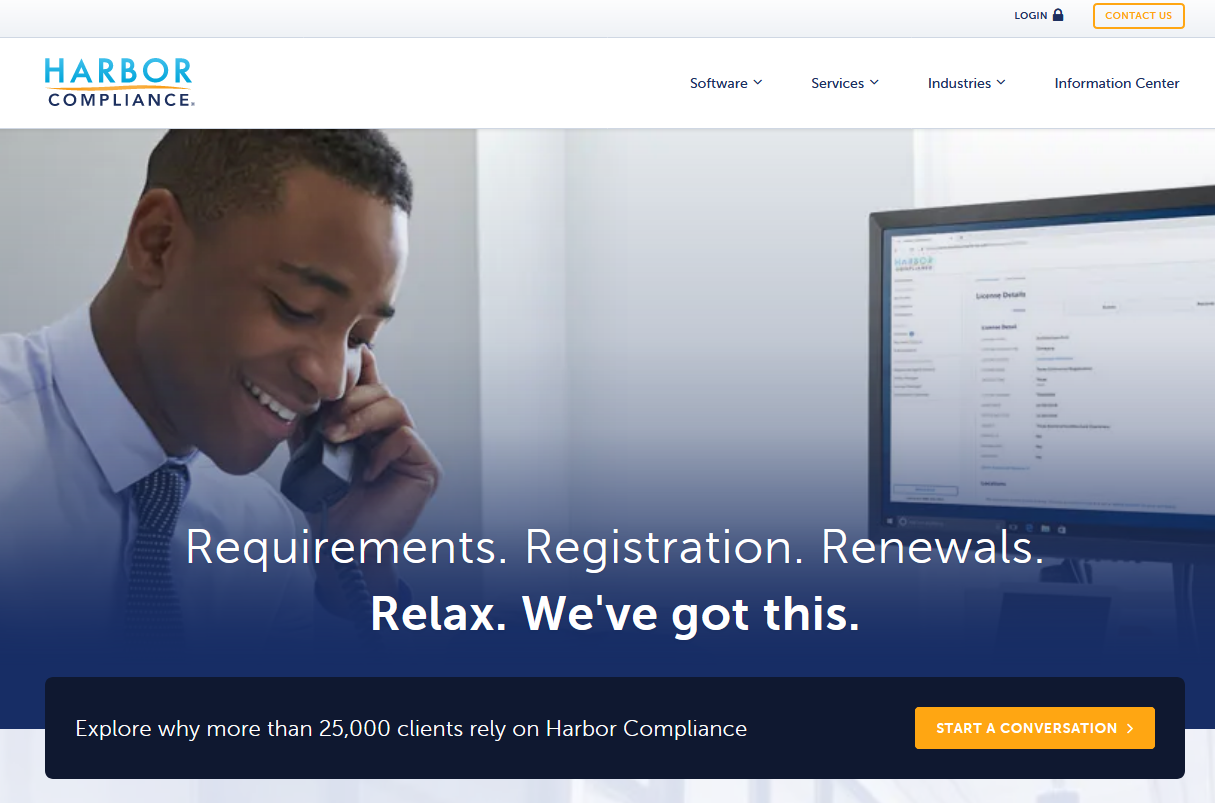 Luckily, we have multiple services that will take care of this for your business and allow you to focus on the main business activity. The key is finding the right service, and today, we are going to look at Harbor Compliance and explore what they have to offer for you to decide if it is the right service for you.
Siga leyendo;
Visión general
Cumplimiento de la normativa portuaria was established in 2012 by a team of government licensing experts and technology trailblazer. It is a provider of compliance solutions for all types of companies, and since its inception, it has helped more than 25,000 clients apply, secure, and maintain their licenses in all kinds of industries.
From their main website, they summarize all the services offered in three words, namely; requirements, registration, and renewals. And that's just about what they do. They help businesses meet federal and state requirements, register for licenses, and renew ones that need to in a timely fashion to avoid penalties.
Besides the one v. one conversation with a compliance expert, Harbor Compliance consolidates most of its offerings in one software for easier management. It is the centerpiece of their managed service solution and enables you to keep track of your licenses and registration efficiently.
What Do They Have To Offer?
Not all compliance solutions are equal. Here, we are going to break down the specific services you will get at Harbor Compliance.
We will look at the services from the price perspective since Harbor Compliance offers clients two options for LLC service; Formation and Compliance.
Formation Package ( $399 plus State Fee)
This package covers;
Preparing and filing Articles of Organization: You are required to fill in these forms when forming an LLC and submit them to your state. Harbor Compliance will create, fill, and submit them for you.
Name Search: Harbor Compliance will search for the name of your LLC and see if it is available to be claimed.
Annual Registered Agent Service: All LLCs in the United States of America are required to declare their registered agent. This entity's work is to receive critical document deliveries from the state and then present them to you. Under this package, Harbor Compliance will act as your designated agent for a year, but you will need to renew the subscription for $99/ year.
Federal Tax ID Number (EIN): An EIN is a Social Security Number for your business. Once you secure it, you can hire workers, open business bank accounts, and file taxes.
Sample Operating Agreement: This document explains the structure of your LLC and states how it will operate. Harbor Compliance will provide a template aligned to the type of LLC you are opening to give you a proper basis for coming up with your own.
Compliance Package ($799 plus State Fee)
This package has everything offered in the Formation package plus a few more perks including;
Managed Annual Report Service: The service will deal with everything concerned with your annual reports, including tracking due dates, creating reports, and submitting them to the state.
Initial Report: Some states stipulate that you have to submit an initial report after forming an LLC. Harbor Compliance will take care of this under this package.
Publishing: Specific states require that new LLCs publish evidence of their formation in a local newspaper and furnish them with an affidavit showing that they met every compliance requirement. If this requirement applies to you, Harbor Compliance will handle it.
Company Kit and Seal: Here, you will receive a binder with your company name engraved on it with a symbolic seal customized with the name of your LLC, the date it was incorporated, and the state it operates in.
S Corp or C Corp Tax Election: You need to choose how your company will be taxed. If you want it regarded as a corporation rather than a partnership, Harbor Compliance will prepare and submit the documents required to support this.
Full Support: With this package, you will receive ongoing support even after forming the LLC.
From these two packages, it is evident that you get what you pay for. If you need this service to help you form an LLC, then the formation package is enough for you. However, if you need support and services that will help you stay compliant, go for the compliance package. Let's face it, the price is a bit high, looking at what other similar companies charge, but Harbor Compliance does well to give value for money. While most services automate the process, Harbor Compliance offers that plus one on one customer support throughout the process. Here, you get assigned a customer service rep from the onset, and they will walk you through the entire process of forming an LLC and options to ensure it stays compliant.
Features of the Harbor Compliance Software
According to Harbor Compliance, the benefits of having this software replace legacy compliance processes are;
Mitigate risks associated with licensing lapses and gaps
Save time used by employees to research track and file compliance processes
Have a clear idea of territories your business is allowed to operate
Get more opportunities as a result of increased efficiency
Give your business continuity
The main features are;
Entity Manager
This module connects to the databases of various secretaries of state to let you monitor where your entities are registered. It allows you to see your registration for each entity on an interactive map. It uses a robust database reference to set annual report due dates and send notifications where applicable. The database is updated frequently to ensure that information is always updated since requirements change with time.
You can purchase the Entity Manager module independently. However, you will get better value when you bundle it with all the other modules of the software.
Explore the table below to see the price plans for purchasing entity manager as a stand-alone service.
| | |
| --- | --- |
| Number of registrations | Cost Per Month (Billed Annually) |
| 50 | $300 |
| 100 | $565 |
| 250 | $825 |
If you need a plan that contains more than 250 registrations, feel free to explore the enterprise plan.
License Manager
This module helps you to stay on top of your licenses and obtain new ones quickly. It is based on a nationwide database of business requirements that apply to your company crosschecked with your licenses to give you a clear picture of where you stand.
It displays the licenses that are due and notifies you ahead of the deadlines. It makes it easy to apply for new permits by showing all the conditions your business has to meet, to save you from tedious research projects. It also has an interactive map that shows where your company is licensed to operate across the states.
Additional collaboration tools under this module include;
Custom tasks tool that lets you delegate licensing tasks to different people. It has an option of scheduling polite reminders to avoid being on the wrong side of deadlines
Structured storage enables you to store documents and time-stamped notes for each licensed to keep things organized
Accountability lets you view all events from a top-down perspective to see how tasks are completed and ones that need to be reassigned.
The price breakdown for the license manager module is outlined below.
| | |
| --- | --- |
| Number of licenses | Cost Per Month (Billed Annually) |
| 50 | $300 |
| 100 | $565 |
| 250 | $825 |
Tax Manager
This module consolidates all your tax registrations in one platform for easier organization. You can filter, sort, and view details on individual entities at a glance. You can schedule events related to your tax status and set alerts for quick reminders.
Additional Tax ID details you can view include;
Individual details for each tax registration. Import reference data for agencies with online accounts and quick forms.
Set events for tax return filings and assign individuals to handle these tasks.
View the table below for a breakdown of the cost of the tax manager module.
| | |
| --- | --- |
| Number of registrations | Cost Per Month (Billed Annually) |
| 50 | $300 |
| 100 | $565 |
| 250 | $825 |
Records Manager
This module tracks ownership and leadership for various entities. The functions depend on the type of entity in question.
For Corporations, you can track shareholders, directors, and officers alongside their classes of shares and the ones authorized.
For Nonprofit organizations, you can track directors authorized per the bylaws and any vacancies on the board.
For LLCs, you can track members and managers.
Besides, the module stores organizational documents specific to the organization. They include articles of incorporation, bylaws, amendments, and corporate resolution for corporations and LLCs. IRS letters, policies, and meeting minutes for Nonprofit organizations.
The price breakdown for the records manager module is $100 per month billed annually for the first entity and $50 per month billed annually for each additional entity.
Agente registrado
En registered agent service gives you online access to get documents electronically, and state form templates prefilled with the registered agent's information.
Non-Profit Compliance Services
Most of the services discussed above apply to ordinary businesses. Harbor Compliance has a subset of services offered to nonprofit organizations required to follow more stringent compliance requirements.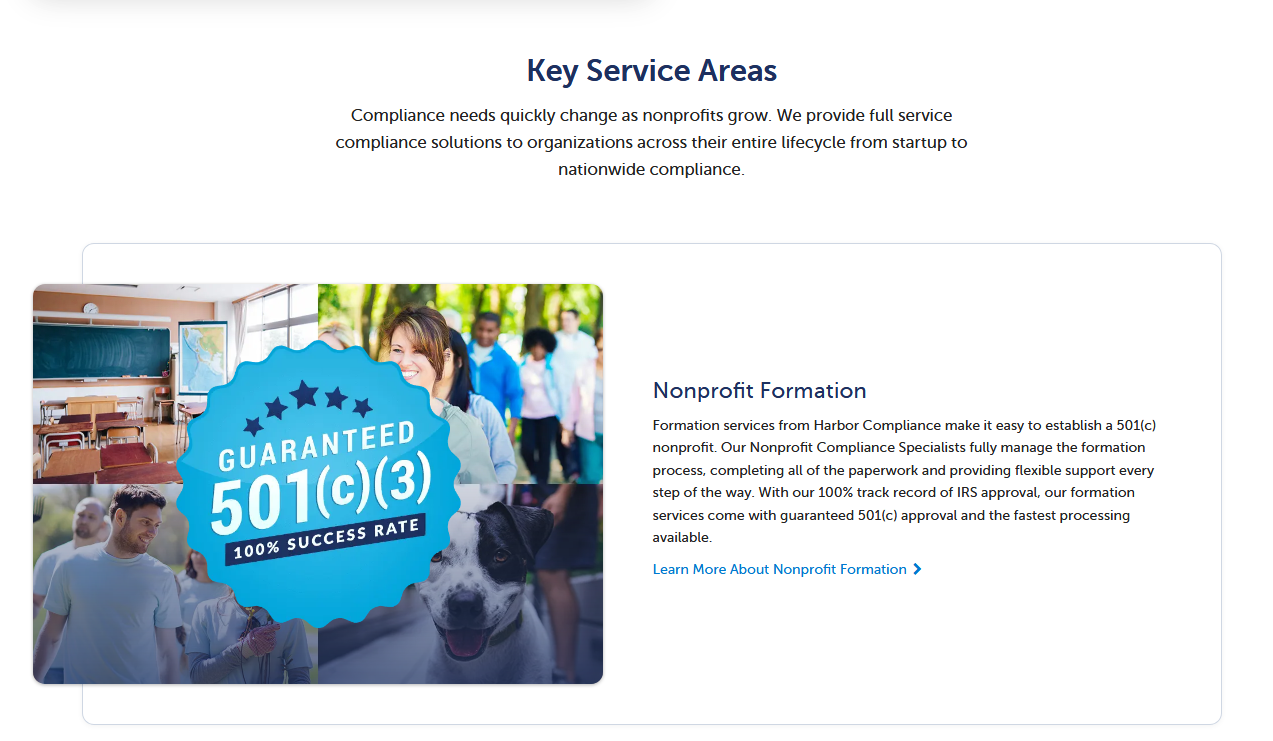 A nonprofit compliance expert will be assigned to help you get a 501(c). They will manage the formation process, complete all the paperwork, and offer support throughout the journey. With Harbor Compliance, you will get a guaranteed 501(c) approval and expedited processing times.
Once the entity is formed, you will get a full range of tax registration and exemption services for new and existing nonprofits applicable to all 29 types of 501 c 's recognized by the IRS.
Lastly, you will get charitable solicitation compliance services.
The Good and Bad of Harbor Compliance
Ventajas de la conformidad portuaria
Industry-leading customer service
Broad array of services to take care of all your compliance needs
Comprehensive LLC formation service provider
Great customer feedback
Robust software with modules to help you stay on top of compliance and licensing requirements
Contras del cumplimiento de la normativa portuaria
Cost of their services is higher than average industry rates
Preguntas frecuentes
Is a registered agent worth it?
It all depends on your business and how you run it. Business owners are required to stay on top of various things, and it helps to outsource some of these tasks since they can easily overwhelm you. A registered agent helps track official notices and documents with the state to avoid any lapse that will get your business sanctioned.
Is Harbor Compliance Legit?
Harbor Compliance has been in business since 2012, and in this time, more than 25,000 companies have used their service. The customer feedback is excellent, and everything looks legitimate. It is hard to judge from the customer feedback since they have limited thanks to the number of years this company has been in service.
How Fast Does Harbor Compliance Process LLC Formations?
Like all LLC formation companies, Harbor Compliance processes the formation of LLCs depending on the individual state regulations. The timelines range from a few days to many weeks, depending on the laws.
Conclusión
If you are still wondering whether Harbor Compliance is right for you, we will break this down.
In terms of value, it is easy to say that their outstanding customer service justifies the price charged. However, there are numerous compliance solutions companies out there that offer similar services at a very low price. Some companies provide formation services for as low as $49, and the disparity is simply too large. This way, you will get value for your money at Harbor Compliance, but the price is a bit too high.
Customer service is what sets Harbor Compliance apart from the rest. When you buy a package, you get assigned a compliance specialist who will guide you throughout the process. The advantage of this compared to calling a random specialist is that they understand your business right from the onset, and you do not have to keep on explaining to them as it would be if you get a random specialist all the time.
The Harbor Compliance website is one of the best in this niche. It is easy to use and consolidates most of its services in a user-friendly interface. You only get to choose between two packages, making it easy to get one that suits your needs.
Lastly, the features offered are sufficient to take care of all your compliance and licensing needs. You get everything needed to set up a company, along with what could be the best customer service in the industry.
Harbor Compliance is undoubtedly a top tier service in this niche, and the quality of the services offered is unquestionable. The caveat comes with the price, but as you know, quality services do not come cheap. This way, I would recommend it to any business owner out there.
Más información: