Última actualización en abril 22, 2023 por DMEditor
With a large variety of online legal services available, it can be difficult to discern which one is best for your business. Whether you need a simple business formation service or ongoing legal documents, not all online providers offer the same services.
Do you need complex legal services? Quick turnarounds? Let's look at BetterLegal vs LegalZoom to see what features they offer, the cons, and how their pricing stacks up.
Main Differences Between BetterLegal vs LegalZoom
The main differences between BetterLegal vs LegalZoom are:
BetterLegal offers a third-party registered agent service, whereas LegalZoom provides the service in-house.
BetterLegal includes an EIN (federal tax ID) in their flat fee, whereas LegalZoom charges extra for EIN (even in their Express Gold package)
BetterLegal has a 2-day turnaround, whereas LegalZoom has a 1.5 to 6-week turnaround depending on the package you purchase.
BetterLegal gives you free compliance reminders, whereas LegalZoom charges a fee ($69 annually).
BetterLegal specializes in business formation, whereas LegalZoom features ala carte online legal services
BetterLegal only provides online chat, whereas LegalZoom customers receive priority customer support via their dashboard as well as email and phone service
BetterLegal does not offer 60-day money-back guarantee, whereas LegalZoom does
Similitudes
Business Formation (LLC and Corporation)
Registered agent service
Legal subscription services
Not a law firm
High customer satisfaction scores
Tax analysis
Resource center with helpful business formation articles
BetterLegal vs LegalZoom: What is BetterLegal?
Better Legal is an online legal filing service that specializes in LLC formation services. It is a Texas-based business that was founded in 2016. Users appreciate its quick turnaround time (2 business days), transparent pricing, and overall user experience.
BetterLegal vs LegalZoom: What is LegalZoom?
LegalZoom is an industry-leading all-in-one solution for small business legal needs. It's perfect for businesses that need regular legal documents but doesn't have the budget for an in-house legal team or independent lawyers. LegalZoom has a 60-day money-back guarantee and includes a Business Advisory Plan.
The Main Features of BetterLegal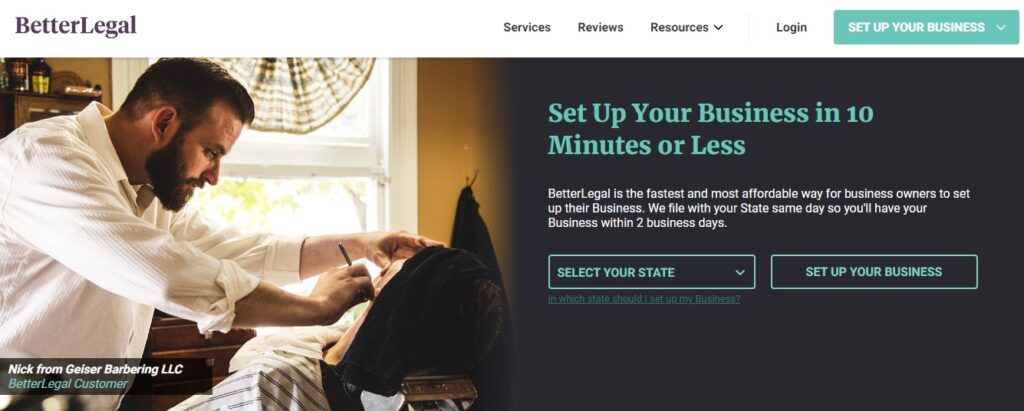 Live Dashboard
BetterLegal provides its users with real-time assistance through the live dashboard. The live dashboard makes it easy to make changes to LLCs such as a name change or providing new information.
Once changes are made, the live dashboard automatically shows the user what paperwork is needed to make the change, any costs involved, and the duration.
Third-Party Registered Agent Service
BetterLegal does not offer registered agent services directly, but you can sign up with a third party for only $90 per year or $10 per month. This is a significant saving over similar companies such as LegalZoom and RocketLawyer.
Registered agents can scan documents that you send in and upload them to your online account. Plus, if you operate in multiple states, you will have to purchase an additional registered agent service for each.
Quick Turnaround
While most online legal services can take weeks to get your business moving forward, BetterLegal has a same-day filing for business formations. This means that BetterLegal will file your business formation paperwork with state authorities on the same day you successfully submit the files to BetterLegal.
Plus, after the state processes your documents, you'll receive the finalized files within 2 business days. This can be a significant advantage of using other companies that can take weeks to finalize a business formation on their end.
The Freebies
BetterLegal provides a few free features with their business formation services. The online provider offers a free website, business checking, tax analysisy insurance evaluation.
The website remains free until your business grows. BetterLegal offers paid website services if you need more features and customization. Business checking features have no setup fee, minimum deposit or balance, and no overdraft fees.
Although the freebies are worth noting, BetterLegal doesn't disclose what website domain/hosting company they use or even what bank(s) they partner with.
Tip: Having a separate bank account for your business has many benefits. It can help keep your business transactions organized, provide an accurate, up-to-date analysis of your expenses and revenue, and save time completing company taxes.
The Main Features of LegalZoom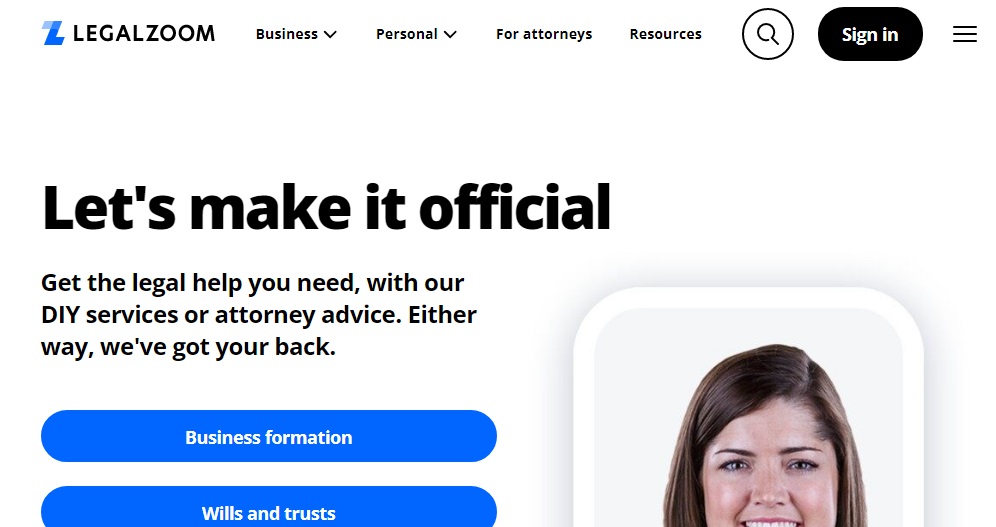 Comprehensive Business Evaluations
LegalZoom has a business legal plan that includes document review and attorney phone consultations.
Although competitors also offer these services, LegalZoom takes it to the next level by providing tax advice and a yearly business evaluation. These extra services help to ensure your company is in compliance with current laws.
If you are a creative artist or musician, you can also take advantage of LegalZoom's free copyright registration. Users receive one copyright registration for free every month.
PLLC or Professional LLC
LegalZoom can help you form a PLLC if your state allows it. A PLLC is often formed by licensed professionals including physicians, dentists, attorneys, accountants, architects, engineers, veterinarians, real estate agents, and psychologists.
A PLLC cannot shield professionals who have their own office or share an office from claims for malpractice but it can limit the liability of other members not directly involved.
Formación de empresas
Although LegalZoom is not the cheapest option when it comes to the business formation (in fact it is one of the cons of the company), it does provide online legal services for LLC, PLLC, C corp, S corp, DBA, Nonprofit, and sole proprietorship.
No matter what type of business you are forming you will receive access to trusted, industry-leading services.
You can complete the business formation process in 3 simple steps.
Choose the type of business you would like to form
Answer questions about your business
LegalZoom completes and files your paperwork
Personal Legal Services
Unlike BetterLegal that only provides business services, you can use LegalZoom for your personal legal needs too.
Estate Planning: The Estate Plan Bundle includes a Last Will or a Living Trust option. Both include the following features:
1 year of estate plan questions answered by LegalZoom's network of attorneys
Financial power of attorney (POA) and a living will
Unlimited revisions to your documents
Marriage and Divorce: The name change option is available for both adults and minors. LegalZoom provides state-specific documents to help streamline the process.
An uncontested divorce is best for couples that agree on the divorce and the decisions related to it. LegalZoom will help determine your eligibility (by state), complete the paperwork online, and give you instructions on how to file.
Real Estate Management: Creating a Residential Lease can help you take a step toward becoming a landlord and earning income from your real estate purchase. The agreement lowers your risk with tenants and covers all of your preferred guidelines including deposits, late fees, maintenance, and more.
A property deed is necessary when you are transferring a property to a family or business without any exchange of money. You can also add real estate to your living trust.
Need to add or remove a spouse or co-owner? Create a new property deed to define the current ownership.
BetterLegal vs LegalZoom – Pricing
BetterLegal
Formación de LLC
$299 plus state filing fee*
(*filing fees vary by state)
Corporation Formation
$299 plus state filing fee*
(*filing fees vary by state)
Subscription services
Registered Agent $10 per month or $90 per year
State Compliance Services $10 per month or $90 per year
Investigación
Permit and License Search $125
Amendment or Document Research Free for formation users
Servicios de archivo

Reinstate LLC $199 plus state filing fee
Terminate LLC $199 plus state filing fee
Obtain Certificate of Good Standing $25 plus state filing fee
Register Foreign LLC in this State $199 plus state filing fee
Change Principal Office Address $99 plus state filing fee
Change Registered Agent/Address $99 plus state filing fee
Remove a Manager $99 plus state filing fee
Add a Manager $99 plus state filing fee
Remove a Member $99 plus state filing fee
Add a Member $99 plus state filing fee
Change LLC Name $99 plus state filing fee
LegalZoom
Business Formation Services (LLC)
Economy $79 plus state filing fees
Standard $329 plus state filing fees
Express Gold $349 plus state filing fees
Business Formation Services (Corporation)
Starts at $149 plus filing fees
Business Formation Services (Nonprofit)
Economy $99 plus state filing fees
Standard $239 plus state filing fees
Express Gold $359 plus state filing fees
Business Formation Services (DBA)
Starts at $99 plus filing fees
Premium $119 plus filing fees
Estate Planning
Basic Last Will $89
Comprehensive Last Will $99
Basic Living Trust $279
Comprehensive Living Trust $299
Estate Plan Bundle
Last Will Estate Plan $179 (1 person), $279 (2 people)
Living Trust Estate Plan $329 (1 person), $379 (2 people)
Marriage and Divorce
Divorce (varies by state)
An adult name change $139
A minor name change $165
Real-Estate
Residential lease (deluxe) $29
Residential lease (premier) $49
Property deed transfer (standard) $249
Property deed transfer (express gold) $289
Power of Attorney
Basic power of attorney $35
Comprehensive power of attorney $45
BetterLegal vs LegalZoom – Support
BetterLegal
BetterLegal website offers online chat features which is helpful if you are new to the service or have simple questions. However, beyond the online chat, it is difficult to locate phone and email contact information, which makes it difficult to know when and how long it will take to answer your question(s).
If you are confident that your business formation will be glitch-free then customer service probably isn't that important to you. However, if you are new to the process or prefer to have questions answered before completing the process, you may want to choose a different company that is easier to get ahold of.
LegalZoom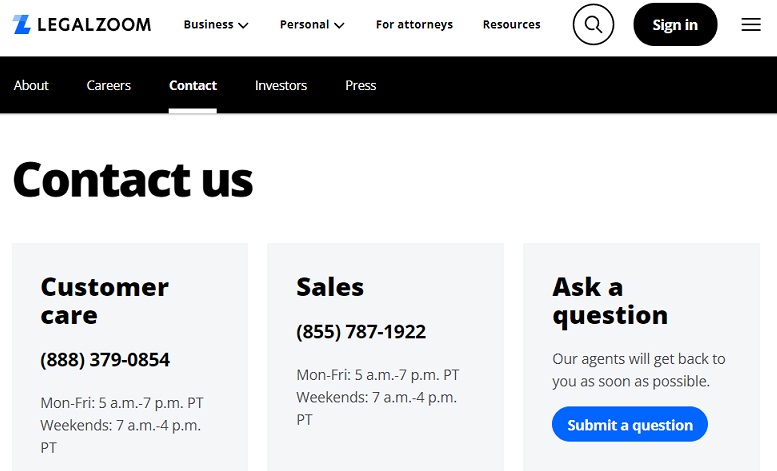 Existing LegalZoom customers get priority support after logging into their accounts. If you are not a current customer, you will need to use the contact form. According to the website, a customer service representative should get back to you within 24 hours.
You can also send LegalZoom an email or call their toll-free number 1-888-203-7652. Calls are answered Monday through Friday from 10 am to 8 pm Eastern Standard Time (EST).
LegalZoom also provides a diverse variety of social media links via their homepage.
BetterLegal vs LegalZoom – Pros and Cons
BetterLegal
Pros
Precios transparentes
Speedy turnaround
Learning resource center
Asistencia por chat
Quick signup (10 minutes or under)
Website services
Contras
Customer service relies on automated Live Chat, phone number and email support are difficult to locate
Extra charges for registered agent services
No filing alerts
No about us or contact page on the website
LegalZoom
Pros
Industry-leading
Reliable
60-day money-back guarantee
Asequible
Offers option to access an attorney
Annual business evaluation and tax advice with Business plan option
Contras
Certain services require a subscription
Lack of customer service information (only online chat is easily accessible)
Business formation costs are pricer than most competitors
Additional features all cost extra (most are included with competitors' packages) including EIN, operating agreement, and license search.
Alternativas
IncFile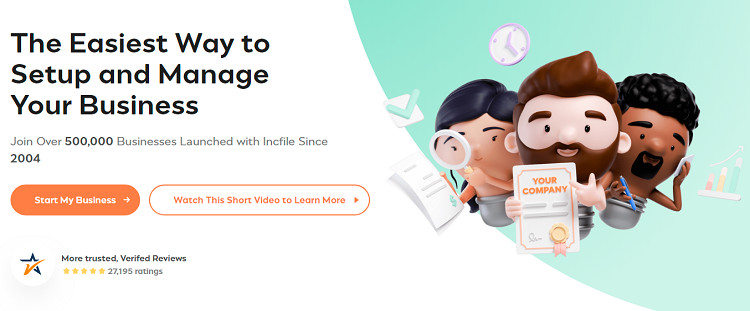 If you are looking solely for business formation, IncFile may be right for your company. It has an entry-level business formation plan that is free plus state filing fees.
IncFile also includes registered agent service for free for a business's first year, a cost savings of over $150 compared to top competitors.
Abogado Rocket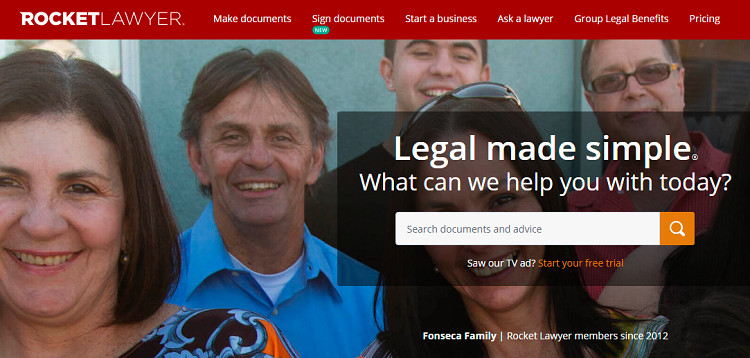 Rocket Lawyer is similar to LegalZoom in that it provides users with multiple legal services. It is best for companies that require help with multiple legal issues over a several-month period.
Rocket Lawyer charges a monthly fee ($39.99), making it more expensive than similar competitors. However, as part of the subscription, you receive your first business incorporation for free.
The nearly $40 fee also includes unlimited attorney consultations via phone, unlimited legal forms access, and Document Defense to help enforce legal contracts.
LegalShield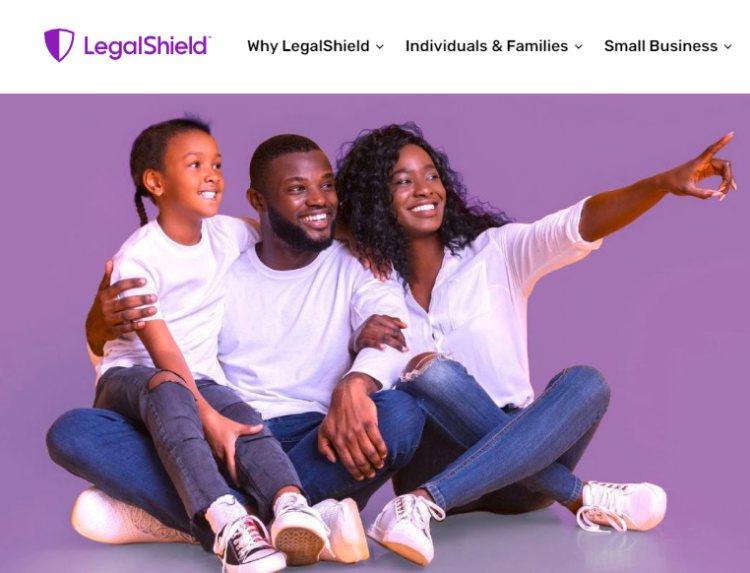 Founded in 1972, LegalShield has 1.7 million members, with 900 attorneys nationwide. LegalShield is best for small companies who need a variety of legal services including attorney consultations, document review, debt collection assistance, phone and written legal correspondence, and trial defense services.
For under $40 per month, small businesses with 10 or fewer employees can receive a variety of legal services including unlimited phone consultations (up to 1 hour of legal work), 20 reviewed documents annually, 20 calls or letters per year, five debt collection letters per month, and 25% off an attorney's hourly rate for complex legal matters.
Pricing goes up depending on the number of employees you have. Plan add-ons include home business, trial defense, business formation, and registered agent.
Preguntas frecuentes
Question: Why You Shouldn't Use LegalZoom?
Answer: Although LegalZoom can provide legal document services, it is not the same as having an attorney.
An attorney can provide advice regarding the law and offer up-to-date information and law changes. LegalZoom requires you to choose your legal documents and can only provide self-help information.
Question: Is LegalZoom Worth the Money?
Answer: While LegalZoom has affordable services that can help newbies file correctly, it is also possible to complete business services for free. Simply download the free forms, complete the information, and pay the state filing fees.
With LegalZoom, you will be hit with several up-charge advertisements that try to sell you services that most people do not need.
Question: Is LegalZoom the cheapest?
Answer: No. LegalZoom is not the cheapest. Companies like IncFile can complete simple business formation for as little as free plus state filing fees, whereas LegalZoom pricing starts at $79.
However, always compare offerings and pros and cons before choosing a legal service. Not all business formation services offer the same options, customer service, etc.
Question: Who are Legalzooms competitors?
Answer: LegalZoom has a long list of online competitors including BetterLegal, Incfile, Rocket Lawyer, ZenBusiness, Nolo, LegalShield, Bizfilings, Swyft Filings, and Law Depot.
Question: Can you get a refund from LegalZoom?
Answer: Yes. LegalZoom offers a 100% money-back guarantee. To receive a full refund, request your money back within the first 60 days after you sign up with LegalZoom.
BetterLegal vs LegalZoom – Which One is Best?
If you are looking for an LLC formation service that has a quick turnaround time, BetterLegal's services and pricing are transparent. BetterLegal also has a high customer satisfaction rating.
LegalZoom provides not only business formation but a wide range of legal services. It is one of the oldest and recognizable online legal services.
Although some of their legal services are more expensive than their competitors, their best value is the business legal plan. It is affordable for small businesses and can fill in the gaps when you can't afford an attorney or have an in-house legal team.
Bottom line: If you are looking for business formation services, our choice is BetterLegal. However, if you need a wide array of business and personal legal services, LegalZoom can provide those, whereas BetterLegal comes up short.