Última actualización en abril 22, 2023 por DMEditor
There are as many as 24 million e-commerce websites out there. Not only that, but more e-commerce websites form every day. Are you thinking about creating an e-commerce website? If so, choosing the best e-commerce platform is the first step in forming a successful company.
There are many platforms to choose from, but CommerceHQ is one of the most well-known and widely used platforms out there.
But what is CommerceHQ? And is this platform right for your store? We tried and tested out this platform. This review is an unbiased take of our experience and who will benefit from this store.
What Is CommerceHQ? A Little Backstory
CommerceHQ was created in 2015 by John Mac, who is a high-level e-commerce entrepreneur and marketer. He started his store on Teespring and moved to Shopify before forming his own platform. He was dissatisfied with the limited features the platforms offered, so he built his own.
John Mac is an entrepreneur to trust. He's a success story — before forming his multi-million dollar companies, he was living on a pile of debt.
In short, CommerceQC was built by a professional e-commerce owner and marketer. CommerceHQ has all of the tools necessary for e-commerce owners to achieve great conversions and sales.
How Does CommerceHQ Work?
CommerceHQ is similar to other e-commerce platforms, such as Shopify. But CommerceHQ is slightly different, mainly because of the features that the platform includes (we will go over those next).
CommerceHQ is designed for sellers to open up their shops and start marketing them instantly. They reign in terms of features and benefits, especially compared to the competition. This is all thanks to their apps.
CommerceHQ offers apps that are free of charge. This helps stores save more money and use their funds toward other expenses, such as advertising.
These apps are powerful conversion tools that can keep customers on your store and keep coming back for more items. We will go over these apps in a later section, but the apps encompass different efforts to convert customers, enhance traffic generation, and expedite sales.
What's Included in Your Monthly Payment?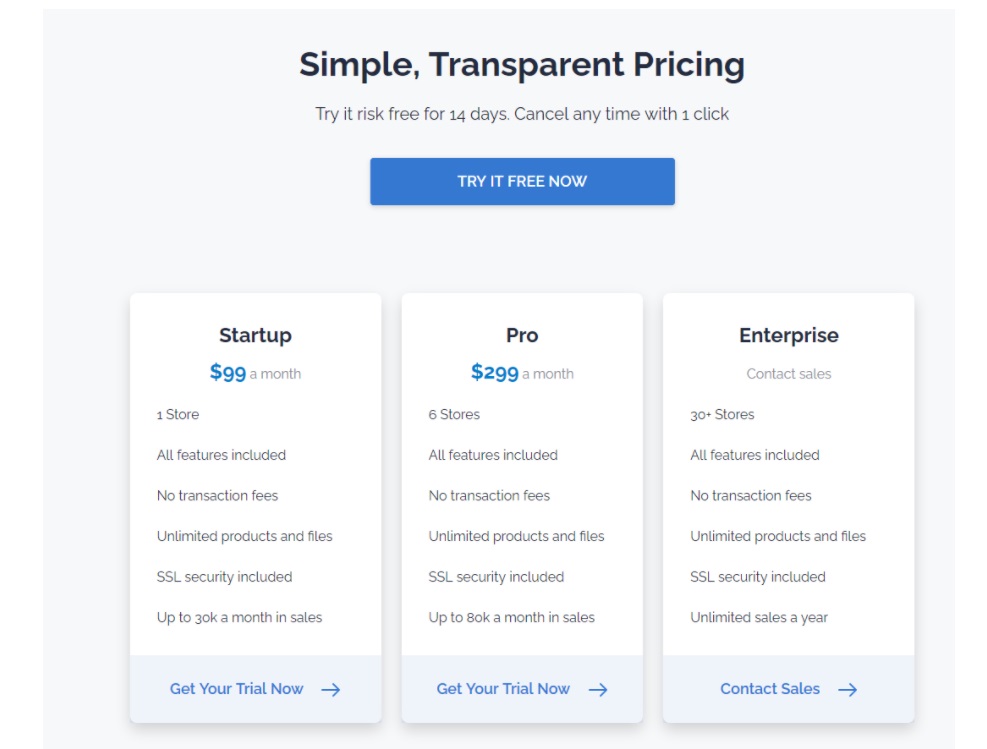 Like many e-commerce platforms, CommerceHQ is a subscription service. Users pay a monthly fee and get their store plus all of the features and apps that we will explain below.
But what else is included in this monthly payment? Apps, themes, payment processing, and more are included. There are no hidden costs or extra fees to worry about. Even CommerceHQ's biggest competitors can't even boast that benefit.
Why CommerceHQ Is an All-in-One Solution?
You can manage all aspects of your store on CommerceHQ. In addition to uploading your products and designing your store, you can use CommerceHQ to create and view reports and access a variety of apps that optimize your store for easy upselling and to hold abandoned carts.
Características principales
CommerceHQ has features that its competitors may not have. What are some of these powerful features?
Built-In App Store
First, the built-in app store is impressive. There are currently 17 apps and there are more on the way. Some of these apps include checkout timers, currency converter, purchase notifications, promo bars, and more.
However, these apps aren't integral to the performance of your store.
Abandoned Cart Recovery
Abandoned cart recovery is a feature where a customer's shopping cart will be saved, no matter how much time they spend off of your website. All they need is to create an account and their shopping cart will be saved.
Visual Store Builder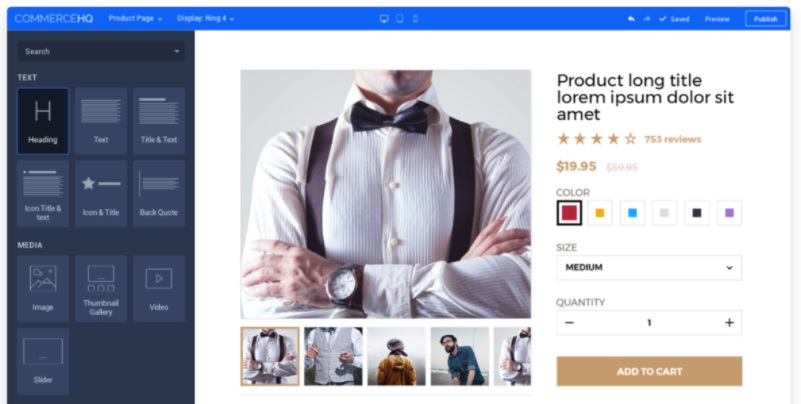 Let's face it, not all of us are web designers. Fortunately, you don't need to know code to create a beautiful store on CommerceHQ.
CommerceHQ uses a visual-based drag-and-drop builder to create the store of your dreams. To make the design process easier, you can choose a pre-built theme and build upon that.
Automated Gift Cards
What's a good way to encourage your users to keep shopping? Automated gift cards keep users on your store. CommerceHQ features this function, which is a powerful way to retain customers.
Coupon Codes
On the same note, you can easily create coupon codes on CommerceHQ so customers can save. This is another effective way to retain customers.
Productos ilimitados
You can upload as many products as you need, no matter what plan you have. Even the entry-level Startup plan allows for unlimited products.
Ancho de banda ilimitado
Even the stores with the highest traffic are no match for CommerceHQ. CommerceHQ uses a powerful CDN cloud architecture, ideal for even the most successful stores. Unlimited bandwidth is available on all plans, which is a perk for growing stores.
Unlimited File Storage
Users can upload as many files as they need. Whether you have an abundance of CSV files or want to add lots of videos to your website, CommerceHQ supports unlimited file uploads for all accounts.
Speaking of CSV files…
CSV Export Builder
You can build your own custom CSV reports on CommerceHQ with no problems. No more needing to upload various spreadsheets!
Advanced Reporting
You'll always know your store's success with advanced reporting.
SSL Certificate
Every store includes an SSL certificate. SSL adds an extra layer of security to your checkout, promising a safer experience for customers. You get the SSL for free, giving store owners one less thing to worry about.
Related Products
An easy way to upsell is by adding a "related products" section. This section will be added across your store, keeping your customers on your page and buying more.
Gestión de existencias
No matter how small or large your inventory is, CommerceHQ can help you manage your entire catalog. Even if you have multiple fulfillment centers, you can still manage your inventory with ease.
Other Benefits of CommerceHQ
CommerceHQ includes many powerful benefits, but this isn't the only perk of this e-commerce platform. Here are other benefits you'll experience.
No Hidden Costs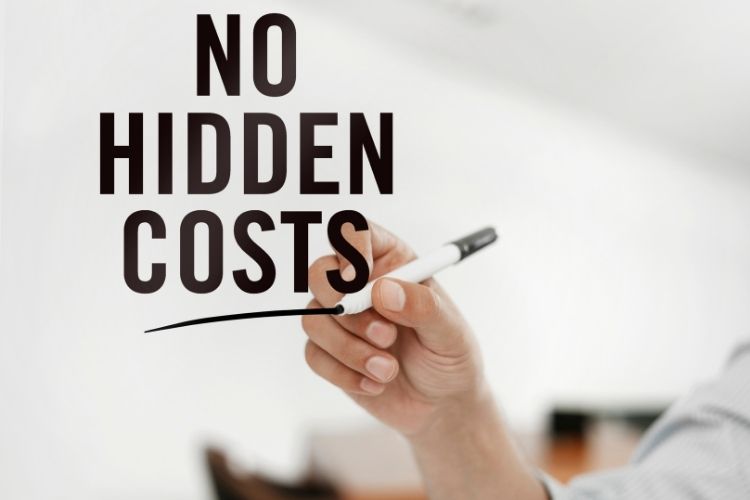 How often have you experienced this scenario — you find a great platform (whether e-commerce or something else) that seems affordable at first, and then you notice all of these hidden costs after you sign up.
Don't worry, CommerceHQ has excellent transparency. CommerceHQ has a flat rate with everything included. Even their competitor Shopify charges extra for things such as card processing, various apps, and even certain themes.
Facilidad de uso
Some competitors, such as Shopify, take some getting used to. Not CommerceHQ. CommerceHQ is completely beginner-friendly, perfect for the new shop owner and the most experienced e-commerce entrepreneur.
While some store owners complained about their store builder being tricky, you have the option to use a pre-built theme if you're ever stuck.
Built for Higher Conversions
As stated previously, CommerceHQ's owner John Mac has experience as an e-commerce owner and marketer. That's why he made CommerceHQ with one main goal: higher conversions. All of the features and apps will help you sell more.
The best part? These apps and features are free.
Unlimited Admin Accounts
Do you have multiple employees or freelancers? Fortunately, CommerceHQ supports unlimited staff accounts. You can also set limitations to identify which users have access to what.
Zero Processing Fees
Processing fees can add up. But you don't have to worry about this with CommerceHQ. As stated previously, CommerceHQ comes with no hidden fees — including processing fees. This is especially important for startups since new store owners don't always have the biggest capital to work with.
99% Uptime
Any downtime can seriously impact your store. Fortunately, CommerceHQ promises 99% uptime. This is largely due to the powerful CDN they boast. Not only that, but CommerceHQ has a powerful support team.
In the event that you do experience website downtime, all you need to do is contact support.
CommerceHQ Pros and Cons
As you can see with this review, CommerceHQ has many benefits and features that users will love. But CommerceHQ isn't perfect. Here are the pros and cons you should know.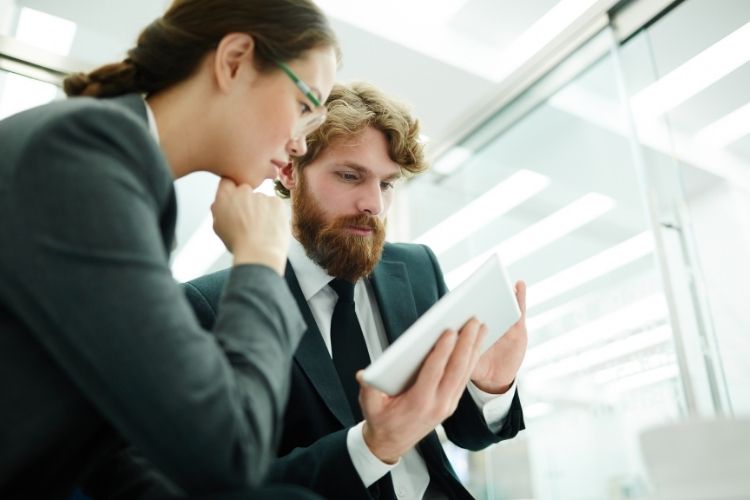 Pros
Many of the pros we already covered. CommerceHQ has a user-friendly platform. You can use a pre-built theme or their drag-and-drop builder to create the store of your dreams. Your store is packed with impressive features and you can add additional apps for no extra cost.
CommerceHQ also includes store necessities for free. For example, all stores get a free SSL certificate. There are no hidden costs, such as processing fees, that other store platforms have.
In addition to these benefits, CommerceHQ supports multiple integrations. You can integrate your store with email marketing software, Zapier for extra apps, and more. CommerceHQ also offers different credit card processing options.
Contras
There are some downsides to CommerceHQ. As stated previously, the visual builder may be challenging for new users. But there are a few other drawbacks we should mention.
In addition, the platform has no mobile app. To submit a website issue, you have to submit a support ticket online. Unfortunately, they don't have a phone support line.
Out of all of the competitors, CommerceHQ has the most expensive monthly plans. But you'll likely save money with CommerceHQ since there are no hidden fees.
CommerceHQ is also not too much more expensive than the competition. For example, Shopify's entry plan is $97/month and CommerceHQ's starter plan is $99/month, so you'll definitely get more for your buck with CommerceHQ.
While CommerceHQ offers a 14-day free trial, you have to sign up with a credit card. While they promote a one-click account deletion, they don't provide insight on how or where to delete your account. This is pretty uncomfortable for those who may not be 100% certain if they want to continue with CommerceHQ.
Preguntas frecuentes
Question: Who should use CommerceHQ?
Answer: Any e-commerce store owner of any size can use CommerHQ. But CommerceHQ is especially ideal for drop shippers and any entrepreneur looking to open up an e-commerce store. Many experienced shop owners also move to CommerceHQ from competitors such as Shopify and Etsy.
Question: Does CommerceHQ offer a free trail?
Answer: CommerceHQ offers a free 14-day trial. However, you have to provide your credit card. They explain you can cancel your account in one-click, yet they don't explain how.
Question: What are some CommerceHQ competitors?
Answer: Looking to see what else is out there? CommerceHQ has many big-name competitors. Shopify and BigCommerce are its most well-known competitors. They come with many tools and features that are similar to CommerceHQ. However, they also have fees and can be too expensive for small businesses.
That's why many new stores turned to another major Commerce HQ competitors – Etsy. Etsy has a simple interface and is extremly affordable. However, Etsy only offers basic tools and new entrepreneurs quickly learn they need something more advanced.
This is where CommerceHQ comes in. CommerceHQ offers advanced store features all for an affordable price. While $99/month seems steep for a small business, e-store owners will quickly see the price is worth it.
Our CommerceHQ Review: The Final Verdict
CommerceHQ is an e-commerce platform created for e-commerce store owners by e-commerce store owners. That's one of the many reasons why we recommend this platform.
CommerceHQ offers powerful features to ensure sellers make conversions. Not only that, but CommerceHQ provides these features with a very transparent pricing model. While their monthly pricing is higher than competitors, sellers save money because they aren't met with extra fees.
The only downside is their lack of transparency with canceling your account. We were unable to try the free trial, since we needed a credit card and couldn't find how to cancel our account. We suggest only using CommerceHQ if you're 100% willing to commit to it.
CommerceHQ isn't the only e-commerce platform you can choose from. Bigcommerce and Magento are also huge platforms in the e-commerce industry. Pulse aquí where we review them both and offer our recommendation.
Más información: