Última actualización en abril 22, 2023 por DMEditor
Building pages for your Shopify store is a great way to increase conversions. Unfortunately, the default page builders are limiting, especially if merchants want to add custom elements and functionality to their pages.
Creating custom code for Shopify pages can be time-consuming and adds another layer of complexity to an already complicated website design. To make the process easier and faster, developers have taken on the challenge of programming some of the best Shopify page builder apps.
These apps provide several options, from custom code to pre-formatted elements and presets. The best of these apps is simple yet powerful, easy to implement and learn, and have an excellent user interface.
In this article, you'll learn about what features to look for when selecting a Shopify page builder app, as well as the best options currently available.
Lo esencial por adelantado
Lo mejor Shopify page builder apps offer you a quick and straightforward way to create stunning pages for your online store. Not only that, but these apps also provide customization and SEO-friendly features to help your business grow.
They include;
PageFly

Shogun

Zipify

LayoutHub easy page builder

Buildify Drag and Drop Builder
What Is a Shopify Page Builder App?
A Shopify page builder is a software or online application that assists in building Shopify landing pages or product pages. Depending on the app, these elements can include pre-built modules with editable options, tools for custom coding and design, eCommerce integrations, analytics tools, and more.
In a basic sense, it's a third-party tool or plugin that provides additional features to the Shopify dashboard. Creating pages with these apps is time-saving for store owners who don't understand the website design process down to a science.
Why Shopify Sellers Need Page Builder Apps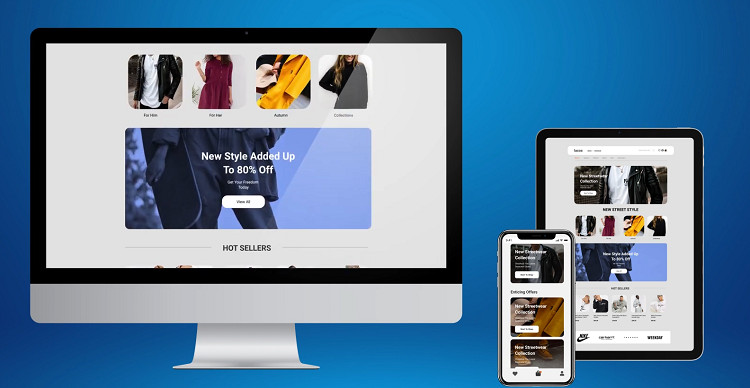 It's no doubt Shopify is one best eCommerce platforms. However, the most modern and effective storefront is incomplete without custom landing pages. Luckily, with Shopify page builder apps, merchants can easily create effective marketing pages that are professional, modern, and feature-rich.
Other benefits include:
Improved Design
It takes about 0.05 seconds for web visitors to develop an opinion about your website. That's why it's essential to create an excellent first impression with your Shopify store. Shopify page builder apps make it easy for merchants to design elegant landing pages that are much better looking than the default templates.
Improved Conversion Rate
The best way to increase conversions is to create marketing pages that better match your landing page. Building trust with clients is a struggle for many Shopify store owners, but offering customized and professional pages is a great way to win the trust of your web visitors.
Integraciones
The best Shopify page builder apps are simple to set up and integrate with other features in your store. It makes it easier for merchants to incorporate their web pages into the rest of their website traffic strategy.
Decreased Bounce Rates
The average bounce rate of a Shopify landing page is 38.7% for desktop and 47.5% for mobile. These rates are high, but that's because many merchants do not have the know-how to create effective web pages.
Shopify page builder apps make it easy for merchants to offer pages with multiple informational elements, funnels, purchase paths that make it possible to lower the bounce rate to a coveted 20%—30%.
Mobile Friendly
79% percent of Shopify traffic comes from mobile devices. A website that's not optimized for mobile is no good, mainly if you're focusing on increasing conversions. Shopify page builder apps make it easy to optimize your site for most smartphones and tablets.
Key Features to Look Out for In Shopify Page Builder Apps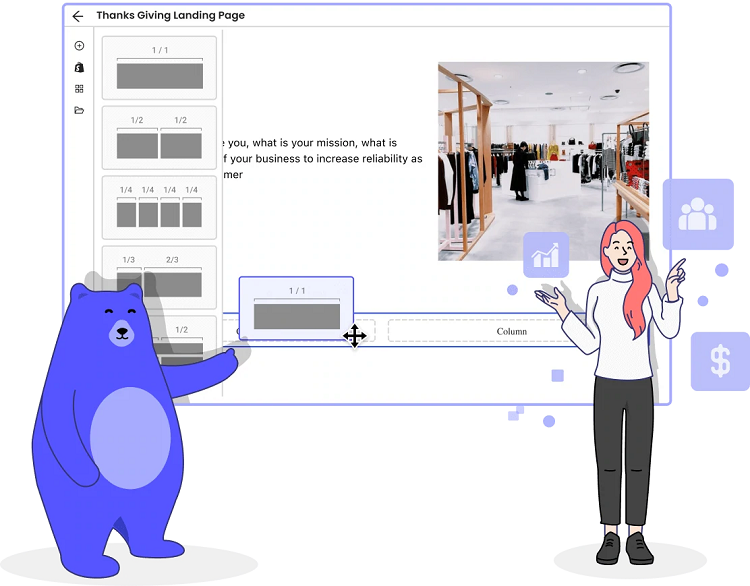 When selecting a Shopify page builder app, several key features are crucial. You'll want to be sure that the app has these helpful tools:
1. Drag and Drop Functionality
It's much easier for merchants to use an app with drag and drop functions, especially if they have little tech experience. For a smooth user interface, opt for an app with this feature.
Ideally, you'll want an app that's equipped with a system for importing and exporting backgrounds, stock images, text frames, modules with editable content options, and custom CSS. This way, you can fully customize your page to best suit your marketing efforts.
2. Fully-Customizable Pages
The best Shopify page builder apps are flexible enough to help design a fully customized landing page. This type of freedom is good for merchants that want more than just pre-made templates. However, it can be overwhelming if they aren't familiar with HTML or CSS coding languages.
That shouldn't be a problem, as long as the app they select comes with easy-to-use features such as custom layouts and modules. If merchants have the right coding skills, the best Shopify page builder apps often have options for adding custom HTML and CSS to a page.
3. Content Library
Content libraries make it easier for users to find what they are looking for, thus improving the overall browsing experience. Look for an app with pre-made templates and popular layouts to save time and money on web design.
An extensive library of elements, modules, and layouts will give you more options for creating a page with lots of different content types. Ideally, the app should have the following content types:
Text modules, including different font styles and sizes.

Customizable buttons with effects that link to specific pages of your store

Image modules with options for pre-made layouts, background images, and border styles

Video modules that link to an external website

A dedicated blog module with widgets such as categories, related posts, and social media sharing buttons
4. User-Friendly Interface
A user-friendly interface makes it easier to edit one page without affecting other elements or sections of your website. This feature is critical for merchants who don't want to learn how their page builder app works.
Merchants should opt for an app that has easy-to-understand features for inserting text boxes, images, modules, widgets, background elements, and more. You don't want to waste time learning how to use the page builder app you choose.
5. SEO Optimization
At the heart of all marketing and eCommerce sites is good SEO. A page builder app with SEO features like meta tags, SEO titles and descriptions, micro formatting, and Google Analytics compatibility will help your store rank higher in search engine results.
Shopify merchants can achieve good SEO by using carefully filled-out meta tags, especially for the title and page keywords. Meta tags should be accurate and concise, describing the page's content in a way that gives Google an easy way to understand your site.
Look for one with a seamless format interface, loading speed, and compatibility optimized for all devices. Image compression is also crucial for creating fast-loading pages.
The Best Shopify Page Builder Apps
We take it you've decided that a page-builder app is the best solution to bring your vision of a good-looking, easy-to-use, and fully functional landing page to life. Below you will find some of the best Shopify page builder apps on the market, complete with an insightful look into their main features.
PageFly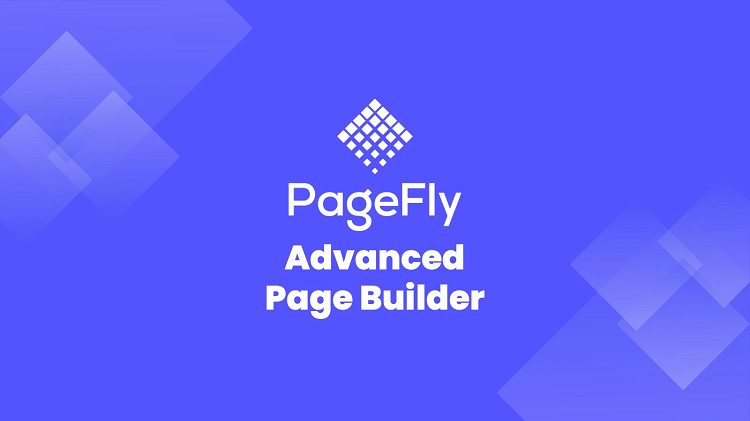 PageFly is the number one app for Shopify store owners, boasting 100,000+ active users. It provides a good range of templates, layouts, and modules to create a unique-looking page. The app has a backend interface with a drag-and-drop editor for faster editing. It comes pre-made with clickable elements such as buttons and forms for quick customization.
PageFly's strong compatibility with other tools and apps for Shopify makes it a good tool for merchants with limited coding knowledge. In addition, navigating through the modules is straightforward, with an intuitive UI that makes customizing the page even more explicit.
Merchants can create a seamless digital experience with a personalized mobile view. This feature adapts a site's design for smaller screens, including navigation buttons and clickable elements.
Precios de PageFly
PageFly has three pricing plans
Plata: $19/mes

Oro: $39/mes

Platino: $99/mes
The most popular is the gold plan. PageFly also offers a free plan with access to all the page elements and templates alongside a custom code editor. For more information on the pricing plans, check out their página de precios.
PageFly Pros
Extensive library of modules, layouts, and templates

Drag-and-drop editor for easy navigation

It comes with 24/7 chat support

Highly compatible with other Shopify apps

Mobile view and SEO optimized
PageFly Cons
The free plan only has one plan

The UI runs on an external site

It can leave its code on the theme if you don't remove the app properly
Shogun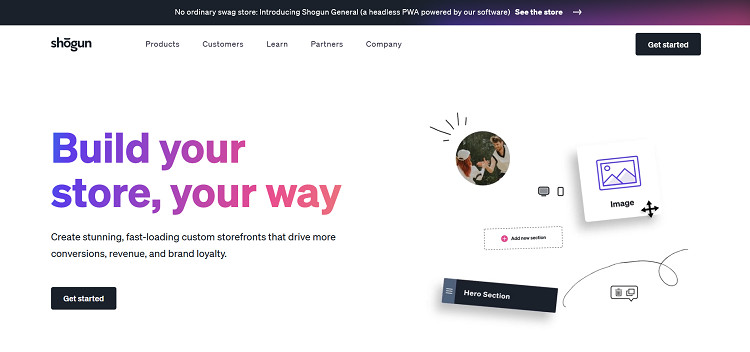 Shogun stands out as one of the most aesthetically pleasing page builder apps for Shopify. It's easy to use for all skill levels, even those with limited coding knowledge or UX design skills.
One of its main selling points is conversion rate optimization. It ensures that all page elements and modules are easily visible, load quickly, and add value to your page. Shogun also has a straightforward UI that makes it easy to add, edit, and move modules around on the page.
Merchants can choose from a wide-ranging library of pre-made layouts and templates for images, text boxes, sliders, and buttons. The designs look professional and modern while maintaining simplicity and usability.
The customer support is top-notch and can go above and beyond for their clients. The Shogun team is very active in updating the app with new features, provides extensive documentation on using the tool, and offers quick support when needed.
Shogun Pricing
Shogun has five pricing plans:
Build: $39/month

Measure: $99/month

Optimize: $149/month

Team: $299/month

Enterprise: Custom (contact sales)
All the pricing plans have different features and capabilities depending on the size of your store. The enterprise plan allows you to create custom pages and accounts, but you must contact sales for custom pricing. You can visit the Shogun página de precios for detailed information on each plan.
Shogun Pros
Drag-and-drop interface for easy editing

Seamless integration with Shopify's platform

Highly customizable and versatile

Personalized support team

It comes with beautiful templates

Ability to sync your products with multiple stores
Shogun Cons
It doesn't have a free plan

The pricing can be costly for smaller stores
Zipify Pages Builder and Editor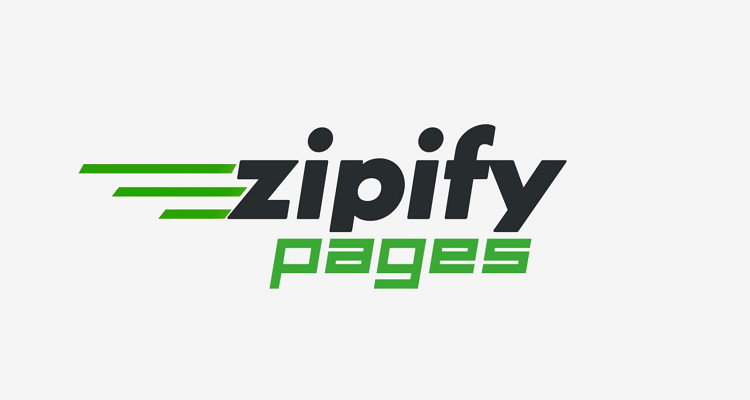 Zipify lets merchants build high converting lead generation landing pages. It features both templates and layouts, allowing users to choose the type of page they need based on their company's individual needs. Merchants can customize any page by adding modules to the design. The drag-and-drop editor makes it easy to move these elements around and adjust them for better compatibility with your store.
It gives you control over some critical aspects of the landing and product pages, such as breadcrumb navigation, Google Analytics, and SEO. Zipify also has various modules to use on your pages, such as forms, headers, product sliders, and more.
Notably, Zipify doesn't have the most reviews, but it offers a technical approach to page building that some merchants may find appealing. Its customer support is also fairly active, with quick email response times.
Zipify Pricing
Zipify has one pricing plan.
Zipify offers a 14-day free trial, so you can test it out before committing to a plan.
Zipify Pros
Ability to copy multiple sales funnels

Optimized conversion

One-click lightboxes

Fácil personalización

Constructor de arrastrar y soltar

Mobile-friendly pages
Zipify Cons
The tool can be a little techy for newbie users

Some merchants may find navigation difficult
LayoutHub Easy Page Builder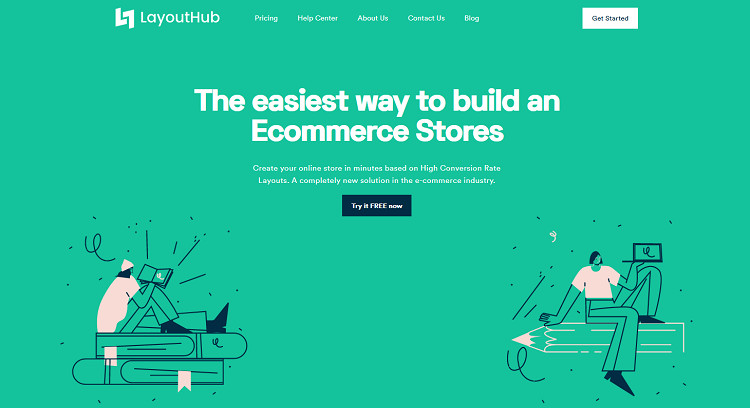 LayoutHub claims to be the world's first visual page builder for Shopify, and it has an easy-to-use UI that follows Shopify best practices. You can create pages using pre-made layouts or start from scratch with LayoutHub's design elements library.
The design options include preset modules and buttons or adding your customized CSS classes. LayoutHub gives you complete control over the look and feel of your pages. You can drag various elements around the page and resize them as needed, plus easily view how they'll look on desktop and mobile. LayoutHub is optimized for SEO, a critical feature for any page builder.
The support is available 20 hours a day through their live chat widget or email. Most merchants report quick response times and helpful agents.
LayoutHub Pricing
LayoutHub has three pricing plans.
$14/month

$29.99/month

$59.99/month
For each plan, merchants have access to live chat and email support. Moreover, LayouHub doesn't require you to have a credit card on file, even for the 14-day free trial, so you can start building pages immediately. For detailed information on each plan, visit LayoutHub's página de precios.
LayoutHub Pros
Built-in SEO features

No credit card is needed for each plan

Customizable landing and product pages

Preview your edits in real-time

Mobile-friendly design options

Large template library

Affordable pricing plans

Email and live chat support are available
LayoutHub Cons
The free trial doesn't have live chat support
Buildify Drag and Drop Builder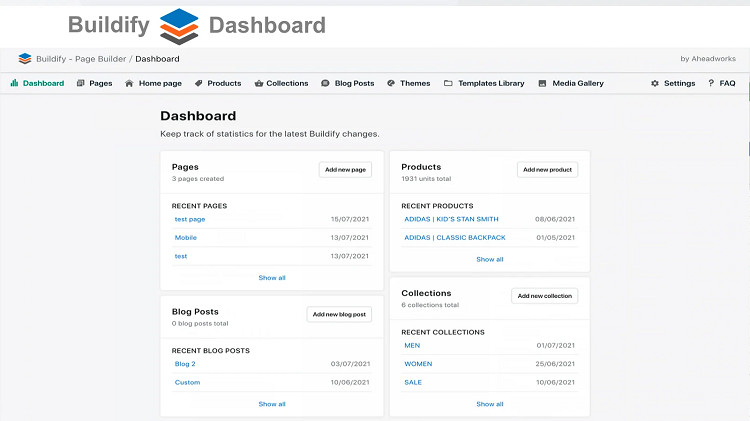 Buildify is an all-in-one Shopify page builder that lets you create gorgeous landing pages. It features a drag and drop builder, theme customization tools, and interactive modules. Buildify is a widget-based system, meaning that you'll need to use the widgets provided by the software. However, there are many modules within those categories that merchants can choose.
Buildify offers both templates and layouts as options for your pages. The Shopify-friendly themes work perfectly on mobile devices, ensuring that your customers can access your site from anywhere. The design process is streamlined for easy management of your shop's look. Buildify gives you complete control of your product page layout with its element options, such as links, headers, and color schemes.
Buildify Pricing
Buildify has three pricing plans
Starter: $9.99/month

Advanced: $19.99/month

Unlimited: $29.99/month
Buildify comes with a 7-day free trial. The Starter plan is an excellent place to start for those still building their online presence. The Advanced and Unlimited plans offer more features, such as publishing numerous pages and unlimited widgets. Pricing information about each plan is available on the pricing page.
Buildify Pros
Highly customizable and editable

Features mobile-friendly elements

Responsive support team

Affordable pricing plans

Integrates with social media
Buildify Cons
Limited reviews

The free trial is only seven days
Preguntas frecuentes
Question: Which is the Best Page Builder for Shopify?
Answer: PageFly stands out as the best page builder for those who want a powerful yet easy-to-use Shopify page builder. The drag and drop editor and live preview make it simple for users to create unique Shopify landing pages. In addition, it has 6171 reviews with a rating of 4.9.
Question: Do You Need a Page Builder for Shopify?
Answer: You need a page builder if you want to create custom Shopify pages. For example, if you would like to have a full-width feature page or product category in your shop, then an online page builder is the best solution for you.
Question: What is Pagefly Shopify?
Answer: Pagefly is a drag and drop page builder that seamlessly integrates with Shopify. It's by far the best Shopify page builder for customizing landing, product, and blog pages. It features an easy-to-use interface complete with over 100 content modules.
Conclusión
The best Shopify page builder is efficient, affordable, and user-friendly. Ideally, it should be compatible with other systems, such as sales channels and credit card processing platforms.
Understanding the functions and features of each page builder will help you make an informed choice in selecting the best Shopify page builder for your business.
From the above analysis, PageFly stands out as the best Shopify Page Builder for its affordable pricing plan, 6171 reviews with a rating of 4.9 out of 5 stars. The tool features a drag and drop editor, a live preview option, mobile-friendly design elements, and a professional support team.