Last Updated on January 15, 2023 by DMEditor
Today we are going to be comparing Gusto vs Justworks, two online payroll, benefits, and human resource management (HRM) software tools that can save you both time and money, and give you the peace of mind that everything relating to Payroll Services and HR Services in your business has been done correctly as a professional employer.
Bottom Line Up Front Summary: I personally prefer the more user friendly, affordable, and scalable options offered by Gusto Payroll here. You can scale all the way from a solo contractor to small business and up to large enterprise, with excellent customer service and support along the way. Justworks is more suitable for a midsized company (10+ employees), but even so, can be more expensive for similar functionality to Gusto.
Main Differences Between Gusto vs Justworks
The main differences between Gusto vs Justworks are:
Gusto is more affordable with a base monthly fee and a much lower pricing per employee, whereas Justwork's fee per employee is significantly higher
Justworks offers 24/7 support by phone, email, SMS, Slack, and chat, whereas Gusto only offers support from 8 am-5 pm Monday – Friday
Justworks enables you to make regular or one-off payments to vendors as well as employees, whereas it is not possible to pay vendors using Gusto
Gusto has a 'Cashout' feature where employees can access their earnings between paydays, whereas Justworks doesn't have this feature
Gusto has a 'Contractor' plan, which is very affordable and allows you to easily pay contractors for their services, whereas Justworks doesn't offer a plan that's dedicated to contractors only
As a business owner, you will already know that managing the HR and Payroll for your team can sometimes cause headaches. The good news is that tools like the ones we are discussing today can help you to streamline the entire process, leaving you more time to focus on other areas of your business.
There are lots of benefits to using HR and Payroll Management software, including:
More profitability due to better expense management
Reducing the amount of paperwork that needs to be stored, as it can be stored digitally
Improved reporting efficiency
Ensures full legal compliance for your business and reduces your levels of liability
Improving employee satisfaction and security
Saves you time on Payroll and HR tasks
Easier time tracking and holiday/PTO management
It can be daunting trying to pick the best software, as you will want to get it right the first time to avoid having to change providers further down the road.
Today we are going to be looking in detail at both Gusto and Justworks, to see exactly what features they each offer, as well as their pros and cons, and the pricing so that you can work out which one will be the best option for your business.
Let's have a look…
Gusto vs Justworks: In-Depth
Gusto: Overview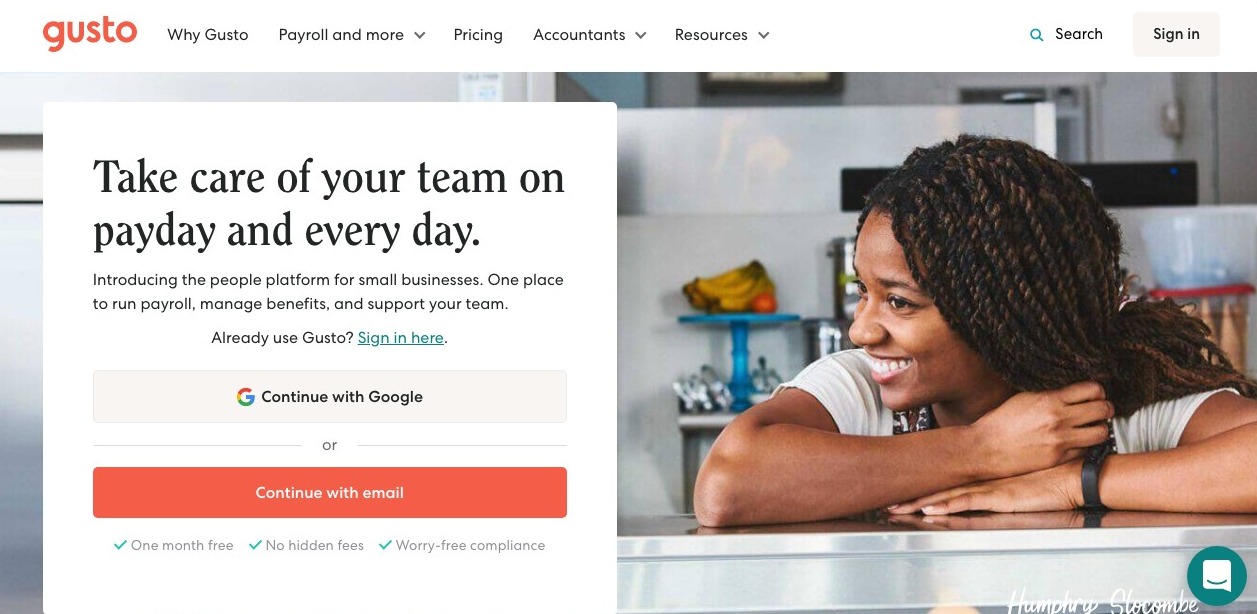 Gusto is an all-in-one Payroll, Benefits, and HR platform that helps a small businesses run with confidence. The software also includes time tracking tools, as well as other business tools such as team onboarding (employee onboarding) and offer letters to new recruits, as well as giving you direct access to HR professionals when you need them. Gusto essentially gives you all of the tools you need to run a successful team, in one place.
The Main Features of Gusto Payroll Provider
Online Payroll Software
Employee Direct Deposit
Employee Benefits
Team Management
Expert HR
Time Tracking Tools
Workers' Comp
401(k) plans
College savings plans
Integrations
Gusto Cashout
Employer Tax Calculator (Payroll Tax)
Burn Rate Calculator
Salary Comparison Tool
New Hire Checklist
Outstanding customer service
How Gusto Works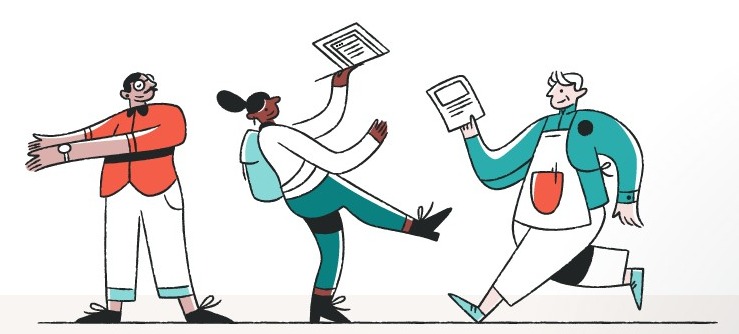 Gusto gives you all of the tools you need to manage and run a successful team for your business. As soon as you are ready to hire a new employee, you can use Gusto to send professional offer letters, and set each new employee up with their own Gusto account, which holds all their personal details, as well as their details relating to the business. All of their paperwork can be stored digitally within the Gusto system, so there is no need for endless folders of paperwork, and it's all completely secure.
When it comes to Payroll, Gusto makes it easy to pay your employees, with full confidence that everything has been done correctly. The software automatically files your payroll taxes at no extra cost to you (included in payroll processing), and benefits and time tracking are all part of the package too. The time tracking tools track your employees breaks as well as any other time off, which is perfect for ensuring compliance for hourly workers. Your employees can even access their money between paydays if they need to!
The Payroll software is very easy to use, and you can pay all of your employees with just a few clicks, or set up automatic payments if you prefer to save even more time.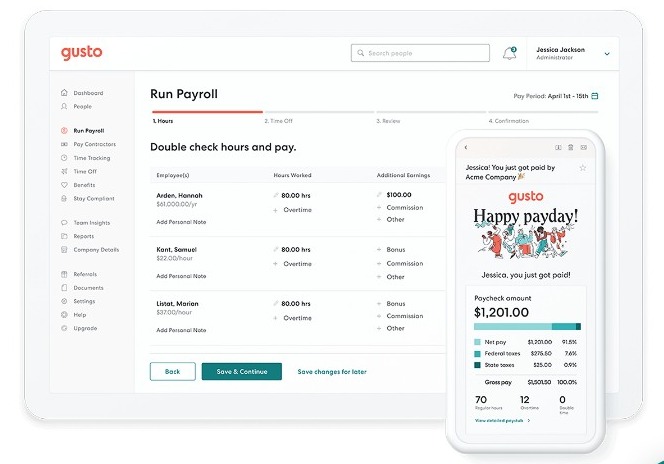 All of the Payroll features work to make sure your business is fully compliant in all areas, by making sure your employees haven't forgotten to fill in any forms, and that any 1099's from contractors you have hired are signed and stored securely online. The software automatically tracks the changing tax laws, and automatically calculates your tax for you so you can ensure that there are no mistakes.
When it comes to Workers' Comp ( otherwise know as workers' compensation insurance), to cover your employees in case of an accident in the workplace, Gusto has partnered with AP Intego, you can easily sync your policy with your Payroll. Premiums are deducted automatically with every paycheck (pay period) and spread out over the year to ease your cash flow.
You have the option to easily set up benefits for your employees, such as medical insurance plans, dental insurance plans, and 401(k) plans, disability, savings, and much more. There are more than 3,500 plans to choose from, so you can choose the benefits package for your employees that best suits your business and your budget. If you already have an existing benefits plan, Gusto will transfer the plan over for you, with no interruption in your coverage.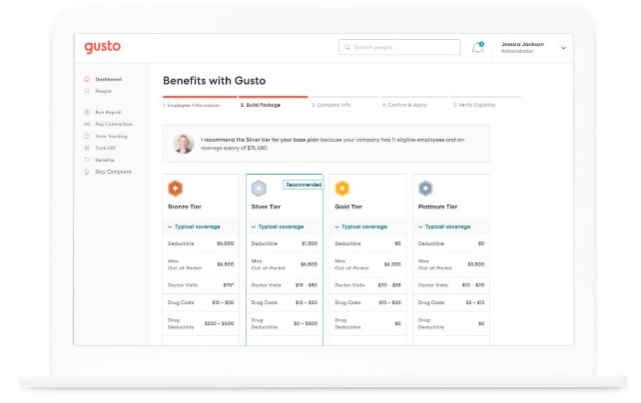 Gusto Cashout is a new feature built into the Payroll solution, that allows your employees to get money between paydays for emergencies or unexpected expenses by working out their estimated earnings. This service is free for your business as well as being free for your employees to access, and doesn't affect your books or payroll in any way.
Gusto also has a 'Concierge' plan, which gives your business personal support from certified HR experts. The concierge plan offers extra protection for your business by sending you alerts when there are any relevant changes in business laws that could affect you, as well as HR guides that you can follow to ensure your business remains compliant and avoids any fines. If you ever have any questions relating to HR you can get the answers you need quickly, but making a quick phone call or sending an email to one of the HR professionals.
Gusto Customer Reviews
Overall, Gusto has great reviews from its customers on Trustpilot, with an overall rating of 'Excellent' and 4.5 stars out of 5 from a total of 1,138 reviews at the time of writing.
The Benefits of Using the Gusto Payroll Option
Gusto makes it easy to hire and onboard new team members, and all employee paperwork can be stored safely and securely on the software.
You can pay your employees with just a few clicks, and all of your payroll taxes are calculated automatically.
Time tracking tools are included to calculate employee working hours and breaks for hourly paid employees.
Easily integrate benefits packages for your employees with your payroll.
Gusto can provide access to HR experts who can answer any questions you have by phone or email.
Run unlimited payroll iterations (unlimited payrolls), including bonuses and off-cycle payrolls.
Accessible and technically savvy customer service, 24/7 availability
The Downsides to Using Gusto
At the moment, Gusto is only available in the US, so if your business operates out of another country, this isn't the software for you, as you will need to have a US business bank account. The other downside is that although Gusto is designed to help small business, they are quite pricey (check the latest promos here).
You Will need to pay a monthly base fee, as well as an additional payment for each employee every month, so if you have a large team it can get expensive quickly.
Gusto vs Justworks: Justworks Overview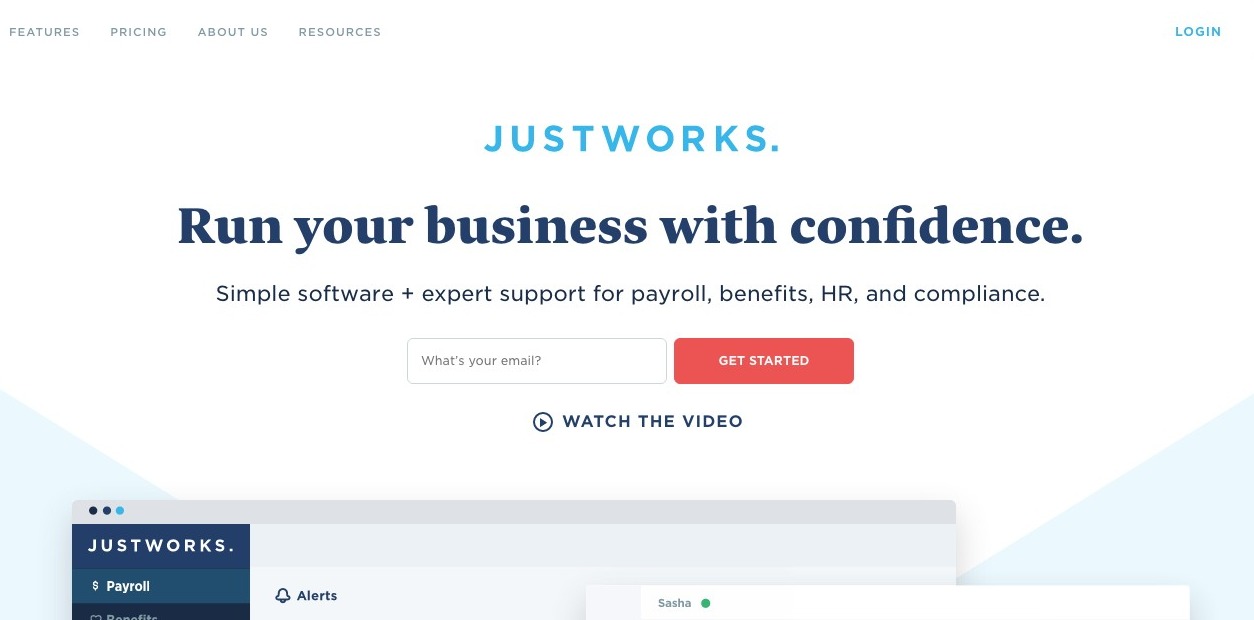 Justworks makes it easy to run your business by providing you with access to tools that handle all of the tricky parts of payroll, benefits, compliance, and HR technology for your business. As well as providing all these tools within the software, Justworks also gives you access to HR professionals whenever you need it, so you always have experts on hand for advice.
How Justworks Works

Justworks lets you easily manage your payroll, as well as one-off payments, all from one place, so whether your employees are salaried, paid hourly, contractors, part-time employees, or gig-workers, you will have no problem paying them for their work or services.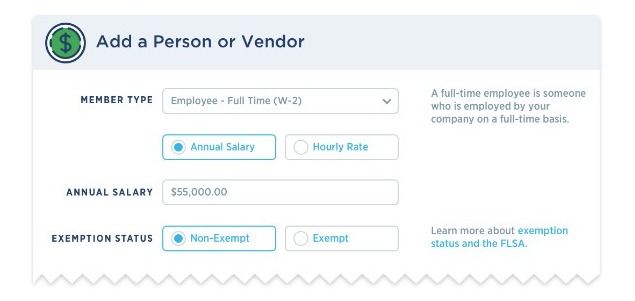 Justworks will file your payroll taxes, as well as your W-2's and 1099s. Everything is updated regularly to keep up with the ever changing employment laws, so that you can rest assured that your business will always remain compliant.
As well as paying employees and contractors, Justworks enables you to make one off payments to your US based vendors as well, so you can do everything from one place at no additional cost. Justworks integrates seamlessly with Quickbooks, Quickbooks online, Xero, Bench.co Bookkeeping and other popular accounting software tools, so everything will automatically be synchronized.
To give you a better understanding of your business you can access all the data you need within the robust payroll reporting tools. This gives you a full breakdown of hours worked, benefits deductions, withholdings, and more, so you always know exactly how much is going out of your business.
To save you time and reduce any errors, Justworks has a Timecards feature that allows you to easily record the hours of any hourly paid employees that you have, as well as pay them quickly and accurately. This is done by syncing your Justworks account with TSheets or Boomr for easy time tracking, and when payday comes you can make it exciting for your employees by automatically sending them a 'You got paid!' notification by email, along with their electronic payslips.
To ensure your employees feel secure and valued, you can easily add a range of benefits to their employment package. Justworks gives you access to high-quality health insurance for your employees, as well as a wide range of other benefits at affordable prices, such as 401(k) plans, wellness plans, and much more.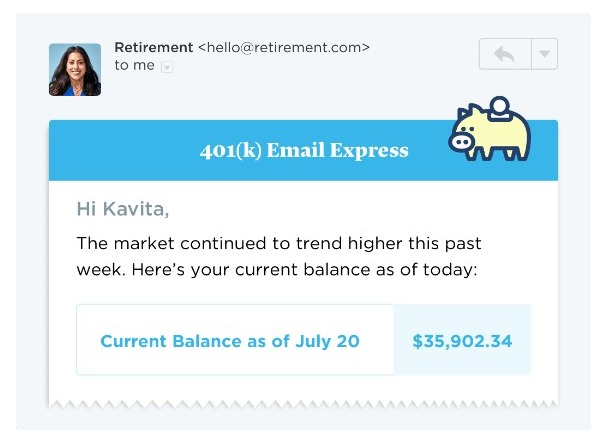 Justworks also includes HR tools that allow you to streamline the day-to-day management of your team by making it easy to onboard new team members, give employees paid time off and holidays, create reports, store and view documents. You can use this as a central space for all of your company employees to access documents, view calendars with important dates such as birthdays, company events and paydays, and more.
Each of your team members can be given the appropriate access permissions to the software depending on their needs, so for example, your accountant can have the access they need to approve expense reimbursements, and other employees can access their relevant documents and information.
Justworks can help to ensure your business is always compliant with the latest employment regulations, by providing full compliance support, leaving you free to focus on other areas of your business. They can also make tax season much less stressful by handling all your reporting and taxes, as well as filing your W-2s and 1099s.
You will also have access to online training powered by EVERFI which is available directly within your Justworks account. The training is designed to help you create a harassment-free and inclusive workplace in line with State and City laws. You can give access to the training to supervisors on your team, who can then train other team members appropriately.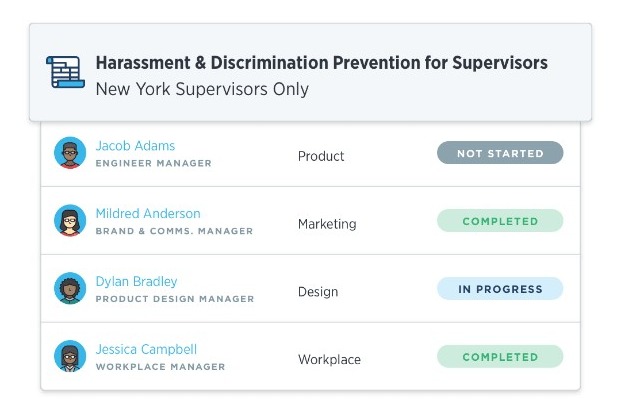 If you ever have any questions about Payroll, HR, benefits, onboarding process or compliance, Justworks provides 24/7 full-service support to its customers. If you are having any issues, or if you have any questions, you can contact support (customer service) at any time by phone, email, chat, Slack, or SMS.
Justworks Customer Reviews
Justworks has great reviews from its customers on the independent review site, TrustRadius. Their overall score is 9.2 out of 10, with customers complimenting the excellent customer service provided by Justworks.
The Benefits of Using Justworks Payroll Software
The Justworks software is very easy to set up and use, and it allows you to manage everything relating to Payroll, Human Resources, benefits, and compliance, all from one place.
You can notify your employees by email when they have been paid, and they can easily access their pay stubs online.
All documents relating to your employees can be stored securely on the software, so there's no need to store piles of physical paperwork.
Support is available 24/7 so you can talk to someone at any time of day or night about any issues or questions you might have about payroll, HR, compliance, or benefits for your team.
The software can help avoid any human error, and make sure all employees are always paid correctly and on time.
You can easily add benefits packages to your employees employment package. There are hundreds of policies to choose from, and Justworks have already negotiated the best prices.
Justworks provides you with compliance support, so that your business will always be up to date with the latest regulations, and you can rest assured that you will never receive any fines.
Justworks integrates seamlessly with Quickbooks, Quickbooks Online, and Xero so that all the tools running your business are in sync.
The Downsides to Using Justworks Payroll Software
There aren't really any downsides to using Justworks, the only thing is it could be quite an expensive option for small business, but it would definitely still be cheaper than employing a full-time HR person to handle all the same tasks.
Payroll Service Pricing Comparison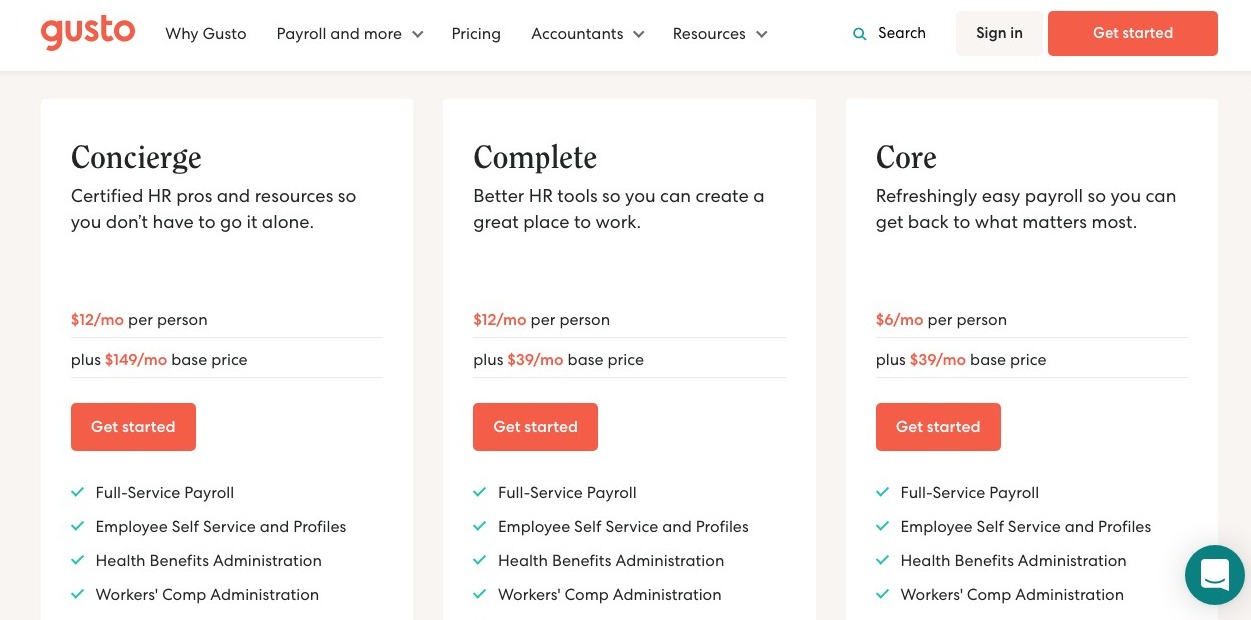 Gusto has three main price plans to suit different business needs: Concierge, Complete, and Core.
The Core plan has a base price of $39/month, and then you pay $6 per person each month on top of that. This plan includes full-service small business payroll, employee self-service and profiles, health benefits administration, workers' comp administration, best-in-class support, paid time off policies, and employee access to Gusto cashout.
The Complete plan has a base price of $39/month, and then an additional cost of $12 per person per month. This plan includes everything from the Core plan, as well as permissions, the employee offers and onboarding, simple time tracking, PTO policies and time-off requests, and employee directory and surveys.
The Concierge plan has a base price of $149/month, and then an additional $12 per employee each month on top. This plan includes everything from the Core and Complete plans, as well as dedicated support, admin permissions, certified Human Resources professionals, and access to an HR resource centre.
As well as the three main plans, there is also an additional Contractor plan available, which costs just $6/month with no base fee. This plan is perfect for businesses that only use contractors, and it also creates 1099 forms for you and keeps track of your filing.
If you would like to find out more about Gusto and what they have to offer, head over to their website here to see the plans in more detail.
Justworks Pricing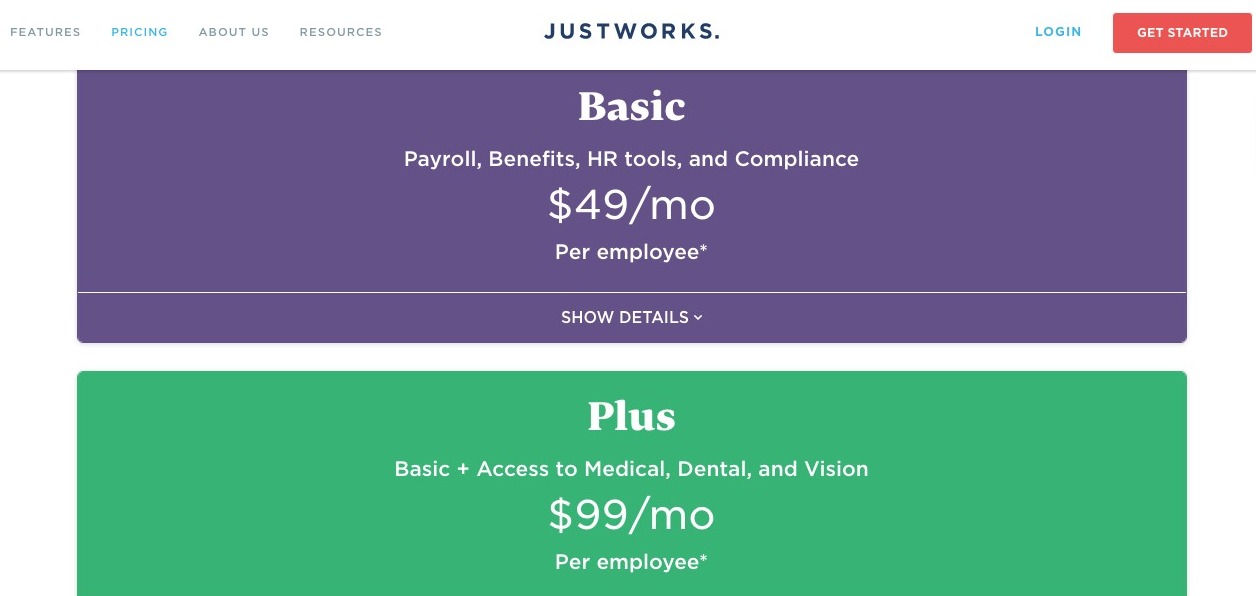 Justworks has two main plans available, Basic and Plus. The pricing for each of these plans varies by how many employees you have.
The Basic Plan costs:
Less than 25 employees: $49/month per employee
25-99 employees: $44/month per employee
100-174 employees: $39/month per employee
175 + employees: Contact Justworks directly for a quote
The Plus Plan costs:
Less than 25 employees: $99/month per employee
25-99 employees: $89/month per employee
100-174 employees: $79/month per employee
175 + employees: Contact Justworks directly for a quote
The Basic Plan Includes Payroll for Salaried & Hourly Employees, Off-Cycle Payments, Vendor & Contractor Payments, Employer Payroll Tax Filings, W-2 & 1099 Filings, Unemployment Insurance Filings, Employment Practices Liability Insurance, 24/7 Support, HR Consulting, Harassment Prevention & Inclusion Trainings, Online Employee Onboarding, PTO Management, Calendar, Doc Center, Directory, Accounting Software Integrations, Reporting, Commuter Benefits, and Plan Setup. This plan also gives you access to workers' comp, life and disability insurance, health and wellness perks, fitness memberships, and 401(k) plans.
The Plus Plan includes everything from the Basic plan, as well as COBRA administration, health advocacy services, One Medical (where available). This plan also gives you access to medical insurance, dental and vision insurance, and HSA/FSA accounts.
If you would like to find out more about what Justworks offers, head over to their website to see the pricing and plans.
Frequently Asked Questions:
The Verdict: Gusto vs Justworks – Which Payroll and HR management tool is better for your business?
Gusto and Justworks are both very similar overall, so when it comes to choosing between the two it's quite difficult. They both offer almost all the same benefits, in the way that they can save you time and money on your Payroll and HR management, as well as helping avoid any human error, which will keep your employees happy!
Bottom Line: If we had to pick a winner though, it would have to be Gusto, and here's why…
Overall Gusto is significantly cheaper than Justworks, making it accessible to more small and medium-sized businesses. Gusto also has a 'Cashout' feature that will allow your employees to access their money between payday based on estimated earnings – a feature that many employees would be glad of in an emergency or if they receive an unexpected bill! As well as this, Gusto also has a 'Contractors' plan, which is just $6/month with no base fee and is perfect for businesses who only use contractors, since it's not only extremely affordable, but it also creates 1099 forms for you and keeps track of your filing.
That's not to say that Justworks isn't a great tool, because it is, it's just quite a bit more expensive, so it's a better option for medium-sized businesses with higher cash flow, since the monthly fee per employee is much higher.
The main benefit of using Justworks over Gusto is that they offer 24/7 support on a variety of channels, so you can reach them at any time if you need help with Payroll or HR, and it also enables you to easily pay vendors through the software too, so you can manage almost all of your outgoing payments from one place.
If you would like to give Gusto a try, head over to their website to check out their packages in more detail and schedule a demo. On the other hand, if you think that Justworks is the right tool for you, check out their website here for a closer look at their packages.
Still not sure which online Payroll and HR software is right for your business? Why not check out the Square Payroll solutions for small business owners. We compared Square Payroll vs Gusto side by side payroll providers comparison (both companies like Justworks) so that you can see how they measure up against each other!
Further reading on online payroll services and cloud based HR service providers: