Last Updated on Mai 2, 2023 by DMEditor
Over the last decade creating a website has become increasingly easier. Satirically, all that's required nowadays is an up to date WordPress tutorial on YouTube, determination, and an Elementor plugin. Then you're well on your way to creating your first site.
Unfortunately, things aren't as simple as that. And hosting epitomizes that fact. And as if hosting wasn't complicated enough, there are now so many hosting service providers to choose from with options such as managed, cloud-based, etc. that it's too easy to become overwhelmed.
That's why today I'm going to be comparing two of the most popular, managed WordPress cloud-based hosting platforms around – Cloudways und WPEngine. I'm going to do my utmost to provide you with the best information I can so that you can make the right buying decision moving forward. And, hopefully, save you a hosting headache.
But first, let's take a look at some of the main differences between Cloudways und WPEngine.
Main Differences Between Cloudways vs WPEngine
The main differences between Cloudways vs WPEngine are:
Cloudways offers a managed solution, whereas WPEngine is managed to a stronger degree.
Cloudways is cheaper due to being less managed, whereas WPEngine is more expensive due to the same fact.
Cloudways has over 65 data centers to host servers using, whereas WPEngine doesn't have nearly as many.
Cloudways is faster and cheaper, whereas WPEngine offers superior up times and will manage your WordPress site as well as your servers.
Features Cloudways vs WPEngine

WPEngine's Security
WPEngine's security is undoubtedly reliable.
Your file system will be kept safe from malicious code via disk write protection. Which makes it harder for cybercriminals to exploit weaknesses within WordPress plugins to hack your site, for example.
Also, there are disk write limitations logged but accessible via contacting WPEngine's support team. I think this is a helpful feature because it lets you distinguish between the malicious and non-malicious code attempting to access your file system.
Visiting WPEngine's error logs can provide license holders with additional security warning against bots while also providing access to the security auditor tool.
Between WPEngine's managed web application firewall (WAF) and error logs, I'd feel confident that my site is safe from malicious and or unwanted web traffic intending to skew my site's metrics.
WPEngine also provides a useful list of banned plugins that are likely to expose your site to malicious content. I like the fact that the managed hosting solution for WordPress automatically searches for and bans all plugins on the list. It saves time.
Another cool security feature within WPEngine is the ability to block IP addresses. This feature is "the perfect solution for both intranets and (publically-hosted) extranets.
Cloudway's Security
Like its counterpart, Cloudways security also provides bot protection. Much of which was developed in partnership alongside BioVault's Malcare. I also like how the cloud-based hosting provider lets you block IP addresses using Cloudways GeoIP. Again, it's essential to making sure only the right traffic filters through to your site while also preventing spam.
As is the case with WPEngine, Cloudways users can also dabble with SSL certificates. Both platforms provide a variety of options depending on your needs.
The Cloudways firewall has been put in place to ensure only high-quality web traffic gains access to your website. Cloudways prevents attackers from forcibly logging into your computer by limiting login attempts. This feature is great because it makes logging into Cloudways via strongly secured pathways such as SSH and STFP even safer.
Both managed WordPress hosting solutions possess ht access files so that you can perform security configurations, site redirects and what not to optimise your site's operations.
Other impressive Cloudways security features include:
2FA (Two Factor authentication during login)
End to end encryption
GDPR-konform
Automatische Backups
Overall, Cloudways offers reliable security for WordPress.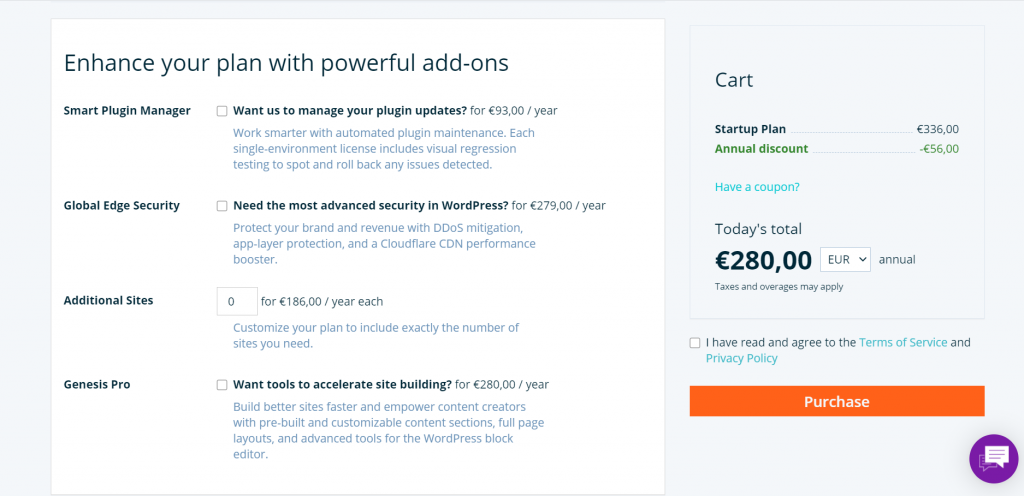 WPEngine vs Cloudways – Content Delivery Network (CDN)
Both WPEngine and Cloudways possess CDNs. WPEngine users are advised to switch to Cloudflare's CDN. And that advice comes from WPEngine itself.
WPEngine vs Cloudways – Speed
Cloudways offers license holders the opportunity to enhance site speeds through NGINX hosting. The NGINX function contains a site acceleration formula that optimizes your site's responsiveness. Along with Apache, Varnish, and Memcache, Cloudways hosting service has been optimized for speed.
WPEngine on the other hand, partners with hosting providers such as Amazon Web Services (AWS) and Google Cloud Platform (GCP). GCP provides users with access to innovative hardware available to only a select few data centers located within parts of North America and Europe.
Both Cloudways and WPEngine possess CDNs that improve your WordPress sites' loading speeds. This feature ensures that content is delivered quickly regardless of where site visitors are located around the world. This is because a CDN operates from an infrastructure containing multiple data centers globally. This ensures that the server closest to your site's visitors is being used to deliver static content and files.
Caching data for increased site speeds
WPEngine's caching has been optimized for speed courtesy of Evercache, which adds a proprietary layer of code that has been optimized for WordPress.
The hosting solution heavily caches all content updated on your WordPress site, which in turn boosts page loading speeds. Also, WPEngine NGINX cache lets you cache all static assets to ensure faster loading times while also caching your CDN. You can also clear your cache and altar cache settings.
Cloudways partners with Breeze so that you no longer have to worry about finding reliable WordPress cache plugins. The cloud-based hosting provider will instead provide the cache functionality you require.
The Breeze WordPress plugin created by Cloudways, funnily enough, possesses CDN as one of its main features along with Varnish, Database optimization, and Internal caching. Cloudways license holders can also improve site performance through WordPress using Redis cache, which is a handy feature in my opinion.
Cloudways vs WPEngine – Reliable Uptimes Are a Must
Uptime is the most important feature of any hosting solution. If it's bad, look elsewhere.
Both Cloudways and WPEngine are evenly matched regarding their uptimes. Cloudways scores an uptime in the ballpark of 99.6%, while WPEngine edges out its counterpart boasting reported uptimes of 99.99%.
Neither scores are anything to turn your nose up to, but there are hosting providers out there offering 100% uptimes that are therefore more reliable. That being said, WPEngine has an obvious, albeit slight, advantage.
Cloudways vs WPEngine Data Centres | Safety in Numbers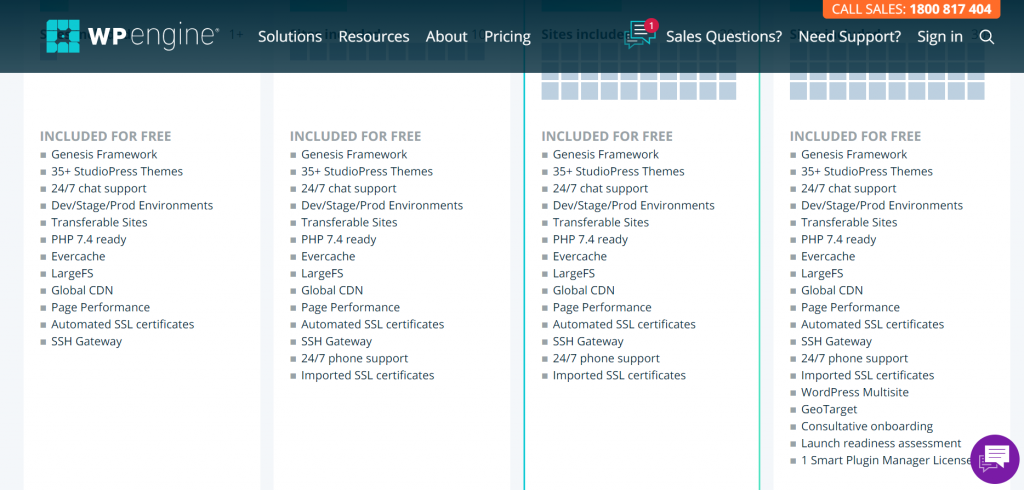 Bending the meaning of the old saying there's "Safety in Numbers" slightly here, but there really is an advantage to choosing a cloudless hosting provider with a lot of data centers. It'll improve your sites' performance by connecting visitors to your site sooner.
Cloudways has over 65+ data centers worldwide thanks to its infrastructure partnerships. A lot of these data centers are posted in large urban hubs. I'd have to say that Cloudways has an advantage here when it comes to the benefits provides by the data centers.
Free in this context means that you don't have to pay to get these feature via add-ons. So you'll still need to buy a plan.
Cloudways vs WPEngine | Multisite Networks
Cloudways license holders can create networks of subsites known as multi-sites. Cloudways CDN must be integrated with you WordPress multisite. The provider will let you migrate your first site for free. After that, you'll need to install the free migrator plugin.
WPEngine offers its own Multisite feature for WordPress that can be installed. After enabling WPEngine's multisite function you're able to create a network of subsites by adding subdomain and subdirectory multi-sites. Multisite can also be disabled should you wish to do so.
WPEngine has an advantage here.
Cloudways vs WPEngine | DNS Settings
Cloudways doesn't offer a DNS system out of the box. There's a managed add-on available to license holders providing DNS functionality. I like how the feature makes it much easier to ensure that your records have been properly configurated.
WPEngine is no different than its competitor in that you'll need to point your DNS toward the managed hosting platform. Here's a useful article for anyone looking to point their DNS toward WPEngine, but not sure how.
It's a draw.
Cloudways vs WPEngine – Storage Tech to Boost Performance
Both platforms use up to date storage methods. Gone are the days of the hard drive for these two. They instead use solid-state storage technology in the form of SSDs. The SSD storage device operates using flash memory.
Speed is what most site owners crave, and that's precisely the advantage SSD offers over HDD. I think that it'll make a huge difference to your site's performance, especially if you're involved in a competitive eCommerce market.
So I'm a big fan of storage within both hosting solutions. Granted there are disadvantages. Namely, greater storage is much more expensive and data recovery is much more challenging.
Draw, again.
Cloudways vs WPEngine – Protecting Your Data Against Wipeouts

Cloudways offers automated backups across all plans. Overall, the platform does a good job of letting you backup your database and recover what's lost. Meanwhile, WPEngine lets you avail of both manual and automatic site backup.
Managed Hosting for WordPress sites, which is better?
Both providers have been built to cater to WordPress users. That makes them a niche solution and of course, gives them an advantage over other managed cloud hosting alternatives.
Cloudways is a dedicated hosting service provider, also known as a managed hosting solution. This means that they will handle everything on behalf of their customers. You'll enjoy a managed hosting environment optimized to help your sites succeed.
From what I can gather, Cloudways manages your servers but not your WordPress site. In contrast, WPEngine will manage both your servers and your WordPress site. So, it's a case of what you yourself expect when you hear the term managed hosting.
There's also the logical increased price involved when using the likes of WPEngine and Cloudways. Seen as WPEngine will be taking care of your site, you'll be paying more. So that's something bare in mind when choosing between these two.
Cloudways Preisgestaltung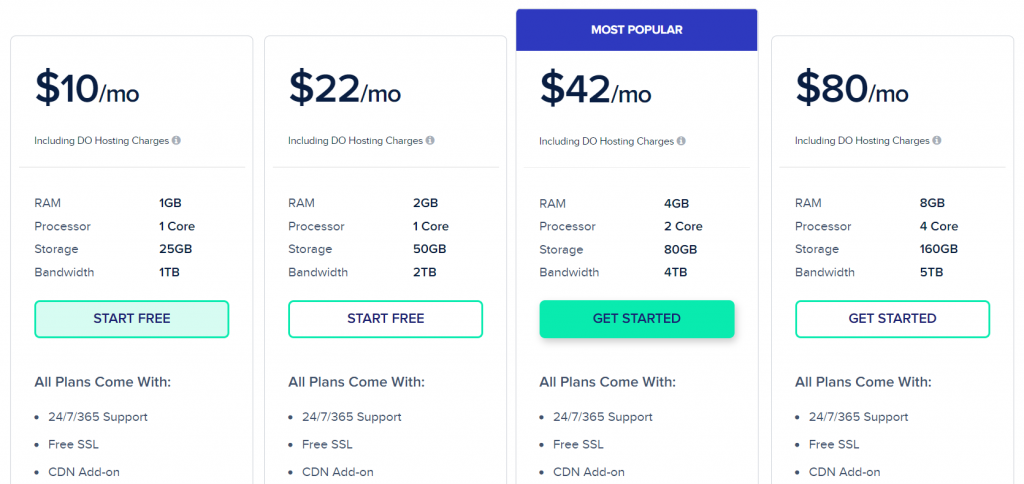 WPEngine Preisgestaltung

FAQs
Question: What is Cloudways?
Answer: Cloudways is a Platform as a Service (PaaS) that gives developers a framework to build upon to create and run apps within the cloud. In other words, Cloudways is a cloud-based hosting solution for anyone looking to create and manage their website(s) using a cloud-managed hosting platform. This type of hosting requires a certain degree of expertise, so be guarded against that fact.
Question: What does WPEngine do?
Answer: WPEngine is another PaaS that lets you host and build online sites. As the name might suggest, WPEngine is only compatible with WordPress. The PaaS provider offers solutions tailored to marketers and developers at various levels: agency, enterprise, and small-medium sized businesses.
Question: How Much is Cloudways?
Answer: Cloudways cost anywhere from $10/mo to $80/mo. Here's a link to the Cloudways pricing page so that you can see the nuances between the platform's pricing plans yourself.
Question: Is WPEngine free?
Answer: No. WPEngine is a paid hosting solution. They operate using a tiered pricing format the same as Cloudways. WPEngine's pricing starts at $28/mo when you choose to pay anually. Unlike Cloudways, WPEngine offers a custom plan as it is a more managed WordPress solution.
Cloudways vs WPEngine – Buying Decision
If you're just looking to manage your servers, then I'd say Cloudways is a better choice. It's cheaper and will provide you with all the features you'll need. Not to mention, they'll od the work for you.
But, if you're looking for a fully managed WordPress hosting service then you've got to go with WPEngine. The hosting provider will not only manage your servers but also your WordPress site. Granted it'll cost more, but that's the price you pay for a fully managed experience.
Lesen Sie weiter: