Zuletzt aktualisiert am 22. April 2023 von DMEditor
Asana is a project and workflow management tool used by teams of all sizes, from businesses of one to enormous enterprises. While Asana is based on the kanban style of project management, where a project moves down a physical or virtual line of tasks that need to be completed in order, you have lots of options for how you view and manage your work.
One of the best parts about Asana is that its free plan is pretty feature-packed. And for those who have more intense workflows or advanced project management needs, there are three paid tiers with more options.
An Overview of Asana Pricing Plans
There are three main Asana plans, plus an enterprise plan:
Basic: This is the free option for individuals or small teams that are just getting started with Asana.
Premium: $10.99 per user per month when paid annually.
Business: $24.99 per user per month when paid annually.
Enterprise: Pricing is on a case-by-case basis and requires an assessment by the sales team.
Let's dive more into each of these plans for a better grasp of how they work and which one may be best for you.
Basic Breakdown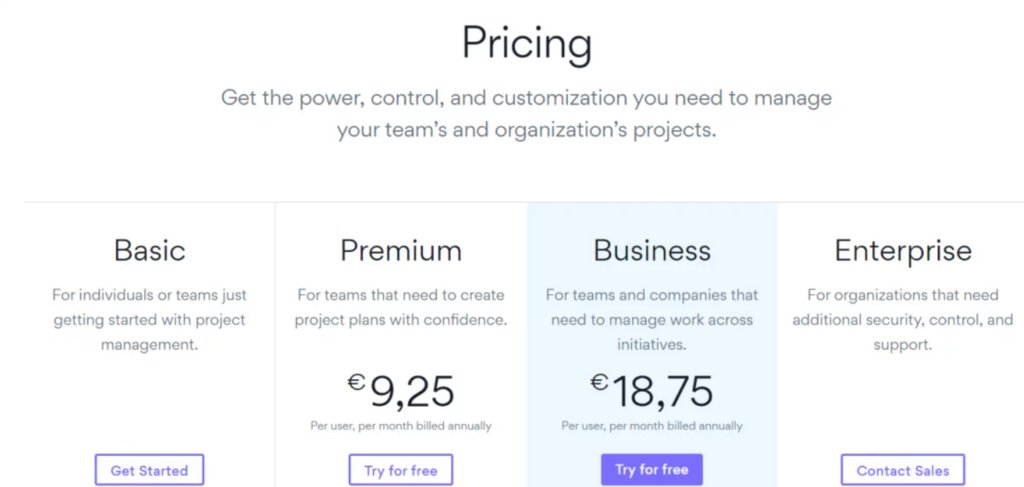 As we said above, the Basic plan is free. It's best for individuals or teams that are just getting started, but it may also work long-term for solopreneurs who find ways to work around the limitations. All in all, Asana's Basic plan still offers quite a lot of functionality for project and workflow management. Here's what you get:
Unlimited essential features, like projects, tasks, and comments. You also get unlimited comments and activity log events (which lets you see who has taken action on the project's card.
Three ways to view projects: Board, Calendar, and List. The Board view is kanban-style.
Integration with over 100 apps. Since the Basic plan lacks automation, these integrations may help you set up the workflows you need.
Simple reporting, which means status updates and the ability to export projects.
Security essentials, like compliance requirements.
Community support via guides, the forum, and webinars.
That's not bad for a free service, especially because you can create as many projects and tasks as you want. While you can't automate workflows, you can set various subtasks and subtasks of those to better organize a project. Plus, you can set individual due dates and projects for those tasks.
One of the big drawbacks of the Basic plan is that you can't create custom fields – you have to use what you're given. So if you want to create an additional field with a dropdown menu of the different rates you charge so that you can assign one to a client's project, you can't – you'll need a paid plan for that.
Another problem is that you can't create templates with the Basic plan. A workaround, however, is creating a template that you duplicate for future projects. Still, if you accidentally make changes to what you're using as a template, you'll have to revert them manually.
All in all, the Basic plan is certainly useful if you have a small team and you don't have advanced needs. With some creative planning and a dedication to checking your Asana on a daily basis, you can find workarounds for the features you're missing.
But if you don't want to go through that trouble, consider one of the paid plans. Let's get into them.
Premium Breakdown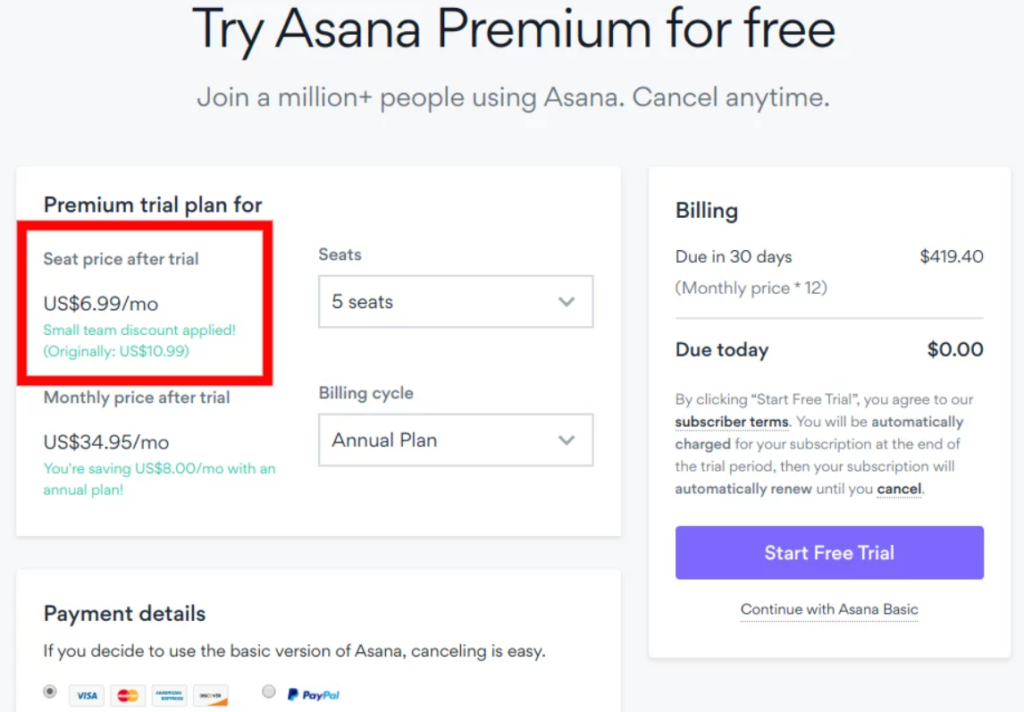 The Premium plan has the same unlimited essentials that the Basic plan has: activity log, comments, projects, storage, and tasks. Here are the upgraded features you'll get with this plan:
Four project views instead of three. In addition to Board, Calendar, and List, you can also see a Timeline view, which is especially helpful if you have a big team working on multiple projects at the same time and/or projects with several deliverables.
Set start dates and times, which is important for planning out your days and weeks ahead, particularly if you have a team of collaborators.
Automated workflows with pre-set rules for actions, forms, and templates.
Advanced reporting and search.
Scaled security and private projects.
More personalized customer support options.
That's pretty good, especially with the addition of automation, custom fields, and reusable templates. But if you need even more flexibility, the Business plan has it all.
Business Breakdown
As with both the Basic and Premium plans, Business also has unlimited essentials. You also get the same scaled security that you get with premium, as well as the ability to set start dates and times. Here's what else you can expect from the Asana Business plan:
In addition to the four project views that you get with Premium, you can also have Goals and Portfolios.
Advanced workflows let you create your own automation rules.
You get even more reporting with this plan.
For help, you can get both community and personalized support.
Enterprise Breakdown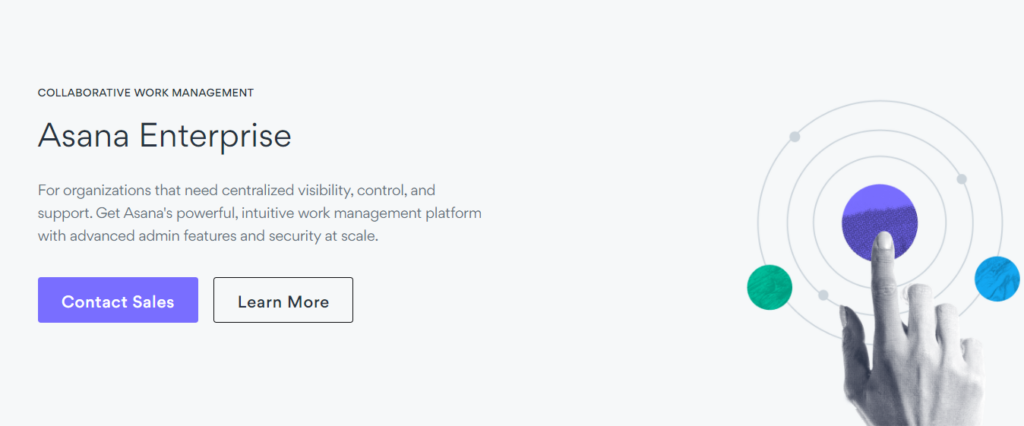 Sometimes, the out-of-the-box offerings just won't cut it. For enterprises that have specific needs, the Enterprise plan may be best. In addition to the complete suite of features that you get across the other three plans, Enterprise members also get advanced admin, data, and security functionality. The sales team will work with you to create a custom plan that's right for your business.
How Billing for Asana Plans Works
The cost that you see is per user per month, and the final cost is billed annually. So, if you have a team of 10 and you're on the Premium plan, you'll pay $109.90 per month, and that will be billed once each year for a total of $1,318.80.
If you need to pay monthly, the per-user charge goes up. For Premium, instead of $10.99 per month, you'll pay $13.49 per month; for Business, instead of $24.99 per month, you'll pay $30.49 per month. If you end up staying with Asana for the year, that price difference can become quite a lot.
For example, for 10 users on the Premium plan, instead of paying $1,318.80 as a one-time annual charge, you'll end up paying $1,618.80 over the course of a year, which is $300 more than if you went with the annual plan from the beginning.
With the Business plan, it's an even steeper price difference. For a 10-person team on the Business plan, you'd pay $2,998.80 annually. If you pay monthly, you'll end up spending $3,658.80 in a year, which is $660 more than you need to.
Minimum Number of Seats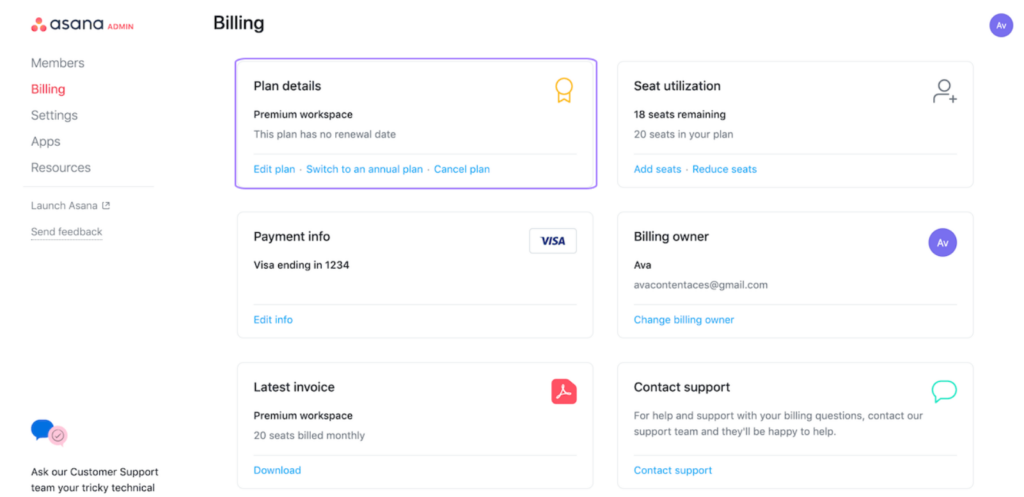 Here's something else to consider, and it's not obvious on the Asana Pricing page: you have to have a minimum of two seats per paid plan. That means that if you're a solopreneur and only need Asana for yourself, you still have to pay for two seats per month, minimum. That comes to $26.98 if you pay monthly, a total of over $323 per year. If you pay yearly, the cost comes down to $263+ per year, but that still may be high for some freelancers or individual subscribers.
For a Business plan, you'd have to pay a minimum of $60.98 per month or, if you pay annually, $599.76 per year – again, quite a bit for a small team of one to pay for a workflow and project management tool.
Also, consider this: you can invite people to join your team even if you're on a free account – you can have up to 15 users. They won't have all of the features that a seat member will have, but you can still workaround that cost if you need to collaborate but don't want to pay to do it.
FAQs
Question: Is it worth paying for Asana?
Answer: Well, that depends on what you need to use Asana for. If you have basic project management and workflow needs and you have a small team (or a team of one), you may be able to get what you need from the free Basic plan – or another tool entirely.
If you're interested in the features of a paid plan, but you're not entirely sure it's right for you, you can always test it out with the 30-day free trial. If you opt to go with the Basic plan once your trial ends, your projects and tasks will still be accessible; the only things you won't be able to access are those that were part of the paid plan trial, like custom fields.
Question: How can I get Asana cheaper?
Answer: The first way to save as much as possible on an Asana paid plan is to pay annually instead of monthly. You'll save a few dollars per month, which comes out to pretty big savings after a year. However, this is only worth it if you think you'll be using Asana for the full year – otherwise, while the per-month rate may be higher, you could end up spending less overall if you only use it for a few months.
Another way to limit the cost of an Asana paid plan is to determine how many seats you truly need. Since you pay per seat with a minimum of two, consider how many people on the team need an actual seat and how many people will have enough access if they're invited as a guest instead.
Question: What is Asana not good for?
Answer: It's not always the best fit for an individual and/or basic projects. There may be too many steps for setting up a project with Asana and then too many decisions to make after that point in order to manage the project. If you have limited or basic needs from your work management tool, there are easier platforms to take advantage of.
Final Thoughts About Asana Pricing Plans
For the right solopreneur or professional team, Asana can be a full-featured, flexible workflow and project management tool, with more than enough options to customize it to your needs. And with the Basic plan being free and having the ability to add guests who can interact in projects, it's pretty functional for not costing a penny.
Upgrading to a paid plan, whether that's Premium or Business, can cost a lot fast, especially since you have to have a minimum of two seats per plan, even if only one person will be using the account. Paying annually instead of monthly can help keep those costs down, but that's only worth it if you're an Asana devotee and know you'll be using it regularly for an entire year.
The best way to figure out which Asana plan you need is to start with the free Basic plan and then see if there are needs that you can't accomplish with it. If you never need to create a custom field or template, set a start date or time, or run advanced reports, you probably won't get much use out of the paid plans to make them worth the cost. But if you find yourself coming up against wall after wall, consider upgrading your plan to the next tier, one tier at a time.