Last Updated on April 24, 2023 by DMEditor
If you are a small business owner, you know how much time HR and payroll can take out of your day, especially if you don't have the funds to hire a full-time employee(s). Fortunately, there is an affordable solution to take care of your employees and take a few hats off your plate.
Choosing a Professional Employer Organization (PEO) can take your company's hit or miss benefits and rival those of a large company. A popular PEO, Insperity, is one of United Healthcare's biggest clients. This creates significantly lower health care premiums for your employees and removes the need for an in-house HR team.
If you are frustrated with HR, payroll, and compliance tasks, and want to provide your employees with better benefits, Insperity might be the answer.
What is Insperity?
Insperity is a Professional Employer Organization (PEO) that offers HR, payroll, risk management, and benefits administration. Services are recommended from 5 to 5,000 employees. To join, your business must meet the 5 employee minimum (exceptions are considered by Insperity representatives).
The main benefit of paying a PEO is lower health care costs. However, automating the employee onboarding process and getting help with HR, payroll, compliance, and training are also worthwhile reasons for looking into a PEO.
Insperity History

Insperity (formerly Administaff) was created in 1986 by entrepreneur Paul Sarvadi. By 2001, the company had made the Forbes 500 list. Insperity is currently valued at $4.3 billion and has more than 70 offices nationwide.
Insperity's primary focus is to help businesses succeed so that communities can flourish. They encourage their employees to volunteer and get involved in their communities. They currently support 5 areas of focus including health and human services, education, military and veterans, animal service organizations, and environment and conservation.
Profis
Zugang zu wertvollen Schulungskursen
Einfache Nutzung der Online-Plattform
Employees and business owners have access to personal information including time, attendance, vacation requests, 401K, HSA, FSA, and more
Mitarbeiter-Hilfsprogramm
Cheaper medical insurance
401(k) management
Elektronische Mitarbeiterdatenbank
Persönliche und telefonische Unterstützung der Personalabteilung
Nachteile
Mindestens 5 Beschäftigte (für Ausnahmen wenden Sie sich bitte an den Kundendienst)
Keine Aufschlüsselung der Gebühren
Konkrete Optionen für Gesundheitsfürsorge, 401(k), usw. (Da sie dies für Sie verwalten, müssen Sie akzeptieren, was sie an Plänen anbieten)
Systemanforderungen
Windows

Apple OS X

Windows: 7, 8, 8.1 (32 or 64 bit), 10 (32 or 64 bit)

Kante
Internet Explorer 11
Safari 4 or higher
Firefox 17 or higher
Chrome 12 or higher

Apple OS X: 10.6 – 10.10

Safari 4 or higher
Firefox 17 or higher
Chrome 12 or higher
Preisgestaltung
With Insperity, you will need to have at least 5 employees to benefit from their services. Smaller companies are welcome to talk to a representative to see if they qualify, but honestly, if you don't meet the 5 employee requirement, you may benefit from choosing another service such as Paychex or Gusto.
Insperity doesn't publish their pricing, since each business they serve has unique needs, a different number of employees, and requires different software add-ons. Unfortunately in this industry, non-transparent pricing is commonplace and you should expect to contact each company for quotes.
However, platforms like Gusto and Justworks do have transparent pricing so you can get a feel for what you will need to budget for HR and payroll services.
Insperity's pricing model focuses on a per-employee cost, not on payroll percentage. This is beneficial for companies with a tight budget as your monthly payment to Insperity won't change unless you hire additional employees.
Plus, Insperity doesn't require your business to commit to a long-term contract. Most small businesses can sign up for a year contract but are given the option to cancel if a 30-day notice is provided.
Unfortunately, Insperity doesn't offer a free trial. However, representatives can point you in the direction of demos and answer any questions you may have before signing up.

Eigenschaften
TimeStar
TimeStar is Insperity's time tracking platform. Virtual time clocks keep accurate payroll stats, plus adds security and convenience for the employee.
TimeStar offers the following time tracking options: badge (use Insperity's hardware for employee badges), biometric (fingerprint), mobile (smartphone or tablet), and web punching (via company computer).
Managers can get automatic alerts for any hour overage possibilities. TimeStar can be significant cost savings if overtime is something you are trying to avoid. The platform makes it easy to rearrange schedules to keep your payroll budget in check.
TimeStar also saves managers time by forwarding employee time off requests via email or platform alert. Managers can approve or deny time off with only one-click.
Mitarbeiter-Selbstbedienung
Insperity allows the business owner and employee access to onboarding documents, work hour tracking, vacation requests, and detailed benefits information.
This is a significant benefit for HR and payroll software since granting access to accounts 24/7 instills more trust in employees and saves a business owner time on the phone with customer service to check documents.
Einhaltung der Vorschriften
Ensure compliance with Insperity's onboarding software. Employees can enter all of their necessary information including digital signatures.
Need help hiring a new crew? Insperity offers training for an additional fee.
HR compliance is also a huge hurdle for most small businesses. The platform provides training on common HR issues including discrimination, drug-testing, federal and state laws, background checks, performance reviews, and unemployment claims.
Gehaltsabrechnung
Employees will appreciate the range of payroll delivery options including direct deposit, epaystub, and payroll debit card. Business owners can create pre-built or custom payroll reports and payroll taxes are a breeze with Insperity.
With the platform's TimeStar multiple time tracking options, payroll is simplified for both the employer and employee. Employers get an accurate account of hours and employees can view all of their payroll breakdowns within the mobile app.
Mobile App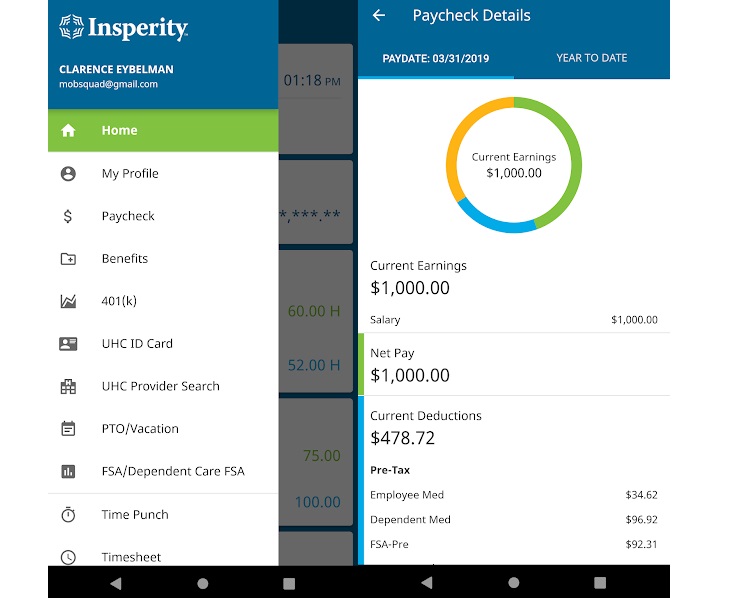 Die Insperity Mobile App ist sowohl für Android und iOS. The free app provides access to paychecks, 401(k), FSA, and more.
The apps have mixed reviews with an average rating of 3.5 out of 5 stars. Users often complain about log-in issues, no TimeStar access, and lack of detailed information (compared to the website).
Users appreciate the access to benefit information on the go, especially the digital health insurance card when they are at the doctor or filling a prescription.
However, even with the app's shortfalls, Insperity is attentive to user issues and offers solutions including a direct customer service number to help sort out the kinks.
Krankenkasse
Insperity provides companies with multiple insurance options to meet the needs of their employees. Employees can choose from medical (plus prescriptions), dental, and vision options as well as a flexible spending account (FSA). Employees can opt for just medical, a combo, and even buy coverage for a significant other and dependents.
FSA kann von Arbeitnehmern, Arbeitgebern oder einer Kombination aus beidem finanziert werden. FSA ist vorteilhaft für die Verwendung von Vorsteuerdollar zur Bezahlung von medizinischen Ausgaben.
Mitarbeiter-Hilfsprogramm
The Employee Assistance Program can discreetly take care of your employees' mental health. EAP offers affordable counseling services, recovery from addiction, and more. While some services are free, others will have a cost out of pocket for employees.
401(k)
A 401(k) is a benefit many employees are looking for in today's marketplace. Insperity can take care of the 401(k) plan for employees, compliance, and even customize the plan to your specific business needs.
Leistungsmanagement für Mitarbeiter
To keep company morale at an all-time high, it's important to periodically praise your employees. This could be in the form of a promotion or a bonus.
To see who is worthy of this reward, Insperity can help you create personalized performance reviews for employees across the board. Now you can easily see each employee's file and instantly know their strengths and weaknesses.
Keeping your employees current on industry information is a win-win but it can get costly quickly. Insperity offers thousands of courses on helpful topics such as business and technology. These courses are self-paced and could be easily added a few hours a week to employees' schedules. If lifelong learning is important to you, Insperity provides more training opportunities than its competitors.
Beschleunigung der Arbeitskräfte
If you prefer an a la carte approach to HR, the platform offers a Workforce Acceleration package. You will need to sign-up for Insperity's payroll service first and then you will have access to their HR services including but not limited to:
Rechnungswesen und Buchhaltung
Verwaltung von Sozialleistungen
Rekrutierung
HR-Beratung
401(k)
Leistungsmanagement
Einhaltung des ACA
Entwicklung der Personalpolitik
Ausbildung
OrgPlus RealTime Professional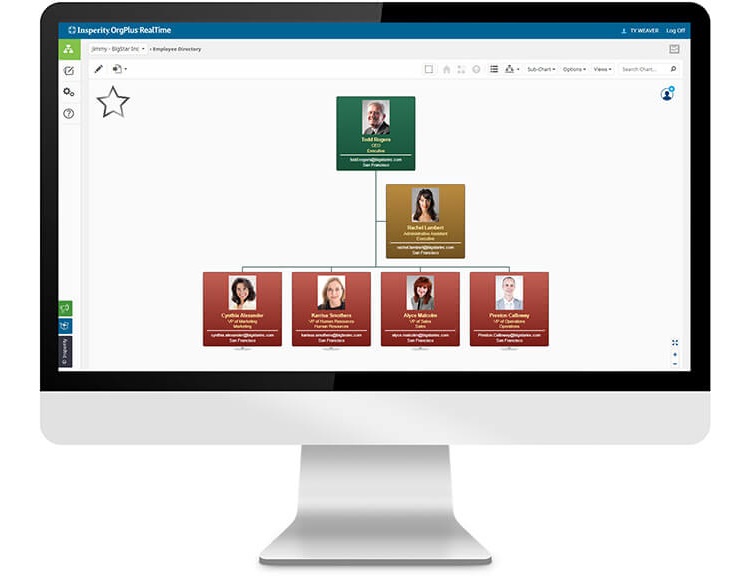 Insperity has developed the world's #1 organizational charting software. The software is cloud-based so there is nothing to download and it is compatible with multiple web browsers.
Easily visualize your company's data and make strategic moves that can accelerate business growth and clarity. The add-on is available in Express (less than $14 per month when billed annually) and Professional (less than $26 per month when billed annually). Express supports up to 500 employees, while Professional is best for 500+ employees.
With OrgPlus RealTime you can import employee data and use drag-and-drop tools to design custom charts. Multiple users can access charts making it easy to collaborate. Charts can be published in a variety of formats including Word, HTML, PDF, and PowerPoint. Share reports using company Intranet, network drive, or email.
Kundenbetreuung

Insperity offers online chat (sales), email, and phone customer service. Different phone numbers are available depending on the type of question(s) you have including full-service HR, expense reporting, TimeStar, organizational charting, performance reviews, accounting, and bookkeeping.
The customer service team is very responsive and knowledgeable about the software. If you are a larger business, you can qualify for an account manager. Whenever you have a question or issue with the platform, you can contact your account manager for instant help.
Insperity goes above and beyond with HR, payroll, and compliance education. Check out their podcast, webinars, blog (600+ articles from 100+ HR experts), and eBooks for an endless amount of useful knowledge.
Sicherheit
Insperity ergreift Vorsichtsmaßnahmen, um Ihre Daten zu schützen, einschließlich Firewalls und regelmäßiger Überprüfung und Aktualisierung der Sicherheitsmaßnahmen.
Alle Mitarbeiterdaten werden professionell in Fibertown, einem Tier IV-Rechenzentrum, gesichert. Fibertown gewährleistet geringe bis keine Ausfallzeiten und Hochgeschwindigkeitsleistung. Insperity überwacht die Sicherheit rund um die Uhr und prüft sie auf Sicherheitsverstöße.
Alternativen
ADP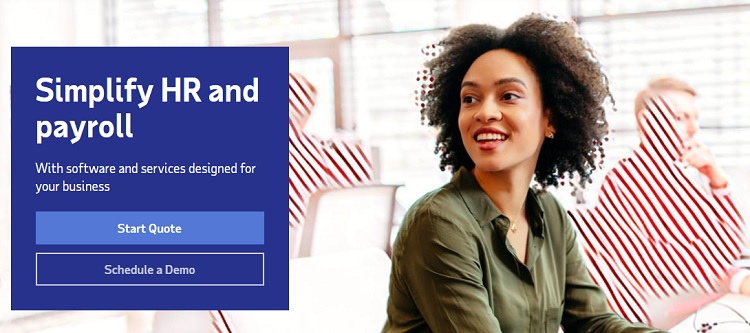 ADP (Automatic Data Processing) is the longest-running global payroll and workplace management system. It is best utilized by companies with over 50 employees. Although costly, the software makes up for it in advanced technology.
Profis
Attentive customer support
Erweiterte Abrechnungsoptionen
Excellent HR features
Nachteile
Pricing lacks transparency
Add-ons can get costly
Preisgestaltung
Varies by company size and add-ons
TriNet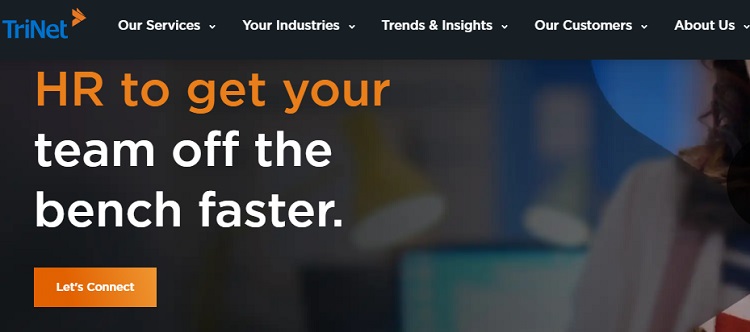 TriNet provides a PEO service that encompasses payroll, company taxes, and any HR issues that may arise including those that require litigation. TriNet is best for medium-sized businesses that prefer to outsource HR and payroll as opposed to hiring those positions in-house.
Profis
Einfaches Onboarding
Erweiterte Abrechnungsoptionen
HR features
Nachteile
Confusing pricing structure
Fehlende Kundenbetreuung
Der Schnittstelle fehlen Anpassungsmöglichkeiten
Preisgestaltung
Varies by company size and add-ons
Paychex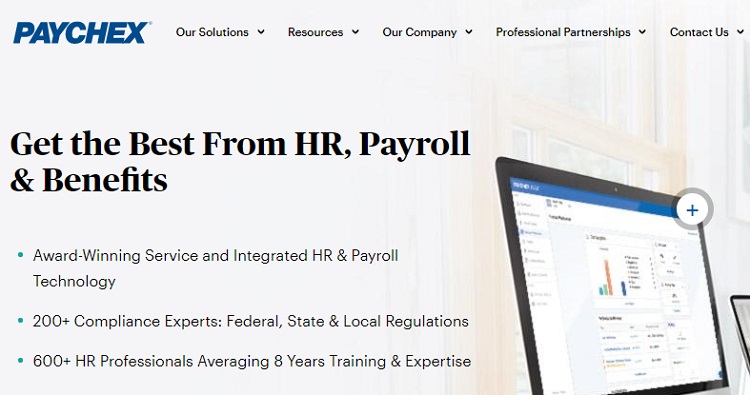 Paychex has over 650,000 clients and offers a large range of services including payroll, HR, benefits, business insurance, health care, retirement benefits, and more. It was created with small business in mind. It can take care of employee issues and benefits with one platform.
Profis
Can be used nationwide
Easy to scale
Health care plans
Erweiterte Berichterstattung
24/7 Kundenbetreuung
Nachteile
Geared toward small businesses, may not be powerful enough for large businesses
Pricing is not transparent
Complaints regarding unfiled taxes
Preisgestaltung
Varies by company size and add-ons
Gusto
Gusto, formerly ZenPayroll, is a US Fintech business that has over 100,000 clients. It was named Forbes Fintech 50 (2018) and automates the once tedious tasks of onboarding new employees and their company benefits. Gusto AutoPilot can take care of payroll calculations and filing taxes. If you have employees living and working in separate states, Gusto can take care of that too.
Profis
Valid nationwide
User intuitive
Transparente Preisgestaltung
Quick payroll processing (2-4 days)
Kompetenter Kundendienst
Nachteile
Simple reports
No advanced time tracking
Health benefits not available nationwide
Preisgestaltung
Gusto has 4 tier plans, Basic ($19 per month plus $6 per month per person), Core ($39 per month + $6 per month per person), Complete ($39 per month + $12 per month per person), and Concierge ($149 per month + $12 per month per person). Extra add-ons include health benefits, 401K, Workers' Comp, 529 College Savings Plan, Health Savings Account (HSA), and Flexible Savings Account (FSA).
Justworks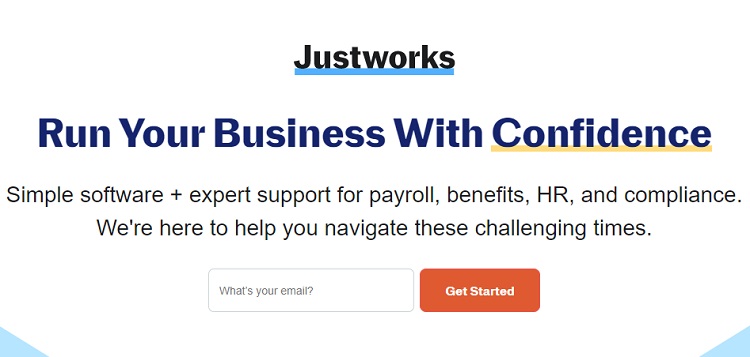 Justworks is a worthwhile PEO for HR and payroll services. However, if you are looking for an all-in-one platform that includes compliance support and training, Justworks might not be the solution for you.
Profis
Transparent per-employee pricing
Account manager provided
Wellness options like free mental health services, gym memberships, and more
Empfehlungsprogramm
Nachteile
Only 2 plans, no a la carte services
Not all industries are covered
Preisgestaltung
Basic Plans
Less than 25 employees: $49 per employee, per month
25-99 employees: $44 per employee, per month
100-174 employees: $39 per employee, per month
175+ employees: Contact for a quote
Plus Plans
Less than 25 employees: $99 per employee, per month
25-99 employees: $89 per employee, per month
100-174 employees: $79 per employee, per month
175+ employees: Contact for a quote
FAQs
Question: What kind of company is Insperity?
Answer: Insperity, formally Administaff, Inc., is located near Houston, Texas. The company provides Human Resources and administrative services to small and medium-sized businesses.
Question: Who own Insperity?
Answer: Insperity is owned by entrepreneur Paul Sarvadi. Sarvadi is the company's CEO, author, and chairman. He is known for pushing the boundaries of HR. Insperity was founded on the five key areas of business success: finance, operations, people, sales and technology.
Question: How many customers does Insperity have?
Answer: Insperity works with over 100,000 businesses. Those businesses employ over 2 million employees.
Question: What does PEO stand for?
Answer: PEO stands for Professional Employer Organization
Question: Is Insperity a certified PEO?
Answer: Insperity became a Certified Professional Employer Organization (CPEO) in 2017 by the United States Internal Revenue Service (IRS).
Question: What are the Insperity locations?
Answer: Insperity is located in 28 states and Washington, D.C. It currently has over 70 physical locations.
Final Thoughts About Insperity
If you have at least 5 employees and you are looking for an HR and payroll solution, Insperity's full-service PEO solution is jam-packed with features that can not only save you time day to day but provide your employees with benefits that will last a lifetime.
TimeStar's multiple time tracking options, employee self-service onboarding, attention to compliance, Employee Assistance Program, Employee Performance Management, and OrgPlus RealTime Professional are some of the best tools in the PEO industry.
Plus, the platform offers a la carte options and top-notch training modules that can justify the above-average cost. A simple and free mobile app is available for checking employee information and health benefits on the go.
Using Insperity's all-in-one solution compared to a la carte offers differing benefits. Plus, any add-ons can cause the monthly cost to rise quickly so ask any questions upfront to ensure you receive the best bundle that meets your business' specific needs.