Last Updated on April 15, 2022 by DMEditor
Thanks to COVID, hosting in-person events, meetings, and seminars have changed beyond recognition. In fact, it's hard to imagine returning to a time when in-person events were the only way to participate in conferences.
In light of that, video conferencing software is now a must-have for organizations keen to attract a broader audience. There are plenty of software solutions out there. But today, we're focusing our microscope on Livestorm, a video engagement software solution. Here we'll give you the low down on:
What Livestorm is all about

What Livestorm can do

Livestorm's prices

Livestorm's integrations

Livestorm alternatives
Hopefully, by the end of the review, you'll be informed enough to know if the platform is for you or not. Let's dive in.
Bottom Line Upfront
Livestorm is a feature-rich webinar platform that offers organizations tools to engage their audience through video. They rival even well-established alternatives with pre-recorded webinars and a range of customization and automation tools.
While there are slightly cheaper options for those focusing on high-volume virtual events, Livestorm has a lot to offer for those looking to host online events with up to 3,000 delegates. It also comes with a generous free plan.
About Livestorm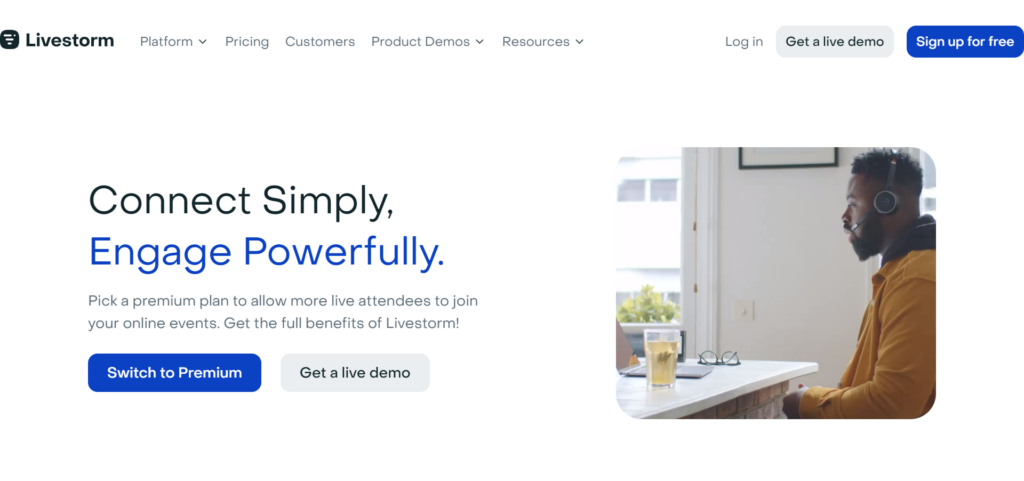 This well-reviewed software describes itself as an 'end-to-end video-engagement platform enabling organizations to create meetings and webinars at scale.' At the time of writing, 5,000+ businesses use the platform to run their events, equating to one million monthly users connecting with Livestorm each month.
Liverstorm promises a 53% higher attendance rate if you use it compared to basic video presentations. Its customers come from multiple industries, including finance, technology, manufacturing, healthcare, media, government, and many more.
What Livestorm Can Do
Livestorm offers a wide range of video-engagement features that allow you to create more memorable and interactive content.
Four Types of Video Sessions
First, let's see what types of video formats the platform allows you to run. You can set up:
Virtual Meetings
You can use the platform to host meetings between colleagues, customers, stakeholders, etc., no matter their location. Attendees can join browser-based meetings quickly and easily via their mobile, desktop, or tablet. You can set up meetings near-on instantly and invite attendees simply by sharing an invite link.
The software is adaptable, so you can:
Host small and large meetings

Plan and schedule meetings in advance

For recurring meetings, you can Include multiple sessions with the same settings

Integrate your calendar app
All Livestorm meetings are recorded. You can access these recordings via your Livestorm dashboard should you need to refer back/re-use them.
Virtual Events
You can also use Livestorm to create engaging on-demand, live, or pre-recorded virtual events. Livestorm supports attendee numbers from 2 to 3,000 and gives you all the tools you need to manage your event with several moderators and speakers. More on this later!
Like the other types of video content listed here, events can be set up in just a few clicks from your smartphone or desktop. In addition, you can assign moderator roles to chosen attendees so that they can help you view and export event data, create pools and answer questions.
Webinars
Webinars or webcasts are a great way of communicating with a select audience, whether B2B or B2C. Set up is quick, and you can even create a series of webinars on related topics, adding as many sessions as you want.
On-demand Webinars
Once you've hosted a live webinar, you can customize the content to create evergreen, on-demand webinars. You can also edit your registration pages to enable participants to access edited webinar recordings. Doing this empowers your audience to watch/re-watch your events at their convenience and skip sections they find less relevant.
Custom Registration Pages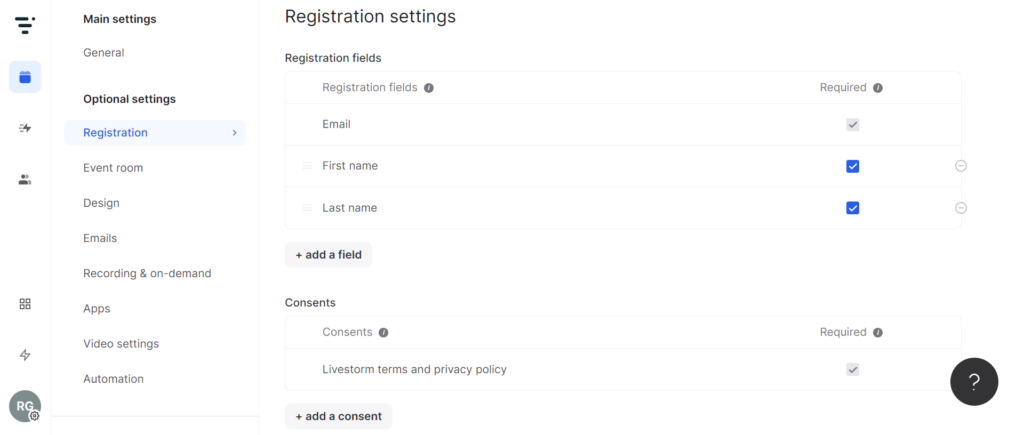 You can customize a registration page for each event or webinar you run. This is where you can provide your audience with information about the speakers and the content to be covered, add the schedule, promote future sessions, and much more.
You can customize the pre-built registration pages' color, font, and logo.
Registration pages come with built-in registration forms, which work wonders for generating leads. In addition, you can customize form fields. For example, add text, consent boxes, and multiple-choice type questions. You can also add descriptions to your fields and even see a preview of the form field before it goes live.
Your event registration pages are listed on your 'Company Page.' This is a dedicated page to display info about your brand and link viewers to elsewhere on the web where they can find you.
Automatic Email Notifications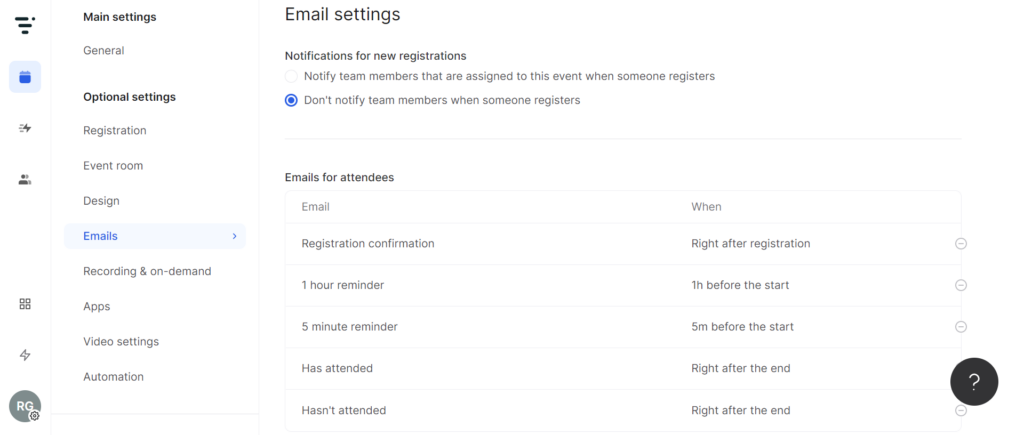 Livestorm lets you use email automation to send multiple emails and reminders about your event in-bulk so that you don't have to tediously contact attendees individually.
Livestorm sends out five types of emails by default:
A confirmation email

Two reminders when events are about to start

Follow-ups five minutes after the event have concluded. These can include a link to the webinar replay and/or links to future webinars.
You can add more emails to these sequences by managing your email templates, whereby you can choose from the default email style or custom HTML. The email editor is nothing fancy and doesn't come close to the capabilities of a dedicated email marketing tool. Still, it suffices to keep your attendees informed.
The Sidebar
In any video session, whether it's a webinar, event, or meeting, you can interact with your attendees from the sidebar next to the video. This is where you'll find the built-in live chat, which your moderators can oversee.
This comes with all the basic features you would expect. For instance, you can delete messages, block individual attendees, tag specific members in chat, and send emojis. You can also include Dropbox or Google Drive links here.
Aside from the live chat, here are some other options your sidebar can include:
The questions tab:

This is where your attendees' questions are gathered. You can answer these live during your video stream or write an answer attached to each question. You can even reorder questions by top-rated, newest, etc.

The polls tab:

Here, you can create polls for attendees to vote on. This is great for gathering feedback and opinions, settling issues, or voting on competition entries. Poll data can even be exported when the event is over, so you never lose the insights you gained.

The people tab:

Here, you'll see all the registrants, team members, and guest speakers that have entered the event room.
You can customize the sidebar by enabling or disabling any of these tabs. You can also opt to hide certain information, like attendee names or surnames, and decide whether attendees can access downloadable content, like PDFs.
Video Engagement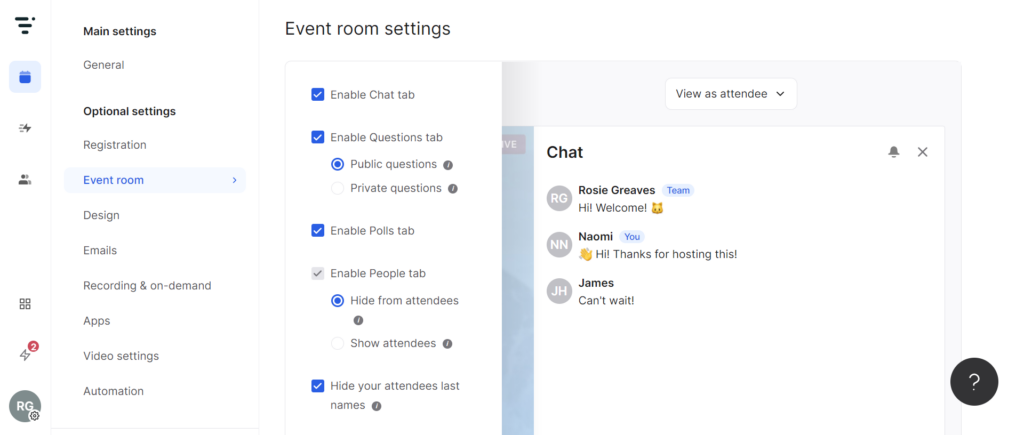 We've already covered some of the video engagement tools above. You'll find most of the most helpful engagement features within the sidebar. For instance, the ability to create polls and engage with questions. Answers to questions and polls are displayed live, and you'll be notified whenever a new question arises.
However, there are plenty of other features you can utilize to make your videos more engaging. For example, you can add slides and screen-sharing to your video to better present your information. You can even create a virtual whiteboard to draw and write notes on as you go for a better live learning experience.
Also, at any point throughout the video, you can post CTAs. You can use these to:
Promote product discounts

Link to other content

Direct viewers to your event calendar, where they can book attendance at your next event.
Before the event starts, you can even upload videos and PDFs to the "room" where your attendees wait, allowing them to prepare themselves and get an overview of what's to come.
This is an excellent feature if you want to share learning materials and worksheets. This virtual room is also customizable. You can adjust the colors to suit your brand and add your logo.
Finally, participants are encouraged to engage with your content live with emoji reactions that pop up on the screen. If you're streaming live, this will help you see how your viewers feel about your content in real-time.
Analytics
Livestorm provides a range of helpful analytics. This includes data on attendance rates, how long each attendant stayed in the meeting, and participant interaction. With this information, you'll learn which events were the most popular and which content was the most engaging.
Data is also available on the performance of your registration pages and your automatic emails, so you can see who clicked onto your content and who converted.
It doesn't end there, however. Make more use of your data by integrating with a CRM tool to automatically export data from live virtual events hosted by you. You can export registrant data, for example, to turn new attendees into leads in your CRM. You could add contact information like their first point of contact with you, their email, their name, and even their location.
Livestorm Prices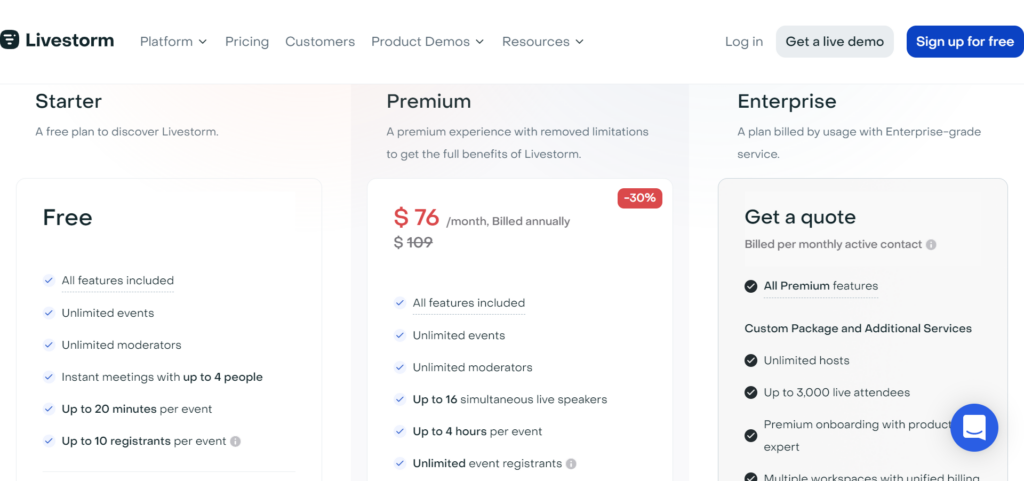 There are three plans:
Livestorm Starter
This plan is free! With this package, you can:
Host unlimited events

Register unlimited event moderators

Create instant meetings with up to four people

Run events up to 20 minutes in length

There's a maximum of ten registrants per event
Livestorm Premium
This plan costs $109 a month, billed annually. This price is for one meeting host. After that, the price goes up by $76 per host you add. Note: you're not limited in how many moderators you can assign. Hosts, in comparison, are the only role that can create and manage events. In contrast, moderators can only assist in managing the sidebar.
The Livestorm Premium plan includes everything in the Starter plan and:
You can have up to 16 simultaneous live speakers

Events can run for up to four hours

Unlimited event registrants

You can host 100 live attendees
If you want to host 101-250 attendees, this will cost you a further $99. Alternatively, if you're going to host 251-1,000 attendees, the cost is an additional $1,000. It's unclear if these prices are one-off or monthly fees.
Livestorm Enterprise
This plan is billed by usage, and prices were unavailable at the time of writing.
The Livestorm Enterprise plan includes everything offered in the other two programs and:
Unlimited hosts

You can host up to 3,000 live attendees

An SLA (Service Level Agreement) with Livestorm to assure their full service and support

A dedicated customer success manager and premium training with a Livestorm expert

Control over video traffic location to help you control data privacy

Priority support

Executive business reviews with Livestorm to analyze your results each quarter and receive recommendations

SAML SSO (single sign on)
The two paid plans also include full customer support during business hours, Monday to Friday, in English, French, and Spanish. That's as well as GDPR compliance and access to resources including ebooks, a blog, and videos to help you create engaging and memorable events of different kinds.
Livestorm Integrations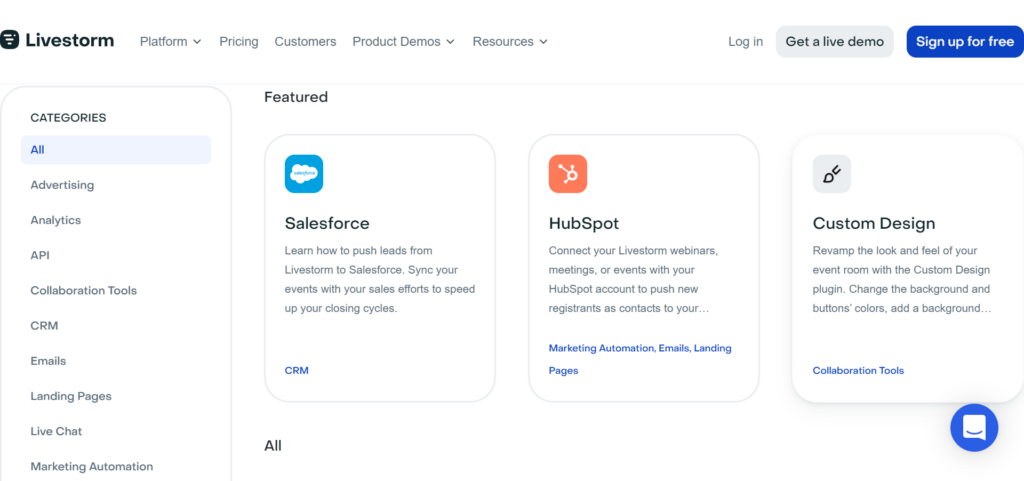 It's possible to connect your Livestorm account with all kinds of third parties to help maximize registrations, market your events, run analytics, and more.
You can access these apps via the Livestorm App Marketplace. It's easy to filter your search -categories include advertising, analytics, API, emails, CRM, live chat, marketing automation, payment gateways, etc.
Popular apps include Zapier, Salesforce, Google Analytics, HubSpot, Facebook Ads, and Slack. At the time of writing, there were 49 integrations on offer.
Livestorm Alternatives
If you're not 100% sure about Livestorm yet, you'll undoubtedly want to scout out the competition. Allow us to simplify that process by introducing some of the most popular Livestorm Alternatives:
Zoom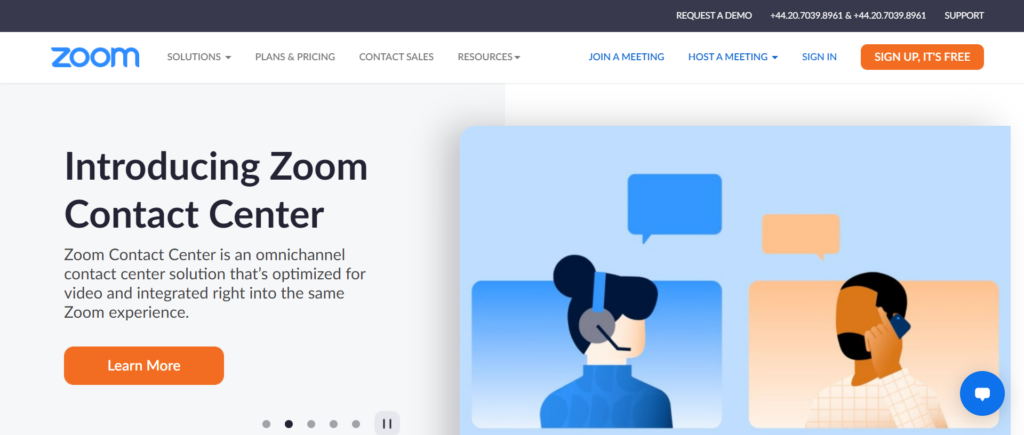 Zoom is maybe the best-known video conferencing platform in the world right now. They carved a massive name for themselves during the pandemic. The free tool allows you to host and for participants to quickly join online meetings, making it a valuable tool for workplaces and schools.
Businesses can use Zoom to host webinars and virtual events, much like Livestorm. However, unlike Livestorm, they don't offer on-demand webinars, so you can't as easily create videos as part of a content strategy. You also can't automate webinars with Zoom.
When it comes to video conferencing, it's the more affordable option. Even with the free plan, you can host up to 100 participants and benefit from unlimited group meetings for up to 40 minutes. Pricing beyond that is also much more affordable. For example, small businesses can pay $199 per year to:
Host 300 participants at virtual events

Include their company branding

Get 99 product licenses, each with 1GB of cloud recording
Demio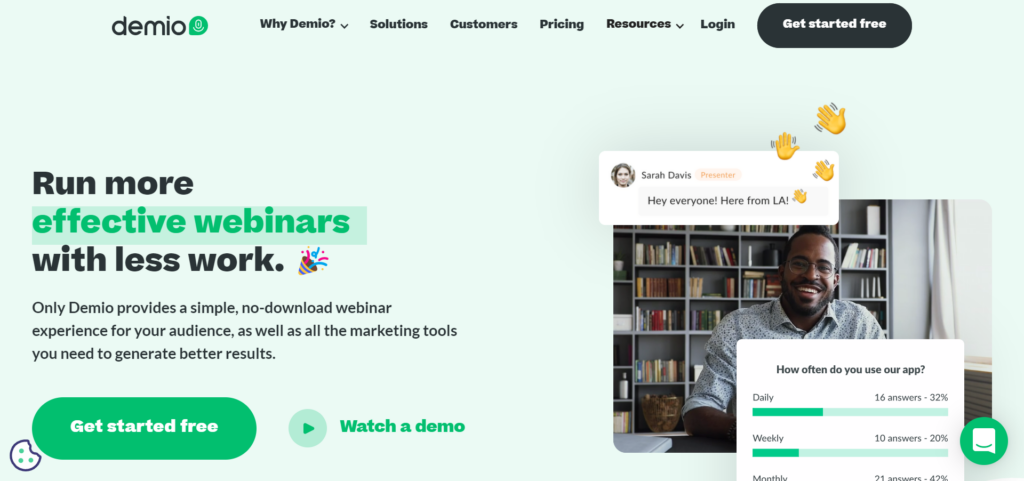 Demio is a little closer to Livestorm in terms of their target audiences. Both platforms are designed for businesses looking to engage customers and generate leads. As such, Demio, like Livestorm, includes more marketing and webinar features.
For instance, you can create a series of scheduled sessions, automate events to play pre-recorded presentations, or go live at any time. In addition, everything can be branded; you can include forms to register new visitors and send out email notifications, like reminders and follow-ups.
Livestorm still has a little more to offer regarding marketing. For example, Demio doesn't allow you to create a company page. It also doesn't come with digital whiteboards or customizable virtual backgrounds.
Still, Demio has excellent ratings and comes in a little cheaper than Livestorm. Premium prices start at $34 per month or $69 per month for the growth plan (based on annual billing). It's also cheaper to increase the number of live attendees you get with each plan.
WebinarJam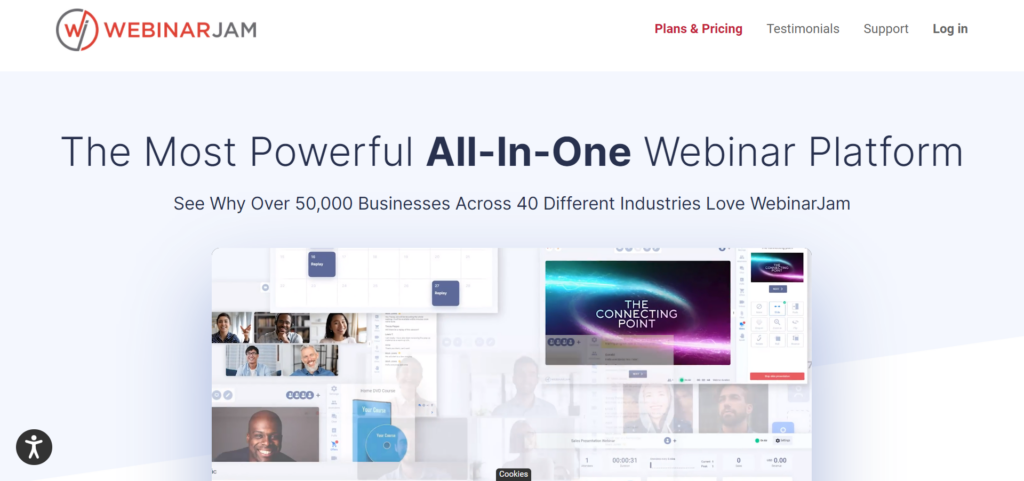 WebinarJam allows you to create powerful webinars that convert your audience into customers. The focus is undeniably on sales, which shows in its list of features.
For instance, you can have attendee spotlights in your webinars that allow individual attendees to speak and be seen, create automated recordings, flexibly schedule your content, and provide real-time offers and quizzes. You can also customize a registration page and send event reminders and follow-ups.
You can also use a virtual drawing board in your webinars and run a live chat. However, it's still missing a few features Livestorm offers, such as emoji reactions, webinar recordings, and virtual backgrounds. You also don't get live answer notifications that show questions being answered during the webinar.
WebinarJam's strength lies in numbers – you can easily facilitate a much larger number of attendees. Its plans start from $39 per month and go up to $379 per month for the Enterprise solution, which includes 5,000 attendees.
GoToWebinar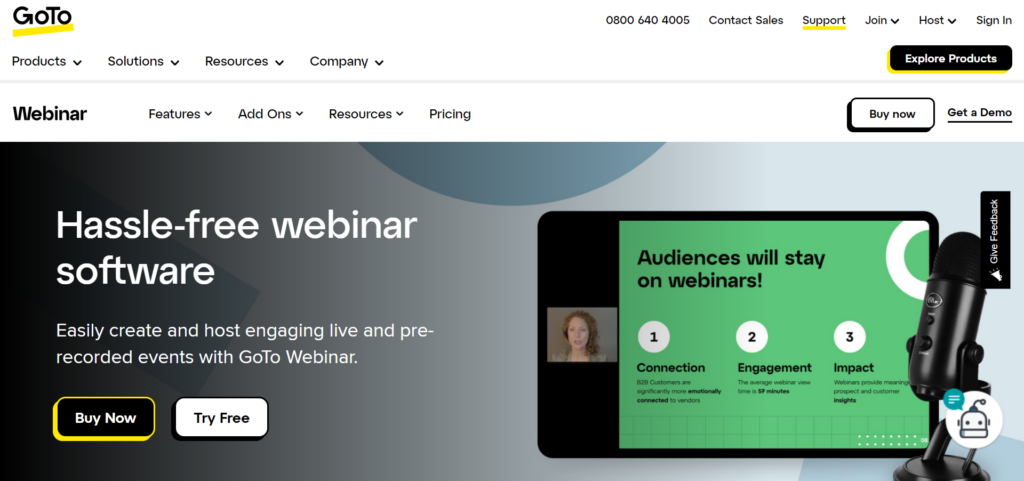 GoToWebinar is another hassle-free webinar and live-conferencing solution. It works for both live and pre-recorded events. The platform can manage up to 3,000 attendees that can join your live stream straight from their browser.
In addition, you can promote your event on GoToStage and get the word out. This is a marketplace for webinars on various topics, which may come in handy if you're looking for an audience to market to.
With several branding features, webinar templates, and custom registration forms, you can create an experience that truly reflects your business. There's also a range of engagement features, like the engagement dashboard from which you can create polls and surveys. Attendees also can virtually "raise their hands."
Its pricing isn't anything spectacular – we've already seen cheaper and more expensive, so it comes down to whether you prefer its interface and features over others.
Plans start from $49 per month and range up to $399 – with the latter, you can host up to 3,000 participants. However, unlike Livestorm, there's no free version available, and Livestorm currently enjoys higher customer reviews online.
FAQs
Question: Can I Admit More Attendees Into my Webinar Once I Reach Livestorm's Attendee Limit?
Answer: Attendees are capped by the pricing plan you're on. If you reach that limit during a webinar, you'll get a notification in the event room offering you to upgrade.
This happens immediately so that new visitors can join the webinar without missing out. Right now, there are no plans for over 1,000 attendees. You'll need to discuss an enterprise solution with the team if you're at this point.
Question: How Many People Can be "on stage" in Livestorm?
Answer: Have you got a large team of speakers you need to highlight? Does your webinar plan to jump from one speaker to another? If so, Livestorm allows you to host up to 16 speakers simultaneously.
This is the equivalent of 16 streams. As such, each speaker, with or without a webcam, and each screen share, counts as one stream.
Question: How Can I Customize Livestorm Webinars?
Answer: Livestorm comes with a range of customization features. First, you can create virtual webcam backgrounds to afford you more privacy or give your recording a fancier/ more on-brand look.
Hundreds of backgrounds are available that can serve as a nice static backdrop for your talk. Additionally, you can adjust your event room's colors and logo to match your brand.
Question: What Customer Support Resources are Available?
Answer: Livestorm has an online help center. Here you'll find self-help documentation on all of its features and tips and tricks on making the most out of the platform.
If you still need help from the team, you can contact them Monday to Friday from 10 am to 2 am CET or 1 am to 5 pm PT. Support is available in English, French, and Spanish. You can get in touch via the Help Module in your account or via email. However, live chat is only available on the Enterprise plan.
Question: What's a Host?
Answer: On Livestorm, a host is the team member that can set up and run an event. They're the only ones who can access event settings and thereby manage tools like polls, surveys, etc. You can pay an additional fee to add more hosts to premium plans. Otherwise, only one host can manage an event at any given time.
Livestorm Review: Our Final Verdict
All in all, Livestorm is a feature-rich webinar and video-conferencing tool for businesses. Its many customization capabilities and engagement features allow you to create thrilling webinars. In addition, your audience can directly interact with you by proposing questions, voting on what they want to see answered, and even be highlighted during the stream.
By including live webinars and events and pre-recorded and automated videos, it's safe to say that Livestorm is one of the most versatile webinars solutions on the market. However, for those looking merely for a video conferencing tool, Livestorm is likely too expensive, as its free plan is quite limited. It's also not the most cost-effective if you're looking to host thousands of attendees. In this instance, alternatives, like WebinarJam, are better suited for higher-volume events.
That said, we recommend Livestorm for anyone wanting to create a branded and super-engaging webinar experience with evergreen value. In addition, European users might feel right at home with the euro-priced platform and its complete GDPR compliance.
Let us know what you think in the comments below. Is Livestorm worth the investment, or will you be looking at other ways to get your video content online?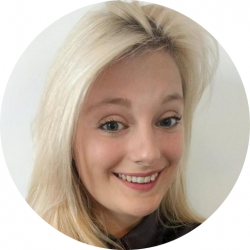 Latest posts by Rosie Greaves
(see all)