Did you know the average person spends at least three hours a day on social media and messaging apps? Social media is important for businesses. With the mass amount of people on social media networks, this is a great place for businesses to attract and retain an audience.
To make social media marketing easier, there are a variety of tools that offer post creation, publishing, and more. Out of all of the social media marketing tools, Hootsuite and Sendible are some of the most popular.
But which one should you use? Here, we compare these platforms and recommend which one we prefer more.
Main Differences Between Hootsuite vs Sendible
The main differences between Hootsuite vs Sendible are:
Hootsuite has fewer tools, whereas Sendible offers more tools and functions for corporate and enterprise-sized businesses.
Hootsuite offers more features and customer targeting, whereas Sendible doesn't offer that.
Hootsuite offers a 24/7 live rep, whereas Sendible doesn't offer that.
Hootsuite offers a free plan but Sendible doesn't.
What to Know About Hootsuite and Sendible
Both plans offer multiple plans and the capabilities increase with higher-tiered plans
While Sendible doesn't offer a free plan, all plans include a 30-day free trial
Both plans operate on a single console
Both plans have limitations for Instagram. You'll need an Instagram Business plan to post directly. You also can't access Instagram DMs on both platforms.
Both platforms let you view reports and analytics
Customer service is rated highly for both platforms
Both plans can connect multiple social networks
Both platforms have mobile apps
Both platforms offer training
Dashboard

When you sign up for both platforms, you'll first see your dashboard. This is where your social media profiles and notifications will appear.
Both dashboards center around content creation and posting, but Hootsuite's dashboard centers slightly more around your social activity and engagement with your audience. This section is called the "stream." You can add streams such as mentions, your posts, and more.
Sendible is unique because you can change your dashboard to your preferences. When I signed up, my default was the calendar view. But you can easily change your dashboard to a stream view by clicking the "Stream" option on the menu bar.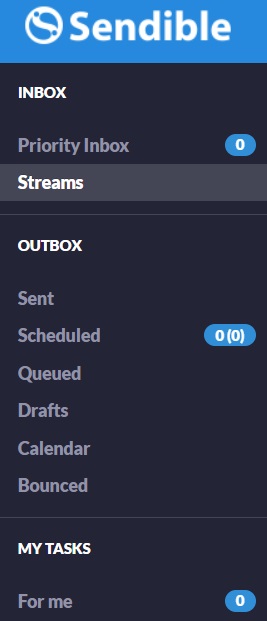 As stated previously, you do have limitations with both platforms. For example, neither Hootsuite or Sendible lets you access Instagram DMs.
If you upgrade to a paid account, your team members will have their own Hootsuite stream and dashboard.
Sendible stands out in terms of analytics. You can easily build and receive reports on your dashboard.
Both platforms have their strengths. If engagement is your focus, you'll prefer Hootsuite. But if you want to easily measure results, go for Sendible.
Creating and Scheduling a Post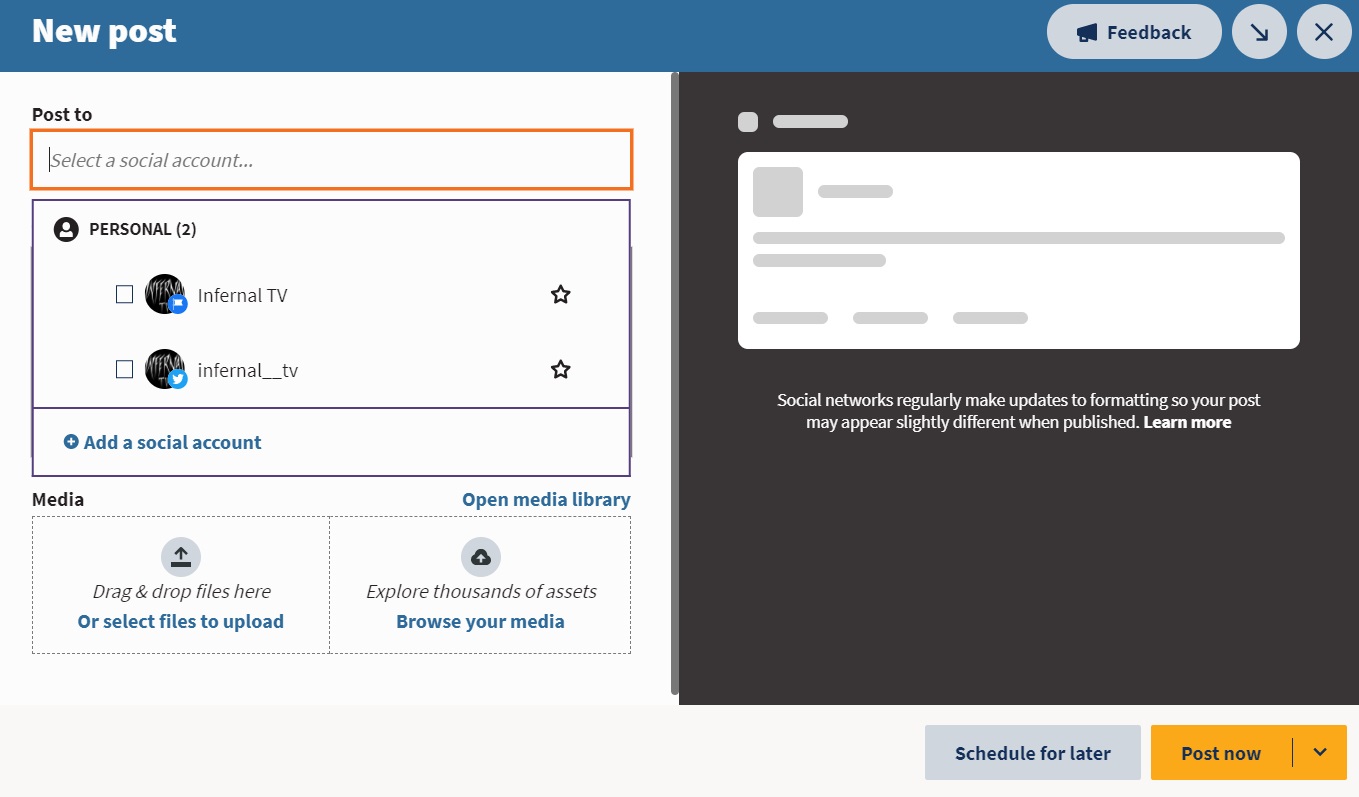 One of the reasons you'll likely use these social media platforms is to create a post. Both platforms let you post to various social media networks and they offer a large selection of tools to use.
Creating and scheduling a post is easy in Hootsuite. When you sign in, you'll see your dashboard. Navigate to the left menu bar and look for the pad and paper icon. This is the "Create" button. You can also click to button to create a pin on Pinterest. For now, I'll create a normal social media post.
First, you'll want to choose which social media platform you want to post on. You can also post to more than one platform by selecting the boxes to the left side of the networks. I have my Facebook page and Twitter linked on Instagram. For now, I'll just create a Tweet.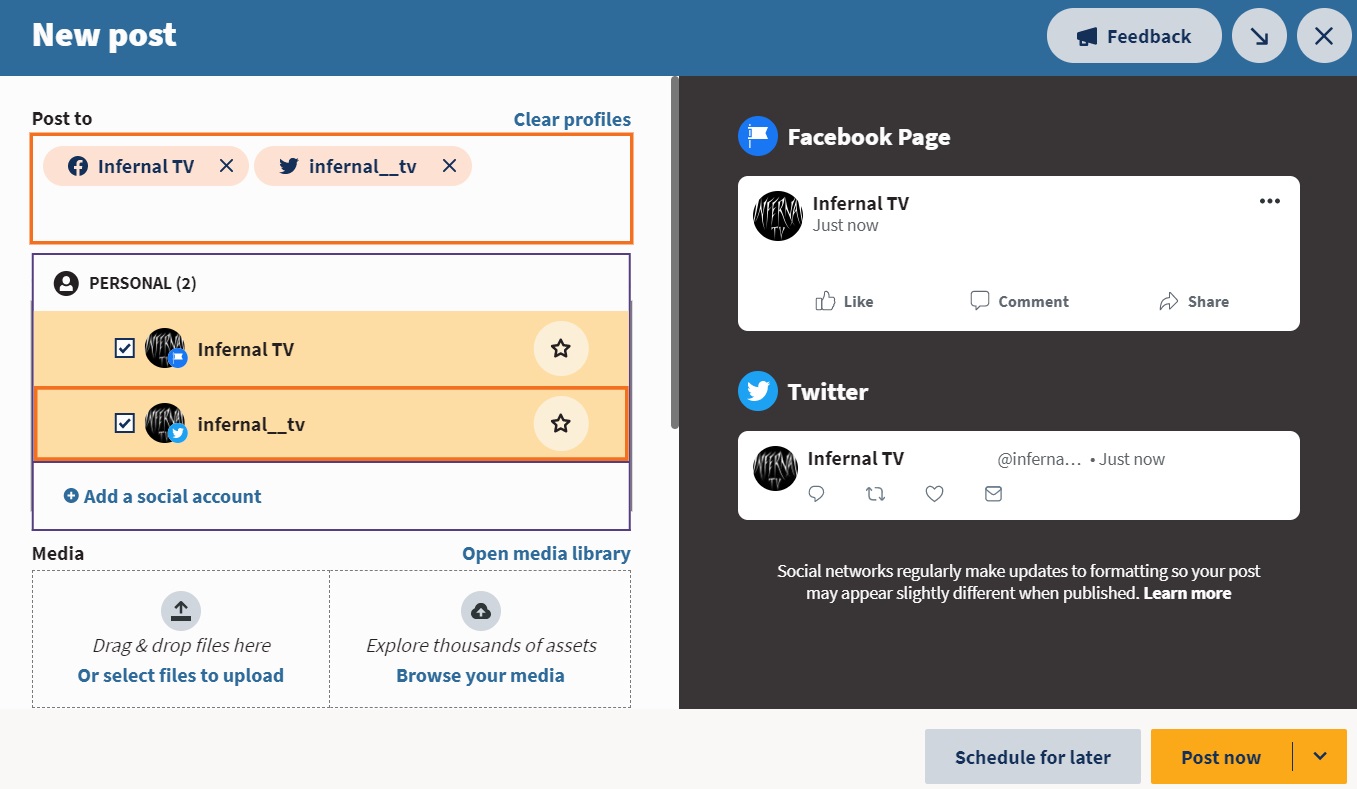 After you select a social platform, type your message in the text box.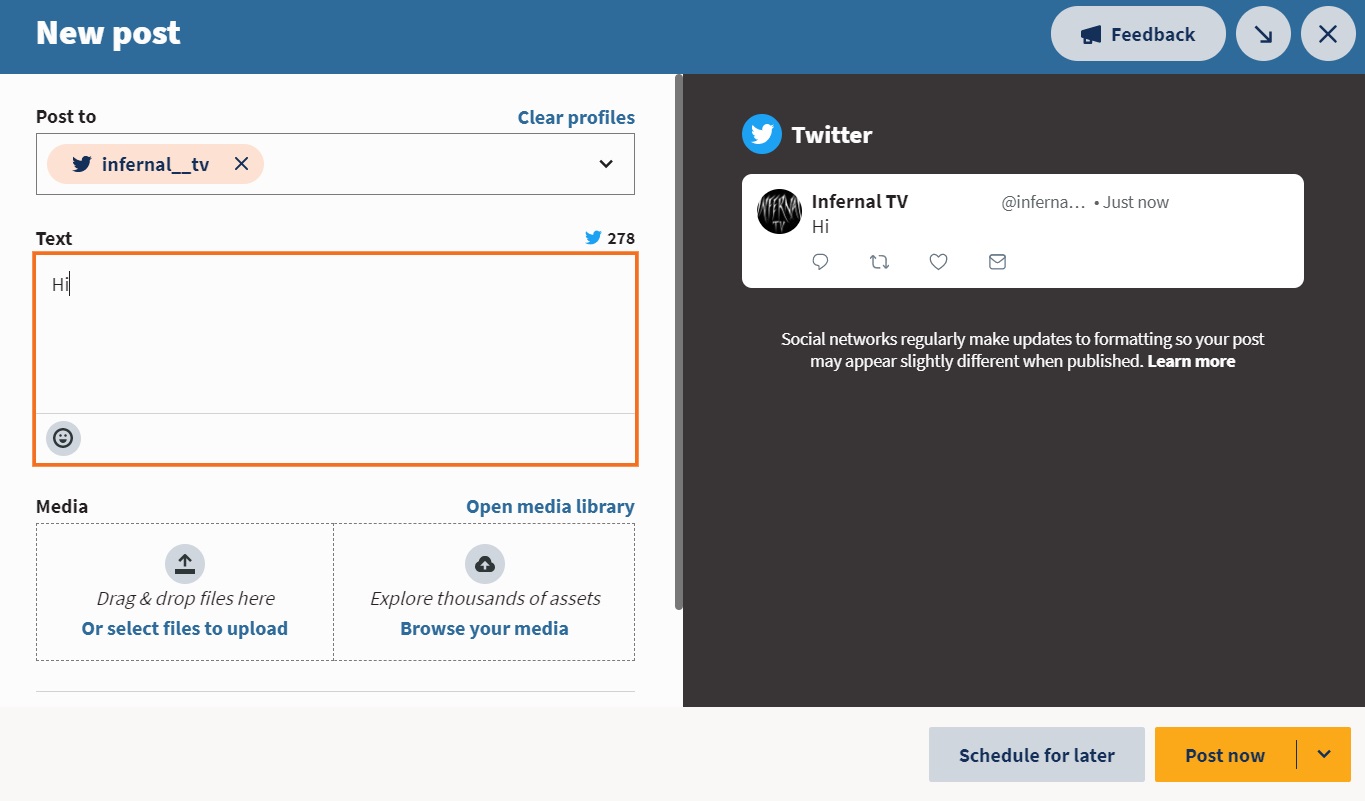 Underneath the text box, you can upload your own media or browse Hootsuite's media library. You can use free royalty-images from Pixabay, a GIF, and more.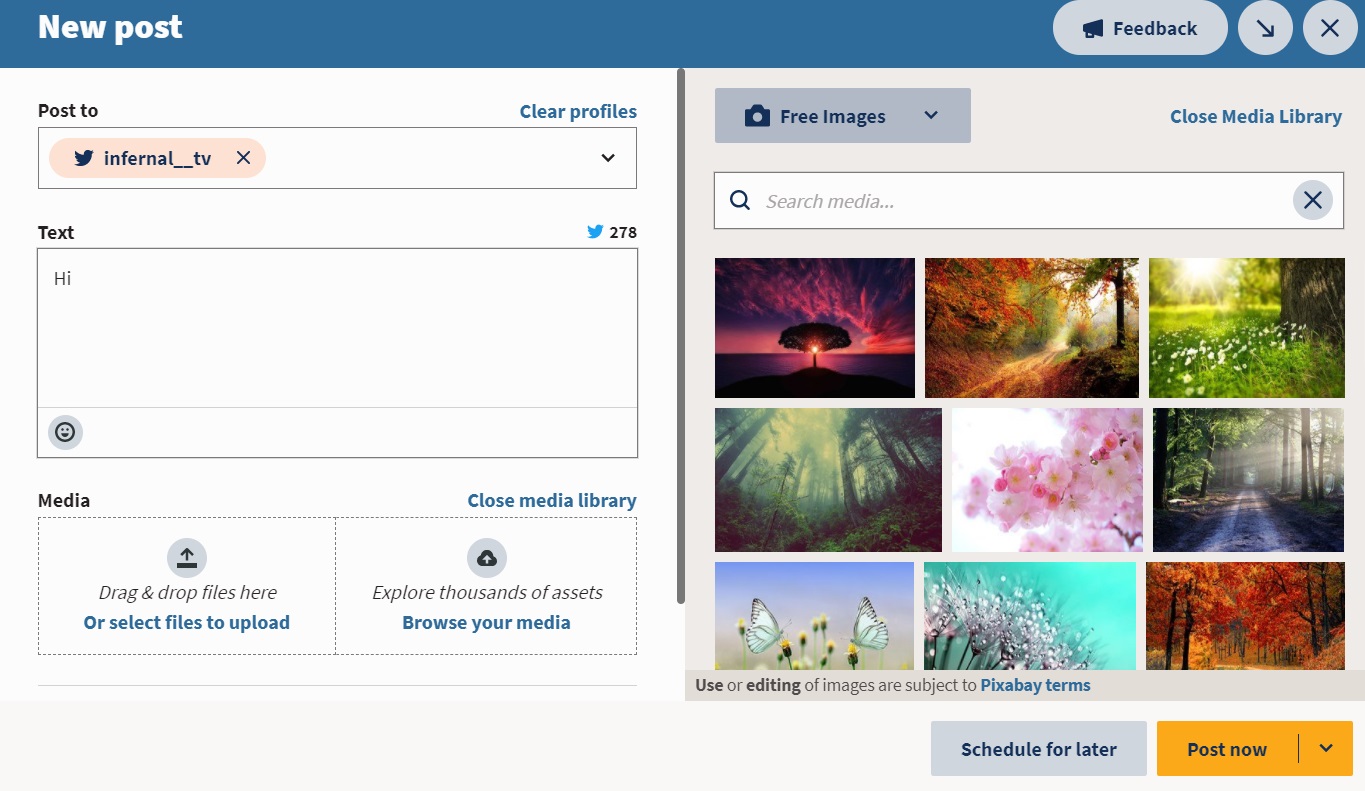 From here, you have two options: Post Now or Schedule. You also have more options under the arrow next to the "Post Now" button. These include "Save Draft" and "Post and Duplicate."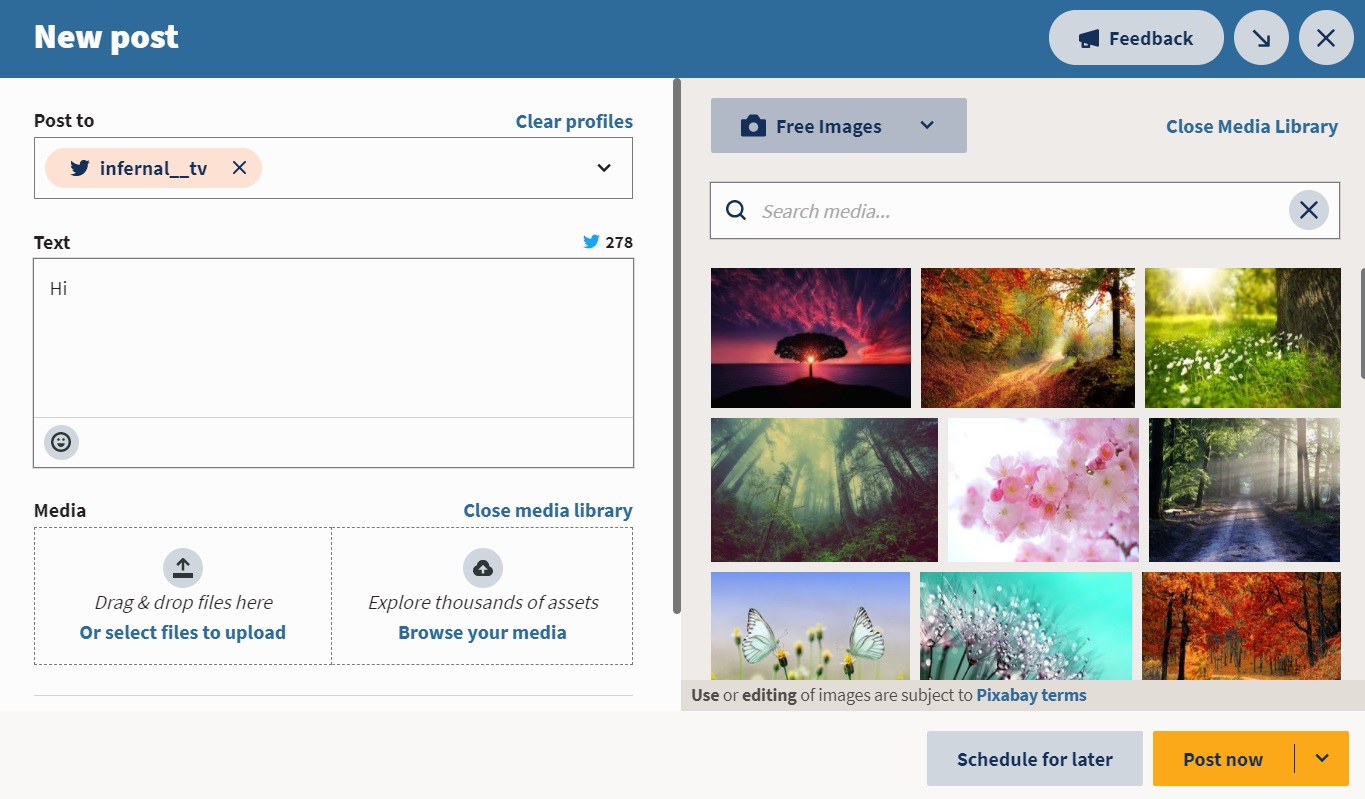 If you want to schedule your post for later, a calendar will appear after clicking the "Schedule" button. You can also choose which time you want to schedule your post. Hootsuite also includes the time zone.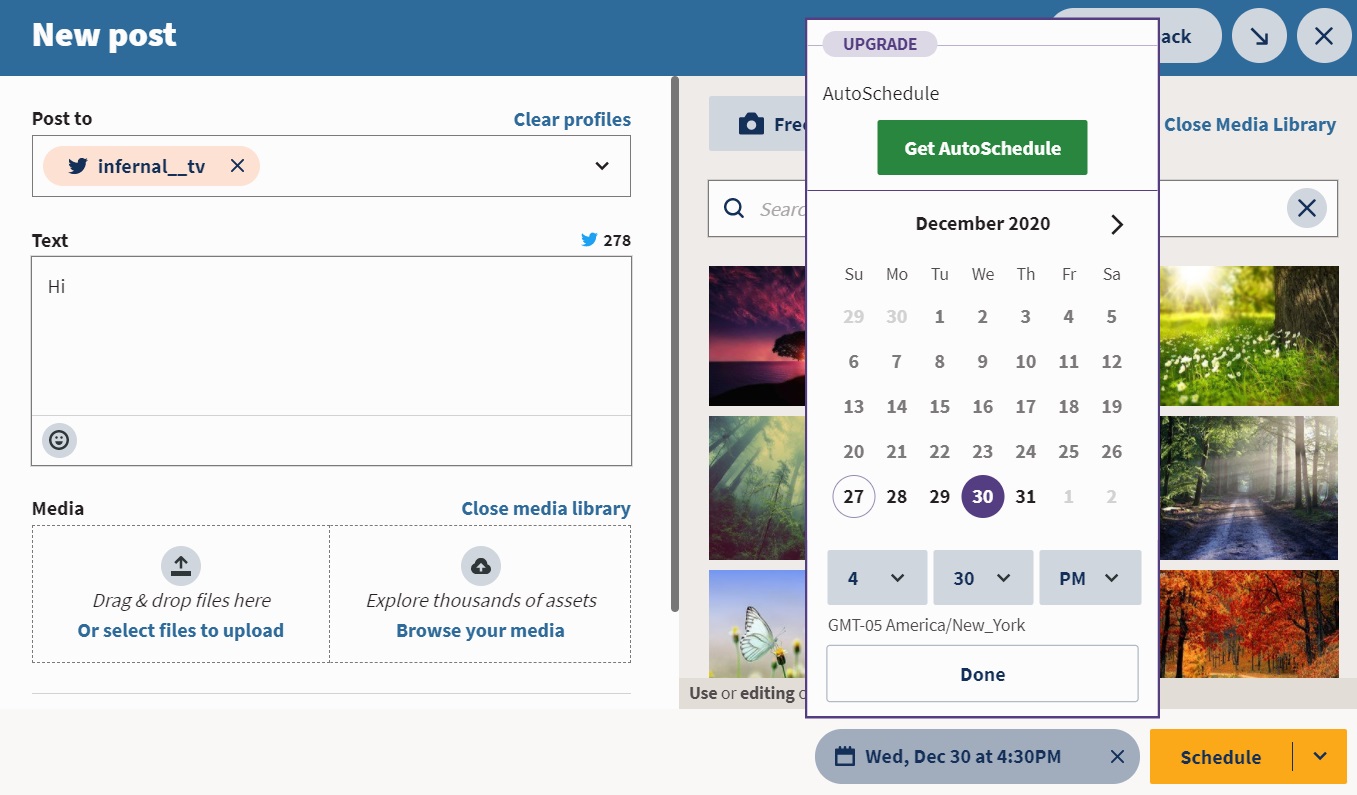 From here, just select "Done" to schedule your post.
Keep in mind, I have the free plan, so I can only schedule one post at a time. Paid plans have unlimited scheduling.
Sendible is just as user-friendly as Hootsuite. To create a post, click "Compose" at the top right corner.

Like Hootsuite, you can select one or more profiles to post to.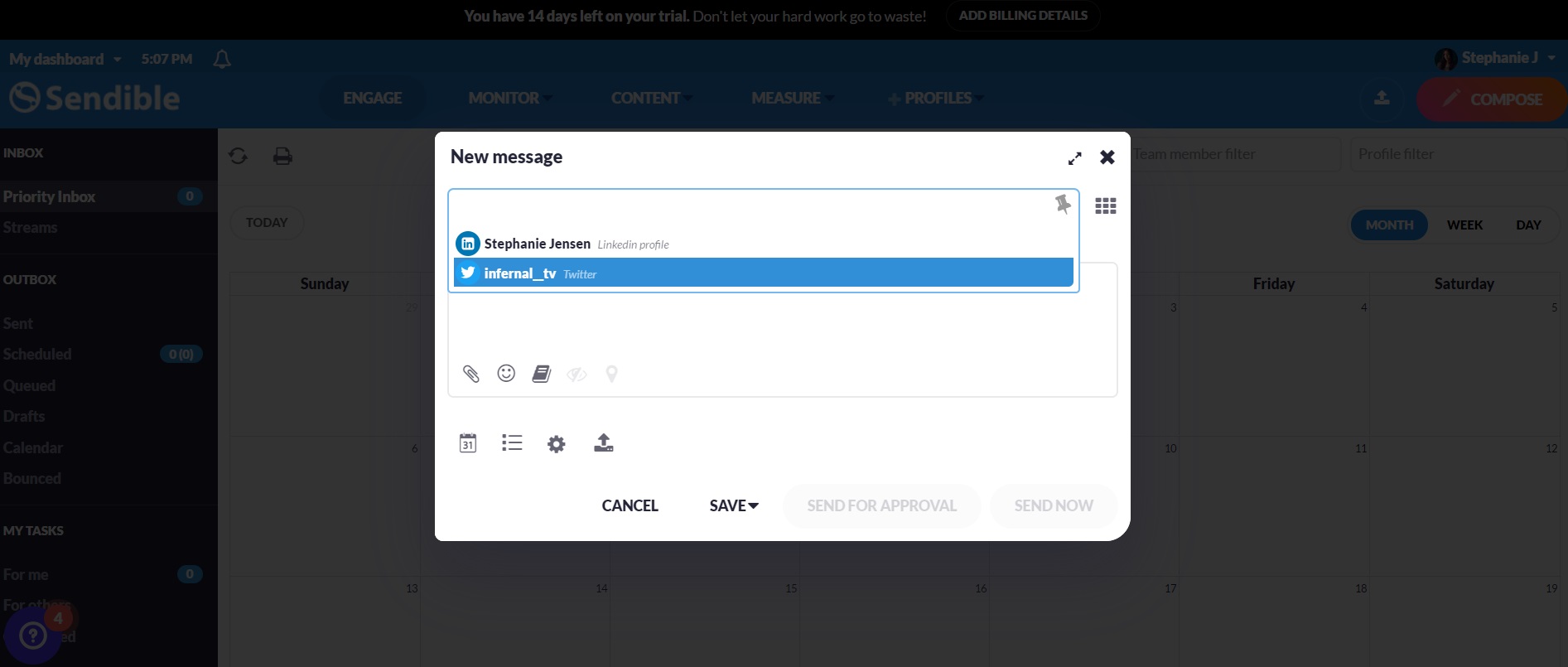 From here, just type your message.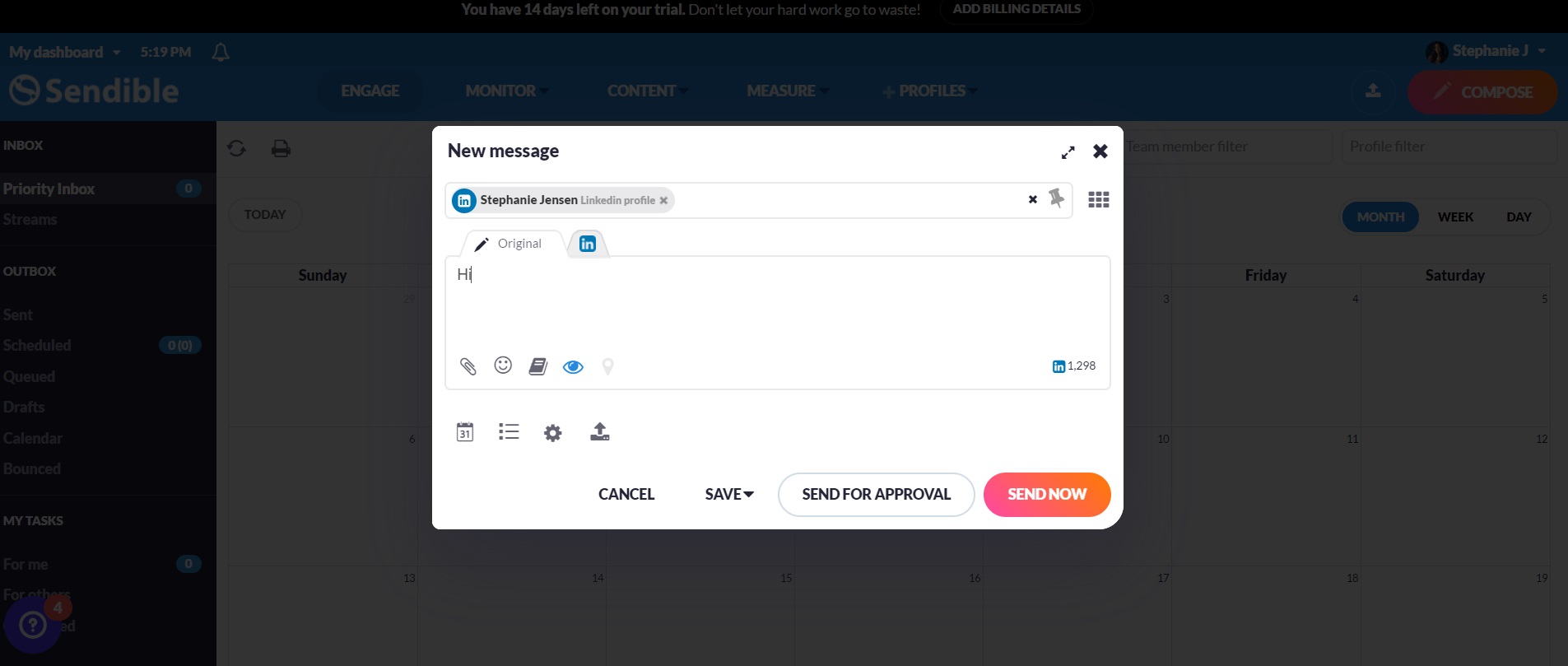 Unlike Hootsuite, Sendible also has a "Send for Approval" option. This is convenient if there are several members of your social media marketing team. The post can get sent to management and approved before posting on your social media.
Sendible takes social media post creation and scheduling to the next level. For example, they also offer calendar post scheduling, but Sendible also uses time analytics which recommends the best time to schedule your post.
What makes Sendible stand out is how they offer content recommendations. If desired, you can hire Sendible's in-house writers to write your social scripts for you. If you upgrade to a paid Hootsuite plan, they also offer post suggestions (I don't have this function on the free plan).

Both plans are similar in this realm. Sendible does offer more features, such as content writers and time analytics. If you don't need this, Hootsuite offers a user-friendly platform for posting and scheduling — even on their free plan.
Contact Management
Contact management is one of the most important social media marketing tasks. Prospecting for influencers, updating your contact list, sending messages, and tracking interactions are some of the most vital roles in contact management. So, which platform aids you the best in this category?
If finding new leads and building relationships is your priority, you'll appreciate Sendible. You'll gain social insights that can help your interactions and even improves your profile. Sendible also automates your geotargeting, ensuring you attract a local audience.
If you're an influencer or use influencer marketing, Hootsuite should be your pick. You can easily build an influencer list or import one from another source. If you connect your Facebook inbox to your Hootsuite, you can easily contact leads and customers directly from the app.
Both platforms have powerful contact management functions, but they reign in different ways. If finding new leads is your goal, you'll benefit from Sendible. If engagements and influencer marketing are your priority, you'll prefer Hootsuite.
Social Listening
Social listening is a fancy word for monitoring your social media for brand mentions, product mentions, and even competitor research. Social listening is vital for all brands, no matter how big or small.
Hootsuite was made for social listening. You can easily create different streams on your dashboard that monitor your mentions, retweets, new followers, messages, and more. You can easily interact with your audience and assign tasks to team members. You can also set up notifications and alerts to ensure you always keep up with your social profiles.
Sendible offers powerful social listening features but not in the easy way that Hootsuite offers. But you can track brand mentions on social media and throughout the web, as well as hashtags and keywords.
Again, both platforms have their strengths in social listening. If you want a user-friendly dashboard for all social listening functions, choose Hootsuite. But if you want an effective way to track social listening throughout the web, choose Sendible.
FAQs
Question: Are There Other Alternatives?
Answer: There are many social media management tools other than Hootsuite and Sendible. Coschedule, Buffer, and Later are popular alternatives.
Question: Are There Other Alternatives?
Answer: Did you sign up for one platform and realize your plan isn't enough? You can easily upgrade your plan on Hootsuite and Sendible.
Question: Should You User Social Media Management Tools?
Answer: Are you wondering if you even need a social media management tool? You can easily create and schedule posts on most social media platforms, and you can even seen analytics on these platforms.
Social media management tools are ideal for those who want to keep up with social lsitening, you post to several social media channels constantly, want to view reports, want to improve your content creation, and simply want a simple way to manage your social media profiles, then these social media management tools are right for you.
However, not everyone needs these advanced tools. For example, if you have a side hustle and only post to a couple of social media platforms a few times a week, then you can likely perform all necessary functions directly on the social platforms.
If you're still not sure if you need social media management tools, Hootsuite offers a free account. You can try out their dashboard and see if their tool eases your social media efforts.
Question: How Many Social Media Accounts Can You Have?
Answer: Both Hootsuite and Sendible let you add different soical media networks, but the amount depends on your plan. Here's a breakdown of each:
Hootsuite
– Free plan: 3 profiles
– Professional: 10 profiles
– Team: 20 profiles
– Business: 35 profiles
– Enterprise: 50+
Sendible
– Starter: 12 profiles
– Traction: 48 profiles
– Growth: 105 profiles
– Large: 3192 profiles
Hootsuite vs Sendible: The Final Verdict
Both platforms are powerful but offer benefits to different individuals and businesses.
If you need audience engagement, user-friendliness, and influencer tools, you'll prefer Hootsuite. But if you need to measure results, performance analytics, find new leads and want to track social listening throughout the web, then you'll prefer Sendible.
Are you still stuck on finding the best social media tools? We offer this insight and more about social media marketing. Read our guide!