Last Updated on January 11, 2023 by DMEditor
Social media management can be a huge undertaking. It takes a ton of creativity and trend-tracking to come up with ideas and campaigns. Putting together an editorial calendar takes so much focus and organization it'll make your eyes blur. Building each social media post is tedious, not to mention the massive role of analyzing data to figure out the best days and times to post.
Then, you have to see how each post has performed in order to tweak your strategy. Meanwhile, you have to listen to your audience to engage with them, answer questions and put out fires before they grow too large.
It's no wonder why social media management tools are so huge right now. Without them, it's nearly impossible to handle even a simple social media strategy for one small business. The more platforms, campaigns and brands you have to manage social media for, the more you'll need a reliable management tool.
Sprout Social is one of the most popular social media tools and analytics platforms on the media marketing scene. Both small and large businesses, including enterprises, use Sprout Social, and those who swear by Sprout Social social media marketing would never dream of switching tools.
However, you may have had a bad experience with Sprout Social. Or maybe you already know that it doesn't have all of the features you need.
In this article, we'll go over what social media software is, give you an overview of Sprout Social, explain the areas where Sprout Social falls short, talk about what to look for in social media software, and then suggest a number of great alternatives to consider.
Once you know what you're looking for in a social media management tool, consider these Sprout Social alternatives
Sendible has CRM functionality, which is important if customer management is a big part of your business, including email and SMS support.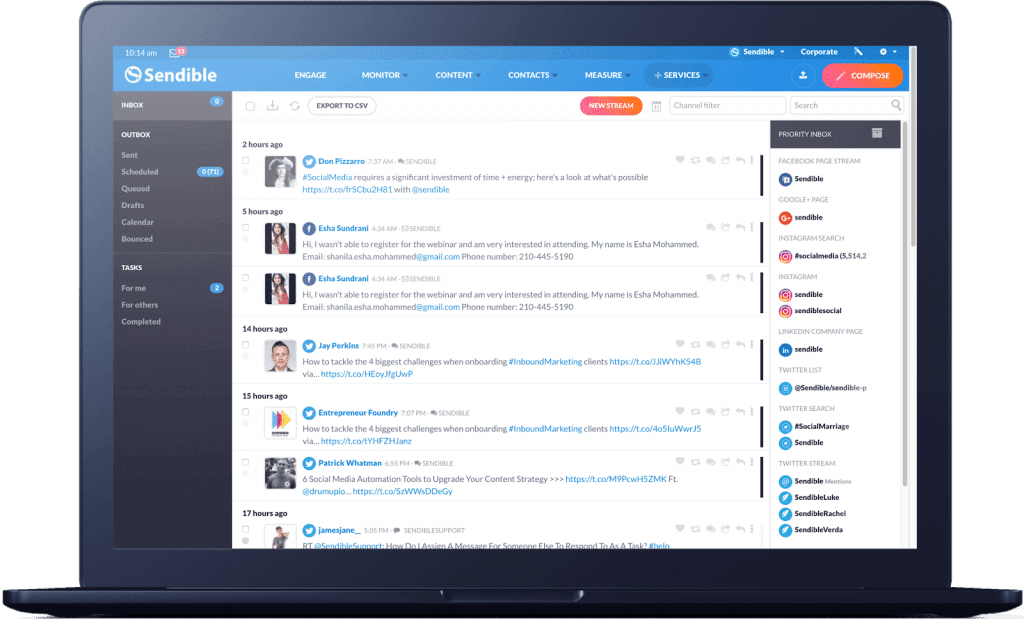 Sendible is excellent for keeping track of leads and social media analytics. Whenever you interact with someone on social media, they'll be added as a contact to Sendible.
Additionally, you can automate lead generation by creating parameters to target. Sendible will then automatically find the profiles that fit those parameters and add them to your CRM database, and it can even auto-start social media conversations.
When it comes specifically to social media, this tool will collect your comments and posts from all of your connected channels and let you handle them from one place. There's also an RSS Auto Posting feature, which publishes new content from your blog or website to your social media channels at set intervals throughout the day. With their social listening features, you can monitor keywords on blogs and social media, and then get email or Slack notifications when that keyword is mentioned.
Additional features include queuing and optimizing posts; creating custom reports to see the effectiveness of individual posts; and viewing reports in a color-coded calendar layout, giving you an easy, fluid view of your editorial calendar.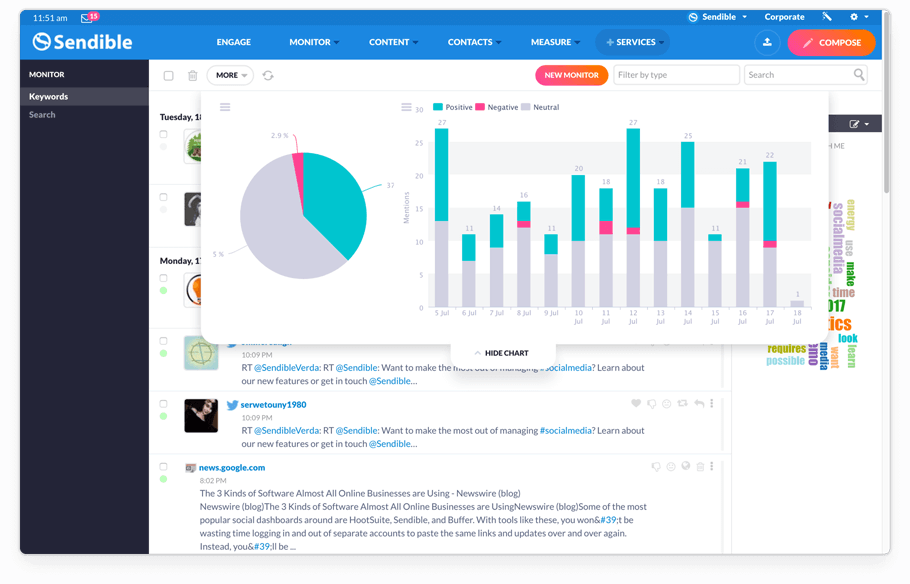 Social Pilot has over 85,000 media professionals dependent on it for its time saving and efficiency-boosting features. It does support most significant networks, including Twitter, Facebook and Instagram (Instagram posts and Instagram stories), Google My Business, Pinterest, LinkedIn, VK, Tumblr.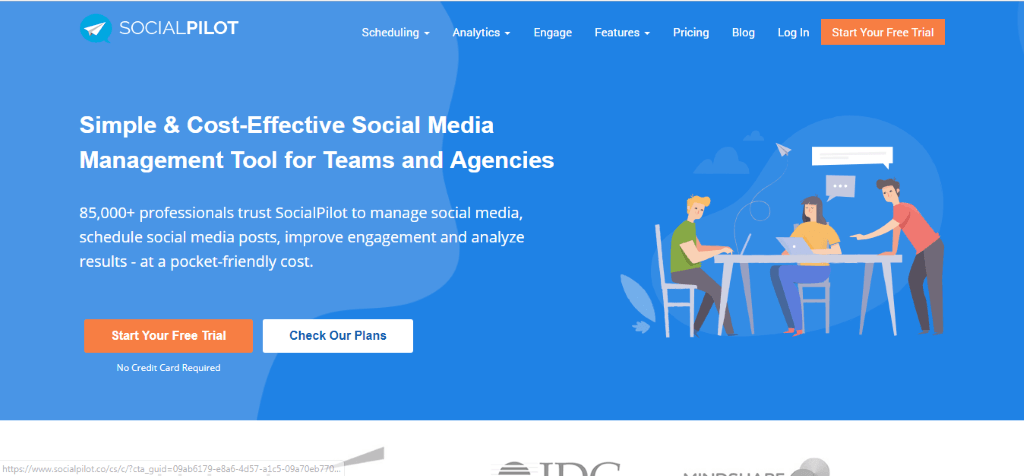 You can collaborate with a team to measure and interpret various social media platform performances including analyzing engagement, clicks, and conversion. Each member will have their own tasks outlined for them as planned by the admin.
SocialPilot has a ton of great social media marketing features that you might find unique as they are resourceful including:
Add your brand name on Facebook posts
Invite clients to collaborate with you on the app
Supports video, GIFs, and other image formats
Includes an IOS and Android mobile app and browser extension for added access across multiple devices and team members
Pricing plans are competitive with others and can't be paid either monthly or yearly: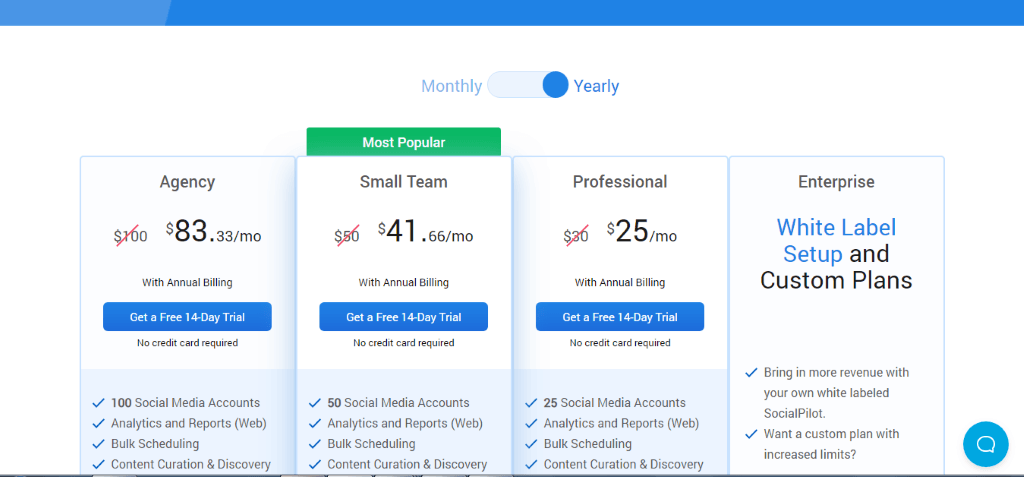 View the LIVE Pricing Plans Here
3. Buffer
Buffer is my personal favorite, and though my social media needs have changed through the years, increasing and decreasing, I've been a steadfast customer of theirs.
You connect your accounts and then schedule posts either singularly or for multiple accounts at once. You can choose photos and add links, which will automatically shorten (and you can easily unshorten them, too).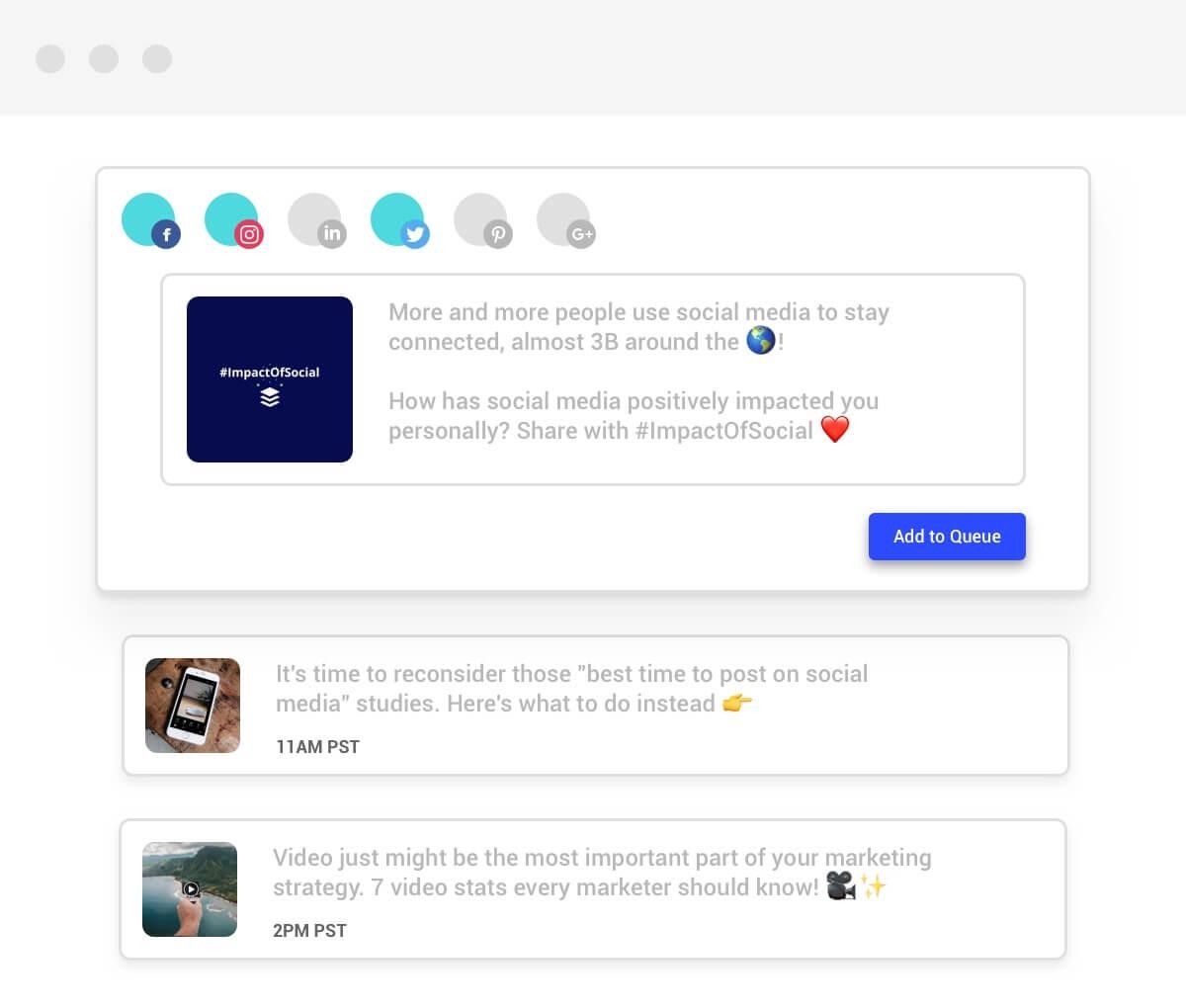 You'll also set a time zone for each profile you add and then create a custom schedule for each profile, or use the schedule that Buffer already has setup.
A few more of their features include a fantastic smartphone app, scheduling content for multiple channels at once, and viewing feeds with suggested posts to help you come up with content ideas.
After you've been using Buffer for a while, you can use their analytics, which tell you which posts were most popular. You can then re-share those posts easily, updating them if you need to make some tweaks.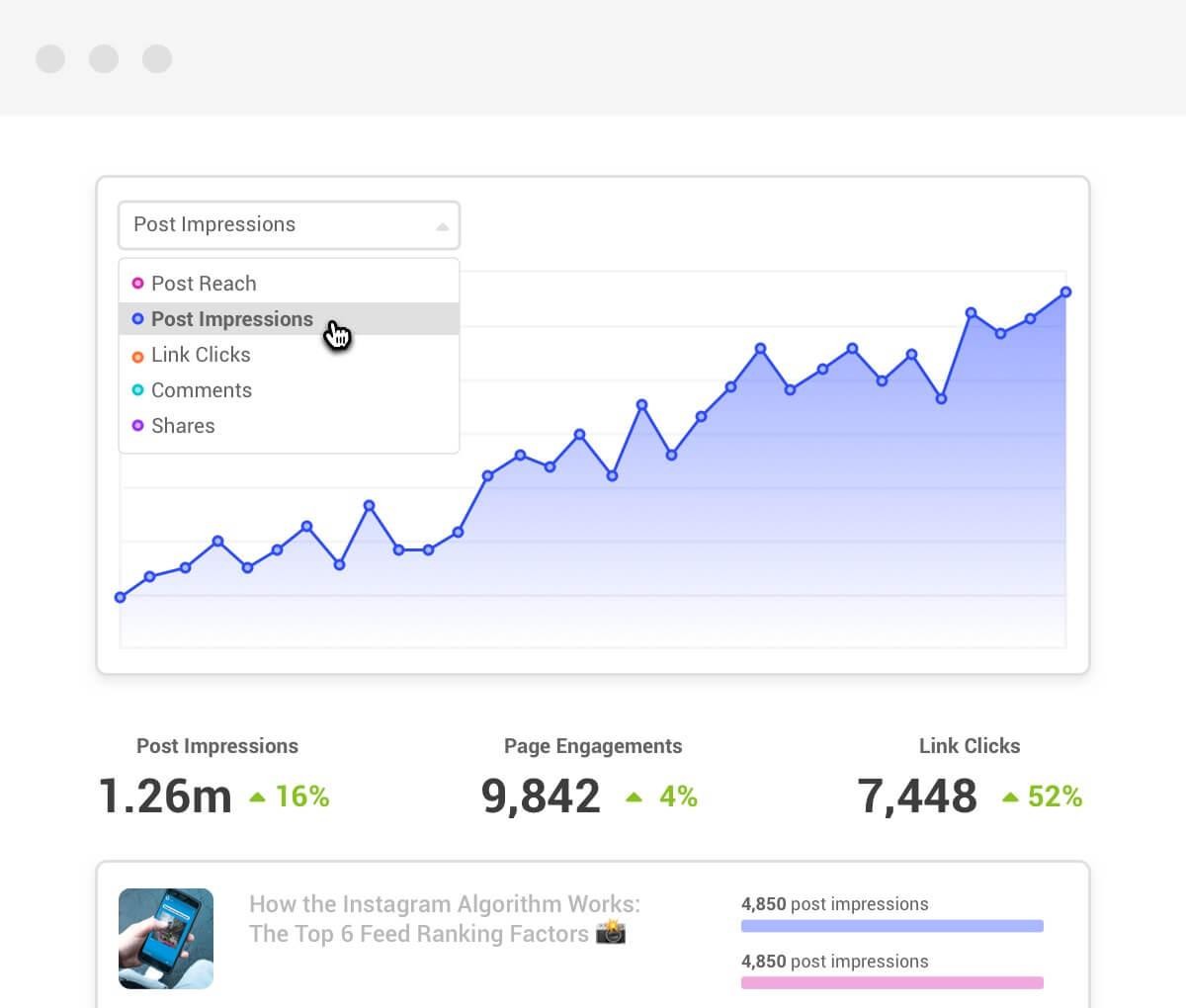 Another thing that's important to mention about Buffer is that their customer support is fantastic. They're friendly and incredibly helpful, and they respond quickly. I've never had a problem that they haven't solved.
One drawback to Buffer is that their free account is extremely limited in terms of social media marketing features. There are only certain platforms you can link to and post to, and within the platforms you're allowed to post to with the free plan (which don't include Pinterest), you can only schedule a few posts at a time.
If you have any sort of professional social media need, or even an active personal account that you want to keep loaded with content, you'll need to upgrade. Luckily, the cost is low and you get a lot for it.
Further Reading:
4. Everypost
Everypost is excellent if you have a team of people and you want to give different members access to different media accounts. For example, maybe one or two of your employees handle Facebook and Twitter posting while another one deals solely with customer support on Twitter. This makes it easier to maintain security because you don't have to give every single employee login information and access.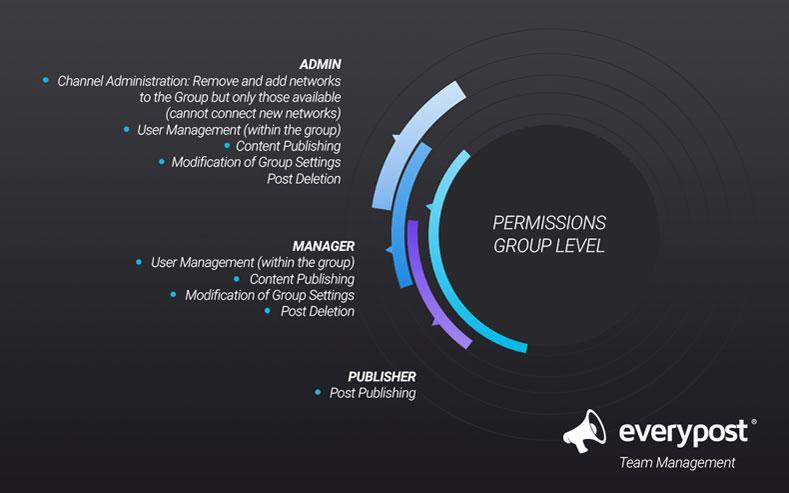 You can also designate access within media platforms. For example, one employee or user group can be allowed to re-Tweet posts, but they won't be able to delete your Tweets or make changes to your bio.
Everypost integrates with RSS feeds, Flickr accounts and various other content sources, making it easy to access and share your content.
5. Hootsuite
One of the best things about the Hootsuite social media management platform is that their free version has a ton of versatility. For solopreneurs or small businesses, you may be able to get everything you need with the free account. Hootsuite also integrates with several marketing and social media tools.
The streams you can create in Hootsuite show you everything you need to see in one dashboard, side-by-side. You can pick and choose what you see in each stream, including things like hashtags on Instagram or page feeds from Facebook. There's no limit to how many tabs you can create and you can also rearrange them however you want, making Hootsuite a seriously customizable platform.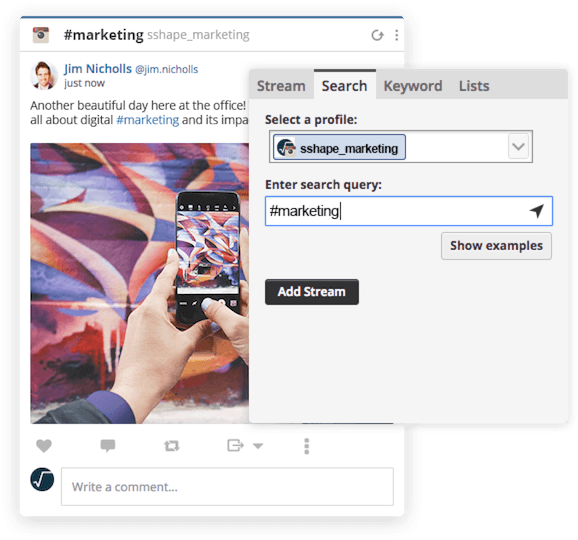 You can also use Hootsuite for posting in real-time or scheduling posts ahead of time, and you can add extras to your post like your location or privacy customization. Additionally, you can bulk upload as many as 350 posts from an Excel spreadsheet. You can also create content now and save it as a draft to finalize and post later on.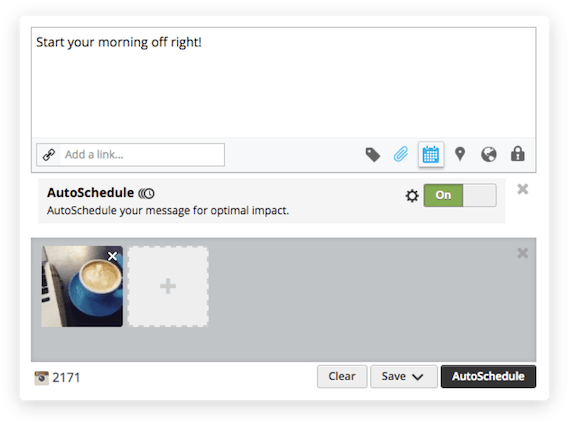 The tool to shorten URLs makes it easy to track links, and while Hootsuite has limited analytics reporting, you can create custom reports and create email notifications.
Further Reading:
6. IFTTT
IFTTT is a different kind of social media tool, but if you have specific needs that you want to set and forget, it can be a life saver.
IFTTT stands for "If This Then That," and it does pretty much exactly what it promises. You can connect all sorts of gadgets and tools, from your Hue smart lightbulbs and home's thermostat to pretty much any social media tool you use. Then you create recipes with triggers that cause the next action.
For example, every time you post to WordPress you can have a Tweet automatically go out or be added to your Buffer, and you can decide what content will auto-populate in the Tweet so you know what the posts will look like.
Here are just some of the Facebook recipes they have: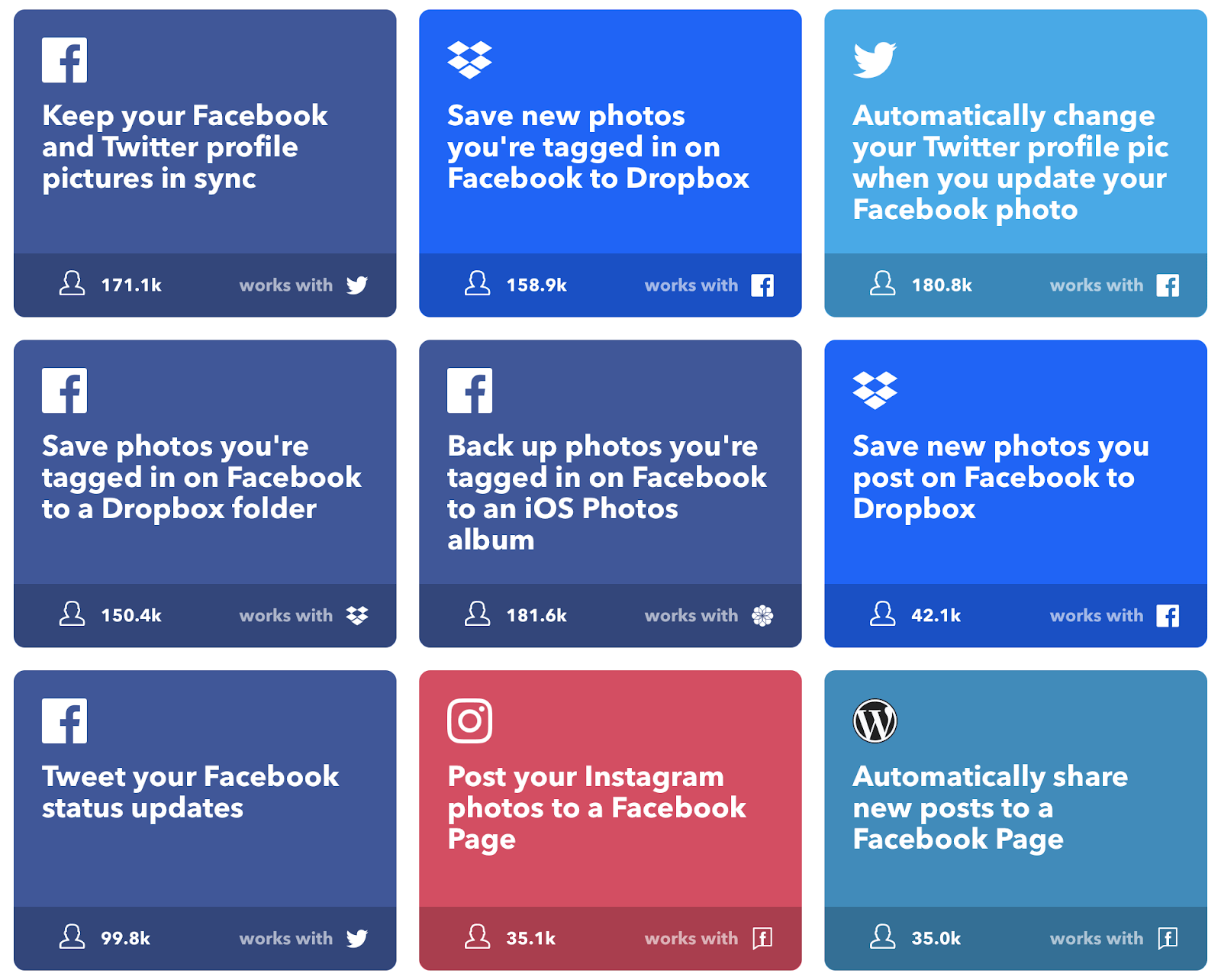 You can create your own recipes, but it's easiest to look through the recipes that others are using and then just apply them to your own accounts
If you're having trouble finding a social media software tool that integrates with all of the tools you use and that does very specific actions, this may be an excellent alternative. It's super flexible, and while setup and planning may take some time, it can handle a ton of different social media tasks for you. The IFTTT website is great, but there's also a mobile app that's highly user-friendly.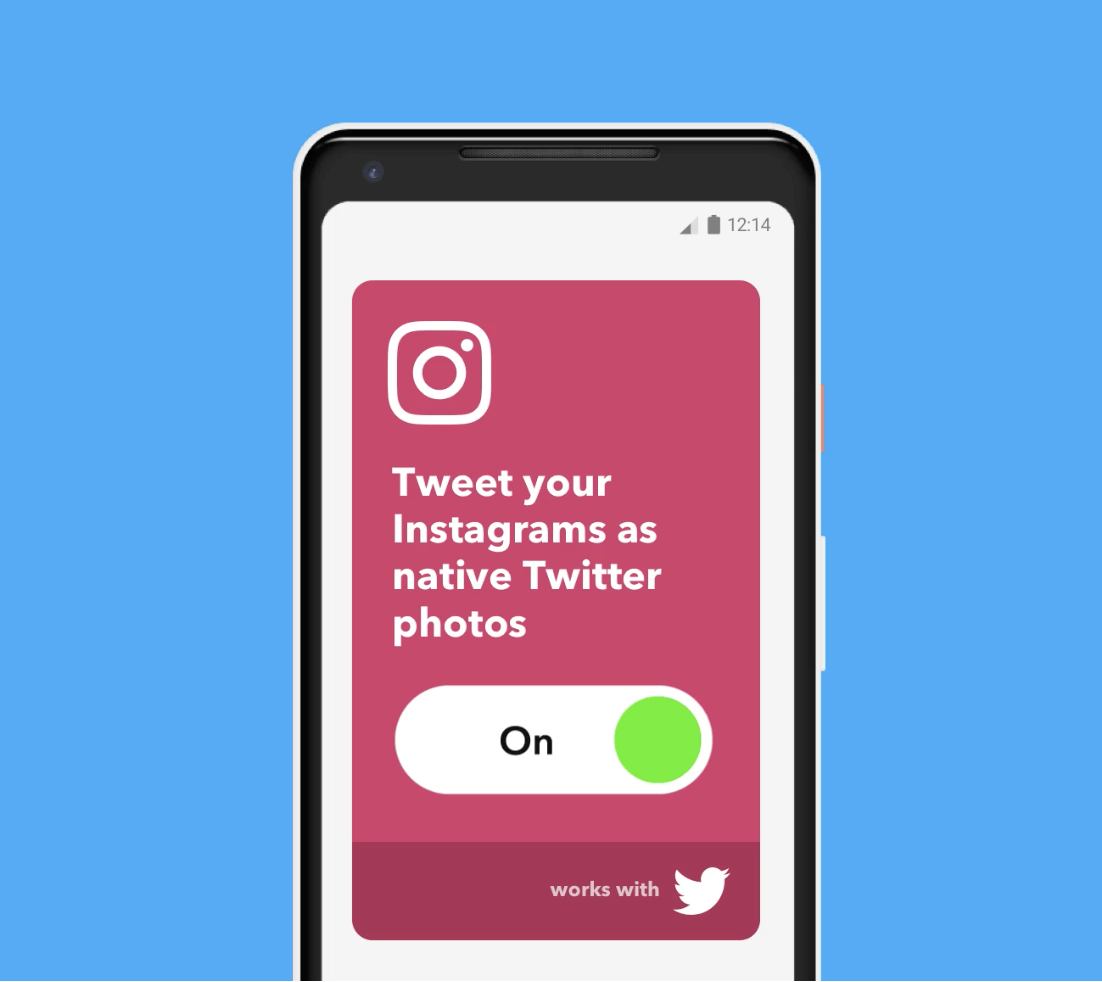 7. MavSocial
If you're constantly sourcing images to go with your social media content, try MavSocial. Their built-in image search sorts through thousands of low-priced images that are already licensed for sharing.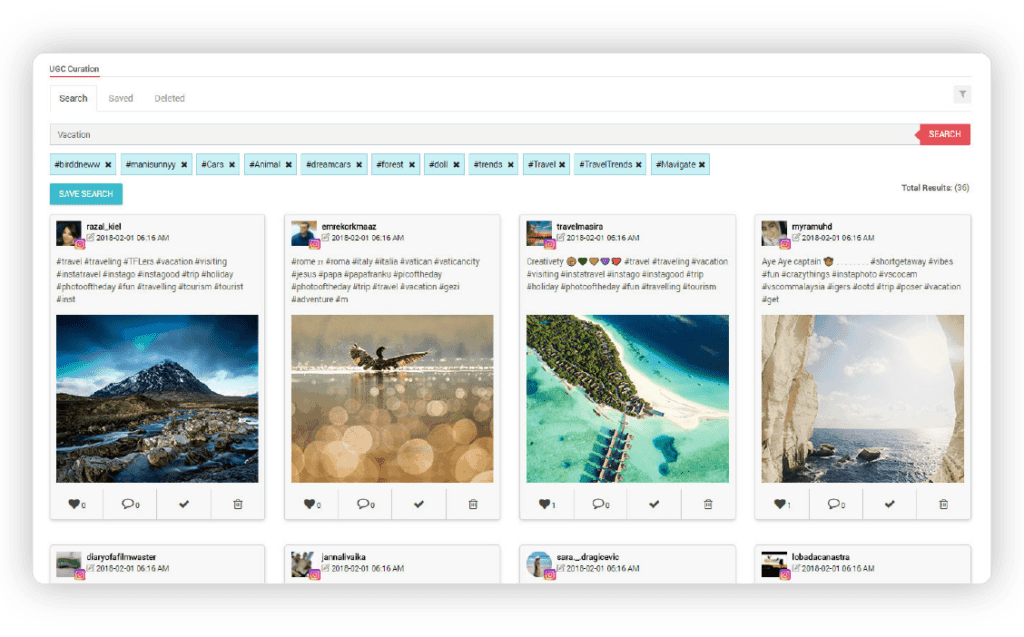 You can edit the photos and then use them in your posts, all without worrying about copyright infringement.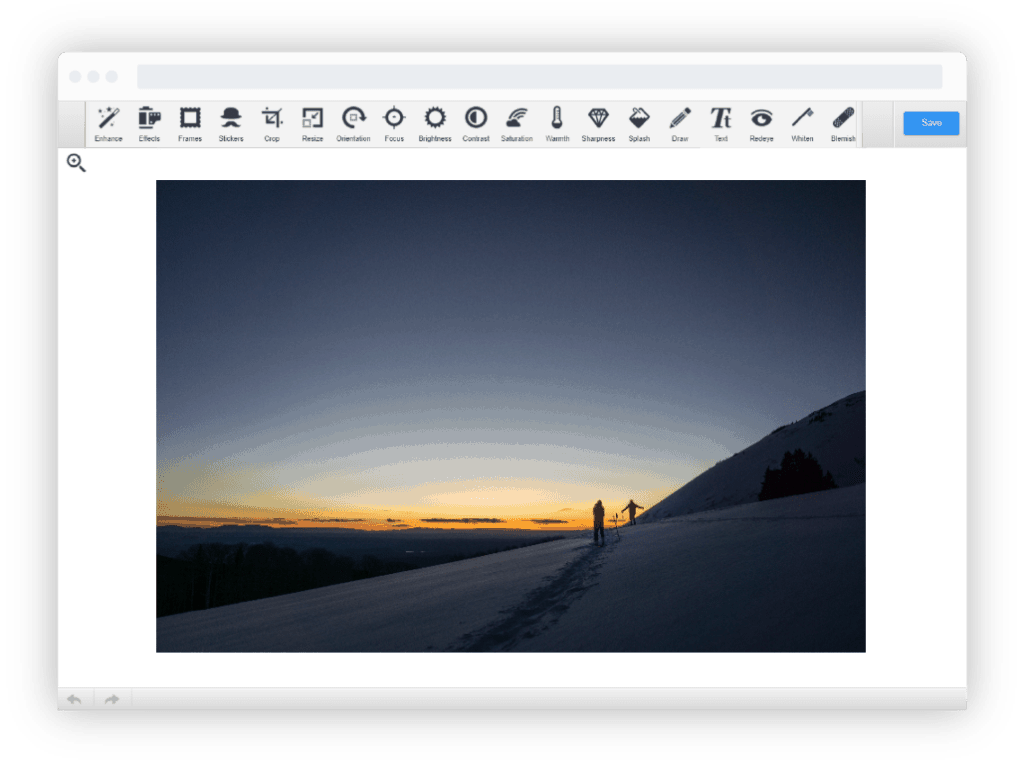 There's a built-in payment system so purchasing images isn't clunky, and they'll then be stored right on your MavSocial account for easy access. When you're ready to add an image you purchased to your post, you'll just choose it from the library, add text and send it out to your profile.
You can also add your company logo, images, videos, audio clips and promotional content to MavSocial, too. When you link your social media accounts, MavSocial will automatically pull your profile pictures into the system.
On top of easier photo sourcing and using, MavSocial is a complete social media management app. You can schedule posts, browse your social networks and keep track of conversations.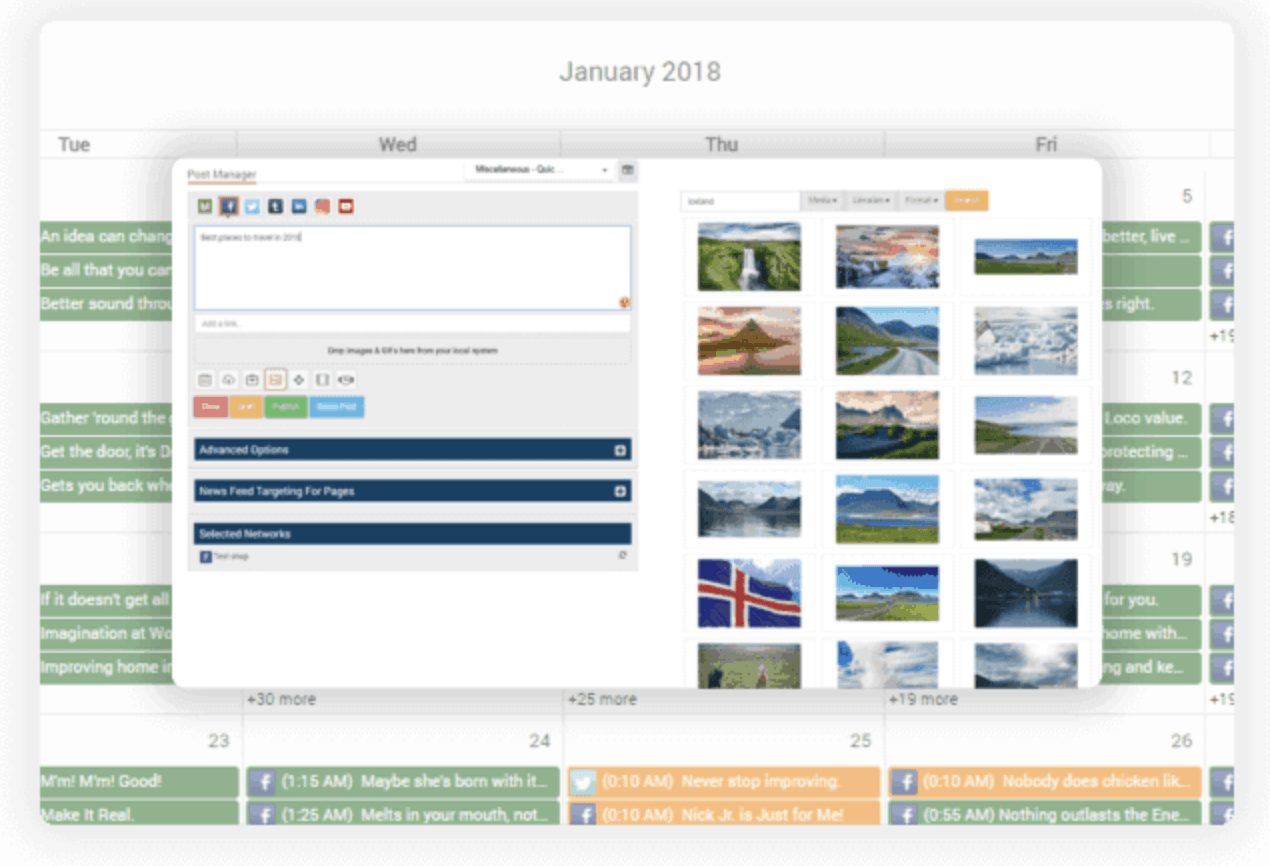 8. MeetEdgar
MeetEdgar makes it easy to re-share content. There's an automated re-sharing option for your popular posts that will help drive exposure to your best content. This can improve traffic and conversion rates.
The Super Smart Insights feature means you won't miss an opportunity to connect with your audience or keep your publishing queue filled. You can ensure that your social profiles remain active even if you're not working.
You'll have access to an unlimited library to store all of your updates, and you can then organize them by account, category and date. You can also pull content into MeetEdgar right from your RSS feeds. You can then schedule by category if you want all of your content to reflect a certain topic, using your default categories or creating brand new ones.
If you have content that isn't evergreen, like special offers and limited time promotions, you can use MeetEdgar to set an expiration date and time for individual posts, and when time's up the content will auto-expire.
9. SocialFlow
With SocialFlow, you can prepare and optimize your content for specific social media platforms.
Use real-time data to figure out what your customers are most interested in right now, which can have an impact on your traffic.
One of Social Flow's best features is its content algorithm, which can determine when a certain topic starts gaining interest from your audience. This lets you develop related content that will engage your audience more. There are also algorithms that can help you determine when to create your next post based on audience involvement.
Ultimately, Social Flow is a fantastic tool if you're ready to dive further into your analytics and use stats to fine-tune your strategy.
After linking your social media accounts to SocialFlow, you'll add some status updates and then sit back while it keeps an eye on your social accounts. Once it sees an opportune moment for engagement, it'll post the update for you.
10. SocialOomph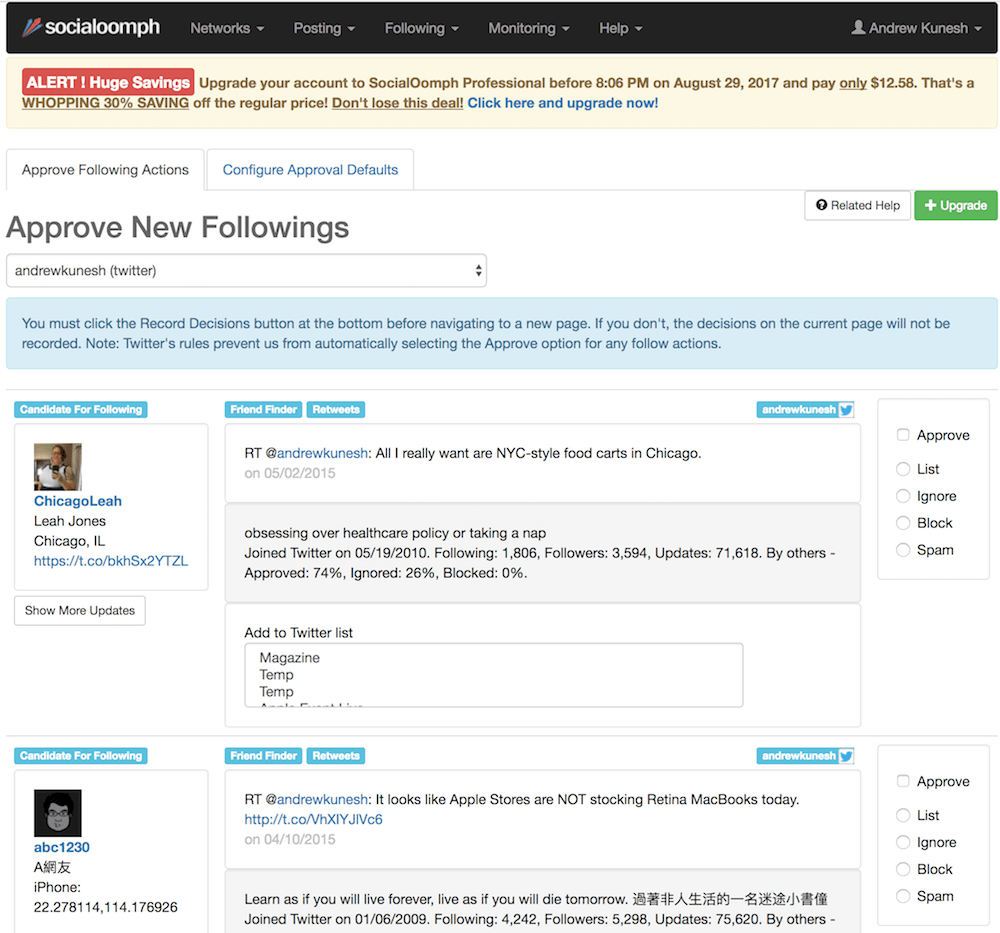 SocialOomph offers various features for multiple platforms. It's best for Twitter, but there's support for other platforms, too. You can also manage and schedule blog posts on Tumblr or WordPress, which is helpful if you want to blend your content and social media efforts.
There are basic features like analytics and scheduling, plus more specialized ones, like continually clearing out your Twitter inbox, which can make responding to DMs easier, especially if you use Twitter for customer service. There's also a follow feature for Twitter that lets you follow accounts based on certain criteria or re-follow accounts that are following you. Additional features include auto-deleting Tweets and automatically creating statuses from RSS feeds.
Note that the free plan is limited and most of the tools you'll be able to use are related to Twitter (schedule Tweets, track keywords, manage multiple Twitter accounts, shorten URLs).
TailWind is primarily for Instagram and Pinterest social channels, which are two social media platforms that tend to be underrepresented in social media software. What's also nice about these specialties is that it means TailWind is specifically designed for visuals and graphics, as opposed to text-heavy posts (both for distribution and actively building Instagram followers and Pinterest social media campaigns).
TailWind helps you discover and create content, schedule posts, keep track of conversations, amplify your content reach to audiences, followers and influencers, and analyze your results via their comprehensive dashboard. The dashboard is particularly impressive and worth it just as a Pinterest analytics tool alone.
Not only does TailWind suggest the best schedule for your posts, but it will suggest the best audience, too. The Smart Schedule feature suggests the best times to post in order to engage your audience.

Photo courtesy of BloggingWizard.com
TailWind can be used as a browser extension and a mobile app, so installation and setup is virtual non-existent. The tool caters specifically to small and medium-size businesses as a media analytics and media marketing tool, as opposed to large businesses and enterprises.
Further Reading:
12. TweetDeck
TweetDeck is owned by Twitter, so it's safe to assume that it integrates perfectly with the social platform. TweetDeck is free and it lets you post Tweets and track your conversations, hashtags, replies and more.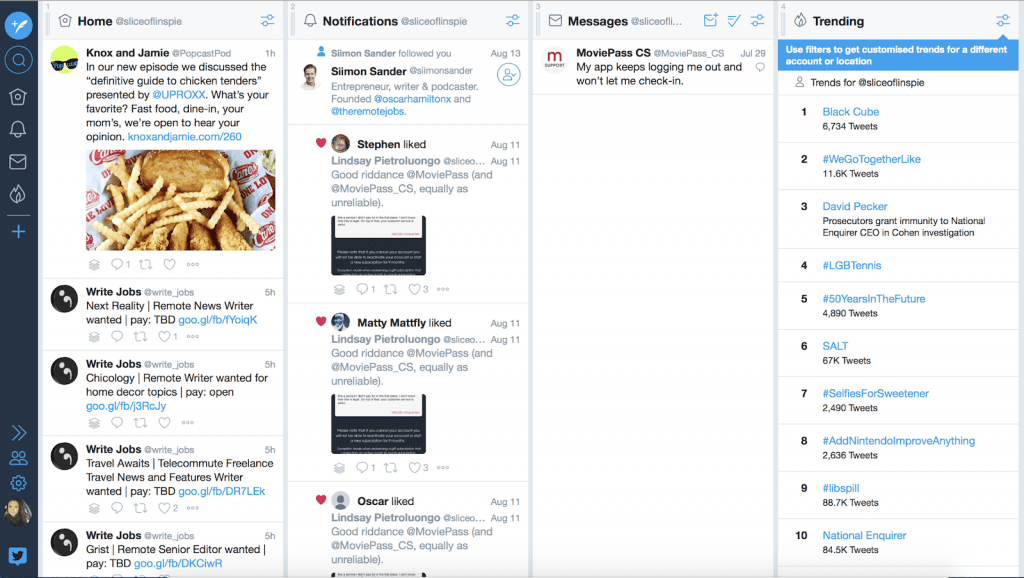 You can download the application or use it via your browser, then connect as many Twitter accounts as you want, all for free. Signing into TweetDeck is a cinch since you'll use your regular Twitter account info.
Features include scheduling posts, creating desktop notifications so you'll know as soon as you get a reply and adding columns in order to view conversations in real-time.
If Twitter is the biggest component of your social media strategy or if you have several Twitter accounts to monitor, TweetDeck is a great addition to your other social media software.
Further Reading:
12. Zoho Social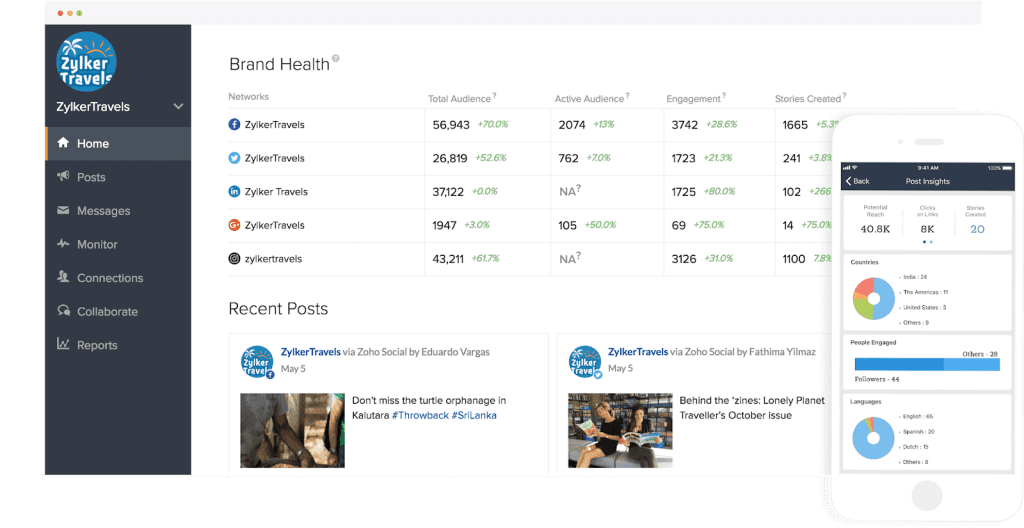 Zoho Social lets you manage activities on multiple networks at the same time. You'll handle posts for different platforms using the same window, and the browser extensions let you share content right from the web page you're on.
Features include publishing posts instantly, scheduling unlimited posts for the future and viewing the percentage of top engagement you're likely to see for your post at a specific time.
You can also collaborate with your team to brainstorm ideas, create content, plan your strategy and share reports. With the Brand Inbox, you'll see a view of all your messages, which you can turn into conversations or filter based on social network.
What Zoho Social does best is give you insight into your customers and how you should plan your content around them.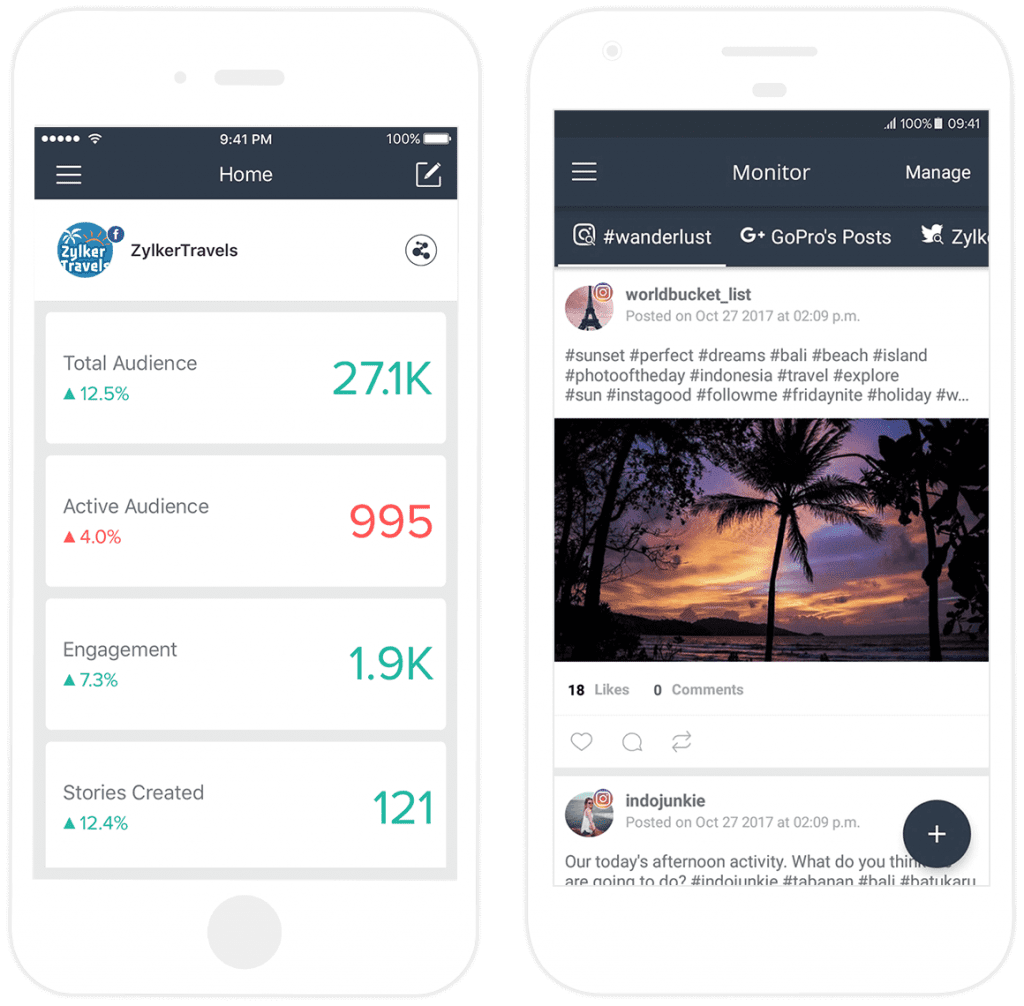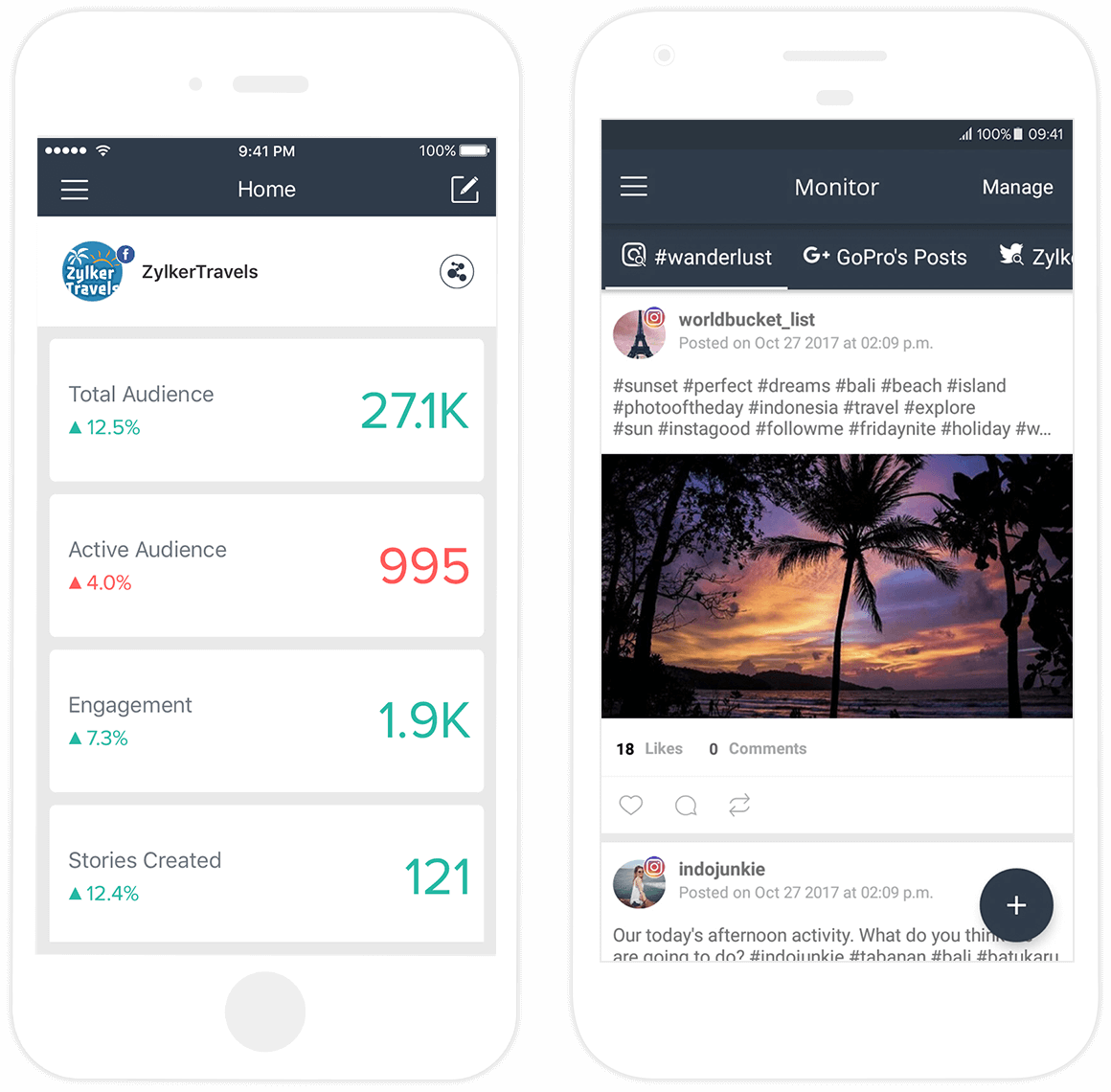 What is Social Media Software?
Social media software provides a way to manage all of your social media accounts from one dashboard. This saves the trouble of having to jump from one platform to the other in order to engage with your community and post updates. Most social media software also has options for adding team members so that you can easily delegate tasks and assign projects.
While many social media software tools let you schedule posts for one (or, hopefully, more) social media platforms, many of them will also let you create a custom schedule, analyze your efforts, run reports and more. There are also some tools that specialize in specific platforms, like Pinterest.
What is Sprout Social?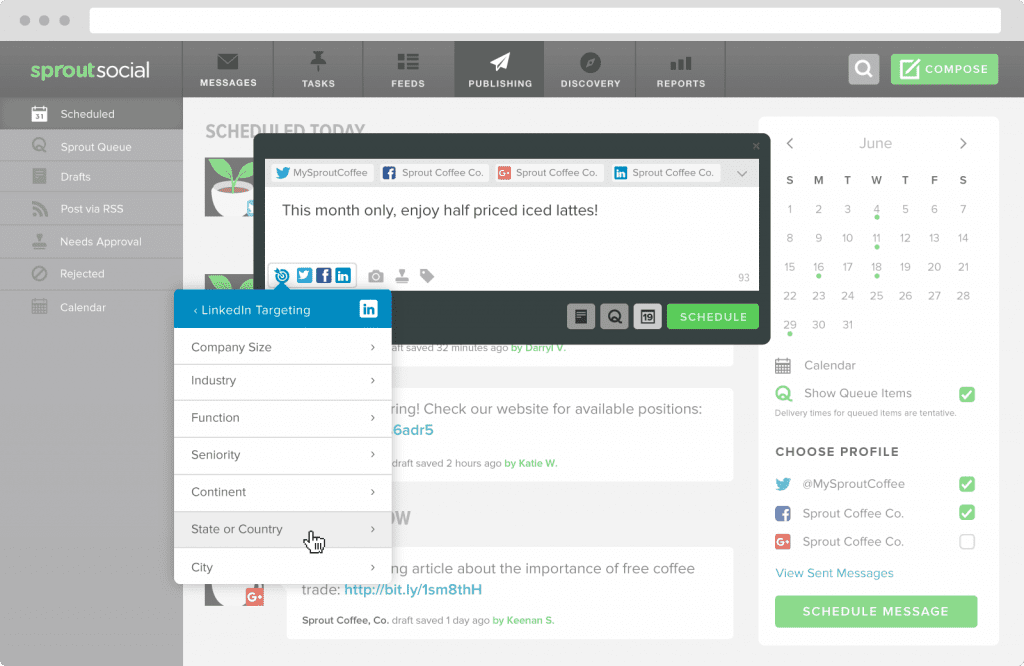 Sprout Social is social media software that lets you schedule, monitor and analyze your social media profiles and activities. They really shine when it comes to analytics, showing important information like engagement percentages in easy-to-read charts and graphs that use colors and graphics to be more visually appealing.
With Sprout Social, you can sort through notifications, replies, comments and other messages from your audience, and you can reply from the list, mark a message as complete or flag something to follow up on later. You can also mark certain items as higher priority if they're a pressing customer support issue or a possible sales lead.
With the queue, you can prep a bunch of content to be auto-posted at pre-scheduled times, and without having to individually select a date for each post.
Where Does Sprout Social Fall Short?
That all sounds great, right? It is, but Sprout Social also has a downside.
Sprout Social can be costly, especially if you're just getting started, have a small budget, or aren't going to be using a majority of tools offered. The base price is $99 per user per month (learn more about their pricing here).
Sprout Social does not, currently, integrate with YouTube (although they do add features often, so it's possible this will be an integration in the future).
There are also issues that users have with things like search, filters and viewing information in streams, as well as posting certain likes or comments to specific platforms. In general, there are some shortcomings with Sprout Social when it comes to how much you can interact with fans, and having to go over to the actual social media platform in order to find a conversation can defeat the purpose of social media software for some people.
What to Look for in Social Media Software
These are just a few of the features you may want to look for in social media software. Also realize, though, that if you choose software with many more features than you need, you could end up paying a premium for a tool you're not going to use a majority of.
Analytics and Reporting
Customer Relationship Management (CRM) system that can do things like keep track of customer personas, purchase history and customer service issues.
Helpdesk support so that you can provide your audience and customers with social media customer support.
Integrations with the other social media tools you lose, like Feedly.
Mobile apps for smartphones and tablets so that you can continue using the tool on-the-go.
Monitoring
Support for various profiles, companies and departments, which is especially helpful for larger businesses or marketing agencies.
Support for teams, including creating drafts, collaborating on a calendar, assigning tasks, and more.
Security in order to set permission levels and roles, keeping information protected and only accessible by upper level employees.
Have you found a social media management tool you love? Tell us about it!
FAQs
Question: Is Sprout Social worth it?
Answer: Yes, Sprout Social is worth it and it's definitely a great tool that can help you increase your customers and overall business by having all tools necessary to stay in touch with your audience. You can link all of your channels together and send posts from the Sprout Social platform, which will save you time and energy, and also you can get reports of how each month has been, how people think of your business, and lots of other things essential to grow, no matter if you are a startup company or an enterprise.
Question: Can I try Sprout Social for free?
Answer: Yes, you can try Sprout Social for free in a limited period of 30 days and decide if you like its features and how your business goes that month. Afterward, you have 3 plans to choose from starting at $99 a month and more.
Question: What companies use Sprout Social?
Answer: Some companies that use Spout Social are: Evernote, NBC Universal Studio, Shopify, and many other big companies who build campaigns and use this platform for help with strategy issues, build better campaigns than of competitors etc.
Question: Can I switch plans with Sprout Social before a new period starting?
Answer: Yes, you can switch plans with Sprout Social before starting of a new month, and you can contact their customer service which will happily switch the plan for you.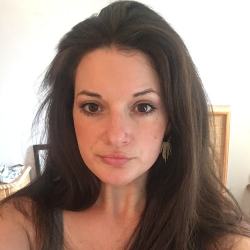 Latest posts by Lindsay Pietroluongo
(see all)